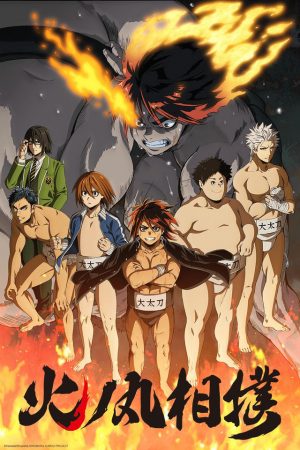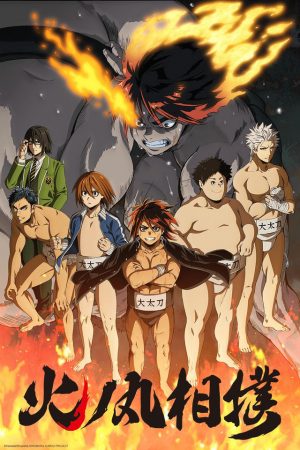 Hinomaru Zumou

---
Airing Date:
October 5 2018
---
Honey's Highlights
Ice skating with Yuri!!! on ICE, rugby with ALL OUT!, and now Sumo with Hinomaru Zumou. We are getting rarer sports being made into anime and this is fantastic!!
These boys look built like the characters from Baki! People might not be dying, but you can bet that there are going to be some intense fights.
And we are blessed with another fantastic shounen anime full of passion, fights, and rippling muscles.
I totally forgot about the muscles! Bombon! You are a genius!
Official Images / Key Visuals
Synopsis
'Hakkiyoi!'
The fierce battle of these men chasing after Yokozuna begins.
Characters & Voice Actors List
Hinomaru Ushio

Voice Actor: Atsushi Abe
---
Hinomaru achieved the best ranking in Japan, Onimaru Kunitsuna, while he was an elementary school student. While he was in middle school however, he stopped growing in height and it was assumed that he was finished. Behind the scenes he trained hard to null that physical disadvantage that he would face, and then he returned to high school. Now his dream is to attain the ranking 'yokozuna' (grand champion).
Shinya Ozeki

Voice Actor: Fukushi Ochiai
---
Shinya is the vice-captain of the sumo wrestling club. Until Hinmaru joined, he was the only one protecting the club. He appears to be sentimental and faint-hearted, but he is reliable.
Yuuma Gojou

Voice Actor: Kentarou Kumagai
---
Yuuma was someone who made the dojo for the sumo wrestling club his rendezvous point where he would fight and tease others. Meeting Hinomaru changed him though, and he turned to the path of becoming a sumo wrestler. Yuuma has a blackbelt in karate meaning that he's excellent at fighting. At his core, he's serious and hold fantastic grades.
Chihiro Kunisaki

Voice Actor: Yuuya Satou
---
Chihiro was a member of the wrestling team where he was the sovereign ruler with his possession of power. His dream is to become a mixed martial arts fighter and take the top ranked spot in the U.S.
Kei Mitsuhashi

Voice Actor: Ayumu Murase
---
Kei is a newcomer to sumo wrestling. He's got a weak personality, but he looked up to Hinomaru and was courageous enough to decide to join the sumo wrestling club.
Kirihito Tsuji (Yasutsuna Onikiri)

Voice Actor: Takuma Terashima
---
Kirihito has been Hinomaru's best friend since they were in elementary school. He joined the sumo wrestling club as well to support Hinomaru. He works as the manager and guides the club. He appears to have credible talent as a sumo wrestler, but…?
Episodes
24
Theme Songs

Opening Song: FIRE GROUND by Official Higedandism
Ending Song: Hinodezuru Basho by Omedetai Atama de Nani yori

Adaptation

Manga


Main Staff

Original Creator: Kawada
Director: Konosuke Uda, Yasutaka Yamamoto
Character Design: Yui Tanaka
Music: James Shimoji
(Credit Honey's Anime when you use our description.)