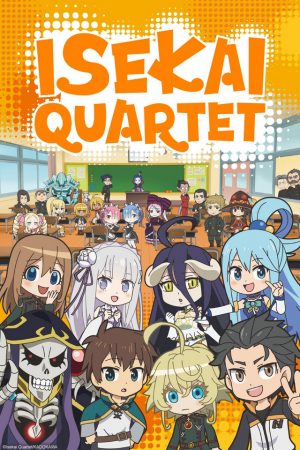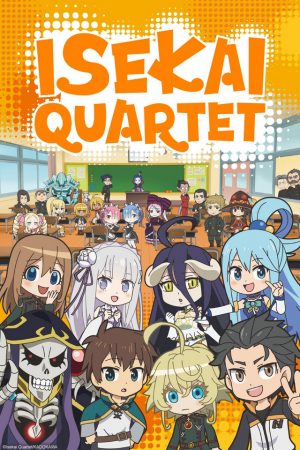 Isekai Quartet 2nd Season

Genre:
Isekai, Parody, Comedy, Slice of Life
---
---
---
Official Images / Key Visuals
Synopsis
This is the 2nd season of Isekai Quartet.
One day, a mysterious button appears.
By pushing it, our characters are transferred to yet another world!!
Apparently in this new world, other characters from other worlds are appearing too...!?
What characters? Why it's characters from Overlord, Kono Subarashii Sekai ni Shukufuku wo!, RE: Zero kara Hajimeru Isekai Sekatsu, and Youjo Senki!
Characters & Voice Actors List
Momonga

Voice Actor: Satoshi Hino
---
Albedo

Voice Actor: Yumi Hara
---
Subaru Natsuki

Voice Actor: Yuusuke Kobayashi
---
Emilia

Voice Actor: Rie Takahashi
---
Kazuma Satou

Voice Actor: Jun Fukushima
---
Aqua

Voice Actor: Sora Amamiya
---
Tanya Degurechaff

Voice Actor: Aoi Yuuki
---
Viktoriya Ivanovna Serebrakova

Voice Actor: Saori Hayami
---
Adaptation

Light Novels


Main Staff

Director: Minoru Ashina
Script: Minoru Ashina
Character Design: Minoru Takehara
Animation Director: Minoru Takehara
Sound Director: Junichi Ookubo
Music: Ruka Kawada
(Credit Honey's Anime when you use our description.)
---