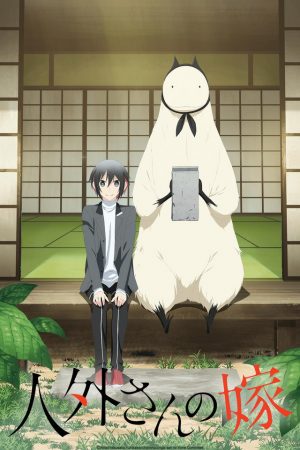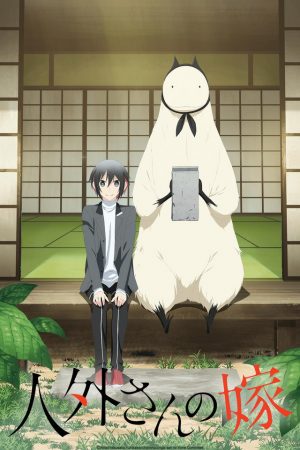 Jingai-san no Yome

---
Airing Date:
October 3 2018
---
Honey's Highlights
So.... he becomes the wife of a giant furry creature and other people are too? How weird...
The whole 'life invaded by supernatural creatures' has been done before a lot though. Fukigen na Mononokean, Miira no Kaikata, and even Mahoutsukai no Yome if you take the whole wedding aspect into account.
The sad thing is though, this is a short anime, so we shouldn't be expecting too much plot.
Well this is the debut work from Saetta. Let's see how they do. Maybe more anime is coming.
Official Images / Key Visuals
Synopsis
Tomari Hinowa is an incredibly ordinary high school student. Then one day, his homeroom teacher calls him to the teacher's room and announces that he is going to marry the strange living creature Kanenogi. He's completely confused, but he does fill out an application for a marriage license. Now they are celebrating their newlywed life...!? The sweet, fluffy, and soft story of newlyweds starts now.
Characters & Voice Actors List
Tomari Hinowa

Voice Actor: Daiki Yamashita
---
Tomari suddenly becomes Kanenogi's wife. He has lots of questions, but he gets swept up in things easily and soon gets used to living with Kanenogi. He's unexpectedly adept at chores, but loves furry things.
Kanenogi

Voice Actor: Kengo Kawanishi
---
Kanenogi is a mysterious living creature. They have chosen high school boy Tomawari Hinowa as their bride. Their main source of food is wood refuse found around town. They have a lot of fur.
Sora Hikurakawa

Voice Actor: Taku Yashiro
---
Sora married Fuwai and became part of their family register long before Kanenogi and Tomari married. He doesn't seem to have a care in the world and while he's good at looking after his husband, he is a domineering wife. Sora is a high school student who wants to become a bride that's good at getting what they want.
Fuwai

Voice Actor:
---
Fuwai is a short-legged strange living creature that walks on all fours. When they are stressed, they shed their fur more. They have a habit of cursing someone when they point out one of Fuwai's bald spots. It appears that they do not like being touched at all.
Ichiya Mokusaibashi

Voice Actor: Yuusuke Shirai
---
Ichiya was forced to marry Tsukitsuka immediately after Tomari become Kanenogi's wife. He appears to have had a calm personality, but after meeting Tsukitsuka, he has completely lost his coolness. He's a demon wife.
Tsukitsuka

Voice Actor:
---
Tsukitsuka appears and thinks the most like a human being, but there is nothing under the bandages that appear to surround their body. They are always energetic and try to do their best.
Episodes
12
Theme Songs

Opening Song: Happy Life Spectacle by Hi!Superb

Adaptation

Manga


Main Staff

Original Creator: Akiwo Yasaka
Director: Hisayoshi Hirasawa
Script: WORDS in STEREO
Series Composition: WORDS in STEREO
Character Design: Izuro Ijuuin
Sound Director: Hisayoshi Hirasawa
(Credit Honey's Anime when you use our description.)
---