Many of us are stuck working from home. Whether we have a dream job or one we absolutely want to escape from, by this time we are probably missing even the day-to-day of office life. You might be missing a budding office romance, a sense of purpose, an unorthodox profession you're keeping secret, or you might be fuelled by anger. No matter what your needs are, we got them covered with four anime titles, so read on!~
Romance - Wotaku ni Koi wa Muzukashii (Wotakoi: Love is Hard for Otaku)

Episodes: 11
Aired: April 2018 - June 2018
Wotakoi's Narumi and Hirotaka are childhood friends who meet again at their workplace. While Hirotaka is a kind but aloof guy who doesn't care about showing to the world he is an otaku, bubbly Narumi is taking precautions to hide how she spends her free time. By Hirotaka's side, Narumi can relax and get less embarrassed about being an otaku, and early enough in the series, they start dating.
Wotakoi shows an honest portrayal of office work and introduces us to characters we might have met in real life: the senior colleague who is sharp and driven in Hanako Koyanagi, or the competitive manager in Kabakura Tarou. Minor characters in the office are depicted in grey and minimal lines, and the focus is only on the protagonists. Sounds a lot like real life, where details get blurred and your colleagues start resembling one another. Narumi, Hirotaka, Koyanagi and Kabakura, all wait for the end of the workday to enjoy gaming, reading manga, and watching their favorite anime - again, sounds like real life!
---
Drive - Shirobako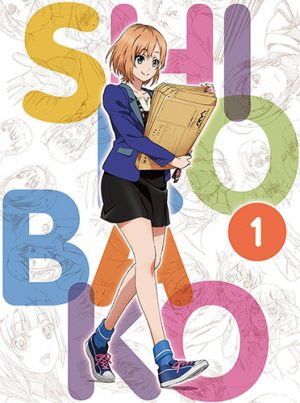 Episodes: 24
Aired: October 2014 - March 2015
Best friends and former schoolmates Aoi, Ema, Midori, Shizuka, and Misa have the same dream: to work in the anime industry! Each has their own drive: Ema, for example, is a talented junior animator who is doing her best to improve at her craft, and Shizuka goes after every voice acting opportunity she is given and persists in the face of failure. MC Aoi works in production - she loves it...but it also drives her crazy!
Shirobako is an anime about making anime, a demanding and brutally fast-paced industry. Set in an office, Shirobako shows Aoi and her friends going after their dreams, and what that entails: long hours, practice, creative thinking, and perseverance. Aoi might not be a CG animator or a voice actress, but she holds an equally or even more important role: working in production, she is responsible for planning and operations. Her tenacity is inspiring because Shirobako succeeds in reminding us why we choose to give it all we've got for our dreams. Ganbatte!
Shirobako Opening
---
Secret - Kakushigoto

Episodes: 12
Aired: April 2020 - June 2020
How can one hide their profession while working from home? We have no idea what manga artist Kakushi Goto would do if he was forced to do so. Goto's most well-known work is Balls of Fury, a raunchy manga series, which he is determined to hide from his only daughter, Hime. In fact, Goto goes to great lengths to erase any proof that he draws for a living (which is what Kakushigoto literally means in Japanese): every morning he dresses in a suit, grabs his briefcase, and leaves home looking like any other salaryman. As soon as he reaches his studio, he changes into flip flops and short pants and begins drawing, reminding us more than we want to admit our current work-from-home attires.
Kakushigoto is a slice-of-life comedy that is equal parts hilarious and moving. A father's commitment turns into obsession, as he devises all sorts of stories to hide such a big part of his life. We identified with Goto's habit of wearing a robe while working, his commitment to hiding his job (although we would do that for much more mundane reasons, like not wanting a nosy aunt to know we didn't get that promotion), and his love for his family.
Have you ever kept your profession a secret? How did that go?
Kakushigoto Trailer
---
Rage - Aggressive Retsuko ONA (Aggretsuko)

Episodes: 10
Aired: April 2018
Red panda Retsuko is a young office worker who has to deal with the dark side of the workplace. Overtime, nasty comments from colleagues, condescending bosses, and a dead-end position: Aggretsuko deals with all that and more by letting off steam at her favorite karaoke place, growling death metal lyrics about her less than ideal life. Sounds familiar?
Sure, nobody is missing what Retsuko goes through every day, but we all need someone to relate to about our darker side. The success of the show lies in how relatable Retsuko is, in her difficulty to stand up for herself and her pent up frustrations.
Let it all out!
Aggretsuko Trailer
---
Final Thoughts
When our routines are disrupted, we might end up missing even office life. Wotakoi, Shirobako, Kakushigoto, and Aggretsuko will remind you of the good and bad of working in an office. There is the promise of achieving your goals, making new friends, even finding romance, but you can also get frustrated and disillusioned.
What do you think of anime set in the workplace? Are you hiding your job like Kakushi Goto or exploding from stress like Aggretsuko? (we hope not!) Let us know in the comments!