También puedes leer este artículo en:Español
Spring 2016 is almost over and we've seen a handful of great slice of life anime shows this Spring 2016 like Anne Happy and Sansha Sanyou just to name a few. Though it's sad to see these show end, we must move on and experience new lives with new characters Japan has to offer. With Summer 2016 being a couple of short weeks away, we think it's the best time to check out what's in store for us Slice of Life fans!
We're going to preview 4 Slice of Life shows and see what stuff they have in store for us. Don't let the number alarm you, though! Slice of Life shows are in no short supply for Summer, but right now we're just gonna focus on 4 notable Slice of Life shows. With all that said, let's check out some of the anime we'll be seeing very soon!
4. Amanchu!

Episodes: ?
Aired: July 8, 2016-?
Kohinata Hikari is a rather eccentric 15-year-old girl who spends her time scuba diving meets Ooki Futaba, a rather shy 16-year-old girl who is constantly looking at her cell phone waiting for a text message of someone. Amanchu! is a story of friendship between two girls with two different personalities who entered high school for the first time. An unfamiliar place, and unfamiliar school — Their new life starts here.
Amanchu! is based on a manga series of the same name by Kozue Amano, the creator of the wonderful and extremely comfy Aria series. And if Aria is an indication of Kozue Amano's storytelling, Amanchu! will be character focused with good laughs, a dash of surreality at a deliberately slow pace, and set in Japan… not Mars... And to make Amanchu! anime even more tempting to watch is it's being animated by industry veteran J.C. Staff — a studio who adapted Slice of Life stories like Kareshi Kanojo no Jijou and Hachimitsu to Clover.
Amanchu! PV 2
---
3. Amaama to Inazuma (Sweetness and Lightning)

Episodes: 12
Aired: July 4, 2016-?
After the death of his wife, teacher Inuzuka Kouhei has been caring for his daughter Tsugumi on his own. Kouhei is not good at cooking so they been eating packed lunches from convenience stores every since. One day when the two strolled on a part, they met a girl named Iida Kotori eating alone.
After a series of events, the father and daughter visited a restaurant only to find out the girl they met at the park works there. And it turns out Kotori is often alone after her parents had a divorce and her mother is frequently not around. Eventually, the three of them begin cooking tasty food together.
Amaama to Inazuma is currently the only manga got adapted to anime by mangaka Amagakure Gido, who is known for writing forbidden love stories that are mostly Yaoi. Unlike most of Gido's works, Amaama to Inazuma is not Yaoi and from what we can tell, the romance, if ever, is straight involving the teacher Kouhei and student Kotori. Still, it'd be interesting to see a light-hearted romance between a teacher and a young student.
Amaama to Inazuma Extended PV
---
2. NEW GAME!

Episodes: ?
Aired: July 4, 2016-?
Suzukaze Aoba is a fresh graduate and she is the new employee for a game development company named Eagle Jump Corporation. In her first few days as CG artist, Aoba meets the colorful cast of all-female employees with distinct personalities. New Game! tells the cute story of cute girls doing cute game development things.
An anime lineup isn't complete without a show about cute girls doing cute things and if you like this sort of anime then this show is perfect! New Game! is a 4-koma manga series by Tokunou Shoutarou who wrote and illustrated novels and manga mainly on Slice of Life and supernatural. With the mangaka's experience on the Slice of Life genre and the anime being animated by Doga Kobo (Yuru Yuri S1-S2, Himouto! Umaru-chan, Sansha Sanyou), New Game! anime will be one colorful, cute and extremely funny show for Summer. Oh and there are many Yuri subtext as well, so expect a lot of yuri fanservice!
NEW GAME! PV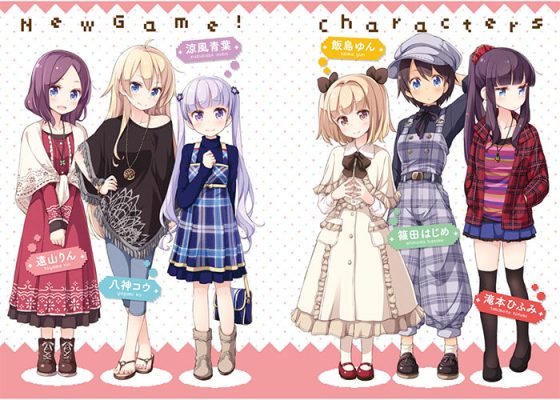 ---
1. Kono Bijutsubu ni wa Mondai ga Aru! (Konobi, There's Something Wrong with this Art Club!)

Episodes: ?
Aired: July 7, 2016-?
Uchimaki Subaru is the hero of the story, has a few problems and he loves to draw 2-D wives. Usami Mizuki is the heroine of the story, with fewer problems that our hero and is the most serious one in the club who wants to do real club activities. And let's not forget the club president who spends his time lazing around the club room. Kono Bijutsubu ni wa Mondai ga Aru! Is a "2-D story" of youth in a middle school art club.
Judging by the works of mangaka Imigi Muru, Kono Bijutsubu ni wa Mondai ga Aru! is mainly a romantic comedy story with a dab of serious moments involving a group of students in the art club. Subaru is your typical otaku who loves drawing cute anime girls and claims them as their wives. Aside from implications that he has some issues, Subaru has some feelings towards his classmate Mizuki and this, as far as we know, drives the story of the anime. And with studio feel. doing the animation, we can expect some stunning visuals and art design.
It may not be yuri-centric as New Game! or more dynamic like Amaama to Inazuma, what Kono Bijutsubu ni wa Mondai ga Aru! has is a story between a boy and a girl.
Kono Bijutsubu ni wa Mondai ga Aru! PV
---
Final Thoughts
By the end of the day, these are just previews of 4 upcoming anime, so we can't say anything concrete. We do know they're all adapted from manga and we can get a general gist of the story and characters. What don't know for certain is how the adaptation is going to be handled and overly presented. Are the studios try to stay true to the source or will they make original side stories or rewrite some of the plot points to create a unique anime-only experience?
Regardless of how the adaptations are going to be handled, these shows are all interesting Slice of Life shows that tells the stories of the day to day lives of characters from a feisty teenage girl to a single father raising a child. We've witnessed the lives of characters from anime this Spring, so it's time to go witness more lives this upcoming Summer! This what makes Slice of Life great!
So what Slice of Life shows you're eager to watch or even check out this Summer? Please let us know by leaving a comment below!
Vote for your most anticipated anime of Summer 2016!

---