También puedes leer este artículo en:Español
Just where did the time go? It feels like the Winter season 2016 has just begun, but now we are already anticipating the hit shows of Spring 2016. What can we expect and which shows should you not miss out on?
Today's focus are the magical and fantastic universes that are slowly coming our way. The Fantasy genre definitely didn't have a bad start into 2016 and already featured hit shows like Grimgar of Fantasy and Ash or Kono Subarashii Sekai ni Shukufuku wo. The expectations are high, so what are we waiting for? It's time to find out which Fantasy anime are coming out in spring. Enjoy!
5. Kyoukai no Rinne Second Season

Episodes: 25
Aired: April 9 2016
Let's start this list off with a sequel that we are sure many of you are already highly anticipating. That's right, hit show Kyoukai no Rinne is getting a second season!
The story continues right where the first season left off. Sakura Mamiya, the girl who is able to see ghosts and other spirits, and Rinne Rokudou, the boy with a unique profession, are back and ready for new adventures. You will meet people you already know, but also get introduced to a new set of quirky and fun characters. Kyoukai no Rinne is the latest creation of mangaka legend Rumiko Takahashi, known for stories like InuYasha or Ranma ½, so the success of this anime shouldn't be a big surprise. Fans of the first season will definitely enjoy the sequel as well and everyone else should give this little gem a chance.
TV anime "boundary of RINNE" promotional video
---
4. Endride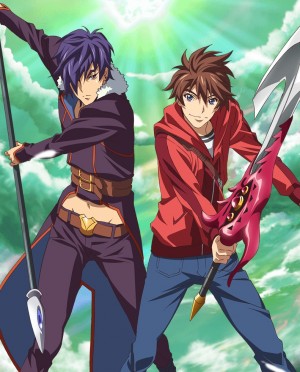 Episodes: 24
Aired: April 3 2016
Next up we have another unlikely duo in the main cast, but this journey is set in a universe far away from ours. It's time for Endride!
Endride comes from the creative masterminds behind Brain's Base and introduces you to the mythical world of Endra. Shun Asanaga, your typical junior high school student, travels into this universe after an accident involving a mysterious stone, but he isn't alone. He meets Emilio, a prince in the world of Endra who only has one thing on his mind: taking revenge on the king and claiming the throne for himself.
Endride takes you on a journey with Emilio and Shun who end up pursuing their goals together. Fans of fantastic journeys, lots of adventure and a main cast that has to work together despite their differences will definitely enjoy this Fantasy anime.
Anime "End Ride" PV
---
3. Sousei no Onmyouji (Twin Star Exorcist)

Episodes: TBA
Aired: April 6 2016
Studio Pierrot isn't known for taking long breaks and their newest show Twin Star Exorcist is already one of the most hyped anime of Spring 2016.
Imagine living in a world where scary monsters keep showing up in front of you. Now imagine having to become an exorcist and fighting these monsters even though you'd rather be doing something else. Picture earning the title Twin Star and not only having to fight alongside a female partner, but also having to marry her and birth the next warrior. What sounds like a terrible fate becomes reality for Rokuro Enmadou.
Twin Star Exorcist promises a lot of interaction between the main cast as well as great character developments. We can only wait and see what Studio Pierrot has come up with, but their short trailer already looks promising.
TV Anime "twin star of Onmyoji" teaser PV [open gate hen]
---
2. Seisen Cerberus: Ryuukoku no Fatalités

Episodes: TBA
Aired: April 4 2016
You've enjoyed this list so far, but are looking for something with even more fantasy, adventure and mystical creatures? Then Seisen Cerberus is the show you are looking for.
The story takes place in Kuna'an, a continent that is ruled by the most powerful magicians and swordsmen out there. In this fantastic universe, one 16-year-old boy sets out to avenge the death of his parents. Only equipped with a sword in his hands and determination in his heart he is ready to kill the evil dragon Danguard no matter how difficult this quest might be. Seisen Cerberus will definitely be a great adventure filled with all different kinds of characters, so keep your eyes open for this Fantasy anime.
Fatarite of holy war Cerberus Ryukoku
---
1. Magi: Sinbad no Bouken (Magi: Adventure of Sinbad)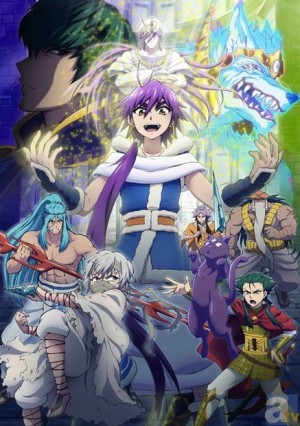 Episodes: TBA
Aired: April 15 2016
There is one more fantastic story left and it might be the biggest adventure on this list. Get ready for the great journey of Sinbad in Magi: Adventure of Sinbad!
This series is a spin-off of the original manga by Ootaka Shinobu. You might already be familiar with the protagonist Sinbad, High King of the Seven Seas, through the 2012 series Magi: The Labyrinth of Magic. This season, however, will take you back in time and show you what happened before the main events of the series, when Sinbad was still standing at the beginning of his long journey. Fans of the Magi universe won't be disappointed, but also people who are new to this story should definitely check it out once spring finally comes around.
"The Adventures of Sinbad Magi" TV anime new series announcement PV
---
Conclusion
This sums up all of the fantastic stories that you will encounter in Spring 2016. We have definitely some variety here, starting with a show that is set in our universe and ending with lots of adventures that will guide you to far-away places. The beauty of the Fantasy genre is that almost anything is allowed and there are no limits to the creativity of the producers. We can only wait and see how these stories will unfold, but the line-up looks promising so far.
Which show are you most excited about when it comes to Fantasy anime in Spring 2016? Feel free to share your opinions and recommendations down below.
---
Vote for your most anticipated anime of Spring 2016!