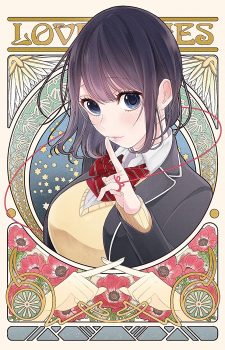 Delivered to us in Summer 2017, Koi to Uso (Love and Lies) is an emotional rollercoaster based on the lives of three teenagers living in an age dominated by government ruling over an incredibly important facet of a person's life: their romantic relationships. With forbidden love on the cards in Koi to Uso, we figured we'd recommend two other shows that draw from the same wellspring, bringing us romantic stories that warm our hearts or simply frustrate us! Regardless, we think that if you enjoyed Koi to Uso, these two we have lined up for you will hit that same spot!
About Koi to Uso (Love and Lies)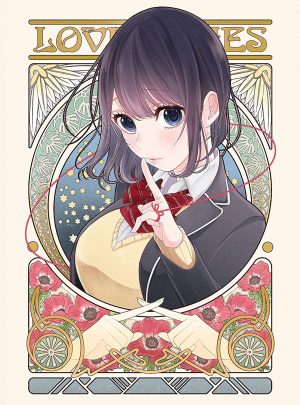 Episodes: 12
Aired: July 2017 - September 2017
Sometime in the near future, Japan implements a complex system to address the low birth rates which have become associated with the land. This system is known as the "Red Threads of Science" and it uses highly complex mathematical calculations based off of data collected over an individual's life - this information is used to match them with their perfect partner. From the age of 16, people are assigned spouses by the government, with severe consequences for those who do not comply. For an average Joe, the system is a "balancing of the scales", giving people like him a guaranteed chance at a fulfilling family life.
Except, that's not how it turns out. Yukari falls in love with a girl he goes to school with and spurred on by these emotions, he confesses his love for her and she returns those feelings. Unfortunately, Yukari's 16th birthday means that his government notice is due - his assigned partner is a girl named Sanada Ririka. After an unsavoury first impression, Ririka's curious mind is aroused by Yukari's ongoing forbidden romance, forcing him into a complex web of lies.
Liked Koi to Uso? Watch Koi wa Ameagari no You ni (After the Rain)
Episodes: 12
Aired: January 2018 – March 2018
Tachibana Akira is a high schooler who keeps to herself who used to be on the track and field team, but after a severe injury, she has been unable to get back to the track since. Working part-time at a family restaurant known as the Garden Café, 17-year-old Akira falls in love with her 45-year-old manager, Kondo Masami. Kondo's kindness towards customers and towards Akira herself is what draws her to him. The time they spend together at the restaurant results in them growing closer and eventually unable to contain her feelings anymore, Akira confesses. What now?
Three Major Similarities Between Koi to Uso and Koi wa Ameagari no You ni
1. Taboo Romance
Both Koi to Uso and Koi wa Ameagari no You ni are built around constructs of romance which are seen as taboo or forbidden; either in the context of the story itself, or as we would understand it in the real world. Koi to Uso has this building up in several ways: firstly with Yukari's relationship with Misaki, and secondly in conjunction with his relationship with Misaki, his clearly-developing emotions for Ririka act as the forbidden love over and above the love forbidden by the Japanese government. In Koi wa Ameagari no You ni, it is the age gap between Akira and Kondo that presents this aspect to the anime.
2. Unlikely Romance
In addition to the main romantic relationships in both anime being taboo, there is also the added aspect that both bore an element of being irredeemable. Yukari's main dilemma throughout the initial stages of Koi to Uso was the fact that one day he'd receive his government notice and never get the chance to at least confess his love for Misaki, but he does and lo and behold, she feels the same way! In Koi wa Ameagari no You ni, it's in the ways in which both Akira and Kondo begin to start seeing each other differently as time goes on. This is despite the age gap and the obvious awkwardness they would be experiencing at work.
3. Average Joe and Super Girl
Both anime display the common trope of having the male character in the relationship have no real special redeeming features or talents, an Average Joe in every sense and pair them up with a female character who is talented, or decorated in some way. In Koi to Uso, it's the average Yukari falling in love with everyone's high school sweetheart, Misaki, an intelligent girl who is also beautiful; as well as being paired up with the beautiful Sanada Ririka, the daughter of a wealthy family who is receiving a top-class education at an extremely decorated school – the contrast is present in both shows. In Koi wa Ameagari no You ni, it is the pairing of the former track and field rising star falling in love with the 45-year-old divorced father of one who hasn't quite done anything special.
---
Liked Koi to Uso? Watch 25-sai no Joshikousei
Episodes: 12
Aired: January 2018 – March 2018
Hana Natori is a meek and mild, earnest and good-natured 25-year-old who just so happens to look much younger than she actually is. In actual fact, she looks exactly like her cousin, who refuses to go to school for certain reasons. Hana takes her cousin's place and attends high school; however, her cover is blown on her first day when it turns out that her former high school classmate, Okito Kanie, just so happens to be the school's history teacher.
Three Major Similarities Between Koi to Uso and 25-sai no Joshikousei
1. Forbidden Romance
In 25-sai no Joshikousei, it doesn't take long for the relationship between Hana and Kanie to turn sexual. However, due to the nature of the situation, Hana is not herself when she is at school – her point of most contact with Kanie. Thus this situation falls into the realm of the forbidden as it would be outrageous for a student to be in a sexual relationship with a teacher. Koi to Uso presents the forbidden romance from the perspective of the government assigning Yukari a wife despite Yukari already being in love with someone else.
2. Kissing
This is a fairly strange thing to notice; however, it occurs so often in both shows that it is noteworthy. In Koi to Uso, Ririka's strange fascination with the intricacies of Yukari's relationship with Misaki bring the show to throw lots of kisses shared between Yukari and Misaki into the mix. Not a single one of 25-sai no Joshikousei's short episodes has been without a kiss so far, with it being Kanie's go-to method of silencing Hana.
3. Nostalgic Tension
Both anime have an element which we'll call the nostalgic tension. Basically, the characters have unresolved romantic or perhaps lustful feelings towards the other party from an earlier point in their lives; such as high school for Hana and Kanie, and elementary school for Yukari and Misaki. The nostalgia of these feelings bolsters the characters' attraction to each other, but also creates an incredible amount of tension which we as the audience, enjoy to no end.
Final Thoughts
Koi to Uso was a fairly enjoyable anime which covered aspects of romance in an interesting way given the convolutions of the story. With thematic elements such as the "Forbidden Fruit" concept, as well as the Average Joe pairing up with a woman of excellence or accomplishment, both Koi wa Ameagari no You ni and 25-sai no Joshikousei follow the same patterns in terms of the way in which elements of the story are set out. Are there other shows out there like Koi to Uso that you'd like to recommend to us? Drop a comment below and tell us all about them!
---