También puedes leer este artículo en:Español
Love is a constant battle in the anime world. Women fight hard for their men to notice them but usually they do it in quite different ways. Some women use a timid approach to hope they get noticed. Meanwhile, other women will do some rather strange things to make their potential love fall for them. This is especially true for Akira Tachibana in Koi wa Ameagari no You ni who seems to push forward despite some rather unique circumstances.
Those thoughts got us here at Honey's Anime to think for a moment. What anime is similar to the 2018 love story Koi wa Ameagari no You ni? After checking our memory banks for the various romance anime we've watched, we realized there are actually quite a few shows like Koi wa Ameagari no You ni. Here are 6 Anime Like Koi wa Ameagari no You ni. Let's get this romance filed list going by scrolling down and starting the list!
Similar Anime to Koi wa Ameagari no You ni
1. Ore Monogatari!! (My Love Story!!)

Episodes: 24
Aired: Apr, 2015- Sept, 2015
Takeo Gouda is tough looking, huge and extremely scary looking. Takeo might indeed have this look too him, but in reality, he's actually pretty nice and considered to be a hero among his friends and peers. Though, Takeo's love life isn't working the way he wishes it would. Thankfully this might change when Takeo saves a rather cute girl named Rinko Yamato. Now Takeo will begin to finally see his love life begin to bloom, though it won't be a quick bloom to say the least.
Let us begin our list of 6 Anime Like Koi wa Ameagari no You ni with one of our absolute favorite romance anime out there called Ore Monogatari!! Not only does Ore Monogatari!! remove the clichés of most romance anime by having the main man Takeo being anything but typical in design, but even how love is approached in this series doesn't adhere to typical tropes. That same feeling is seen in Koi wa Ameagari no You ni. That's why both shows are so great in general and why you need to set some time aside to check out Ore Monogatari!! Just be prepared for a lot of aww and ohh moments.
Ore Monogatari!! Trailer
---
2. Amaama to Inazuma (Sweetness & Lightning)

Episodes: 12
Aired: Jul, 2016- Sept, 2016
Following the death of his wife, Kouhei Inuzuka has tried his best to look after his daughter Tsumugi. Kouhei has found that he can deal with Tsumugi's energy and random acts but cooking for her has been rather tough. Luckily, by a random event Kouhei ends up befriending a student of his named Kotori Iida and she in turn teaches him how to cook. Now Kouhei must master cooking so he can keep Tsumugi happy and healthy. Let the cooking lessons begin in Amaama to Inazuma!
At first glance, Amaama to Inazuma might seem to appeal more to those who love food anime, but that couldn't be further from the case. Amaama to Inazuma contains various themes that can be found in Koi wa Ameagari no You ni such as cute characters, a touching story and various seinen themes. There is also romance in Amaama to Inazuma, but it takes a back burner to being more focused on giving the audience tons of hits to your emotions. At times you'll laugh and other times cry while watching Amaama to Inazuma and all of these feelings are perfectly normal to experience. Amaama to Inazuma is a emotional rollercoaster and if you love emotional anime like Koi wa Ameagari no You ni then you need to watch Amaama to Inazuma.
Amaama to Inazuma Trailer
---
3. Ojisan to Marshmallow (Ojisan and Marshmallow)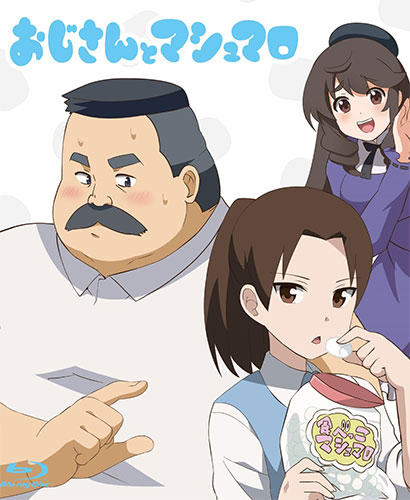 Episodes: 12
Aired: Jan, 2016- Mar, 2016
There's an old saying out there in romance, a way to a man is through his stomach. Though maybe Iori Wakabayashi is going about this old saying in the wrong way. Iori currently is infatuated with her boss Habahiro Hige but he way of making him notice is through teasing him with his biggest weakness, Tabekko Marshmallows. Iori thinks Hige will fall for her if she keeps pushing his buttons. However, will this tactic work or will Iori find her job terminated?
Iori, in many ways, reminds us of Akira Tachibana from Koi wa Ameagari no You ni. Not only does Iori do things her own way in Ojisan to Marshmallow, but she pretty aggressive in her attempts at wooing her love. Ojisan to Marshmallow is another romance anime with some rather silly themes all while being quite cute and adorable. We can feel it now, you're wondering if Iori wins over Hige's big heart. Well, we here at Honey's Anime won't spoil it for you; you'll just need to watch Ojisan to Marshmallow for yourself.
Ojisan to Marshmallow PV
---
Any Anime Like Koi wa Ameagari no You ni ?
4. Kimi ni Todoke (Kimi ni Todoke: From Me to You)

Episodes: 25
Aired: Oct, 2009- Mar, 2010
One look at Kuronuma Sawako might scare most people away. Looking similar to a popular ghost girl from The Ring, Sawako has been avoided by her classmates for having a scary demeanor and odd behavior. However, Sawako isn't doing this on purpose and wishes to just have friends to talk with and a normal school life. Then when popular guy Shouta begins talking to Sawako, things finally seem to change for this awkward girl. Kuronuma Sawako might finally make some friends and even maybe have a love life, if she can find a way to stop doing rather odd things.
Here at Honey's Anime, we know that any romance anime list needs a few good shoujo anime on it. That's why we think for those who love Koi wa Ameagari no You ni you will most certainly love Kimi ni Todoke. While Akira Tachibana's awkwardness might not be nearly as bad as Sawako, these two at times mirror each other in their love lives. Sawako is clearly trying to make her relationship with Shouta work and similarly, Tachibana is as well. That's why we can honestly say Kimi ni Todoke is a perfect anime to recommend for our 6 Anime Like Koi wa Ameagari no You ni list. Plus, when you're finished with the first 25 episodes, there's another season of Kimi ni Todoke meaning you won't have to wait to see how Sawako's life turns out. Not like how we have to wait for Koi wa Ameagari no You ni to finish airing…which is slowly killing us!
kimi ni todoke - From Me to You Official Trailer https://www.youtube.com/watch?v=_gJR6gfRYEQ
---
5. Lovely Complex

Episodes: 24
Aired: Apr, 2007- Sept, 2007
Both Koizumi Risa and Ootani Atsushi are in rather strange predicaments. Not only do the two have rather strange heights for their genders but their crushes are actually dating each other! Struggling with their romance lives together both Atsushi and Risa have begun to get to know one another better. Maybe, love can form between these two…if they don't anger and annoy each other first. It's time for a rather comedic romance struggle in Lovely Complex!
Both Lovely Complex and Koi wa Ameagari no You ni are quite similar and it doesn't take too long to realize why. In Lovely Complex, a tall girl and a short guy are beginning their road to romance. Meanwhile, in Koi wa Ameagari no You ni a 45 year old is trying to deal with a 17 year old girl who seems to love him. That's why Lovely Complex is a perfect anime to binge if you are in dire need of some comedy with your romance tale. These romances are indeed rather strange but you can't say they aren't both interesting.
---
6. Gekkan Shoujo Nozaki-kun (Monthly Girls' Nozaki-kun)

Episodes: 12
Aired: Jul, 2014-Sept, 2014
What do you usually expect when you go up to the guy of your dreams and confess to them? Usually, you'd expect a comment back or some form of normal acknowledgement. However, that isn't the case for high school girl Chiyo Sakura who has just confessed to Umetarou Nozaki. Instead of hearing a confirmation of her feelings, Chiyo instead gets an autograph and then learns something interesting; Nozaki is actually a popular shoujo mangaka! Making matters even stranger, following more attempts by Chiyo to make Nozaki notice her, she ends up becoming his assistance! Can Chiyo get Nozaki to notice her?!
As we mentioned earlier, love isn't an easy battle. You see this in Koi wa Ameagari no You ni and you also see it in our last recommendation for our 6 Anime Like Koi wa Ameagari no You ni list in the anime known as Gekkan Shoujo Nozaki-kun. Similarly to Akira, Chiyo must prove to her love that she's there and even more so, prove her confessions aren't that of a crazed fan! Gekkan Shoujo Nozaki-kun will make you laugh non-stop while watching—usually at the expense of Chiyo—but the romance element will also be quite solid. We can't recommend Gekkan Shoujo Nozaki-kun any harder if you really are digging Koi wa Ameagari no You ni like we are.
Monthly Girls Nozaki-kun Trailer
---
Final Thoughts
Koi wa Ameagari no You ni has so far been one awesome romance anime. Though we know it will eventually reach its climax and you will need some shows to watch Akira's tale ends. We know the shows above will be perfect for you and we hope you'll check them out if you did indeed love Koi wa Ameagari no You ni. If you have already seen some of the shows above, comment down below to let your fellow readers know what you thought about them. If you need more recommendation lists for other anime series, be sure to keep stuck to our hive here at Honey's Anime.
---