Studio Trigger has accomplished so much within a short period of time. Having been in production for six years and with only four anime series and several short ONAs, how did Trigger achieve fame so quickly? Is it the wacky nature of their series? The Western influences? Let's travel back in time to 2011, and see how it all began.
Origins
Studio Gainax is known for their over-the-top comedies and cliffhanger endings. Classics such as FCLC, Panty and Stocking with Garterbelt, and Neon Genesis Evangelion probably ring a few bells. Gainax's animators over exaggerate on character movements and battles to give the scene a little more life and personality. Sounds a lot like Trigger, doesn't it? Well that's because Trigger was formed by directors and key animators from Gainax. One of those people being Yoh Yoshinari, who would later create and direct Little Witch Academia. But we're getting ahead of ourselves.
The founding fathers of Trigger partnered up with Super Ultra Pictures to produce their works since they didn't have any executive producers of their own. Remember, Trigger was formed by animators and directors at Gainax, so they put their skills to good use by collaborating with other animation studios and helped out on their projects. In fact, Trigger's first work wasn't even their own series. The first time the ex-Gainax staff worked on an anime as Trigger, was for episode 17 of The Idolm@ster. The Idolm@ster is a 2011 idol anime series by A-1 Pictures. Lucky for Trigger, one of their friends from Gainax was the director for The Idolm@ster, and he gave Trigger almost full control of episode 17.
Trigger's First Anime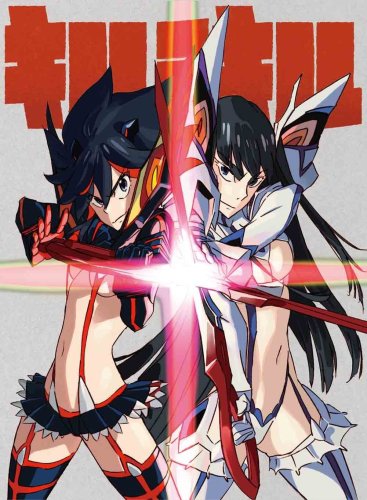 Even though Trigger was made up of a smaller staff, with the help of their connections at Super Ultra Pictures, they were able to come out with their first anime series; Kill la Kill. Many of us remember when Kill la Kill first aired and people were nicknaming it "The Savior of Anime". It had everything reminiscent of a Gainax anime. Original concepts, great character designs, wild yet fluid animation, and a memorable soundtrack. Except, unlike Gainax, Kill la Kill had a complete ending with no cliffhangers. This is something that every Trigger project has.
Although Kill la Kill was Trigger's first anime series, it is also important to talk about Trigger's first ONA. In 2012, Inferno Cop was streamed on the Anime Bancho YouTube channel. Inferno Cop was a short 13 episode anime. The unique art and animation was used as a template for their 2015 ONA; Ninja Slayer From Animation. It's important to talk about Trigger's ONAs, as they built a reputation. Studio Trigger was very active on the internet, gaining more fans faster than most studios. By having their ONAs, and eventually series, available on the internet, more people around the world were able to stream Trigger's anime.
Yoh Yoshinari
Yoh Yoshinari is the most important person working at Trigger today. He is a very talented key animator who worked on Neon Genesis Evangelion, Mobile Suit Victory Gundam, and FLCL. Yoshinari was also the mecha designer for Gurren Lagann and the key animator for almost all of its fight scenes. However, Yoshinari didn't join Trigger until 2012, as he was working at Production I.G a year prior. When he did join Trigger, he announced his next project; Little Witch Academia.
Little Witch Academia
Little Witch Academia deserves its own spotlight, as it defines Trigger as a modern studio. Allow us to explain. Before the TV series, Little Witch Academia was a short cinematic screened at Anime Mirai in 2013. The short film became a huge success fast, and it didn't take long for a sequel to be announced. Thanks to Trigger's fans on the internet and their love for Little Witch Academia, a kickstarter campaign was started to fund Little Witch Academia The Enchanted Parade. The Enchanted Parade is not the first anime to be funded by using kickstarter, but the first to be successful. The original goal was $150,000, and that was surpassed within five hours with the campaign ending at $625,518. With the large amount of revenue, Trigger was able to double the length of the sequel film.
Trigger's staff has never once been silent about their love for Western cartoons, having multiple references to Disney, Steven Universe, and even live action reality TV shows in the Little Witch Academia TV series. But we'll get into the Western influences later down the road. Takafumi Hori, an animator for Trigger, has admitted that he prefers watching cartoons in their original English dub with Japanese subtitles. Hori has also tweeted fan art of Steven Universe characters, which caught the eye of the co-developer of Steven Universe; Ian Jones Quartey. Quartey even invited the Trigger staff to meet the Cartoon Network staff at Anime Expo 2015. It was there that Little Witch Academia The Enchanted Parade premiered for the first time.
Shortly after Anime Expo, Netflix decided to stream both Little Witch Academia short films on their network with an English dub. Now even more people got into Little Witch Academia, and they wanted another sequel. In 2016, Trigger aired a short form anime series called Space Patrol Luluco. At the end of its final episode, the main heroine, Luluco, crosses paths with Akko, the main heroine of Little Witch Academia. They give each other a high five, and that was when it was announced that Little Witch Academia was getting a full 24 episode TV series. Netflix licensed it as soon as the announcement was made public, and fans were screaming with joy.
Western Influences
As mentioned earlier, most of the people working at Trigger are fans of Western cartoons and TV shows. Trigger will even insert characters from other cartoons as background characters in crowded scenes. For example, in Little Witch Academia The Enchanted Parade, townspeople representing Dipper and Mabel from Gravity Falls can be found, as well as Steven Universe's Conny. In the TV series of Little Witch Academia, a recurring character known as "the shopkeeper" was modeled after the reality TV show Pawn Star, Chumlee. In an interview, Yoh Yoshinari and the rest of the Trigger staff were asked how much they embrace Western culture and their Western fans, they replied:

"We always want to create something "interesting and fun," but "interesting and fun" tends to rely on what we think is interesting and fun. At this stage, we are not really considering much about whether a title is suited for Japan or other regions of the world.


"What we want to do is support and communicate with the fans who enjoy our titles and cheer us on, no matter where they are from —Japan or otherwise. We would also like to fulfill what our fans would like to see from us as much as we can."

As thanks to their Western fanbase, Trigger hosted a panel at Anime Expo 2017. Here, they screened a special 13th episode of Inferno Cop where Inferno Cop is wounded by Donald Trump. Little Witch Academia's Lotte Jansson makes an appearance in the special, as well as all the other American characters Trigger has made. Together, the cast sings about their love for America, while Inferno Cop is wailing in pain. After the special episode, the Trigger staff announced a joint anime project with A-1 Pictures to premiere in 2018 called Darling In The Frankxx.
Other Anime Series
By now, you're probably tired of hearing about Little Witch Academia, so let's go back to the rest of Trigger's anime. Thanks to the success of Kill la Kill, big name voice actors turned to Trigger and auditioned for their next project. One of those voice actors being Kana Hanazawa. In late 2014, When Supernatural Battles Became Commonplace aired, and it starred Hanazawa as one of the main female leads. This is one of, if not, the least talked about Trigger anime series. When Supernatural Battles Became Commonplace isn't anything like Trigger's future works, as the art style and animation was the standard template for your average anime studio. The anime wasn't wacky in the slightest, nor did it have any Western influence.
Trigger seemed to fall even more with the release of the 2015 ONA, Ninja Slayer From Animation. The short form series received horrible reviews, with fans dropping it after the first few episodes. Did Trigger peak too early? Was Kill la Kill to be a one-hit wonder? Well in the spring season of 2016, Trigger released two anime airing simultaneously; Space Patrol Luluco and Kiznaiver.
For fans of the wild Trigger art, animation, and premise, Space Patrol Luluco was the anime for them. Each episode had Luluco going from anime to anime to find evil and defeat it, all while trying to earn the gaze of her first love. Luluco went inside the world of Inferno Cop, Little Witch Academia, and Kill la Kill. Paying tribute to Gainax, the head police officer, Over Justice is seen wearing Kamina's glasses from Gurren Lagann. By the end of Space Patrol Luluco's run, Trigger released the design for their poster girls known as "The Trigger Girls". One of them being Luluco herself. While another Trigger Girl resembles the appearance of Kill la Kill's Nui.
Kiznaiver was a very unique project for Trigger, as this was their first drama. In fact, the first pitch for Kiznaiver was disregarded back when Trigger was founded. How could a studio known for their bizarre series make a drama? Shockingly enough, Kiznaiver was a success. Having easing into the drama, allowing the feels to hit, Kiznaiver stuck with everyone who watched it. The classic Trigger art and animation was prevalent throughout the series, as well as adding some funny hijinks in the first four episodes. Kiznaiver showed us that Trigger is a well-rounded studio, that is not afraid to try something out of their comfort zone.
---
Final Thoughts
It's truly incredible how such a tiny studio was able to make it big within a few short years. By connecting with their audience through the internet, and showing their lover for the West, Trigger is without a doubt a modern studio. Now that Trigger is collaborating with A-1 Pictures once again, we will most definitely be looking out for that style that is unique of Trigger. Will Trigger continue to develop original projects? Will we ever find out who the third Trigger Girl Is? And what other cameos will Trigger insert into their anime?
Whatever they do next, we're excited to find out. Are you a fan of studio Trigger? What's your favorite anime by them? And what is it about studio Trigger that you love? Let us know in the comments. Till next time!
---