Welcome to the top 10 anime by Trigger! Trigger is also known as Studio Trigger, Trigger Inc., and Trigger entertainment. Now, Trigger Inc. is a very young company that was founded in August 2011 by Hiroyuki Imaishi and Masahiko Ohtsuka who had just left GAINAX. The founders were known for their work in anime as notable as, Tengen Toppa Gurren Lagann and Panty & Stocking, with Garterbelt. Heard of them? These founders are not new to the industry.
Trigger Entertainment is a very young company, but they aren't scared to take risks! They really think outside the box. Despite being such a young company, they have been able to tackle many aspects of the market like video games, promotional videos, and anime. Now, let's check out some of their best anime!
The first few anime on our list are anime that Trigger has had a hand in producing with other subcontractors proving they are not amateurs.
10. Black★Rock Shooter

Episodes: 8
Aired: February 2012 - March 2012
In one world, the Black Rock Shooter is gearing herself up for battle while in another world, Kuroi Mato is making friends with Takanashi Yomi. The two friends bond over their love of the same picture book. While their friendship deepens, Yomi finds that her friend Izuriha Kagari is not fond of the friendship and all of their lives take a turn.
Black★Rock Shooter brought on a new animation style different from other anime with a plot that keeps you on your toes. For an 8 episode anime, it takes you through a lot of loops. Trigger Entertainment cooperated with the animation production which is probably why their animation style is so outside the box. The animation of Black★Rock Shooter is edgy and different, which you can clearly see in the future works of the studio. This probably added to Trigger's desire to take risks in the anime industry. We can see why Trigger is the creative entity that is today.
---
9. Mahou Shoujo Madoka Magica Movie 3: Hangyaku no Monogatari (Puella Magi Madoka Magic the Movie Part 3: Rebellion)

Episodes: 1 Movie
Aired: October 2013
The Law of Cycles has brought a brand new fate amongst the magical girls, who thought they were saved from despair with the sacrifice that Kaname Madoka gave. Without forgetting about her best friend, Homura Akemi works hard and continues the fight!
If you have seen the anime, you can clearly see that it is a new take on an old concept that made it so wildly popular amongst fans, so much so that there are 3 movies, including this one. Working amongst big name producers like Aniplex, Trigger was able to get more experience with anime that take risks with the plots and received commercial success worldwide. The animation style is new and innovative, and with their cooperation in the animation production, we can see how much this anime has influenced Trigger's animation styles.
---
8. The Idolm@aster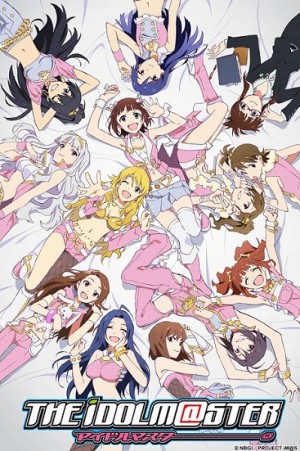 Episodes: 25
Aired: July 2011 - December 2011
This anime follows the attempts at stardom by 13 young girls at 765 Production Studio. A new manager joins their ranks and although they aren't all keen on him first, he is set on making their dreams come true! You'd think in an anime with 13 girls, it'd be easy to get confused, but each girl has their own distinctive personality and you can't help but fall in love with these each of these energetic girls.
The Idolm@ster is Trigger's first subcontracted gig since the studio was founded in 2011. Episode 17 of The Idolm@ster was outsourced to Studio Trigger. They had the job of producing the storyboard, directing, and animating episode 17. Just a few years after their founding, Trigger is proving to be quite notable given that they were able to have a hand at producing a full episode for a popular anime with numerous spin-offs, sequels, games, and various other media.
---
7. Hataraku Maou-Sama! (The Devil is a Part-Timer!)

Episodes: 13
Aired: April 2013 - June 2013
When the Devil King was just about to conquer the world, the Hero Emilia defeats him causing him to land in the present day Tokyo. Instead of seeking a way to return home, the Devil King has decided he will conquer the world one step at a time by working at Mc Ronald's flipping one burger at a time!
This hilarious fantasy anime has tackled the difficult comedy category with high marks in the world of anime. With the commercial success of Hataraku Maou-Sama, it is no wonder Trigger wanted to take a leap into creating an animation out of a light novel in 2013 with When Supernatural Battles Became Commonplace.
---
6. Sword Art Online (SAO)

Episodes: 26
Aired: July 2012 - December 2012
Sword Art Online has been released with a whole new virtual reality playing system so that players can play using the NerveGear. This has brought a whole new aspect to MMORPGs. All is fun and games until the game creator announces that they cannot escape the game and must defeat the bosses on all 100 floors before they can be released. He also announces that their avatar's death means their own death, too! How are they going to get out of this virtual reality nightmare?
Sword Art Online was a commercial success amongst Easterners and Westerners alike. Although Trigger was not the prime producer, they were able to gain some success by cooperating in the production of SAO. SAO was released when Trigger was still new but they were able to develop their animation production team more and build up their credibility.
---
As we hit the top five, we get to see what anime were completely produced by Trigger themselves. What's that mean? No subcontractors so we can see their true talent.

5. Inferno Cop

Episodes: 13
Aired: December 2012 - March 2013
Inferno Cop is a vigilante from the darkest depths of Hell with the sole mission of protecting the people from the dangerous figures that lurk in the darkness and cannot be seen by the naked eye. Inferno Cop does everything he can to bring justice to all evildoers without restraint, but at the same time, Inferno Cop is the key to the end of the world.
Inferno Cop is Trigger's first animation after it was founded. Despite being a roughly risky concept, the web animation took off with viewers and brought Trigger a lot of attention.
---
4. Little Witch Academia

Episodes: 1 Movie
Aired: March 2013
Kagari Akko, a regular girl, decides to enroll at Witch Academia due to her admiration of a famous witch known for her unusual enchantments, Shiny Chariot. The movie follows Akko as she struggles to graduate from Witch Academia without a magical ancestery.
Created as a part of the Young Animator Training Project's Anime Mirai 2013 project, Little Witch Academia is a short film which debuted alongside many other shorts of the same project. The film was well received and the YouTube version received over 850,000 views. When the sequel was announced and a Kickstarter created, fans helped to raise $125,518 over what was needed for the project showing just how much the fans loved the anime. Little Witch Academia helped to show the creativity of Studio Trigger, resulting in a great amount of faith in the studio by fans.
---
3. Inou-Battle wa Nichijou-kei no Naka de (When Supernatural Battles Become Commonplace)

Episodes: 12
Aired: October 2014 - December 2014
It has been 6 months since the members of the literature club and the adviser's niece received supernatural powers, yet despite gaining these amazing powers, nothing has changed in their lives. Still, no one knows why they received the powers or what their purpose is. What will they do with their new found powers?
Something major about Inou-Battle wa Nichijou-kei no Naka De is that it is Trigger's first attempt at an anime that has had pre-published material! Although there has been speculation on whether or not Inou-Battle wa Nichijou-kei no Naka de would live up to other big named titles by Trigger, the anime still proved that Trigger was capable of creating a quality, comedic anime from a manga.
Fans thought it would be fairly generic, but still, it was quite capable of holding its own and acts as a signal for Trigger's entry into the manga-to-anime market! Let's see what else Trigger can do for fans!
---
2. Ninja Slayer From Animation

Episodes: 26
Aired: April 2015 - Ongoing
Once, ninja ruled Japan using their martial arts as demi gods, but committed a taboo when they stored their souls at Kinkaku Temple to be reborn in the future, but their history was lost and soon, they became forgotten. In the present, technology rules Japan! However, what is to happen when the souls of the lost ninja return to wreck havoc upon Neo-Saitama. Only one being can save Neo-Saitama: a salaryman named Fujikido Kenji who was possessed by a good ninja soul so that he could become the Ninja Slayer. The fate of Neo-Saitama is in his hands!
Ninja Slayer from Animation is currently airing right now, and Studio Trigger is pulling out all the stops to advertise its anime. The Shosen Grande bookstore metamorphasized into a model of ninja filled Neo-Saitama and all of its cyberkinetic greatness. Studio Trigger already set to stream the anime in over 30 countries and a stage event was planned for AnimeJapan 2015. Ninja Slayer from Animation may truly be a media giant for Studio Trigger to grow into a bigger company.
---
1. Kill La Kill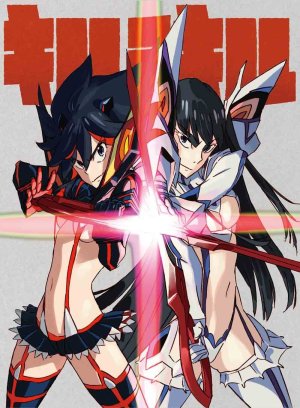 Episodes: 24
Aired: October 2013 - March 2014
Kill la Kill follows Matoi Ryuuko who has set out on a journey to find out about the death of her father with her only clue being half of a pair of scissors that can cut through Life Fibers. Ryuuko has been led to Honnouji Academy, where Kiryuin Satsuki rules the students with the power of her uniform. Using the special scissors, Ryuuko is determined to find out the truth and destroy the control Satsuki has over the school! It's time for a school life that no one will ever forget!
With the release of Kill la Kill, Studio Trigger entered the anime market with their first original television anime! Kill la Kill required a lot of risks, but essentially, it was about putting all of the ideas of the staff into a great anime that ultimately did wonders for Studio Trigger's reputation. Trigger wanted to use Kill la Kill to enter into the new era of anime. The animation style is different, but Kill la Kill proves to be a great comedy with some touching moments and a fun plotline, so despite the risk Studio Trigger made in creating this anime, they really captured the attention of a lot of otaku around the world.
As one of the few anime with everything done by the studio itself, Kill la Kill went beyond expectations and made Studio Trigger a bigger name in the industry!
---
Were you surprised by the selection? For a studio as young as it is, Trigger has contributed a lot in the way of production in the anime industry in many big name anime. They have shown they are willing to take big risks to create innovative works that will change how we all look at anime today. We can only look forward to what they have up their sleeves next!