Netflix has steadily amassed a respectable anime collection, with the streaming service granting access to dozens of classic series like Fullmetal Alchemist: Brotherhood and Gurren Lagann. Towards the end of the year, the company proudly announced plans for Neon Genesis Evangelion to join the service's catalog, a feat that should put to rest any doubts concerning Netflix's genuine desire to challenge other anime streamers like Crunchyroll or Hulu.
Putting aside some live-action adaptations that shall go unmentioned, Netflix distributed various noteworthy shows and movies throughout 2018. Home to some of the year's most creative shows, when it comes to anime, Netflix has become a force to be reckoned with!
10. B: The Beginning

Episodes: 10
Aired: March 2018
B: The Beginning has been slightly overshadowed by some of the year's other releases, but this ambitious supernatural thriller frequently flirts with brilliance! Admittedly, the anime does suffer from pacing issues and more than a few one-dimensional characters, but the good outweighs the bad!
What is B: The Beginning? That's actually a surprisingly challenging question to answer, mainly due to Production I.G. attempting to blend multiple genres together. Basically, B follows two separate plots, although the storylines do eventually merge. The first centers around Kokuu, an unassuming teenager who happens to have access to supernatural powers. While the boy may seem harmless, Kokuu is actually quite a dangerous person.
Along with being a supernatural thriller, B: The Beginning can also be described as a crime drama. Keith Kazama Flick is an experienced detective hot on the trail of a serial killer simply known as Killer B. Containing a decent amount of action and more twists than an M. Night Shyamalan film, B: The Beginning is uneven but interesting!
---
9. Baki

Episodes: 26
Aired: June 2018 – December 2018
Baki is a throwback to a time when shounen anime revolved around ridiculously muscular men who conquered even larger men in fights overflowing with adrenaline and bulging biceps. A sequel to 2001's Grappler Baki: Saidai Tournament-hen, Baki trades its predecessor's traditional animation for a primarily CGI aesthetic, but the sequel preserves the gory core affiliated with the series.
Grappler Baki is not currently available on any legal streamer, consequently, viewers might be forced to dive into 2018's sequel without any prior experience with the franchise. While the original anime seasons merit a watch, Baki does a decent job of facilitating newcomers to this universe. After winning the Saidai Tournament, Baki Hanma sits on top of the fighting world. Unsurprisingly, this honor places a target on the teenager's back. Wishing to taste defeat, five deadly convicts escape from their prison cells to challenge the protagonist. Allied with four of his former opponents, Baki is in for the fight of his life!
Baki ups the stakes by eliminating any rules that once restrained these warriors. Each participant fights to kill, and the anime supports their commitment with truckloads of blood and gore! Due to the English dubbing process, Netflix has only uploaded 13 of the 26 episodes in Western zones, with no option to watch the rest using subtitles. As it stands, the eponymous character barely accomplishes anything during the available episodes!
---
8. Hisone to Maso-tan (Dragon Pilot: Hisone and Masotan)

Episodes: 12
Aired: April 2018 – June 2018
Even though the studio has produced a couple of duds, Bones' name guarantees a certain level of quality. Prior to watching a single second of footage, one can prematurely predict that Hisone to Maso-tan's is likely to rank among 2018's prettiest animations. So, does Bones live up to its reputation? While far from the most detailed animation in the game, Dragon Pilot is a feast for the eyes!
Regardless of what may be implied by the title, Dragon Pilot: Hisone and Masotan is a military comedy rather than a mecha series about flying dragon robots. Sure, there is some of the latter, but the anime's main focus is on furthering the inexperienced Hisone's reluctant friendship with her dragon. An unfortunate chain of events leads to Maso-tan inadvertently bonding with the painfully average Hisone, who suddenly finds herself forced to take to the skies!
Hisone to Maso-tan is somewhat held back by a forgettable supporting cast who rarely interact with the protagonist in any meaningful way. Such a character-driven show might have benefited from dedicating an episode or two to exploring Hisone's everyday interactions without tieing everything to a bigger picture. This criticism aside, Dragon Pilot hits enough high points to warrant a mention!
---
7. Piano no Mori (Piano Forest)

Episodes: 12
Aired: April 2018 – July 2018
An adaptation of Makoto Isshiki's beloved manga that lasted for nearly two decades, Gaina's Piano no Mori needs to be virtually perfect to justify its existence. Along with the source material, 2018's anime is also competing against one of the industry's most revered studios, as Madhouse released a film adaptation in 2007.
Hailing from two vastly different backgrounds, Kai Ichinose and Shuuhei Amamiya share only one thing in common: They both love the piano. Born to a troubled family, Kai found solace in an abandoned piano. Conversely, as the descendant in a line of famous pianists, Shuuhei's entire upbringing revolved around the instrument. Wishing to surpass Kai's unbelievable talent, Shuuhei develops a friendly rivalry with his classmate, and the two set out to improve their abilities by entering multiple competitions!
Gaina's Piano no Mori blends 2D and 3D animation to create quite a visually unique aesthetic, while the soundtrack is undeniably brilliant. The film's arc is covered by the first four episodes, although the rest of the season essentially recycles the same themes as the opening chapters.
---
6. Nanatsu no Taizai Movie: Tenkuu no Torawarebito (The Seven Deadly Sins: Prisoners of the Sky)

Episodes: 1
Aired: August 2018
Popular shounen anime frequently produce non-canon movies that run the gamut in terms of quality. Released in January and spawning 24 episodes, The Seven Deadly Sins: Revival of the Commandments deserves a special mention for arguably surpassing the anime's opening season. Even though the series features a number of fantastic moments, Prisoners of the Sky stands out as the franchise's crowning achievement of the year.
Following in the footsteps of One Piece, The Seven Deadly Sins has an annoying habit of refusing to allow the titular heroes to share any real scenes together. With the exception of Meliodas, who spends most of the movie separated from the group, Prisoners of the Sky serves as a rare instance when the Sins resemble a genuine team! Ban does not ditch the group to visit his comatose loli girlfriend, while the film opts to forget that Diane is meant to be suffering from amnesia.
The Seven Deadly Sins: Prisoners of the Sky personifies the anime in its purest form. Now, in all fairness, the movie has a couple of noticeable flaws. Along with antagonists who never come across as much of a threat, the story pivots around an incredibly dumb misunderstanding that requires everyone to mistake Meliodas for another guy who only somewhat resembles the perverted protagonist. Luckily, Prisoners of the Sky's gorgeous animation papers over any cracks!
---
5. Aggressive Retsuko (Aggretsuko)

Episodes: 10
Aired: April 2018
Starring an anthropomorphic red panda, Fanworks' quirky slice of life boasts a cute art style tailor-made for an early morning time slot alongside the likes of Tottoko Hamtarou and Tanoshii Muumin Ikka. Any preconceptions one may have with this particular animation style should be left at the door, as Aggressive Retsuko promptly tears apart any expectations!
Employed at a run-of-the-mill office, Retsuko's daily routine entails serving as Tsubone's metaphorical punching bag, dealing with Director Ton's blatant favoritism, and eating food scraps so the protagonist has enough cash to satisfy her rent. Unsurprisingly, Retsuko's stress level is perpetually through the roof, forcing the panda to seek slightly unorthodox methods to decompress.
When it comes to this office worker, nothing hits the spot like a quick session of death metal karaoke! As a comedy, Aggressive Retsuko primarily retreads themes and storylines explored by similar office-based series, but the unique animation style injects an unusual charm to the whole package!
---
4. High Score Girl

Episodes: 12
Aired: July 2018 – September 2018
High Score Girl is a touching romantic comedy masquerading as a nostalgic romp through the '90s. Rather than studying or taking part in sports, Haruo Yaguchi prefers to spend all his time playing games at home or at an arcade. Compared to Haruo, Akira Oono embodies academic excellence and poise, although the girl's demeanor is merely a facade to hide an undying admiration for gaming. Hailing from a rich family, Akira's entire life has been planned out, but arcades present an opportunity to break away from her family's control.
High Score Girl's opening episode sees Haruo repeatedly challenge Akira to Street Fighter II matches, with the former employing progressively cheaper tactics in a desperate attempt to score a victory. Most of the pilot's humor features Akira humiliating or punching Haruo. While the slapstick scenes are well-animated, this type of humor is far from an accurate representation of High Score Girl.
---
3. Devilman: Crybaby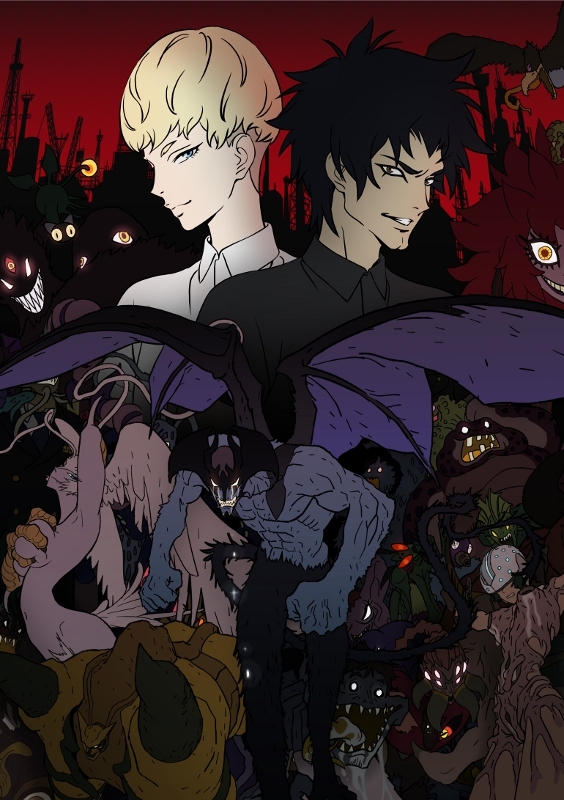 Episodes: 10
Aired: January 2018
Regardless of personal preference, one would be hard-pressed to nominate any other series over Devilman: Crybaby as Netflix's most controversial anime of 2018. Uploaded right after the beginning of the year, Science SARU's gloriously confrontational series deconstructs the very concept of superheroes. Debuting in the early '70s, Go Nagai's Devilman injects a dash of horror into what initially appears to be a straightforward shounen manga. Likewise, Devilman: Crybaby forces viewers to helplessly watch as good characters are eaten alive by an uncaring world.
Blurring the line between humans and demons, Devilman: Crybaby tells a story about a quiet teenager who fuses with a demon to explore religious and social themes. Is the anime perfect? No, but neither was Devilman. Devilman: Crybaby's first half feels oddly detached from the second string of episodes, but this works in the anime's favor.
Due to its graphic nature, Devilman: Crybaby will turn off some viewers. Nevertheless, this is one trip worth taking!
---
2. Saiki Kusuo no Ψ-nan 2 (The Disastrous Life of Saiki K. 2)

Episodes: 24
Aired: January 2018 – June 2018
Saiki Kusuo no Ψ-nan 2's opening scene features a crossover with Gintama. Any comedy capable of standing toe-to-toe with the Odd Jobs crew must be doing something right, and that is definitely the case when it comes to this quirky anime about a psychic's unfortunate attempts to lead a normal life. Split into five-minute skits, The Disastrous Life of Saiki K. pits the eponymous character against an array of strange students who cannot act normal if their lives depended on it!
Satirizing supernatural shounen anime, Saiki parodies archetypes seen in many of these shows. Idolized as the perfect pretty girl, Kokomi Teruhashi becomes obsessed with Saiki after the psychic refuses to acknowledge her beauty. Aren Kuboyasu is a "reformed" punk who spends most of his time beating up challengers, while Shun Kaidou is a delusional teenager fixated on a (bogus) evil organization.
The Disastrous Life of Saiki K. 2 resists the urge to reset at the end of every episode, which permits the anime's cast to mature as the story progresses. Funny and occasionally touching, The Disastrous Life of Saiki K. 2 is a comedy done right!
---
1. Violet Evergarden

Episodes: 13
Aired: January 2018 – April 2018
Anime seldom tackles war dramas, but Violet Evergarden took things one step further by concentrating on the relief effort following the end of a four-year struggle. Employed as a weapon, Violet was stripped of any basic human emotions. With the battles fought and the army back home, the teenager heads out to find her place in the world.
Long story short, Violet ends up working as an Auto Memory Doll for a CH Postal Service, a job requiring the protagonist to transcribe letters for other people. Through her interactions with a myriad of clients, the former soldier hopes to learn the meaning of love.
Violet Evergarden exudes melodrama. While exceptions do exist, most episodes introduce a new tragic character as Violet's client, with the anime constantly striving to reduce viewers to blubbering puddles of mush. At times, Violet Evergarden feels somewhat manipulative, but these type of stories make sense considering the main character wishes to experience emotions.
---
Final Thoughts
Netflix can no longer be ignored. 2018 saw the streaming service distribute a number of outstanding anime, including two year-defining productions in Violet Evergarden and Devilman Crybaby. What lays in store for anime fans with a Netflix subscription? Who knows, but the future seems bright!
Which 2018 Netflix anime was your favorite? Please let us know in the comment section below.
---
---