A good action anime is usually characterized by energy, full-speed action and physical forces. Furthermore, it is also characterized by the way it keeps your interest episode by episode. A comedy anime, instead, is usually characterized by the way some characters, put in some absurd situations, make you burst into laughter. A good action comedy anime is the magical combination of all these elements that act together to give you the right amount of adrenaline, emotions and enjoyment!
To have to choose only ten, among all the good action comedy anime, it was a hard challenge. Some action comedy anime exalt one aspect rather than the other, other ones have a bigger focus on some characters, some situations and slow the dynamics required to be a good action comedy anime, and plus there are many sub-genres. That's why for this list, we tried to choose only the ones that stick to the purer and exact meaning of action comedy anime: the ones that keep action and comedy on the same level all along the line!
10. Hamatora The Animation

Episodes: 12
Aired: January 2014 – March 2014
In an apparently normal world hide the "Minimum Holders." These are special people, born with the "Minimum," a super-power giving them various abilities. Nice – the reckless and impulsive guy – and Murasaki – the reserved and rational one – are a detective duo best known as "The Hamatora". Business doesn't go too well though, since Nice is always prone to take every kind of job, totally ditching the money part.
But why has Hamatora The Animation gained a position in our ranking? Well, it has the typical action anime protagonist: Nice, who is ready to fight and doesn't think too much. Along with him, other characters with the same features and their own stories contribute to keep your attention. The interaction among all of them are amusing, but above all, the childhood friends Birthday – a carefree handyman – and Ratio – a doctor doing everything but being a doctor – will start every kind of gag that will make you burst into laughter. What else to say? Well, the epic fights among the buildings in the beautiful Yokohama background are simply incredible! Although Hamatora The Animation has a mystery component too, it has the right amount of action and the right amount of comedy, that's why we believe it deserves our 10th position.
---
9. Samurai Jam – Bakumatsu Rock – (Bakumatsu Rock)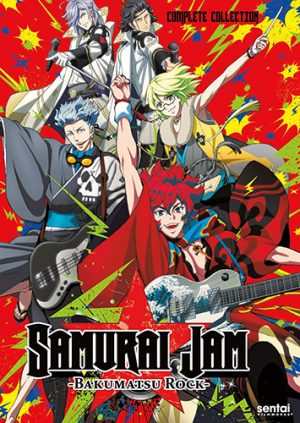 Episodes: 12
Aired: July 2014 – September 2014
As the title suggests, this story takes place in the Bakumatsu era. It is a revival of that era, in a unique way including music and idols. Just like the end of the Bakumatsu era was characterized by the Shinsengumi and the ones opposing the Tokugawa Shogunate, we find here the Tokugawa Shogunate trying to brainwash Japan using songs called "Heaven's Songs" while banning every other kind of music, and Sakamoto Ryouma and his friends trying to oppose them.
Sakamoto Ryouma, the main protagonist, is an eager and passionate guy who loves rock music. After learning how to play the electric guitar, he has only one dream: to be able to create rock music and become as famous as the Shinsengumi. What he needs to accomplish his dream is courageous and bold guys who want to join his cause and make a new kind of music totally different than the Shinsengumi's. When he manages to persuade the ill-tempered Shinsaku Takasugi – who plays the bass-guitar – and the kind and open-minded Kogorou Katsura – who plays the drums – their story begins to build!
Although the background is historical, this is an action comedy anime by all means. Sakamoto is the typical strong-willed protagonist who just wants to fight the Shinsengumi and the Tokugawa Shogunate jamming with his guitar. The fights between the Shinsengumi idols and the Sakamoto's band are dynamics and a lot of power-ups will make these guys stronger and stronger. On the other hand, the atmosphere is generally funny. Sakamoto loves rock music, and he basically wants to just play the guitar. His attitude clashes with Shinsaku's, who is more serious and more realistic: their constant bickering will start gags usually ending with Sakamoto losing face in front of a cute girl. We think that Bakumatsu Rock meets all what it requires to be a well-made action comedy anime, that's why it gained our 9th position!
---
8. Ben-To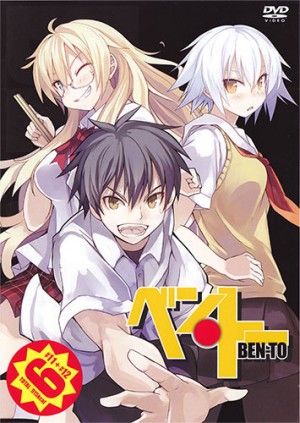 Episodes: 12
Aired: October 2011 – December 2011
You Satou is just your usual high school boy who likes playing videogames and one day finds himself stuck in a furious battle just to buy a "bento" (lunch box) at half its price. Soon after, he receives an invitation from Sen Yarizui – an innocent and calm girl – to join the Half Priced Food Lover Club, where she will train him in order to help him survive to these "bento" wars.
Ben-To is a very absurd action comedy anime. The fighting scenes are dynamic, and full-speed, and even girls develops their own powers. It has an ecchi atmosphere with it, and You Satou is constantly surrounded by beautiful girls. What about the comedy parts? Well, characters fight over a lunch box, and this is funny per se, plus every episode is filled with funny moments and gags that will entertain you until the end. For example, there will be a moment when Sen will try to convince You to join the club using her breasts, and a moment when You will jump out the window just to catch his Sega Dreamcast thrown away by Sen, singing a long poem before falling to the ground, and even a moment when You will be forced to cross-dress and will face everyone's reaction. Long story short: we believe that Ben-To contains all the elements required to be our 8th position! Don't you think the same?
---
7. The Devil is a Part-Timer! (Hataraku Maou-sama!)

Episodes: 13
Aired: April 2013 – June 2013
This is a story about the Demon King Sadao who, beaten by Emi Yusa, ends up living in modern day Tokyo. Things get complicated, because in that new setting, Sadao is just a normal human being and has to survive the daily struggles: pay rent, buy food, and all the rest. So he is forced to start working part-time. Emi Yusa, on the other hand, wants to be sure that Sadao is destroyed, so she follows him on the Earth becoming a normal human being as well.
The Devil is a Part-Timer! is an action comedy anime which mixes action and comedy just perfectly. There are many jokes involving Sadao and the way he interacts with his new life and human beings, so much so that it's difficult not to laugh. Sadao is sure he will conquer Japan by ascending the ranks of MgRonalds – his workplace – and so he will put lot of efforts into becoming the number one employee; Emi will complain about Sadao not acting as a villain enough; some characters will be late to a fight just because they "forgot the cape" at home. As well as the comedy part, the action and the fight scenes are well arranged all along the episodes, and catch your attention with epic moments and heroic acts that you wouldn't expect. For example, Emi fights with her holy weapon against Olba, who uses thunder, and while they fight in the air, jumping everywhere, Sadao protects civilians, opposite to what a Demon King should be like. In addition, all the characters are well-made, charming and amusing, with their own turbulent pasts and uncertain present. We believe that The Devil is a Part-Timer simply deserves our 7th position!
---
6. Lupin the Third (Lupin III)

Episodes: 26
Aired: October 2015 – November 2015
Among anime lovers, probably there's no one who doesn't know Lupin. The "gentleman thief" is well known by adults and children due to his popularity and well liked by everyone because of his fundamentally kind heart. After 30 years, Arsene Lupin, the kind thief born from the French writer Maurice Leblanc, comes back on screens with a brand-new blue jacket and a new sparkling adventure: L'Avventura Italiana!
With a new story taking place in San Marino, Italy, this anime debuted in Italy before Japan. A change of setting, but not a change in the plot: Lupin tries to arrange his thefts in detail, but as usual, everything goes wrong, and Lupin laughs it off as if it was nothing! We meet again the samurai Goemon, the gunslinger Jigen and the beautiful Fujiko. Of course, Zenigata is there too with his attempts of capturing Lupin! The interesting news is the introduction of a new character: Rebecca Rossellini, a model, actress and athlete from San Marino, busy with her following "il sogno italiano (the italian dream)". Could this be a happy ending for our kind-hearted thief?
The comedy part is given, as always, by the way Lupin miserably fails in his attempts at stealing treasures, or when Fujiko keeps on turning him down and, of course, we can't forget the epic chases by Zenigata. The action part expresses itself with the way Goemon manages to slash basically everything with his sword, or Jigen shoots with a by-the-millimeter precision with his guns, and basically always when they try to run after being discovered and have to fight while running not to be caught. We don't think we need any more words to explain why Lupin The Third gained the 6th position in our ranking!
---
5. Assassination Classroom (Ansatsu Kyoushitsu)

Episodes: 22
Aired: January 2015 – June 2015
The students of the class 3-E have a strange way of saying "good morning" to their teacher. In fact, each of them says "good morning" by trying to kill him in every possible way. The teacher's name is Koro-sensei, and he is totally out of the ordinary. For starters, he is an octopus and he is responsible for the destruction of the moon. Besides, what he tries to instruct to his students in is the way to kill him, within one year. If they don't accomplish it, he promises he will destroy the Earth.
The Protagonist of this amazing action comedy anime is Nagisa Shiota. He is small, weak and has no physical abilities. Despite this, he is one of the most talented in the discipline of assassination. Along with him, other incredible characters try hard to accomplish the mission: Karma Akabane, who hates every adult and is good at using weapon; Rinka Hayami, the perfect gunslinger; Itona Horibe, supposedly Koro-sensei's younger brother, and his guardian Shiro. Each student studies hard with the purpose of saving the world.
Assassination Classroom is one of the best action comedy anime created so far. Firstly, born from Yusei Matsui's amazing pen, the anime adaptation doesn't disappoint. Pretty much the contrary, we would say. The action parts are characterized by fights well-constructed and each character evolves and improves episode by episode. The normality of the school setting – with physical education hours, school trip that shows how Koro-sensei suffers from motion sickness, and all the other funny gags along the way brought when Koro-sensei mocks them when they can't hit him – are framed by the attempts to kill Koro-sensei. Every episode has the right amount of action, that keeps you glued to the screen, and comedy that makes you burst into laughter. Aren't these good reasons to deserve the 5th place in our ranking?
---
4. Persona 4 The Animation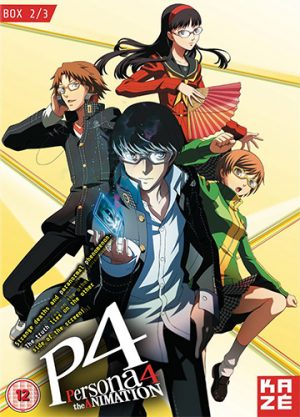 Episodes: 25
Aired: October 2011 – March 2012
Some circumstances bring Yuu Narukami to Inaba, where he starts living with his uncle and his little and cute cousin. Inaba seems to be a quiet town, where nothing happens and the days just go by calmly. He starts school and soon befriends Yousuke Hanamura, who feels for Yuu, since he is a transfer student as well; Chie Satonaka, who behaves like a boy; and Yukiko Amagi, the heiress of a famous ryokan, who is introverted and shy.
It seems like the arrival of Yuu in the town starts to turn the tables. What appeared to be a peaceful city, turns out to be the theater for a series of murder cases. The scenario doesn't change: a foggy day, and a strange transmission at midnight called "Midnight Channel" announce the following murder. As Yuu tries, with his friends, to solve the mystery, he realizes that he can enter the TV and reach a parallel obscure world. With a way in and way out of that world, Yuu and his friends begin to see a connection with the murder cases, and when they gain their own "Persona" – which is the true form of themselves – even stranger things keep on happening!
Persona 4 The Animation is a rare pearl in the action comedy anime. Every episode has funny gags brought essentially by Yousuke and Chie bickering over trivial things, or by Yuu and Yousuke saying or doing stupid things, or when they all try to interact with Kuma, a stuffed bear from the TV world. The fighting scenes are full of epic actions, and every character has his own power-ups as the story goes on. When Yuu fights against Mitsuo, for example, it's interesting to see how Yuu's friends cover his back with their Personas. Scenes move fast, red lightning falls from above, and every Persona uses its own special power to distract the enemy or protect the others, while Yuu, using various Personas, manages to put an end to the battle with a final slash of Izanagi's sword. Everything is kept on the right balance, comedy and action in this anime coexist perfectly, and that's why it gained our 4th position in this ranking!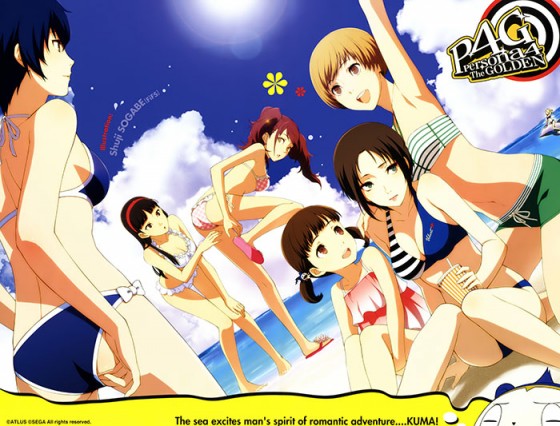 ---
3. Katekyo Hitman Reborn!

Episodes: 203
Aired: October 2006 – September 2010
The story revolves around the clueless, absent-minded and totally lacking in talent Tsunayoshi Sawada. He is no good at studying, he can't do sports, and he is always clumsy and bullied by his classmates. What changes his life is the encounter with his new home tutor: Reborn, a little child that underneath the home tutor facade, is actually a member of Vongola family, a powerful Mafia family. The sole purpose of Reborn is to train Tsuna, in order to make him worthy at succeeding the ninth boss, on the verge of retirement. It seems a desperate mission, but Reborn can do some magic and gradually turn Tsuna into a strong leader!
Alongside with Tsuna, a bunch of other characters support the cause and join the fight with the various Mafia families. Among them, the most important and closer to the clumsy Tsuna are Takeshi Yamamoto, who is cheerful and kind, Hayato Gokudera, who is hot-tempered, and Kyouya Hibari who is happy only when left alone.
There are a lot of elements that make Katekyo Hitman Reborn one of the best action comedy anime. Reborn keeps on picking on Tsuna's weakness, Yamamoto's stupidity makes Gokudera angry, Lambo and I-Pin start the most absurd gags you have ever seen and the atmosphere is light and pleasant. The fight scenes are incredible, since Tsuna switches from useless to very powerful for just a few essential minutes, when he manages to beat the enemy. Episode by episode, every character improves, grows up and shows progress in breathtaking battles. The bonds that Tsuna manages to create among his "subordinates" are simply incredible: the poor guy can be useless at times, but he is extraordinary when it comes to care about friends! We are sure that the 3rd is the right place for this wonderful anime.
---
2. Gintama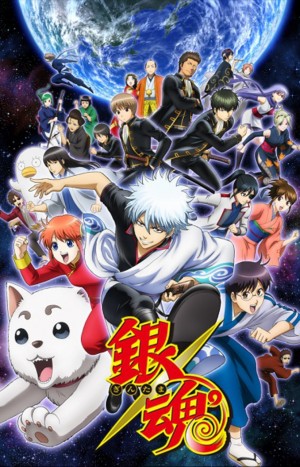 Episodes: 201
Aired: April 2006 – March 2010
Gintoki Sataka is a peculiar, proud samurai that never exaggerates in his way of acting: he is represented as somewhat mature – after all, he is in his late twenties – and there's rationality and maturity in his way of acting. Overall, he is strong, but ends up beaten too, so nothing can be given for granted. He lives in a feudal Japan where the "Amanto" – conquering aliens – have subjugated the country and prohibited the possession of swords. Constantly broke, he tries to survive by doing every kind of job, helped out by Kagura – a girl belonging to the Amanto race – and Shinpachi Shimura – an apparently calm boy, who is actually a talented swordman.
Gintama is a comedy with gags all along the line. In fact, Gintoki has to deal with two kids – Kagura and Shinpachi – , has to gain money and plus, he has to face an era where samurai are no longer needed. So he is a samurai who lost his place and his circumstances will start every kind of funny gag: Kagura and Matako's spitting contest, brawls over beetles, or simply the way Gintoki screams in the most frightening moments. On the other side, while he is still a samurai, and has to deal with aliens, the action parts – like when Gintoki and Katsura fight against Takasugi – are always there in beautiful sequences expressed in wonderful, fast swords' dances. Gintama sticks to the purer meaning of action comedy anime, that's why we gave it our 2nd position!
---
1. One Punch Man

Episodes: 12
Aired: October 2015 – December 2015
We think you all may agree with our choice of making One Punch Man our 1st position. Born from One in 2003 first, redrawn by Yusuke Murata later, and adapted into an anime in 2015, it instantly became a cult in the action comedy anime genre.
The story revolves around a man, Saitama, who decided to become a hero, and trained himself in superhuman conditions, so much so he became invincible and managed to win every battle with just one single punch. His being a powerful, strong hero, though, is the main reason making him frustrated. In fact, Saitama no longer feels the adrenaline, nor the emotions, before or during a battle. So he doesn't see the point anymore in becoming so strong. When Genos – a cyborg – asks Saitama to become his disciple and easily persuades him into joining the Hero Association, everything changes. Saitama, together with Genos, start to search for more powerful enemies, just to try to feel once again all the emotions that fighting brought him before.
Saitama's fighting scenes are just a masterpiece. High-speed sequences, punches, and the paradox of him being a mere human being. He is a hero, but the comedy part is brought by him being a simple-minded man and, at the same time, almost an anti-hero. His gaze is lost in space, he's not taken seriously because of his bald head, and he manages to spend hours watching TV: the exact opposite of what a real hero could look like. One Punch Man is a non-conventional action comedy anime, where paradoxical, and sometimes splattering, elements keep you glued to the screen until the end, leaving you craving for more!
---
Like we said up above, it was a hard challenge. The anime world is full of action comedy anime worth a mention, but we chose these ten because they have various different contexts and backgrounds, and they all fit perfectly the definition. Action comedy anime are the right compromise when you want to feel relaxed with a bunch of laughter and at the same time you don't want to lack the right amount of adrenaline. If you're not into action comedy anime shows, try to give one of these ten a shot, and you won't be disappointed! If action comedy anime are your cup of tea instead, and you have any remark or suggestion over what could have been a good choice, comment below and let us know!
---