También puedes leer este artículo en:Español
There are genres that push it to the extreme and put the reader in a position of overwhelming tension, emotional ups and downs, and very mature issues. One of those is the adult genre, which incorporates various other genre that we know well and love, but throws in incredibly serious issues depicting sexual abuse, prostitution, infidelity, masturbation, rape, sadomasochism, and various other major problems that still plague our society. So just as a fair warning, if these aren't particularly something you fancy or aren't entirely comfortable with just be prepared. With that being said, let us take a closer look at what make these adult manga so striking and see which one takes the number one spot.
10. Riman Gambler Mouse

Mangaka: Takahashi, Noboru
Genres: Adult, Drama, Psychological, Seinen
Volumes: 4
Published: March 2000 - November 2001
Tadanori just can't seem to get anything right in his life, and almost everything he attempts results in failure. His job, marriage, and his life are in shambles, and he just can't seem to dig himself out of this vicious cycle. However one day Tadanori encounters a three fingered woman who states that she can help him escape the hell that he currently lives in. She offers him a chance to take part in a game known as cowarDICE. Without knowing much about the rules or just how it would put his life at stake, Tadanori complies to the offer anyway and it's from here that his dark gambling journey begins in this twisted series.
When you take gambling to a whole new extreme, that's when things start to get out of hand and in Riman Gambler Mouse, Tadanori just can't get a hold of himself. Debt crippled his life for quite some time so his only way out was to gamble his life by dealing in prostitution, and often times having sex just to pay his way out. Nyotaimori is also depicted in this manga, which shows the young mistress' naked body decorated in sushi waiting for Tadanori to taste her juicy delights, pretty much becoming a sex slave in many ways. It's a dark yet awful truth that some of us actually deal with in life, running this rat race only to get caught in the mousetrap of debt, and must now desperately find any solution to escape the pain.
---
9. Aigan Shounen

Mangaka: Mizukami, Shin
Genres: Adult, Drama, Historical, Horror, Smut, Tragedy, Yaoi
Volumes: 1
Published: June 2007
Ever since laying his eyes on Baron Kuroba, Seiji has had this insatiable desire to know more about him and the residents that live there. Rumors have spread that servants in the residence are being attacked by a vampire, but not much has been explained beyond that. The Baron only seems to want to use Seiji as his lap dog, using him in whatever way he can by disciplining him for his carnal pleasures. Seiji just wants to express his deep rooted love towards Baron, so he desperately tries to find ways to convince the Baron that love is all he needs.
There's a lot of Uke and Seme scattered all throughout this manga, plus pairing that with necrophilia and you have yourself a pretty messed up story. The master-servant relationship that Seiji and Baron have are at times overbearing because of all the sex that takes place, paired with the abuse that Seiji puts up with at times. It's not entirely over the top, but it most certainly does leave you thinking about just what will happen to Seiji if he continues to put up with it all. The violence at times can leave you emotionally distraught, which is something Mizukami tends to focus on in many of her stories, but if you're into the whole BL, possessive men story then this one is most surely going to hold a grip on you.
---
8. Bradherley no Basha

Mangaka: Samura, Hiroaki
Genres: Adult, Drama, Historical, Psychological, Seinen
Volumes: 1
Published: 2005 - December 2007
Lord Nicola A. Bradherley is one of Europe's leading aristocrats who takes pleasure in adopting young girls from orphanages and training them to take part in his opera troupe. However what most of these young innocent girls don't realize is that this man is not what they expect, as far more sinister plans are up the Lord's sleeve, as he sacrifices these young girls out of amusement.
Lord Nicola is one deceptive freak and he manipulates these young girls into doing whatever he pleases, then disposes of them once they no longer deem suitable for the task at hand. Girls are gang raped, murdered, and mutilated all for pleasure, with no one coming to their aid to put an end to this twisted individual. Taking place in the Victorian Era, this was a time when power struggles were high and crimes could be performed with little to no punishment for the heinous act. Clearly Lord Nicola is nothing more than a pedophiliac who takes great pleasure in seeing the suffering in others, and there's nothing anyone can do to stop him...or is there?
---
7. Akiyama-kun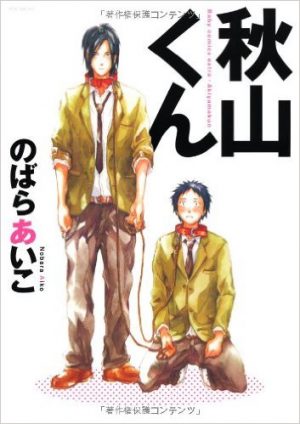 Mangaka: Nobara, Aiko
Genres: Adult, Drama, Romance, School Life, Slice of Life, Yaoi
Volumes: 2
Published: September 2011 - Present
Shiba finally finds the courage within himself to confess his feelings to the delinquent known as Akiyama-kun, but fears that because he did so in front of his friends that he may be in for a great deal of hurt. However to his surprise, Shiba wasn't laid out on the concrete and bullied like he initially imagined, but rather the opposite happens and it's something that none of Akiyama-kun's friends expected either.
So you have a very weak willed and crybaby seme type, and on the other hand you have a very strong willed and poised seme delinquent who does whatever he wants, however he wants. This most certainly creates a great contrast between the two characters because you're more than sure that Akiyama is going to be the more dominant out of the two, while Shiba will be the submissive one, giving into every sexual deed that's asked of him. Two excessively horny boys who struggle and maintain a relationship, while dealing with their adolescent lifestyle in school is definitely an exciting story for those who enjoy the Yaoi genre. Both Shiba and Akiyama have their weaknesses however as both just can't seem to live alone, and so their dependence on each other is frequent especially when it comes to sex. Footjobs? Check. Nudity? Check. Akiyama-kun is sure to entice many fans of the genre, and keep your imagination racing for hours on end.
---
6. Mujaki no Rakuen

Mangaka: Uran
Genres: Adult, Comedy, Harem, Lolicon, Romance, School Life, Seinen
Volumes: 10
Published: March 2011 - Present
Shouta is a 25 year old NEET who loves his current life, but is often mocked by his female peers who've all happened to move on with their lives and become successful, at the class reunion. However suddenly an accident in the pool at school throws Shouta back in time, where he now is confronted by these very same girls and can now get back at them in any way that he sees fit.
Mujaki no Rakuen takes harem to a whole new level with it's over the top illustrations depicting very young girls showing off various parts of their body, and having no shame in doing so. Shouta was given a second chance to turn his life around, and perhaps living in this harem environment was one way of doing so. With nosebleeds and constant buffoonery laid out all through the series, not only does Mujaki no Rakuen serve up small breasts on a platter but it provides a nice dose of laughter to keep you engaged to know more about what will happen for Shouta in the long run. While this manga doesn't necessarily tip the scales in terms of excessive adult themes, there's still plenty of adolescent girl undergarments lying around to have you question whether this is even legal or not. Whatever your taste is, Shouta's outrageous perverted adventure paired with lolicon harem will surely keep you satisfied for quite some time.
---
5. Gokujou♥Drops

Mangaka: Mikuni, Hajime
Genres: Adult, Drama, School Life, Yuri, Smut
Volumes: 3
Published: 2008 - April 2010
Gokujou Drops is an ecchi comedy that stars Maezono Komari, who runs into countless issues pertaining to finding a suitable dorm at school, but then finds herself being accepted into one of the fanciest dorms on the campus. There's one condition however, and it's that Komari must act as a servant to the popular Himemiya Yukio. Everything seems quite tolerable until Komari realizes that there's more to this contract than she initially imagined, as sexual harassment is an additional stipulation, but moreso, Komari starts to grow fond feelings for Yukio.
Gokujou Drops tells the story of two women who lock lips and fondle body parts in very intimate ways that will have you feeling a little warm inside. Yukio at first behaves like your typical tsundere, giving the cold shoulder and acting all pompous around Komari--Another case of the master servant relationship at its finest--but when Komari starts to turn up the heat it seems that Yukio can't resist her gentle caress and the two go at it. There's just enough smut to keep you entertained and the light romance is quite tantalizing. When you combine yuri and smut you pretty much have a goldmine of romance that you simply can't resist. Come on, give it a try, we promise it'll satisfy you!
---
4. Ai to Yokubou wa Gakuen de

Mangaka: Umezawa, Hana
Genres: Adult, Comedy, Drama, Romance, School Life, Smut, Yaoi
Volumes: 12
Published: September 2004 - February 2011
Sex is a beautiful thing, and when you find the right person to do it with, boy does it feel great. With such a high amount of interest in sex, a school was formed in order fulfil the desires of each student, which would help them stay focused and advance forward in their studies. Ion has enrolled in the school so that he can help to pay off family debts, and hopes that he can sell his body in the future to make profit. However Ion gains more than just knowledge on how to sell himself, as he starts to grow fond of his instructor, Asagi, but due to strict school regulations, love in banned. Just what will Ion do, and how will he do it?
Most of the series consists of one shots, but who really cares about that when you have such sexually heated stories that keeps you coming back for more? There are couples that you'll be dying to know more about, especially Ion and Asagi, while others may not tickle your fancy as much. Be that as it may, there's certainly some rape and prostitution that happens so just a heads up in case you're not very fond of those themes. Hot seme in a somewhat red light district esque school setting are sure to fire you up, so pick this one up to see which couple is your favorite!
---
3. Hanjuku Joshi

Mangaka: Morishima, Akiko
Genres: Adult, Drama, Romance, School Life, Yuri
Volumes: 2
Published: October 2008 - August 2009
Hanjuku Joshi is a story that places its focus on sex and love between two women, who must also deal with their maturity along the way. Two girls must find their way in the world, and overcome their insecurities by learning about each other in intimate ways. Chitose and Yae's adventure into the world of romance is about to take off in this bittersweet story of trials and tribulations and first loves.
It's kind of cute to see young girls go through their love experiences in an innocent way, learning about how their body works, and just turns them on or off. Morishima is a pioneer of the yuri manga genre, so you'll be more than satisfied by this emotional love story about these young couples who try to overcome their differences, feeling their way through it all blindly by means of love and sexual situations. The more you get to know these two characters and their setbacks, the more you start to admire them for their ability to look past their denials and embrace their maturity.
---
2. Henai

Mangaka: Harada
Genres: Adult, Comedy, Romance, Yaoi
Volumes: 1
Published: January 2014
Henai is a manga that consists of various one shots, with six in total to ensure that you're well equipped for the long haul. Henai is the first of the six which looks at the strange love between the two main characters, and how they cope with their differences in sexual desires. Tied in with some humor to keep you laughing, Henai is all about roleplay, and taking charge in sexual scenarios.
So if fellatio is something that interests you, then these one shots are sure to deliver as there's plenty of that to go around. Role play as we mentioned earlier plays a major role all throughout, and your heart is just pumping in excitement to see just what these two men will do to each other. Rape is often portrayed in these one shots, so be forewarned if that type of thing gives off a bad vibe, but we assure you that the rest of it will most certainly entice the mind, with all of the sex toys lying around.
---
1. Saezuru Tori wa Habatakanai

Mangaka: Yoneda, Kou
Genres: Adult, Drama, Mature, Psychological, Tragedy, Yaoi
Volumes: 4
Published: March 2008 - Present
Yashiro only had one man on his mind and that was Kageyama, but all of that changes quickly when he comes face to face with his new bodyguard Doumeki Chikara. Unfortunately for Yashiro, Chikara is impotent so just how will Yashiro deal with this unfortunate dilemma, and will Chikara put up with it. The story follows the masochistic, lewd, and handsome Yashiro as he tries to woo his newly found mate Chikara who must deal with his insecurities and become reborn by Yashiro's seductive ways.
There's plenty of mature themes in this one to rate this one number one on the list, with yakuza, sadomasochism, and impotency just to name a few. It's an emotionally dark yet thrilling piece of work as you come to learn of the tragic pasts that the two had to deal with, and now must come together and embrace their pasts while building this unrequited love for one another. Being a victim of rape is most certainly something that no one can laugh about, and this manga really makes sure that these undertones are emphasized for the reader to understand how traumatic that can be. A compelling story, well developed characters, all come together to create a Yaoi masterpiece that many will truly come to love.
---
Closing Statement
Manga serves as a visual experience on the go, since you can travel with it anywhere and immerse yourself at your convenience. Adult manga won't be reaching the best seller racks anytime soon, but perhaps we should pay closer attention to them because they help us to understand not only our insecurities, but the substantial reality that we currently live in. Be sure to let us know what you think of the list in the comments section below, and of course like, share, and tweet our articles to help keep the honey's community buzzing!
As always, if you want to know about all the latest buzz straight from the bee's nest in Japan, be sure to keep it locked here at Honey's Anime.
---