También puedes leer este artículo en:Español
Ah, Christmas! A time for friends and family, a time for presents, a time for KFC if you live in Japan. Christmas truly is a special time for many people though it may mean different things. Whether it holds special religious significance or serves as a day to bring people together, music surely helps make for a more festive time. While Christmas isn't spread as widely in Japan nor holds anywhere near the religious significance it does in other parts of the world, many anime have their special Christmas episodes. To celebrate a love for anime and merriment, here are 10 Christmas anisongs!
10. Kiyoku Tadashii Kurisumasu (A Pure and Honest Christmas) from Ranma 1/2

Sung by: DoCo
Length: 4:58
This catchy tune was used as the ending for the 7th OVA. Ranma ½ is an old series but they knew how to make a jam. The title perfectly captures the feelings of the lyrics with a fun and bouncy tune. The lyrics compare the earnest feelings of young children wishing to see Santa with the pure feelings of the singer wishing to see her beloved person. This pureness is stated both explicitly and in the imagery used which helps ease the sudden "I want to become the pajamas you wear". That part isn't in the short OVA version but it is if you listen to the full song! Might seem a little jarring but the sentiments of just wanting to be close without so much as getting a present in return are a sweet thought for those with a special someone on their mind this holiday.
---
9. Welcome to Christmas from Di Gi Charat

Sung by: Di Gi Charat, Petit Charat, and Usada Hikaru (Akesaka Satomi, Sawashiro Miyuki, Hikami Kyouko)
Length: 3:33
This almost haunting Christmas medley starts off with a homage to the Di Gi Charat opening "Welcome" with bells ringing as the trio sings "Welcome to, welcome to, welcome to Christmas!" It was used for the Di Gi Charat Christmas special as the opening. They sing part of Jingle Bells, Santa Claus is Coming to Town, and Silent Night with the occasional 'Nyo!' or slipping their names into the lyrics in place of Santa Claus. If you thought you've heard every strange remake of these familiar Christmas classics, think again. The three girls' super high voices echoing together in a not quite harmonious way will really set in stone you're listening to an anisong and not just a Japanese cover. The girls are cute enough to get away with it though and their attempts to somewhat personalize the songs is somewhat endearing.
---
8. Minna no Christmas (Everyone's Christmas) from Digimon Adventure 02

Sung by: Kouji Wada
Length: 5:37
A nostalgic choice for many anime lovers, Digimon has a special place in our hearts. And it also has a place at Christmas time! Digimon has a Christmas album called Digimon Adventure 02: Christmas Fantasy with 6 holiday-themed songs both original and covers of American Christmas songs. Minna no Christmas is a slow and calming song calling for everyone to be honest and continue smiling so that their wishes will come true. Kouji's Wada's melodious voice paints a serene picture of hopeful children hanging up their stockings and sleeping soundly, dreaming of Santa bringing them their wishes. It also hints at a more personal moment of a lover gazing at their beloved's sleeping face and wishing they could always stay as sweet and happy. Whether you're spending Christmas surrounded by cherished family or taking a more romantic route with a loved one, Minna no Christmas is a good choice for everyone.
---
7. Winter Bells from Detective Conan (Case Closed)

Sung by: Kuraki Mai
Length: 3:07
Winter Bells isn't as blatantly Christmas-y as some of our other selections but it has that common swing sound of many popular Christmas songs and honestly, what else would we have 'winter bells' for? In Japan, Christmas is more of a couple's holiday, much like Valentine's Day. Accordingly, Kuraki Mai sings about the lovey-dovey feelings that can keep you warm even on snowy nights. Winter Bells was used as the tenth opening for the Detective Conan anime for episodes 259-270. This joyful tune captures a girl's happy feelings for her partner. Their kisses seem to stop time and the winter bells bring them together, now and forever. While it's pretty innocent sounding, there's more of a connotation of intimacy in this one especially with the words "Need your love tonight". Even if you don't have a special someone to hold on cold winter nights, this is a fun and lively song.
---
6. Holy Night from Toradora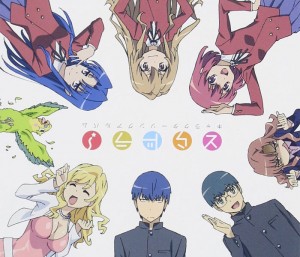 Sung by: Taiga and Ami (Kugimiya Rie and Kitamuri Eri)
Length: 3:07
At the start of the series no one would assume Taiga and Ami would end up singing together, but that's what Christmas is all about! Bringing together two drastically different people that sound nice together, or something like that. Ami's powerful vocals match her assertive personality, but Taiga's sweet and almost timid voice is in stark contrast to her otherwise brutish demeanor around everyone but Mimorin. Holy Night is used as the ending for episode 19. Despite the episode ending on a sad, dramatic note, the song itself is pretty and happy. There's no mention of religious significance even with the title being Holy Night. The two girls sing about a happy Christmas full of wishes and smiles and how they'll add to the Christmas decorations with their own shining faces. It's quite the cheerful song to listen to as long as you're not having a blue Christmas.
---
5. Merry Christmas Without You from Macross F (Macross Frontier)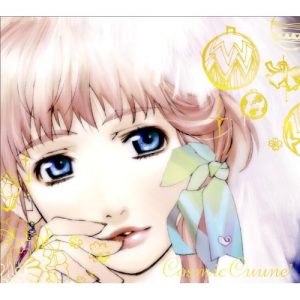 Sung by: Ranka Lee and Sheryl Nome (Nakajima Megumi and May'n) featuring Alto Saotome, Mikhail Blanc, Klan Klang, Bobby Margot, Monica Lang, and Ram Hoa (Yuichi Nakamura, Hiroshi Kamiya, Megumi Toyoguchi, Kenta Miyake, Rie Tanaka, and Kaori Fukuhara)
Length: 6:10
The seventh track on Sheryl and Ranka's album is Christmas themed with some futuristic sounds mixed in with jingle bells. The two super stars sing most of the song with many other characters coming in at the end. This creates a rather jarring effect as some less than stellar voices join the song. They sing of a Christmas in which a loved one is not there though the circumstances of their absence are unknown. The distance of planets could be literal in that the star crossed lovers simply are physically apart or perhaps one has passed on. The shooting stars the lover sends out could be from heaven. It's hard to imagine something so dark though once everyone else joins in. If you want a not-so-typical Christmas song that's a little more melancholy and has (for the most part) excellent vocals, Merry Christmas Without You can fill that void.
---
4. Santa ga Machi ni Yatte Kuru (Santa Claus is Coming to Town) from Hetalia Axis Powers

Sung by: Italy, Germany, and Japan (Namikawa Daisuke, Yasumoto Hiroki, and Takahashi Hiroki)
Length: 3:33
The classic Santa Claus is Coming to Town. You've probably heard the various covers in America, but what about the countries of Italy, Germany, and Japan doing the singing? The anthropomorphic countries spend Christmas together, and what better way to celebrate than with a song! Everyone is singing along properly to the Japanese version and it's quite easy to pick out the different voices. Once there's a pause in the song though, Italy can't stop talking about food and seeing other country friends. Germany does his best to keep the song going in an orderly fashion with little help from Japan who seems complacent with whatever happens. The disorderly bickering amongst friends whilst jingle bells ring creates a funny and relatable image of trying to get everyone ready for the busy Christmas season.
---
3. Kamisama no Birthday (God's Birthday) from THE iDOLM@STER

Sung by: Amami Haruka, Kisaragi Chihaya, and Hoshi Miki (Nakamura Eriko, Imai Asami, and Hasegawa Akiko)
Length: 5:34
Many people celebrate Christmas without thinking about its religious origins but it is a Christian holiday (with pagan roots). Christmas Day is one of the most holy and sacred days on the Christian calendar as the day designated as Jesus's birthday. Kamisama no Birthday (God's Birthday) makes note of this and is perhaps the only Christmas anisong to include mention of the religious reason for the holiday. The singers tease "Even though you're not interested in church, you're humming a carol" so the religious tone is not accidental. Haruka, Chihaya, and Miki sing together but the lyrics "Let [the two of] us celebrate God's birthday." imply they have a certain person in mind that they want to share the day with. The song was included on the album THE IDOLM@STER MASTERWORK 00 and his since been seen in the game as well. The song is mostly about wanting to be reunited with a loved one and how they believe Christmas is a magical time that can bring them together.
---
2. Shining Stars Xmas from Uta no☆Prince-sama♪ Maji Love 2000% (Uta no Prince-sama 2)

Sung by: Shinomiya Natsuki, Ichinose Tokiya, Aijima Cecil, Jinguji Ren, Ittoki Otoya, Kurusu Syo, Hijirikawa Masato, Reiji Kotobuki, Ranmaru Kurosaki, Ai Mikaze, and Camus (Taniyama Kishow, Miyano Mamoru, Toriumi Kousuke, Suwabe Junichi, Terashima Takuma, Shimono Hiro, Suzumura Kenichi, Morikubo Showtaro, Suzuki Tatsuhisa, Aoi Shouta, and Maeno Tomoaki)
Length: 5:17
What could be lovelier that many beautiful men singing to you with beautiful voices about Christmas? Perhaps beautiful men isn't a strong selling point for you but as the characters are all trained vocalists, you won't have to worry about missed notes or squeaky vocals. It was used as a bonus song for the Christmas-themed episode 14 of the second season. The song begins by painting a picture of a snowy night brightened with glittering lights and love. This Christmas everything is right with the world, everyone is smiling, and the future will continue to shine brilliantly. All 11 men sing of the miracle of meeting 'you' and how they want to sing of this joy on such a holy night. Saint Nick is also mentioned in the lyrics "Like Santa Claus, I want to grant your only wish." Shining Stars Xmas is a sweet ballad that's not too overwhelming in the romance department so you won't feel lonely if you don't have a significant other. The overall theme is of beautiful lights and a general love for friends and family and how the future is hopeful, making it a wonderful song for the special day.
---
1. Jingle Bells ga Tomaranai (Can't Stop the Jingle Bells) from Love Live! Sunshine!!

Sung by: Aqours (Kobayashi Aika, Saitou Shuka, Takatsuki Kanako, Aida Rikako, Furihata Ai, Suzuki Aina, Komiya Arisa, Suwa Nanaka, Inami Anju)
Length: 4:48
Jingle Bells ga Tomoranai has the infectious feeling of the title from start to finish. You'll want to jingle along with the girls of Aquors in this special song about friendship! There's only the hint of wanting something romantic while the overall tone is overflowing gratitude and happiness to spend Christmas with the people they love. They call for others to join their merriment as well, "Now call out everybody, don't you want to party?" It makes for a great addition to a Christmas party playlist with its high energy, lyrics about having fun with friends, and danceable tune. It feels like Aquors is singing to you as well to come join them on this happy Christmas day and you can't stop the happy feelings that come from listening to this song!
---
Final Thoughts
We hope everyone has a most wonderful Christmas this year no matter what your situation is or who you'll be spending it with. If things are a little blue, you can cherish the sweet sentiments from these anime characters or just laugh at the more ridiculous songs on our list. With songs you can silently contemplate the season's religious importance, dream about a loved one, or express your unbridled Christmas joy to, we hope these 10 Christmas anisongs will help put you in the mood for good tidings!
---
---
Christmas is always a great time for presents, being with family, enjoying great food, and listening to the iconic tunes. Though Christmas in Japan does not have the same religious connection as it does in the West, it is seen more as a romantic holiday as opposed to a family one. Many of its commercial traditions are still practiced in the Land of the Rising Sun with some other unique features.
A good number of anime series have Christmas episodes that tend to be a reflection of the Japanese view of the holiday and in a certain fraction of those episodes, they have some music that ignites the holiday spirit. Sometimes, some anime series and its featured seiyuu cast also release their own Christmas albums. So for today's list, we will cover songs from anime that are best for the Christmas spirit. Some will be a nice mix of Japanese covers of classic Christmas music, and others will be original anime Christmas songs.
10. We Wish You A Merry Christmas from Hetalia Axis Powers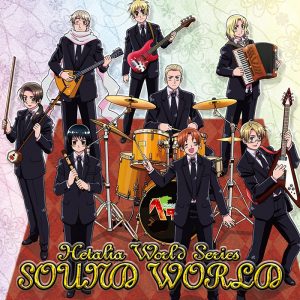 Episodes: 52
Aired: Jan 2009 – Mar 2010
Kicking off this list is Hetalia's cover of We Wish You A Merry Christmas. Though the series is international in flavor with its cast of characters for the series time period in a crazy way, the song is sung in Japanese and some lyrics take liberties to reflect the comedic atmosphere of the series and stereotype some of the characters. In this Christmas special, the song is used as an opportunity to be (and we use the term lightly) educational on how some individuals celebrate Christmas in their home countries. Some of the delivery of the lyrics tend to be exaggerated to give the listeners and fans the usual unique comedy Hetalia is known for.
There are references to how some people in other countries don't like to eat Christmas cake, and one character talks about how he likes to leave mince pie for Santa and another character interrupts saying it would poison Santa. However, the French character will sing with some French lyrics and the seiyuu will sing the Japanese lyrics in a strange attempt at a French accent, which is pretty funny. So if you're in the mood for a politically incorrect Christmas, this is the song for you.
---
9. Holy Night from Toradora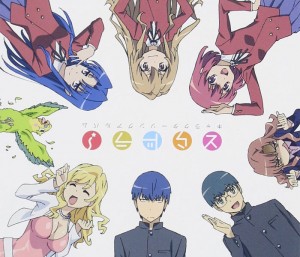 Episodes: 25
Aired: Oct 2008 – Mar 2009
During the holiday saga of this romantic comedy, Holy Night, an original Christmas song for this anime serves as an ending song for episode 18. The song is sung by the seiyuus of Taiga and Eri themselves. As a means to cue the song in, Ryuuji finds more difficulty in the realm of teenage love and is in total shock when he finds rejection.
During the opening lyrics of this one time ending theme of the series, the ending credits give viewers an idea of what the remaining cast is going through individually and the series mostly shows close-ups of illuminations of snowflakes. Just like how this series is romantically driven, this song contains many romantic themes in both conjunctions to the series and how the Japanese view Christmas.
The song is about how Christmas is supposed to be about happiness and wanting to spend it with that special someone, but the singer (Taiga and the cast) cannot spend that day with that special someone and they envy the couples they see enjoying the holidays together. Despite the sad lyrics, it has a very optimistic tone that things are going to work out by never giving up.
---
8. Santa Claus no Sora from Aria the Animation

Episodes: 13
Aired: Oct 2005 – Dec 2005
In a world and future where encounters come and go, sometimes some of the people you meet no matter how much time you spend together can and will have a profound impression on you. Towards the end of the first series of Aria the Animation, it was wintertime on the Terraformed Mars and it was time for Akari to say goodbye to some of the individuals she met.
Through the song Santa Claus no Sora, it immerses the viewers into the emotion that the encounter and journey together were great, but the goodbyes are going to be hard but will still be in each other's hearts. As for the titular "Sora", or Japanese for "sky", it can be seen as a metaphor that no matter how far apart people are, they can all look up to the same sky and feel connected as we are one family under the Heavens. Though Christmas may be a time for coming together, there are times when it may be goodbye and this song perfectly sets that mood with its calm instrumentals and emotional humming.
---
7. Digimon Christmas Medley from Digimon Tamers

Episodes: 51
Aired: Apr 2001 – Mar 2002
If you want to hear a Japanese cover of Christmas songs by cute anime characters, one good example is the Digimon Christmas Medley from their respective Christmas album. In some instances, anime seiyuu from a series will come together and make their own Christmas albums as a gimmick and this is one such example.
Altogether, this song is a mix of covers of traditional Christmas carols in Japanese such as Jingle Bells, Rudolph the Red-Nosed Reindeer, Silent Night, I Saw Mommy Kissing Santa Claus, an English attempt at White Christmas, while it closes with Jingle Bells. With their high pitch voices, the songs are appropriately for children, but it brings a certain charm so that fans of the series will enjoy.
---
6. A Pure and Honest Christmas from Ranma 1/2

Episodes: 161
Aired: Apr 1989 – Sept 1991
In this series based on Takahashi Rumiko's hit manga from the early to mid-1990s, the huge and wacky cast always gets into the craziest of shenanigans. Thankfully, the Christmas OVA episode of Ranma demonstrates that at times, we need to (and are able to) put aside our differences and come together for just one day. The core female cast of the series played by the voice actress of female Ranma, Akane, Nabiki, Kasumi, and Shampoo make this original song to compliment the episode.
The hook of the song is very much in tune with the traditional holiday jingles, and the beats and high-spirited singing compliments the J-pop of the early 90s. The lyrics share a balanced mixed of both Western values of Christmas of families coming together, couples celebrating, and the feel of nostalgia. It is a nice song to listen to during Christmas because it is very upbeat, catchy, and emotionally captivating on almost every front.
---
5. Last Christmas cover song from Sailor Moon

Episodes: 200
Aired: Feb 1992 – Mar 1997
Though a majority of these listed songs are original Japanese or Japanese covers of famous English Christmas songs, this song is one of the very few additions that is performed in its original English. Though many of you readers have already heard the original by WHAM and its countless covers, why not give one from an anime voice actress a try?
During the prime of the original Sailor Moon anime from the 1990s, the voice actresses of that respective series even released their own Christmas album, which covered many well-known carols in Japanese. However, one of the only Christmas songs in the original English is Last Christmas itself sung by Tomizawa Michi, the seiyuu of Sailor Mars. Though the character tended to have somewhat of an aggressive voice, Tomizawa demonstrates her excellent singing talents through this song. Her English is naturally broken, but she still has a very soft voice that captures the romantic themes of the song.
However, during the monologues in the breaks, the English tends to be difficult to follow and is spoken in a very heavy accent. Still, listeners can't find that there is a very captivating quality about her voice. The remaining features of the original song still remain such as its iconic hook and percussions. So if you want to listen to an English song by an anime character, this is the song for you.
---
4. SOS Dan Christmas Party from The Disappearance of Haruhi Suzumiya

Episodes: 1 (movie)
Aired: Feb 2010
With the Haruhi Suzumiya franchise is known for its energetic soundtrack, one addition from this series to contribute to this list would be the BGM track from the movie, SOS Dan Christmas Party, which is appropriately used at the Christmas party at the beginning of the movie.
The track opens with a piano downslide accompanied by brass instruments with Christmas jingles, while the main melody is a keyboard with a cantabile like composition. The background song sets the tone for the Christmas party while it also is a great compliment to the unique chemistry of the SOS Dan being a motley crew of individuals. It equally compliments not just the chemistry of the group, but the individual personalities of each member and how they fit into the scene. It sets a balance in the tone that not only are the viewers are treated to a Christmas party, but to a scene that is also fast pace and comedic in nature.
So if any of you readers find yourself at an awkward Christmas party and want to find a way to reflect that mood, maybe play this track to give an audio representation of it.
---
3. Merry Christmas Without You from Macross Frontier

Episodes: 25
Aired: Apr 2008 – Sept 2008
Even after the end of Macross Frontier, the careers of Nakajima Megumi (the seiyuu of Ranka Lee) and May'N (the singing voice for Sheryl Nome) flourished and they released a Christmas album in character and one of their top hits is Merry Christmas Without You. The song is set to a funky beat that comes across as an appropriate sci-fi with space radio signals, and yet still includes traditional Christmas percussions.
This song is more about being unable to spend Christmas with the person you love, but keeping that person in one's heart. This song overall is more of the Japanese approach to Christmas being a romantic tradition. By the end of the series, Alto may not exactly choose one girl and the lyrics are a very good reflection of Sheryl and Ranka's feelings for him and their situation. Though the song does have themes of loneliness on Christmas in the big city, it does have themes about optimism.
So if you find yourself lonely on Christmas, get a load of this song and it may bring a tear to your eye, lift your spirits up, or be able to do both.
---
2. Christmas in the Galaxy from Martian Successor Nadesico

Episodes: 26
Aired: Oct 1996 – Nov 1997
In one episode of this romantic mech comedy in space of an anime series, the crew of the Nadesico manages to host a Christmas party. While the crew enjoys decorating the ship, they also bust out a new original carol of their own, Christmas in the Galaxy. The upbeat nature is something you would appropriately hear on a holiday special, and the lyrics are mostly about how fun it is to have a Christmas party and spending it with the people you care about.
The song is fun to listen to during the holidays because it is universal with its instrumentals and is neutral of any religious connotations. It's all about enjoying the holiday no matter what and this song knows how to put you in the spirit while you're decorating the house as if it were your own spaceship.
---
1. Manatsu no Eve from Tenchi Muyo Daughter of Darkness

Episodes: 1 (movie)
Aired: Aug 1997
At number one, is Manatsu no Eve (or Midsummer's Eve) from the second Tenchi Muyo movie, Daughter of Darkness. Though Tenchi always had a pretty intense soundtrack, this song takes it to a different kind of direction in terms of emotion. The plot of the anime has Christmas during the summer time since on the home planet of Ayeka and Yoshito, they celebrate a holiday that is the equivalent to Christmas during that time of the year.
The hook is pretty emotional and sets a tune in context with the plot of the movie itself of having Christmas in the summer. The song also has a theme of goodbyes along with new beginnings, but to never let go of the memories. It also teaches that the spirit of Christmas is always in our hearts of spreading kindness and love. Even if you do not understand Japanese, the lyrics, the hook, the instrumentals and the delivery is still capable of giving the appropriate emotional reaction which is why this is a great Christmas song from anime.
---
Final Thoughts
The wonderful thing about music is even though it is cultural at its core, it still has a universal appeal. Sometimes you don't have to understand the language to understand certain songs. Through these songs, we can also learn about Japanese culture and how they see Christmas and they all share themes of loneliness and love, but still have a sense of hope. Sometimes, the instrumentals and the emotion put into the song gives the listener an idea of the message.
In some instances, if you listen to the song while watching the music video, it gives you a more direct idea of what the song is about. But with Christmas, all you need is some chimes and a standard C major chord progression and you're on your way to making an original Christmas hit that can either be loved by everyone, or forever associated with an anime Christmas special.