As the days are getting shorter we find ourselves hooked on anime and books. What's better than combining both? Writers are notorious for getting inspiration from everything, so good anime can revive the spark of inspiration. With National November Writing Month (NaNoWriMo) coming to a close, it's the perfect time to revisit this list. We picked 5 more shows with quality storytelling in mind and representation of the lives of writers and bookworms. Let's check them out!
5. Bungou to Alchemist: Shinpan no Haguruma (Bungo and Alchemist -Gears of Judgement-)

Episodes: 13
Aired: April 2020 - August 2020
Bungo (translating as the Literary Greats) and Alchemist is the perfect anime to learn more about Japanese literature. In each episode, we are transported to the universe of a different book and meet its author. The authors have to fight monsters, the Taints, with the aid of an alchemist and defend their original story. We get to meet Osamu Dazai, author of Run Melos Run in the first episode, followed by the likes of Ryuunosuke Akutagawa (author of Rashomon, which was picked up by Akira Kurosawa) and many more.
Combining impressive battles and literature is possible in the world of anime: Bungo and Alchemist make the writers the real protagonists of the stories. The anime plays with the idea of forgotten books: if nobody is reading them anymore, do they still exist? A book comes alive when it gets read and discussed, so we encourage you to watch this anime and pick up a new read, either by a literary master or a forgotten one.
---
4. Dantalian no Shoka (The Mystic Archives of Dantalian)

Episodes: 12
Aired: July 2011 - October 2011
Have you ever felt that libraries are literally made of magic? This is the premise behind The Mystic Archives of Dantalian. Huey inherits his grandfather's manor along with his secret library of rare books, the Bibliotheca Mystica de Dantalian. There, Huey meets with Dalian, aka the Kuro Yomihime or Black Biblioprincess, the guardian of the library. With an impeccable lolita fashion sense and sharp commentary for any ignorant souls stepping into the library, Dalian teams up with Huey to recover and protect the collection of Phantom Books.
Dantalian's library sounds like a dream come true for any bibliophile. Well-known authors, when asked what was the moment they realized they want to share stories with the world, bring up childhood memories of visiting the library. It's not the first time books take on a symbolic meaning, however, not many stories feature a character who is part of the library itself: Dalian is not just the ageless keeper of knowledge, but a living breathing manifestation of the library.
---
3. Kakushigoto TV (Kakushigoto)

Episodes: 12
Aired: April 2020 - June 2020
Kakushi Gotou is a popular manga-ka, creator of the ecchi series Balls of Fury. When his daughter Hime is born, Gotou decides to hide his profession from her at any cost. He goes to great lengths to conceal his profession, working environment, and colleagues. Gotou's frantic efforts lead to hilarious misunderstandings, testing his limits and forcing him to get more inventive as Hime gets older.
Gotou experiences ups and downs in his confidence as a creator, which will feel familiar to anyone who has tried to put a story down on paper. His reputation precedes him: when he gets recognized at the birth clinic, Gotou feels ashamed for his smash hit. Being equated with one's work is another experience that will ring true to writers: is there a separating line between the work and the person behind it? And should Gotou be so embarrassed about his creative output now that he is a father?
---
2. Honzuki no Gekokujou: Shisho ni Naru Tame ni wa Shudan wo Erandeiraremasen (Ascendance of a Bookworm)

Episodes: 14
Aired: October 2019 - December 2019
Tired of isekai anime with salarymen turning superheroes in a medieval fantasy setup? Well, if you didn't hear of Ascendance of a Bookworm, one of 2019's highlights, now it is the time to give it a go. Urano Motosu is a librarian who dies in a tragic accident. She gets reincarnated as Myne, a blue-haired girl, in a universe where books are a luxury. Myne is not equipped with superpowers, but her determination and people skills aid her in her quest to make the written word accessible in her new home.
Myne starts out as a character motivated by her need to read again, but she quickly forms a bond with her newfound family, makes new friends, and realizes that she has to adapt to this medieval society. We follow Myne as she works towards making paper accessible, learning to read, and teaching others. Writers find themselves motivated by their own need to bring a story to life, not to share it with an intended audience, but to satisfy a personal need, so we hope that Myne's efforts will be relatable to many.
---
1. Doukyonin wa Hiza, Tokidoki, Atama no Ue. (My Roommate is a Cat)

Episodes: 12
Aired: January 2019 - March 2019
A sweet and moving anime about the life of an introverted author, Subaru Mikazuki, and his companion, Haru, a stray kitten he takes in. Even though Subaru cannot take proper care of himself, especially when he is facing yet another strict deadline, he does manage to care for Haru. Her presence grows on him, so they soon become inseparable. In each episode, we see the same incidents both through Subaru's and Haru's perspectives.
Cats have been keeping company to writers long enough to find them show up even in manuscripts from medieval times (although they look more like troublemakers than friendly assistants...oh well!) Haru comes into Subaru's life, who's been leading a reclusive lifestyle since his parents' passing, and with her antics, she helps him overcome his social anxiety. Spending a lot of time in one's own thoughts definitely has an impact on writers. This is when they need to be nudged by a friendly paw asking for food and games.
She protecc, she attacc, but most importantly she wants a snack, meow!
---
Final Thoughts
Literary battles, pets protecting authors, bookworms without books, you will meet them, and more in our updated recommendations of Anime for Writers! Do you know of any anime that belong to this list? Let's take the conversation to the comments below!
---
---
We like to believe that true appreciation in anime does not simply lie in admiration for the visual art, which can be stunning, but just as much for the story that feeds the animation. Our favorite anime is nothing without a solid premise and good writing by its author, regardless of whether it stems from a light novel or manga. One must be a great writer to fuel such great stories which work in tandem with the animation that help to tug at our heart strings, make us happy, sad, angry, etc.
This list is especially made with those writers, and those aspiring to be writers, in mind. Each item on this list found its way for touching on key elements within a genre or craft related to the written word that we believe can benefit writers by watching. If you have never considered it before, maybe this list will spark a bit of interest in you to put pen to paper.
10. Death Note

Episodes: 37
Aired: October 2006-June 2007
Light Yagami is a highly intelligent and popular high school student who comes across a strange notebook that fell from the sky. Upon discovering that what he wields is a Death Note, where by if the wielder writes the name of any person in their notebook that person will die, Light takes the opportunity in stride. This notebook belongs to a Shinigami, a deity of death, named Ryuk. Light quickly allies himself with Ryuk and uses the notebook to kill criminals and become the God of a new world, destroying any who stand in his way.
Madhouse brings a thrilling supernatural mystery and suspense anime that offers a unique twist on the power which words can have on our lives and the way society is shaped as a whole. The instruction which Light dictates in his note are exact and precise and determine the success and/or failure of his work. If you are a freelance writer or copy editor, it might help to think of the rules of Death Note as a style guide. If it is not followed, it can result in unfortunate circumstances. Regardless of this analysis, Death Note is arguably one of the most popular anime ever made and for those seeking to learn how proper mystery and suspense is handled, look no further.
---
9. Aoi Bungaku

Episodes: 12
Aired: October 2009 – December 2009
Different in nature to the other anime on this list, Aoi Bungaku takes six modern classics of Japanese literature and bring them to life through animation. Covering topics such as: a boy who loses his sense of self and a thief who must use a string to climb from Hell. The stories include: Natsume Soseki's Kokoro, Ryunosuke Akutagawa's Hell Screen and The Spider's Thread, Osamu Dazai's No Longer Human and Run, Melos!; as well as Ango Sakaguchi's In the Forest, Under Cherries in Full Bloom.
Another work from Madhouse, the collection of the show's stories can best be categorized as either psychological, thrilling, dramatic, or historical in nature. It makes this list for its adaptation of its source material and the opportunity to introduce new viewers to classical works of literature they might have otherwise not discovered. Yet it also introduces you to the telling of stories in an anthology/short story format, whereby you have abridged versions of tales that may be helpful to reflect on if you are seeking to write in a similar style and genre.
---
8. Shinsekai Yori (From the New World)

Episodes: 25
Aired: September 2012 – March 2013
When a small portion of the world's population wakes up with the ability to shape and move matter with their minds, it leads to many of these new power imbued individuals to become violent, spreading a wave of chaos and destructions around the world that was difficult to recover from, leading into a new era. Kamisu 66 is a village far off into the future, beyond the rise and falls of various regimes. The village is a peaceful community made up of these psycho kinetically empowered individuals, that contains its own history and rules that keep society functioning. As some of the youth begin to experience changes and disappearances, they will slowly uncover truths about the community that may have been better left undiscovered.
A-1 Pictures brings a super natural, sci-fi, and mystery anime set in a seemingly utopic future. What is particularly key for writers of sci-fi or mystery to take away from this is the atmosphere and tone that surrounds the community and the intricacy of how the story progressively reveals more about the world overtime. If you tend to fall into a trap of unraveling a mystery too quickly or waiting too long before releasing interesting details and not hooking your reader, consider this anime for a work to turn to for inspiration.
---
7. Mahoutsukai no Yome (The Ancient Magus Bride)

Episodes: 24
Aired: October 2017-March 2018
15-year-old Chise Hatori has been mistreated and abandoned for most of her life because of her odd behaviour and talent to see fey spirits and other creatures. One day her sorrowful existence brought her to an auction house where she would, of her own free will, auction herself off into slavery. She is purchased for a large sum and taken by a tall masked stranger to a cottage by the English countryside. There she finds out he is an ancient magus and there is a hidden world of magic, fairies, and dragons that she had only slightly unraveled glimpses of in her youth. As she is taken under the magus' wing, she becomes his student as well as his bride.
Studio Wit (Attack on Titan, Seraph of the End) delivers a beautifully established hidden fantasy world with a classic aesthetic that shares similarity to the kind of fantasy in classic Germanic or Celtic mythos. This is an example of how to create an ever-expansive hidden world that an audience can explore along with the protagonist at the centre of the tale, in this case, Chise. The Ancient Magus Bride's story presents itself more to a Grimm's fairy-tale and is sure to please those who are fans of high fantasy literature or looking for inspiration to carve out their own universe on paper.
---
6. Hyouka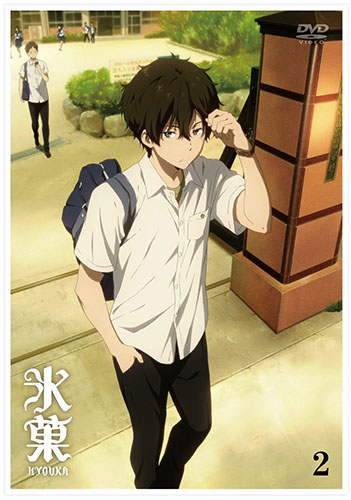 Episodes: 22
Aired: April 2012 – September 2012
Hyouka follows the story of Houtarou Oreki, a smart but lethargic high school student who lives by his personal motto "I don't do anything I don't have to. What I have to do, I do quickly." Houtarou was content with his rather unexciting life until he is forced to join the Classic Literature Club at the behest of his sister, to make sure it doesn't close. There, he and his friend, Satoshi Fukube, meet a bubbly classmate named Eru Chitanda. Together, Houtarou and his friends unravel daily mysteries all while delving deeper into the long history of the club and the space in which they reside.
Hyouka is a Slice of Life, School, and Mystery anime. This is probably best suited for those who enjoy or are working on contemporary young adult novels. It stands as a good illustration of managing a young cast of characters, each with their own unique voice, working towards specific goals that intertwine their lives. If you miss the days where you hung out with your school's book, literature, or magazine club, this will certainly be a nice throwback.
---
5. Fune wo Amu (The Great Passage)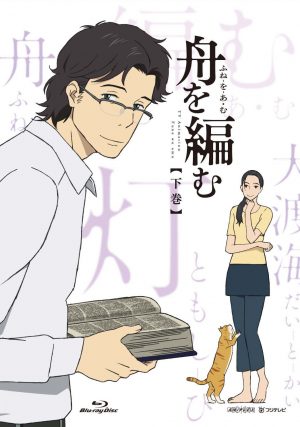 Episodes: 25
Aired: October 2016 – December 2016
Mitsuya Majime, a timid and quiet bookworm, is working in the Sales Department of Genbu Publishing, a job for which, despite his pleasant nature, he does not appear to display the needed extraversion to excel in his position. One day, Mitsuya is approached by Kouhei Araki, the senior editor of Genbu Publishing's Dictionary Department. Kouhei is seeking to retire and is need of a successor to help ensure the completion of "The Great Passage," a brand new and incredible dictionary set to take a decade to finish. Can Mitsuya utilize his vast love of words to help navigate across a sea of vocabulary or will his self-doubt and anxiousness make him come up short?
Studio Xexsus brings a fantastic slice of life anime that follows a publishing team and the journey through many years to complete this one fantastic dictionary. When you walk away from this anime, you should have gained a new appreciation of words and their many meanings. More than this you will gain some fun insights, if just surface level, into the publishing process around producing a dictionary and getting it to print. The details of publishing a dictionary versus a trade paperback are fairly different but you should find it educational just the same.
---
4. Violet Evergarden

Episodes: 13
Aired: January 2018 – April 2018
Violet was a young girl who was shaped into becoming an instrument of war, fulfilling the wishes of her country's army to combat the enemy. When the war finally ended and peace returned, it did so at an incredible price for Violet who was only left with the final words of her commanding Major to comfort her, though she did not understand the meaning of those words. Claudia Hodgins, a friend of the Major and President of the CH Postal Service Company, befriends her and employs her as an Auto Memory Doll at his company. There, Violet transcribes thoughts and feelings of strangers while juggling various emotions which are so distant to her. Will she be able to grow beyond the weapon she was and learn to understand the words the Major told her?
Kyoto Animation brings a beautiful slice of life, drama, and fantasy story to life. As beautiful as its visuals and musical accompaniment are, the real value of this tale for writers lies in the importance the plot places in exploring emotions and the expression of precious thoughts through the written word, further showing us how these words can connect us. It should remind any aspiring writer who is reading this to paint vivid pictures of the characters you create beyond the personality and bringing your characters to life through their connections with each other and the world around them.
---
3. Barakamon

Episodes: 12
Aired: July 2014 – September 2014
Seishuu Handa is an emerging talent in the world of calligraphy, yet despite his promising skills and awards, he seems to not take criticism lightly when a veteran in the industry criticizes his work at an exhibition. Seishuu loses it and, as a result of his actions, is sent off to the Goto Islands to cool off and reflect. While trying to practice and improve his work in his new home, Handa finds little peace or quite amongst the rambunctious children and neighbours who keep infringing on his private space. Has this island become nothing more than simply a distraction or will the people and his time spent in Goto, teach Handa what he needs to grow as a calligrapher and a person?
Kinema Citrus (Made in Abyss, Tokyo Magnitude 8.0) brings a bright and comedic slice of life anime. What brings this particular anime to such a prominent position on the list is the emphasis it places on the visual art of letters and the various ways one can convey emotion or style through typography. This anime will be of particular interest to those writers interested in typefaces and calligraphy. If you happen to be in the middle of designing a cover for your work or for someone else, you may draw inspiration from the characters passion for his craft and use it to help you in your creative journey.
---
2. Mimi wo Sumaseba (Whisper of the Heart)

Episodes: Movie
Aired: July 15th, 1995
Shizuku Tsukishima is a book loving 14-year-old who is not too sure of her path in life but finds joy in writing and reading, secretly wishing to experience her own story like the ones she reads about. Perusing through her many books, Shizuku realizes they are all taken out by the same individual, a boy named Seiji Amasawa, an aspiring violin maker who appears to become more entangled in Shizuku's life. One day while following a cat in hopes of finding her own adventure, she stumbles into an antique shop and comes across the statue of "The Baron," an anthropomorphic statue of a cat in a suit with a cane that sets off a trial of self-discovery and brings her and Seiji closer together.
Studio Ghibli created a modern classic in Whisper of the Heart, a whimsical telling of a girl who discovers more about herself on her own little adventure. Whisper of the Heart makes its way to list for standing as a prime example of how to conduct an imaginative story for children, grounded in reality, that has appeal for adults. More than this, it encapsulates the small beginnings writers take at early ages to hone their talent and improve their craft. While any of Studio Ghibli's works could have made the list, it was for Shizuku's love of stories and writing that earned its place.
---
1. Bakuman.

Episodes: 25
Aired: October 2010 – April 2011
When Moritaka Mashiro was a young boy, he aspired to be a mangaka (manga creator) like his uncle, the author of a popular gag manga series. However, when his uncle died from overwork, Moritaka, discouraged by his family, closed off the dream for good until one day Moritaka met a classmate, Akito Takagi, a writer interested in becoming a mangaka. Akito sought the artistic talents of Moritaka to work together to become serialized professional mangaka. A spark now reignited, Moritaka will work with Akito to achieve their goal and to keep a precious promise to a girl.
Bakuman. is a slice of life, drama, comedy, and romance anime. The central themes of this anime are around the pursuit of creating a fantastic manga. Artist and writer working in tandem, tirelessly, and with great persistence to see their goals and dreams achieved. Bakuman. teaches the viewer the importance of hard work and dedication to one's craft. If you are a writer then you are most likely engaging in a very solitary activity apart from your editor, if you have one. Often, we can find productivity is stagnant if we have only ourselves to push us and so this anime can act as a conduit for your motivation. Beyond this, Bakuman. touches on the greatest fear of any writer, the fear of failure. The commonplace thought to imagine you won't succeed before you have even begun. If you are looking for an anime to follow the creative process of a writer, struggles and all, you will find no finer anime.
---
Final Thoughts
The inspiration and lessons we take for writing can come from a variety of places, this list was an attempt to offer ten distinct anime in which to draw those inspiration or lessons from. We hope you have enjoyed this list. We would love to know if you agree or disagree with the list and if you have seen any anime suggested. Let us know in the comments.