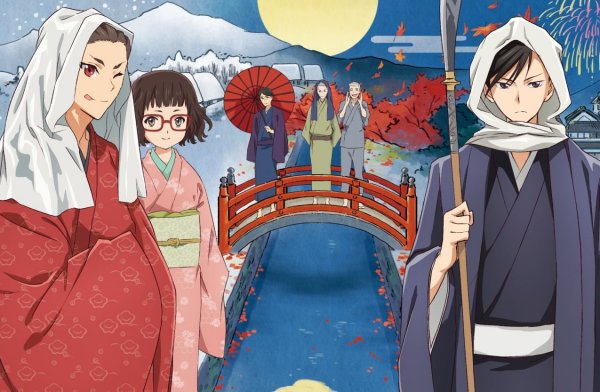 Anime is our favorite form of entertainment so why not learn more about the Japanese culture through it? We had a headstart with another recent article, The Case for Including Cultural Notes in Anime Localizations, so we have obviously been thinking about the impact of anime on our understanding of Japan as a, mostly, western audience. This is why Honey's Anime is presenting you with our top 10 series dealing with elements of Japanese tradition.
We tried to make the list as diverse as possible and even learned a thing or two while writing down our findings. We hope that you will also find out things about Japan you didn't know and enjoy our recommendations!
10. Maesetsu! (Maesetsu! Opening Act)

Episodes: 12
Aired: October 2020 - November 2020
Mafuyu and Fubuki dream of becoming a famous comedic duo and performing on stages all over Japan. Joined by Nayura, Rin, and more cute girls, they support each other. Their hilarious adventures and unwavering passion for comedy is inspiring as they set on becoming owarai geinin, comedic duos! Owarai is a lot like stand-up comedy but it is performed in duos.
This is the dark horse of our list - despite its lower rating we decided to include it because not many know about Owarai, a form of Japanese comedy, which Maesetsu! Opening Act deals with. Think of Lovely★ Complex, another popular series, which does not explicitly deal with owarai, but a Japanese audience would immediately identify Risa's and Ootani's comedic routine as such. Owarai literally means "to laugh" or "smile" and is usually seen on television, as a warmup between shows. Owarai is the modern equivalent of Manzai, a traditional form of double-act comedy performed by men. Maesetsu! dares to use this premise with cute girls, creating a show similar to Lucky Star in its moe aesthetic (the characters are designed by the Lucky Star creator after all!). If you like comedy and cuteness, give it a chance!
---
9. Kabuki-bu! (Kabukibu!)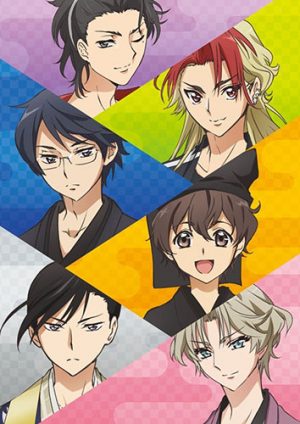 Episodes: 12
Aired: April 2017 - June 2017
Kurogo creates a kabuki club in his school but has trouble attracting new members. Kurogo grew up loving kabuki theater thanks to his grandfather but other young people know very little about this traditional form of Japanese theater. Kabukibu! shows us his efforts to make more people interested in kabuki and to act on the stage.
Many of us already know about kabuki: Combining dance and drama, it is a form of theater hailing from the 1600s. With all-male troupes, kabuki relies on the actors' mastery of different types of playing. Kurogo is determined to preserve kabuki among the young. As we follow him and his classmates, we get to learn more about the different techniques, and famous plays. There is also considerable character development, with a protagonist that seems cookie-cutter at first, but turns around our expectations!
---
8. Nitaboh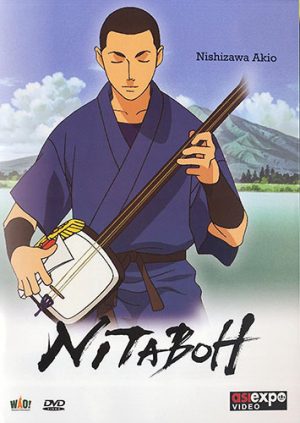 Episodes: Movie
Aired: February 2004
Nitaroh is a blind shamisen player in 19th century Japan. Coming from a humble background, Nitaroh wouldn't normally be able to perform the shamisen but the changing times he lives in to allow him to overcome these obstacles. This is the story of a gifted blind musician who survives and thrives, to the point that he establishes the Tsugaru style of shamisen playing.
The premise of Nitaboh is not uncommon: a young person manages to become top in his field after persistent effort. But the setting is unique, as we get to experience 19th century Japan and the crumbling down of the old ways, with the country's advancing westernization. Nitaroh devotes his life to his craft and becomes a legend. Nitaboh is a compelling film with beautiful music and solid characterization. We get to learn more about the shamisen, too, so what's more to ask?
---
7. Chouyaku Hyakuninisshu: Uta Koi. (Utakoi)

Episodes: 13
Aired: July 2012 - September 2012
Yes, there is an anime about a 100-poem collection from the Heian period! Utakoi is a series of romantic stories with a mix of good and tragic endings. Each story depicts real important people of the time, including the poets themselves and the circumstances that led them to create their writings. We witness the morals and hierarchies of the time and even get to experience world-famous stories like the Tale of Genji.
Utakoi is inspired by traditional Japanese poetry from the Heian period (794-1185). It uses its source material of romantic poetry to show different expressions of love that appear resonant even today. One of the best historical anime of the past decade, Utakoi is beautiful to watch. Each episode starts off with poetry recited by the protagonists, setting the tone for the story to follow, take a look below!
---
6. Hyouge Mono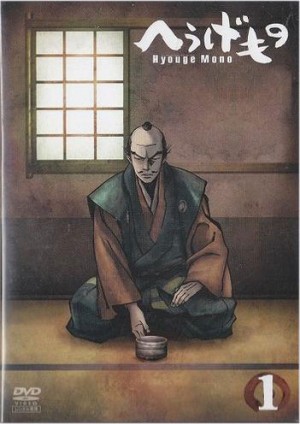 Episodes: 39
Aired: April 2011 - January 2012
Set in Edo period Japan, Hyouge Mono shows us how the tea ceremony, one of the oldest Japanese rituals, was performed by the samurai of the time. Furuta Sasuke, a vassal of warlord Nobunaga, devotes a great part of his life to perfecting the tea ceremony. Furuta studies under a renowned tea ceremony master as we get to witness what happens behind the scenes between powerful strategists.
Hyouge Mono went largely unnoticed when it came out back in 2011 but its small and devoted fanbase swears by its unique concept. A character-driven show, Hyouge Mono is for fans of historical anime and epic stories. It has been compared even to the classic saga Legend of the Galactic Heroes for its depiction of its characters, its large cast, politics, and conflicting values.
---
5. Chihayafuru

Episodes: 25
Aired: October 2011 - March 2012
Chihayafuru introduces us to Chihaya Ayase who is obsessed with the game Karuta, a card game based on Japanese poetry. The players have to match cards with phrases on them to cards with images. Karuta demands great memorization skills and Chihaya is determined to become a pro. Even though she had karuta buddies at a younger age, she struggles to complete a karuta team in high school. Will she succeed in participating in the nationals?
Chihayafuru is a popular anime spanning already three seasons. It is essentially a sports anime: Chihaya is your typical protagonist who puts all their passion into their game of choice. For a western audience, Chihayafuru might be the only reason they got introduced to this widely popular Japanese card game. Chihayafuru's depiction of national competitions is realistic since the game is dominated by girls of school age. Watch Chihayafuru if you like sports anime, shoujo, or have watched Hikaru no Go back in the day.
---
4. Barakamon

Episodes: 12
Aired: July 2014 - September 2014
Another one of our favorites is Barakamon, the story of master calligrapher Seishuu Handa, who has a bad temper when confronted about his abilities...His disagreeable character puts him in trouble when a veteran in his field criticizes his work. Handa snaps and the rest is history. Sent by his father to Goto Island to cool off and let the scandal subside, Handa finds himself surrounded by a nosy yet loving community. Will the friendly villagers and young Naru manage to turn this sour calligraphy master into a better person?
Barakamon depicts the rigorous training that calligraphers undergo, how they develop their own style, and what it means to break with tradition. Handa has to overcome his insecurities and answer the question himself: why does he practice calligraphy? Is it because his father did it? Is it for praise and awards? Or can calligraphy give him satisfaction, enrich his life, and even establish him as a member of a loving community?
---
3. 3-gatsu no Lion (March Comes In Like a Lion)

Episodes: 22
Aired: October 2016 - March 2017
March Comes In Like a Lion or Sangatsu (March) as it is known with fans, tells the story of teenage professional shogi player Rei Kiriyama. Rei has lost his family at a young age and is taken in by his father's shogi competitor Mashachika Kouda. Rei's abilities make him stand out soon, which creates tension within his adoptive family, as Kouda pays more attention to him than his own children. Rei decides to live by himself as soon as he gets his first salary as a pro, but struggles with anxiety and depression, as he bears the immense pressure from his career and due to unresolved trauma. Thankfully, he is befriended by the Kawamoto family and slowly heals.
March Comes In Like a Lion is an intense story with shogi in its center, a game of tactic that would remind western audiences of chess. Rei believes that he only has shogi to give him value and along with the series we witness his opponents and what role shogi plays in their lives, too. This is where Sangatsu excels: the way each character is portrayed is expressed vividly and accurately. Who says that an anime about shogi would be boring? Sangatsu is essentially an anime about life. With insight and sensitivity, we get a glimpse of the characters' inner struggles - we left feeling like we understood ourselves better after watching the shogi players deal with loss, life, and meaning.
---
2. Mushishi (Mushi-Shi)

Episodes: 26
Aired: October 2005 - June 2006
Ginko is a mushishi, a person who can see Mushi, spirits that exist in this world but cannot be detected by most. The Mushi are in a way the most basic life forms, they don't ascribe to human values, but rather exist as a sign of something else, an inner conflict, or curse, or even an old tradition. Ginko interacts with them and only intervenes when it is necessary when a community or a person is in danger. Mushi-Shi tells the story of these creatures that appear in Japanese lore.
Mushi-Shi holds a place in our hearts for its serene beauty. Each episode feels like a short film, with a compelling plot and an equally compelling resolution. It is a prime example of how poetic anime can be as a medium, as it captivates despite, or rather because of, its slow pace. Through Mushi-Shi, we learn about Japanese and Asian in general myths and folktales in an atmospheric setting. We wholeheartedly recommend Mushi-Shi for fans of Hayao Miyazaki or Natsume's Book of Friends.
---
1. Shouwa Genroku Rakugo Shinjuu (Showa Genroku Rakugo Shinju)

Episodes: 13
Aired: January 2016 - April 2016
Yotarou desperately wants to train under rakugo master Yakumo, since he sees this form of traditional Japanese storytelling as his only way to get back on his feet, after spending some time in jail. Yakumo initially tells him off but due to Yotarou's resemblance to his old friend and colleague Sukeroku he decides to take him in. What starts off as a show about Yotarou's attempts to make it as a storyteller becomes a retelling of Yakumo's tumultuous life along with Sukeroku, their rivalry and deep connection, and the role of Konatsu's mother, Miyokichi, in their lives.
Showa Genroku Rakugo Shinju is a masterpiece of storytelling, with phenomenal character development, and historical accuracy. It is in itself a way of preserving the art of rakugo. It deserves to be on top of our list due to its cinematic qualities, where the rakugo tales recited by the main characters reflect their circumstances. The relevance of this old art form is reintroduced in this way. Rakugo has been used as a plot device in other shows too, like Kabukichou Sherlock, but not nearly as successfully. Don't miss Showa Genroku Rakugo Shinju!
---
Final Thoughts
And there you have them, these are our top 10 anime inspired by Japanese tradition! We completed a varied list with anime of different genres: from tea ceremony obsessed Samurai to high school shogi prodigies, we have something for everyone. But what do you think? Are there any anime that deserves to be on this list? Let us know in the comments below! Thank you for reading, until next time ~
---