The world of anime is home to an endless variety of costume designs that range from realistic school uniforms to fantastical outfits you could never see in real life (unless an ambitious cosplayer takes up the job). Shows like Code Geass, Vampire Knight, and Boku no Hero Academia have some of the best examples of successful designs that burst with creativity from every seam, but we're not here today to talk about success.
Instead, we're going to focus on anime that got it all wrong. Whether it's due to wacky proportions, clashing colors, or just a complete lack of taste, these ten shows missed the mark so hard that they tunneled under the Earth from embarrassment. Or, at least, we wish they had. Here are the top 10 anime with the worst dressed characters!
10. JoJo no Kimyou na Bouken: Ougon no Kaze (JoJo's Bizarre Adventure: Golden Wind)

Episodes: 39
Aired: October 2018 – currently airing
Now, don't get us wrong. We're huge JoJo fans here at Honey's Anime, and many of the costumes from Golden Wind are fantastic. Giorno and Bucciarati's flamboyant suits are everything, and Trish was born to be a fashion icon. But when every outfit's design philosophy is "wear the most ridiculous thing imaginable and still rock it because you're a hardass Gangstar", some characters just won't be able to pull it off.
We're talking about the baffling cutout jumpsuit and half mask Melone traipses around in, Risotto's clown hat and striped pants, and the complete hot mess that is Carne. One important antagonist that hasn't yet been revealed in the anime outshines them all at the tiptop of the tacky tower, but we'll let you experience that one for yourself.
---
9. Bleach

Episodes: 366
Aired: October 2004 – March 2012
Again, not all of the outfits in Bleach are bad. Ichigo, in particular, has some stylish street clothes and the main shinigami robes are classic. But once the anime introduces the Arrancar, the understated designs take a backseat to strange combinations of bones and white fabric that are bound to leave confusing tan lines.
Charlotte is the obvious candidate for worst dressed with his two-piece and distressingly low torso tattoo, but since he's basically a walking drag queen stereotype, we personally don't count him. Tier's outfit, though, is a disaster. It's fair enough that she hides her mask remains with a high collar, but the hem of her jacket hits just under her nipples and leaves no room for imagination or bust support. And unfortunately, her powered up Resurreccion costume fares no better.
---
8. Digimon Adventure 02

Episodes: 50
Aired: April 2000 – March 2001
The Digimon franchise has a proud tradition of dressing its characters with the unsold remnants of a garage sale, and Digimon Adventure 02 gets the worst of it. Most children's anime, particularly those with a fantasy or sci-fi element, can get away with bizarre costume choices because their target audience isn't known for its stellar fashion sense, but this anime stretches even the middle school definition of cool.
Davis' fur-collared flame jacket is a kitschy retread of Tai's soccer shirt, and he just can't pull off the goggles look as well as his predecessor. Yolei's dollar store aviator getup makes her look more like a librarian than an adventurer, Kari's high-waisted shorts and opera gloves pull her proportions way out of whack, and the less said about Ken's Digimon Emperor outfit, the better.
---
7. Kamikaze Kaitou Jeanne

Episodes: 44
Aired: February 1999 – January 2000
Maron's magical girl outfits as Jeanne are a little busy (lots of ribbons flying everywhere to go with her rhythmic gymnastics theme), but work well enough for the '90s. Her school uniform, on the other hand, is a crime that even the phantom thief herself couldn't get away with.
It's a sickening combination of bright green and yellow with puffy sleeves, a wide turtleneck, and a hem that can't decide if it's the bottom half of a shirt or part of the skirt. Top that off with a clashing red bow and you've got a flop of a frock that not one of the girls in Maron's school looks good wearing. And as for the men, Chiaki's Sinbad costume would look a lot less homemade if he ditched the vaguely Arabian face mask.
---
6. Brave 10

Episodes: 12
Aired: January 2012 – March 2012
Oversized clothes can work well in some circumstances, but when every single member of your cast is walking around with 10 extra yards of fabrics hanging off of them, something has gone seriously wrong. Such is the case with Brave 10, a medieval Japanese fantasy whose characters really deserve better wardrobes than they got.
Besides the excess of billowing fabric, everyone seems to hate underwear as well – the absurdly low waistlines (particularly from Rokuro, who looks like he's one slipped strap away from public indecency) and uncomfortable-looking bustiers could only be held in place with double-sided tape. Something tells us that trying to fight while wearing these costumes in real life would be more hazardous to yourself than your opponent.
---
5. Turn A Gundam

Episodes: 50
Aired: April 1999 – April 2000
The Gundam series' costume design has been the subject of ridicule for decades, although most of its poor choices can be chalked up to dated '80s styling. But Turn A Gundam, which released right at the turn of the millennium, doesn't get to hide behind this excuse. Its baffling, boxy costumes make every one of its characters look like a rectangle on legs.
Dianna's black, white, and gold outfit overwhelms her slender frame with huge sleeves and heavy fabric, while her guard Harry prances around in clashing colored suits and strange red glasses. We do have to admit, though – Loran makes for a very pretty girl in his formal green dress.
---
4, Queen's Blade: Rurou no Senshi (Queen's Blade: The Exiled Virgin)

Episodes: 12
Aired: April 2009 – June 2009
We get it – Queen's Blade is an ecchi series. And since it's set in a pseudo-medieval fantasy land, the girls are practically required to wear skimpy, sexualized armor – series like Fairy Tail and Witchblade pull this off perfectly. But there is such a thing as going too far, and Queen's Blade goes so far that we're left wondering how the characters can so much as breathe without triggering a major wardrobe malfunction.
A solid metal breastplate and a thong are the only garments covering our protagonist Leina's torso, both of which are two sizes too small. Priestess Melpha barely manages to contain her humongous chest with a skintight bodysuit, shapeshifter Melona covers her naked breasts with slimy hands made out of her own hair, and even the prudish Tomoe can't keep her kimono on for five seconds without it getting shredded to bits. It's ecchi to the extreme, for better or for worse.
---
3. Yu☆Gi☆Oh! Arc-V

Episodes: 148
Aired: April 2014 – March 2017
Most anime fans picture dayglo spiky hair in the shape of various sea creatures when they think of Yu-Gi-Oh, but the insane fashion choices this franchise's characters make don't stop with their neon locks. The over-the-top goth looks from Duel Masters and the motocross suits from 5D's complemented this style well, but we think the fifth season – Arc-V – tipped past the point of being cool and careened off into the tacky pit.
Our precious main character Yuya tries his hand at emulating every previous Yu-Gi-Oh protagonist at once by wearing his uniform jacket as a cape and accessorizing with blinged-out goggles and multiple necklaces. He also has a gaggle of alternate-universe counterparts who dress even worse than he does. And as for everyone's favorite husbando Dennis... his orange half-suit/half-vest over a periwinkle shirt with one black glove hurts us deep down in our souls. Sorry.
---
2. Masamune-kun no Revenge (Masamune-kun's Revenge)

Episodes: 12
Aired: January 2017 – March 2017
All hail the world's worst school uniform! Yes, even though Kamikaze Kaitou Jeanne's seifuku was an abomination, it's nothing compared to how the girls dress in Masamune-kun's Revenge. And since this anime only came out two years ago instead of in the '90s, it has no excuse for its fashion crimes.
The striped pink blouse is unflattering on anyone who wears it and the accompanying blue striped bow only makes it worse, but the main offending article is the sweater. Its neckline is cut in such a way that it frames the chest as a long rectangle that closes just below the navel with double-breasted buttons. It also somehow clings to the girls' curves instead of billowing out as it would in real life, making the whole look even more awkward. At least this anime is enjoyable in spite of its stomach-churning clothing designs!
---
1. Yowamushi Pedal

Episodes: 38
Aired: October 2013 – July 2014
Yowamushi Pedal is a legitimately great sports anime, but sometimes it can be hard to watch. Midousuji's deranged racing animation is part of that, of course, but we just can't stand to look at everyone's clothes! Sohoku's school uniform takes notes from earlier in this list and goes for a nasty green and yellow palette with a loud red checked pattern on the pants, and the other schools have some questionable design choices as well.
Unfortunately, the sports uniforms are the final nails in the coffin. We understand that they need to have crotch pads because that's what real cycling outfits look like, but they could've made the rest of the design a little cooler. The combination of short sleeves and a popped collar on a skintight shirt gives the impression that the garment shrunk in the wash, and the kitchen-sink approach to decoration (especially with the Kyoto Fushimi uniform) confuses our eyes with no clear focal point. All together, it's just about as painful as falling off an actual bike.
---
Final Thoughts
Costume design defines the look and feel of an anime just as much as animation or music does, so the whole product suffers when the clothes aren't up to par. We hope future anime creators keep that in mind when crafting their next big show!
What did you think of our list? Do you disagree with anything on our worst dressed list? Who did we leave out? Let us know in the comments, and thanks so much for reading!
---
---
Most anime characters look awesome, let's admit it. With their colorful hair styles, their fashionable clothes and their badass attitudes they capture everyone's attention. Unfortunately, that's not true for all characters.
Today we are going to highlight the shows with the worst dressed characters. Prepare yourself for the biggest fashion victims and greatest wardrobe malfunctions. A little disclaimer before we begin: We are not judging the quality of the shows themselves but are strictly talking about the fashion sense of the characters.
This being said let us begin. Enjoy!
10. Mobile Suit Gundam

Episodes: 43
Aired: April1979 - January 1980
First up is Mobile Suit Gundam or rather the whole Gundam series. This show made me believe the producers put most of their energy into the designs of the robots rather than the human characters. That at least would explain the fashion crimes committed in this show.
Mobile Suit Gundam aired at the beginning of the 80s so most of the characters may be forgiven. Still, since the clothes of the protagonists are obviously not the main focus of the show their outfits didn't improve much over time. Most of the heroes wear ill-fitting uniforms with unnecessary accessories and weird designs. Overall it just looks like the producers tried to design a futuristic look but didn't care about it enough to think it through until the end.
---
9. Amnesia

Episodes: 12
Aired: January 2013 - March 2013
I admit that Amnesia has a great style when it comes to uniqueness. The producers also had a clear concept in their mind that they kept going for every single character. The only problem here is that they went a little bit overboard.
Just look at the four male leads that are all wearing just one color palette that also corresponds with their crazy hair colors. Also, them representing different card suits was a nice eye-catcher but in the end didn't have any significance for the story. And don't get me started on fairy Orion. I don't know about you, but if I woke up from a coma and the first thing I saw was a flying boy with Aladdin pants, pointy shoes and a cape with stars dangling from it I would go right back to sleep.
---
8. Cardcaptor Sakura

Episodes: 70
Aired: April 1998 - March 2000
The outfits of magical Girls are supposed to be cute, pink and original. But sometimes producers try to do all of these things at once and combine too many elements in one outfit. Cardcaptor Sakura is a perfect example.
Protagonist Sakura is supposed to warm our hearts and capture the viewer's attention but I can only pity her for being stuck inside this white and pink nightmare of a dress. A character that is already so young and innocent looking doesn't need such a girly dress on top of it. But she's not the only one. Her friend Tomoyo as well became a victim to the producer's constant pursuit of making the girls look as innocent and cute as they could.
---
7. Highschool of the Dead

Episodes: 12
Aired: July 2010 - September 2010
Next up is Highschool of the Dead, a show that might be less of a fashion victim than a fanservice victim.
I fully understand that producers want to show a little bit more of their female characters in order to make the viewers happy, but at least keep it believable. No high school would ever allow their female students to wear such short skirts and such tight blouses, especially not in Japan. The male characters on the other hand are stuck in simple black and most importantly believable school uniforms. These two extremes just don't look good together.
Highschool of the Dead is of course not the only show committing this crime. There are more than enough anime out there that need to understand that skirts are supposed to cover more than just the bare necessities.
---
6. Kaze no Stigma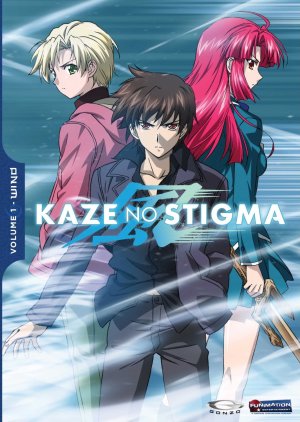 Episodes: 24
Aired: April 2007 - September 2007
Kaze no Stigma is the first anime on this list showing bad fashion sense of the 90s. Too bad though that this show started airing in 2007 and is set in modern days.
The characters of this show are not as bad as some others on this list, but their outfits are still far away from perfect. Female lead Ayano is stuck in a turquoise school uniform that at best makes her look like an old librarian. But not only Ayano, also hero Kazuma wears clothes that would better suit his father or an old uncle than himself. Kaze no Stigma just made me wish that both characters would have gotten an outfit that better reflects their amazing fighting skills instead of making them look like an old couple.
---
5. Black Cat

Episodes: 23
Aired: October 2005 - March 2006
Here we have another main character with questionable fashion sense. This Shounen anime involves a lot of action and gun fights but the characters look like they are playing dress-up at a costume rental.
Protagonist Train's blue jacket is a great example. I understand that he's supposed to look like a relatable and fun character with his spiky hair and that quirky smile, but that jacket is just a little bit too blue and a little bit too short for me to take him serious. I know some of you might disagree with me but I am also not a fan of Creed's Goth look. The white hair, the evil eyes, and the big and spiky collar – it looks like the producers were trying too hard to make Black Cat's characters look cool.
---
4. Pretty Guardian Sailor Moon

Episodes: 46
Aired: March 1992 - February 1993
I actually cannot judge Sailor Moon for committing major fashion crimes since unlike Kaze no Stigma it's actually a rather old show. Still, it is one of the best representations when it comes to questionable fashion trends of the 90s.
While the outfits of the Sailor Soldiers are the dream of every young girl, the clothes the characters wear in their free time are just cringeworthy. I am talking about baggy clothes, turtlenecks and color clashes on almost every single one of them. There are already numerous blog posts and threads dedicated to male character Mamoru Chiba's worst fashion choices throughout the show and he's not an exception. Sailor Moon brings its viewers back to a time that can be considered fashion hell.
---
3. Naruto

Episodes: 220
Aired: October 2002 – February 2007
Next up is a show that most of the time does a great job at creating fitting outfits. No one can tell me that characters like Kakashi or Itachi don't look awesome in every single fight. But sometimes you wonder what the producers were thinking, especially when it comes to Naruto's brightly orange overall.
Then we also have characters like Rock Lee and Gai that just make me shake my head in disbelieve. Even eye-candy and all-time badass Sasuke offends viewers with his fashion sense once he unbuttons his shirt all the way down to his pants. Sometimes I wonder whether someone ever told those characters that ninjas are supposed to stay undetected and that orange isn't the best color to wear inside a dark forest.
---
2. Buso Renkin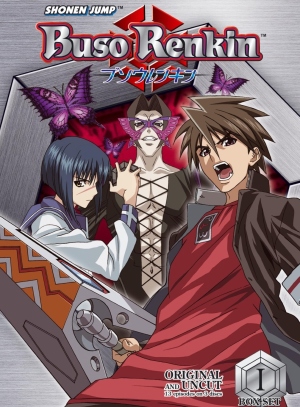 Episodes: 26
Aired: October 2006 – March 2007
Buso Renkin easily deserves a spot on our list. Even though most characters show a pretty common fashion sense we have one major exception: Papillon.
Those of you that have seen this show will understand what I'm talking about. Papillon is known as one of the worst dressed characters in anime history. Not only his name but his whole appearance is the opposite of an evil villain. It's hard to forget his purple butterfly mask that barely covers his eyes or his black bondage uniform, no matter how hard you try. There are other characters as well that do not show the best fashion sense, but next to Papillon they still manage to look like fashion models.
---
1. One Piece

Episodes: 665
Aired: October 1999 – ongoing
One Piece is hands down one of my favorite shows and just like Naruto a majority of its characters look awesome. But I am the first one to admit that some of them have a rather unique fashion sense.
Those fashion victims are of course fun to look at but can you really take a person like Doflamingo serious? No matter how strong he is his clothes still look like a flamingo exploded in front of him. Together with his tight pink pants and the blond hair he could be a member of a 90s boyband. But he's only one of One Piece's numerous fashion offenders. Mr. 2, Ivankov and many more are at least as bad if not even worse. One Piece is truly talented when it comes to creating weird characters.
---
Producers constantly have to compete against each other in order to make their show more unique and more memorable. That might be the reason why some of them go overboard and create outfits that just distract from the main story and don't present the characters in the best way possible. However, bad publicity is still publicity, so these characters might at least have helped their shows to gain some recognition.
Do you agree with our choices or do you want to include other shows? Do you notice how your favorite characters are dressed or do you not care? As always, your input is more than welcome so leave a comment down below.