Established in the summer of 1973, Doga Kobo was born from former Toei Animation staff banding together. The studio has produced a number of quality anime, mainly focusing on comedy and slice of life series in recent years. Many of their works stem from manga, though Doga Kobo does have a few original works of their own. With a distinct style of animation and depth of comedy, Doga Kobo is one studio that takes pride in their work!
We've already mentioned some of our favorite Doga Kobo anime in the past, but since then, the studio has produced a few more gems! We tried to limit the older Doga Kobo anime on our list, showcasing some of the best new series they've produced. Doga Kobo has perfected their use of comedy over the years. And it certainly shows in the choices we've picked for our list.
10. Touken Ranbu: Hanamaru

Episodes: 12
Aired: Oct. 2016 – Dec. 2016
Touken Ranbu: Hanamaru follows the life of Yamatonokami Yasusada, an uchigatana who has been called to fight alongside Souji Okita. The sword warrior is starting his first day at Saniwa's citadel. Reunited with his friend Kashuu Kiyomitsu, the two soon get caught up in the events surrounding the sword warriors living in the citadel. Though the warriors are always ready to fight to protect history, that doesn't mean they don't know how to have fun! In a series of individualized episodes, the characters in Touken Ranbu get introduced and show off their day-to-day activities.
Though this anime is based on a video game, it still has its own merit as a show, giving each of the characters a small highlight. Touken Ranbu: Hanamaru brings enjoyment through its simple comedy, allowing the serious nature of the franchise to show a more lighthearted take. The story is almost not important, with an episodic nature and slice of life feel. You can watch your favorite characters from Touken Ranbu interact with each other in their down time. And if you've never played Touken Ranbu before, this anime is still an enjoyable experience!
---
9. Hoshizora e Kakaru Hashi(A Bridge to the Starry Skies)

Episodes: 12
Aired: Apr. 2011 – June 2011
Kazuma Hoshino and his younger brother Ayumu are making a drastic move to the country. The two are staying at the Yorozuyo Inn while they wait for their parents to join them – though their first few hours in the countryside don't end up going as planned! After taking the wrong bus and losing Ayumu's hat, Kazuma encounters Ui, a girl who attempts to lead him back to the bus. Unfortunately, Kazuma finds himself in a rather awkward situation with both Ui and her friend Ibuki. His situation only gets worse when he realizes that the two girls are both classmates at his new school…
Horishizora e Kamari Hashi is similar to many other harem/ecchi anime. Yet, it includes the unique brand of comedy that Doga Kobo is known for, making it that much more enjoyable. By the time you finish the final episode, this anime will surprise you with how different it is from the usual series in its genre. And the art style is well done, giving you the chance to enjoy Hoshizora e Kakaru Hashi for what it is.
---
8. Uchuu Kazoku Carlvinson (Space Family Carlvinson)

Episodes: 1
Aired: Dec. 1988
A group of travelling performers is hurtling through space. Suddenly, they collide with another spacecraft and find the only survivor from the other ship is a small human girl. The performers decide to raise the girl as their own on a nearby planet, "acting" as a family for her sake. They wait for someone from the girl's race to come and get her – though some from the group actually enjoy taking care of young Corona. This is the short tale of their unique family!
Space Family Carlvinson is only a 45 minute OVA. It was the first production that Doga Kobo made on its own, and still has enjoyment for viewers to this day! You can see the beginnings of the studio, as they figure out how to balance the show's premise with comedy. The different family members of the Carlvinsons are quite entertaining in their own right as well. Though the animation is a bit dated now, we still highly recommend watching Space Family Carlvinson. The story is rushed, but that is simply the nature of an OVA. The comedy and heart behind the tale still hold up!
---
7. Makai Ouji: Devils and Realist (Devils and Realist)

Episodes: 12
Aired: Jul. 2013 – Sep. 2013
William is the genius child of a rich aristocratic family. But one day, his uncle loses everything when his business fails, forcing William to search through his family belongings for anything that can be sold. He happens upon an ancient underground room, hidden by one of his ancestors. William somehow manages to activate a magical seal in this room, which accidentally summons a demon! The devil introduces himself as Dantalion, and tells William that he has the power to choose the next ruler of the demon world.
Makai Ouji is a stretch into the supernatural and mystery genres for Doga Kobo. At the same time, it still comes back to the classic comedy that this studio is known for. The cast of demons and William come to life thanks to Doga Kobo's style – mainly, the laidback, funny approach that lets viewers get to know the characters more personally. The anime's rather unique plot also makes it stand out from the rest. Although it might feel slow-paced to some that regularly watch mystery or supernatural anime, its plot still gets to the point in a way that lets you see the characters more clearly. This often overlooked addition to Doga Kobo's works is well worth taking a look at!
---
6. Luck & Logic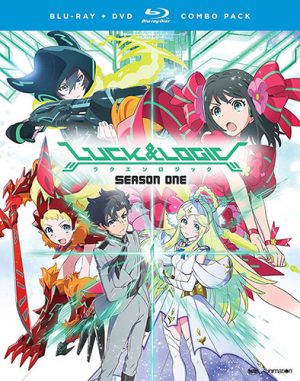 Episodes: 12
Aired: Jan. 2016 – Mar. 2016
In the midst of a war, members of humanity fight wielding "Logic," a kind of power that allows them to enter a trance with beings from another world. Yoshichika Tsurugi is a normal civilian living in peace, lacking the Logic to do any sort of fighting. But when he encounters Athena, his destiny will be set in motion!
Luck & Logic gives viewers an anime focusing on the action and mystical setting. If you're a fan of Doba Kobo's other works, this anime is completely different from any of their other series. The only identifying thing about Luck & Logic is its art style, which is the same beautifully detailed animation that Doba Kobo puts into many of their anime. Luck & Logic is an opportunity for Doba Kobo to show that they can focus on other genres of anime. It's pretty good overall – but we still prefer the studio's comedic anime!
---
5. Tada-kun wa Koi wa Shinai (Tada Never Falls in Love)

Episodes: 12
Aired: Apr. 2018 – ongoing
Mitsuyoshi Tada is a boy who has never known love before, though his attentive kindness seems like the kind of thing that girls would adore! One day, Mitsuyoshi is taking pictures of cherry blossoms, when he runs into Teresa Wagner, a transfer student. Teresa is lost, so Mitsuyoshi takes her to his grandfather's coffee shop. Where will their story go from there?
Tada Never Falls in Love is the most recent Doga Kobo anime on our list, as it is currently airing this spring season. The focus of this anime is once again comedy, although romance plays a big part in the series composition as well. Mitsuyoshi Tada is a compelling main character, especially for those of us who struggle with romance! And with plenty of interesting supporting characters to lean on, Tada Never Falls in Love is looking like it might be one of the best anime this season. Lessons in love and life await you here.
---
4. Gabriel DropOut

Episodes: 12
Aired: Jan. 2017 – Mar. 2017
Heaven requires that its angels study among humans for a time in order to become full-fledged angels. Gabriel White Tenma is one such angel, a being at the top of her class with a great destiny before her. However, she quickly becomes addicted to video games and shuts out everything else, including her demon friend Vignette April Tsukinose. As the two traverse their time among humanity, they join up with two other unusual souls – the angel Raphiel Ainsworth Shiraha and the "future ruler of the underworld" Satanichia McDowell Kurumizawa. Together this group will learn what the meaning of life is –maybe…
Gabriel DropOut is one of the funniest anime on Doga Kobo's extensive list, showcasing the studio's extensive work in comedy. This series deals with the supernatural in a way that seems natural, allowing viewers to easily identify with Gabriel and her friends. Gabriel's struggle to break out of her hikikomori ways is something all gamers can relate to! And the rest of the hilarious cast contains unique characters with funny, similar situations to our own lives. Gabriel DropOut is well worth your time.
---
3. Gekkan Shoujo Nozaki-kun (Monthly Girls' Nozaki-kun)

Episodes: 12
Aired: Jul. 2014 – Sep. 2014
Gekkan Shoujo Nozaki-kun follows Chiyo Sakura, a kind high school girl who falls for an unobservant boy named Umetarou Nozaki. When Chiyo finally confesses, Nozaki hands her an autograph instead… Nozaki is actually a shoujo mangaka with a respectable career, though he publishes under a different pen name. And after even more misunderstandings, Chiyo ends up becoming Nozaki'z manga assistant!
A truly hilarious series, Gekkan Shoujo Nozaki-kun is one of Doga Kobo's finest works, one of few that remains in the memories of viewers long after it is watched. Chiyo and her newfound friends encounter the most uncomfortable and ridiculous situations. Despite this, we still find a way to relate to them! Gekkan Shoujo Nozaki-kun is an anime that everyone can enjoy.
---
2. New Game!

Episodes: 12
Aired: Jul. 2016 – Sep. 2016
Aoba Suzukaze decides to go straight into the workforce after she graduates from high school, applying to work at game company Eagle Jump right away. She has always loved the Fairies Story game series that Eagle Jump produces, and to her joy, she learns that she will be working on Fairies Story 3! She will also be working under lead character designer Kou Yagami, who happens to be her idol! Aoba has to navigate the brand new territory of designing her dream game alongside her new coworkers. Will they achieve their goals? or will this game be a flop?
Plenty of anime exist that give a closer look at the video game industry, but New Game! is different than those series. Particularly when combined with the second season, we can see real character growth in Aoba and her friends. Their struggles to be better and improve themselves are realistic as well. Being a part of video game development is not all fun and games. Yet, New Game! manages to give that sense of realism even while it is lighthearted and full of relaxed comedy, combining Doga Kobo's talents.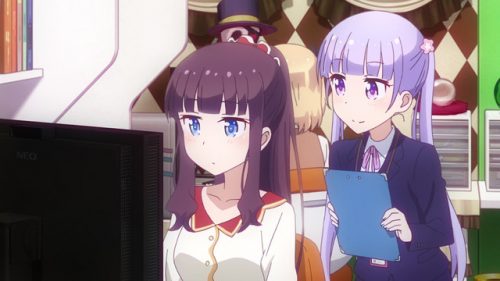 ---
1. Himouto! Umaru-chan

Episodes: 12
Aired: Jul. 2015 – Sep. 2015
At our top spot on this list is none other than Himouto! Umaru-chan. In this anime, Umaru Doma is known as the perfect high school girl, though that all changes when she gets home. Putting on a hamster hoodie, she loses her responsible attitude in favor of a lazy otaku lifestyle. Umaru leaves all of the housework to her older brother Taihei, while she relaxes and thinks about her own problems. With her friends and her brother to pick up her slack, Umaru's daily antics are entertaining in their own right!
Himouto! Umaru-chan is easily the height of Doga Kobo's comedic anime, particularly with the release of a second season not too long ago. Though this type of anime has been done many times, Himouto! Umaru-chan just has something special that makes everyone laugh. We love the dynamic between Umaru and her friends, as well as the relationship that she has with her brother. With the adventures that Umaru gets up to, it's no wonder that she is able to have a seemingly normal life at school! We picked Himouto! Umaru-chan as our top spot for Doga Kobo anime because, between the two seasons, it has been a hilarious and entertaining experience. Hopefully Doga Kobo will only continue to improve upon their success!
---
Final Thoughts
Doga Kobo has produced some really great anime over the years! Specializing in comedy, this studio has some sort of series for everyone, and it really shows in the wide range of genres we see on our list.
Which Doga Kobo anime is your favorite? Check out the previous version of our list below to see our other suggestions of great anime by this studio. And stay tuned for more news and entertaining articles from us here at Honey's Anime!
​
---
---
Set up in 1973 by former Toei Animation staff, Doga Kobo have made their presence known over the years as their output has increased substantially. With the success that YuruYuri brought to the company, Doga Kobo has capitalised on this with a dedicated team of experienced character animators both in-house and freelance. This has resulted in Doga Kobo becoming one of the best animation studios when it comes to character animation alongside Kyoto Animation.
Thanks to their recent works, Doga Kobo have become my favourite animation studio and just their logo is enough to encourage me to dive into something new. They're the undisputed kings of comedy series and Doga Kobo producers know exactly who to get for each and every new venture they take within the genre. So here are 10 anime series that have made me regard Doga Kobo so highly.
10. Laughing Under the Clouds (Donten ni Warau)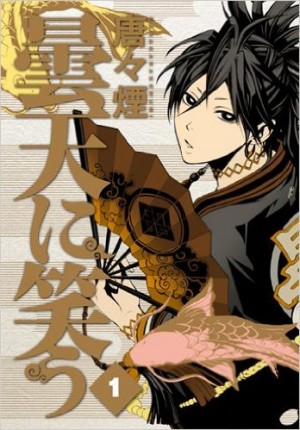 Episodes: 12
Aired: October 2014 - December 2014
Continuing the tale of Doga Kobo's diversity as a studio that is so commonly typecast for its comedy works, here's a historical, supernatural series set in Japan 1878. Donten ni Warau, or its English title, Laughing Under the Clouds follows a group of three brothers who are tasked with delivering criminals to the prison of Lake Biwa. But after being suspected of being the demon Orochi's vessel, things turn for the worst.
It's always great to see Doga Kobo doing something new and whilst it doesn't hold up to their other works, it was something valuable in its own right. It offered something new for fans of shoujo series with appealing characters and the dynamics between them and if that sounds good enough for you, you should definitely check out Laughing Under the Clouds.
---
9. Majestic Prince (Ginga Kikoutai Majestic Prince)

Episodes: 24
Aired: April 2013 - September 2013
Majestic Prince is one of those mecha series that you don't watch for the mechs themselves. Whilst the driving plot does indeed involve mecha battles, it's these moments aboard the spaceship before deployment that are really interesting. Following Team Rabbits, these mecha pilots must learn to get along and work together as they fight the invading alien forces.
It's a mecha series for those that aren't particularly interested in mecha and it works as a great gateway into the genre. Even the mecha battles themselves aren't so much about the mech's capabilities and instead are about the character dynamics at play as conflict breaks out during the heat of battle. This is the primary difference between Majestic Prince and other popular mecha series such as Mobile Suit Gundam. It's not so much about the politics that drive these battles rather than the people who do the battling themselves and it makes for a great watch.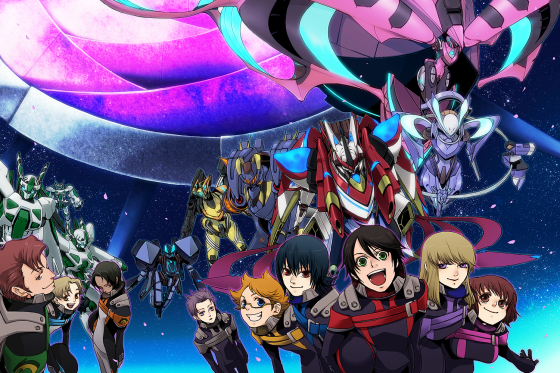 ---
8. Himouto! Umaru-chan (My Two-Faced Little Sister)

Episodes: 12
Aired: July 2015 - September 2015
If you've been watching anime for a while, you're probably familiar with the "little sister character" trope. The younger sister who cooks, cleans and rarely complains is a popular idea amongst some anime fans. Yet, the reality is very much the opposite and Himouto! Umaru-chan is prepared to completely crush this idealised fiction. Whilst at school, Umaru is the perfect student, she's a complete slob at home and it's this disparity that leads to the jokes and references throughout. Whether it's a reference to Monster Hunter, Metal Gear Solid or Mario Kart, Umaru-chan is filled with video game and anime references throughout.
It's Doga Kobo's most recent work and the animation quality is consistent throughout with great character animation and expressive moments. With the hamster imagery tied into absolutely everything, the entire aesthetic is comical in nature and it doesn't take itself seriously for more than a minute. It's pure fun bundled into this short sibling comedy series.
---
7. Mikagura School Suite (Mikagura Gakuen Kumikyoku)

Episodes: 12
Aired: April 2015 - June 2015
Time for something more recent! Mikagura School Suite, originally based on a vocaloid series is a show guaranteed to put a smile on your face. In a school where you possess powers based on your club, the students of Mikagura Academy must compete in these battle tournaments for the glory of their clubs. Following the excitable Eruna Ichinomiya, she participates in these battles as a member of her own club in her attempts to help the student council president
One of the key talents of Doga Kobo animators are their incredible character and follow-through animation. But not only does Mikagura School Suite achieve this, but it also includes great action and effects animation turning these battles into something amazing each and every episode. If you can get along with Eruna and don't find her at all annoying, then you're going to love this comedy show.
---
6. GJ Club (GJ-bu)

Episodes: 12
Aired: January 2013 - March 2013
With lovable characters and hilarious antics all based around club activities (Or lackthereof), GJ Club (Good-Job Club) is a charming comedy series that you can't help but laugh your way through. Whether it's playing board games, reading manga or just lazing around, the GJ Club is the ultimate setting for limitless adventures, even if the majority of them happen within the clubroom itself. All of the jokes throughout bring you closer to each of the club members as it subtly provides more
This is part of the list where we're diving right into Doga Kobo's specialties. These are comedy, slice of life series that are often regarded as being bottom-of-the-barrel series by some anime fans. But Doga Kobo takes this stuff seriously and the character animation involved is not to be scoffed at. And if you've already seen GJ Club, all I can say is "Good Job!"
---
5. Monthly Girls' Nozaki-kun (Gekkan Shoujo Nozaki-kun)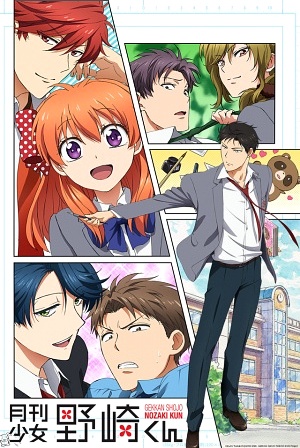 Episodes: 12
Aired: July 2014 - September 2014
Being one of the most popular comedy series of 2014, Monthly Girls' Nozaki-kun tells the tale of an oblivious mangaka and those that are driven to help him out. Whilst it is advertised as a romcom, the romance aspects serve as an inspiration for new jokes throughout the series as Chiyo tries to confess to Nozaki, always ending in failure. However, Nozaki-kun's charm comes primarily from the side cast who all have their own quirks and jokes that arise within each of the smaller skits that the show presents.
This was a breakout hit within the season of Summer 2014 amongst Western fans. Since then, I can refer to Doga Kobo as "Those guys that made Nozaki-kun" to immediately give a good impression of what to expect from their newer works. It's the charming series that will always leave comedy fans crossing their fingers for a second season.
---
4. Yuru Yuri (YuruYuri: Happy Go Lily)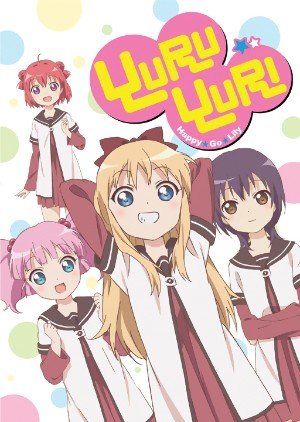 Episodes: 12
Aired: July 2011 - September 2011
Yuru Yuri is absolutely fantastic. Currently on its third season, this comedy series provides a mix between the lighter moments we might see in stuff like Nozaki-kun and GJ-Bu, only to combine it with moments that have no interest in logic at all. Whilst most comedy series make attempts to diversify over time, introducing new characters and jokes between them, Yuru Yuri somehow manages to use the same character dynamics to provide something new and fun every single episode. With Akari, Toshino Kyoko(!), Yui and Chinatsu, there is not a single dull day at the Amusement Club.
There's a reason Yuru Yuri is on its third season, a feat that many other series fail to achieve and it's because of its growing popularity over the years. Yuru Yuri is impossible to dislike and Doga Kobo is very much responsible for this with an in-house director following the project and turning it into one of the studio's best works.
---
3. Love Lab

Episodes: 13
Aired: July 2013 - September 2013
Sometimes love takes a little practice. Love Lab follows a group of girls as they practise romantic activities such as going on dates and even holding hands! It's these moments and the subversion of character expectations that make Love Lab a real joy to watch. It never feels awkward or overly dramatised as it goes through all these scenarios comically. There is not a single dislikeable character within Love Lab and it stands tall amongst the sea of other comedy series that strive to achieve what this series has mastered.
I made a claim at the very start of this article that I've been yet to prove. Character animation is something that is often overlooked within the grand scale of things. Whilst people are always eager to talk up the coolest new fight scene in their favourite action scene, there's rarely anyone talking about an exemplary moment where a character did a particularly well animated smile. But Love Lab is the series that really proves the value of character animation with some incredible moments of smooth motion and detailed expression. Seriously, watch Love Lab. I guarantee that you'll *love* it!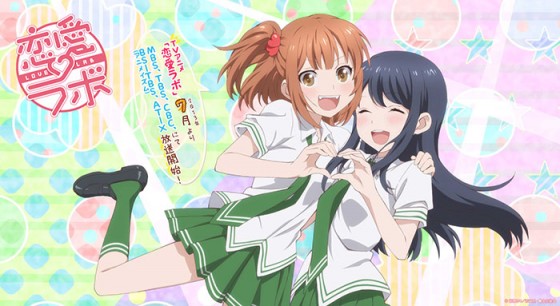 ---
2. Engaged to the Unidentified (Mikakunin de Shinkoukei)

Episodes: 12
Aired: January 2014 - March 2014
"Cliched". It's not an uncommon term when you're swimming through the comedy genre. Whilst there are indeed a whole load of exceptions to this rule, it's hard to deny that we do get repeated jokes across multiple shows. However, Engaged to the Unidentified does both at the same time. It is both cliched and an exception to the rule as it takes all of these common tropes and ideas, only to completely subvert your expectations and present something that nobody could have expected. Following a girl, shocked to find that she is engaged to a fairly irregular boy, we watch on as a series of ridiculous events pop up and they deal with them in a way that leaves us in a fit of laughter.
Engaged to the Unidentified is exceptional in so many ways and it truly stands tall as a hilarious comedy show that any fan of the genre should watch. Featuring great animation, rivalling Love Lab, it's given birth to a selection of great scenes and gifs that have been scattered around the internet. You've probably already seen parts of it! Now take the next step and actually watch it.
---
1. Plastic Memories

Episodes: 12
Aired: April 2015 - June 2015
Sometimes comedy doesn't have to be used for the sake of laughter. In this tragedy series about terminal illness, Tsukasa meets Isla, an android who is approaching her expiry date. Throughout this romance, tragedy series, comedy director, Yoshiyuki Fujiwara employs comedic situations throughout to make light of the oncoming disaster. It makes for a unique sort of presentation in its attempts to deliver an emotional story without the use of any overly melodramatic moments. Whilst the series does present itself as some sort of AI story within the vein of the science fiction genre, it quickly connects with the viewer as something far more emotionally driven.
Plastic Memories is incredible and it's the sort of series that can make you laugh and cry all at the same time. Through brilliant art direction and incredible character animation, the world of Plastic Memories is brought to life and the plights of our characters are more evident than ever. It's the best series made by Doga Kobo and if you can handle the emotional weight, it's an experience that you won't want to miss.
---
Doga Kobo's portfolio is rapidly growing each and every year. With the currently airing Hidan no Aria AA and the upcoming original magical girl series, Breetschlag, they are definitely at the top of their game. Even when they're not producing their own original series, Doga Kobo always seems to make every project they work on their own. They rise high as my favourite animation studio and I become more confident of that every single season.
---