También puedes leer este artículo en:Español
When we look at food it is a direct reflection of our being, the source of all our energy. For that reason, what we eat becomes the fuel that our car needs to stay in control. Here at Honey's Anime and I'm sure everywhere around the world, food is the priority and so we decided to focus our attention on some of the more popular restaurants that you'll find in anime. The food doesn't necessarily have to be over the top, but so long as the dish in front of us is edible then we're totally fine. Food speaks to us in a variety of different ways, from a variety of different cultures. Food much like music has become the universal language for all of us to communicate with, and you can surely taste the personality seeping through each cut of the knife as you go through your favorite meal. Anime restaurants are full of imagination and creativity and so we're going to provide you our top 10 anime restaurants for you to dig in and enjoy.
Whether you're strictly vegan, vegetarian, or you enjoy a slice of everything, we have just about every menu covered so sit tight and we'll be at your table shortly.
10. Neko Ramen – Ramen Restaurant

Episodes: 13
Aired: December 29, 2006- March 23, 2007
Neko Ramen is an ONA special that focuses on Taishou the cat, an entrepreneur ramen chef who runs a Tokyo based restaurant for his fans. The show ran for 13 episodes and created a very stylized anime that focused around various cutting-edge ramen creators, their overall vision behind it all, and their unique methods of preparation.
Now we chose this as our number ten spot because quite frankly who doesn't like cats and ramen? You put the two together and you've created an epic show with spectacular meals, all hosted by an overjoyed cat in uniform. Ramen restaurants have always been a major staple in the culinary lifestyle in Japan, so it should come as no surprise that a show would be entirely dedicated to the craft behind it. At Honey's Anime we truly believe in the quality that goes into the food, and ramen is one of those dishes that truly takes a lot of creativity and understanding of meshing different flavors together to serve a bowl of savory goodness. A sequel to the show Neko Ramen: Ore no Shouyu Aji also focused on the ramen lifestyle and we recommend you check that out also.
---
9. Wakako Sake – Izakaya restaurants

Episodes: 12
Aired: July 5, 2015 – September 20, 2015
Wakako Sake follows the exciting life of 26 year old Wakako Murasaki, who has a passion for going out alone to eat and drink where ever she pleases whenever she feels displeased by work. Going where her heart desires, Wakako takes us on an epic food journey filled with an assortment of great food served in a very Japanese style. The show spans for 12 episodes which take place in 12 restaurants, which last roughly 2 minutes. A lot of the show introduces viewers to various Japanese methods of cooking such as the first episode where Wakako shows us a very popular dish called the salted fried salmon, and the style in which she eats the salmon is very akin to Japanese custom. She also paired it with a cold glass of sake which goes extremely well due to its subtle sweetness and refreshing after taste.
In more of the episodes we start to see more unique dishes created by various chefs in different restaurants such as Monkfish Liver in Ponzu, which is a very exotic Japanese dish that can only be found in certain parts of the nation. We highly recommend watching this anime to really get a true glimpse of Japanese culinary, but more so to see the style in which restaurants are run by their owners.
---
8. Kaichou wa Maid Sama – Maid Latte

Episodes: 26
Aired: April 2, 2010– September 24, 2010
Misaki isn't your ordinary student council president, since most students have dubbed her the "Demon President" due to her disciplinary style and is not afraid to use her mastery of Aikido to cast these boys away who misbehave. Behind this very cold and demanding persona lies a secret that Misaki doesn't want anyone to know, and it is that she works as a part time maid at a maid cafe to support her struggling family. Unfortunately, secrets don't last forever as one of the most popular boys in school Takumi, walks into the very same cafe that Misaki works in catching her off guard. In order to maintain the secret from spreading around campus, Misaki must now give in to whatever Takumi desires to avoid the embarrassment.
Majority of the show takes place in Maid Latte, which is the cafe that Misaki works in and where she eventually confronts Takumi. The show advertises a very casual themed maid cafe, where customers are served the very popular Omurice along with the very popular maid latte to wash it all down. We thought this was very fitting for our top ten because it provides you with yet another glimpse of the very creative style of Japanese cuisine, but also because Maid Lattle is such a well-organized restaurant. You'll tend to find many maid cafes all around Tokyo, so we suggest that when you decide to stop by make sure to visit Akihabara or Daikanyama for your assortment of cafes.
---
7. Muteki Kanban Musume – Chinese Ramen Restaurant

Episodes: 12
Aired: July 5, 2006 – September 20, 2006
Miki is a cute young poster girl who works at her mother's Chinese ramen restaurant. At first glance Miki seems to have a very innocent persona, but that all changes once you provoke her. Whenever a conflict arises Miki tends to pick fights with everyone in the restaurant including her mother, which end up causing mishaps at every moment. One great example is in the very first episode where we're first introduced to Miki and her history. Her mother had trained her to become a professional ramen chef but when she attempted to serve her first customer, she spilled the scolding hot soup all over him causing panic. This added humor is what made us decide to throw Miki's ramen shop into the top seven spot of our list. Throughout the course of the series, you'll see pots flying, soup spilling, and fists of fury as Miki works her way up the ladder to try and surpass her mother's special ramen cooking. We highly recommend checking out this one, as it will make you hungry and laugh all at the same time.
---
6. Sushi and Beyond – Okonomiyaki Restaurant

Episodes: 24
Aired: April 12, 2015 – October 11, 2015
Sushi and Beyond is an anime based on the book by British travel and dining Journalist Michael Booth. The story follows Booth and his family as they embark on a 100-day trip to Japan, where Booth takes the viewer on an adventure to several restaurants that specialize in certain Japanese styled dishes. One example is in episode 18 where he takes the family to Osaka to try Okonomiyaki and Takoyaki. At first Booth couldn't find a suitable location among all the choices of shops, but suddenly an old woman appears from out of the shadows inviting them to her shop. Once inside Booth is greeted with some of the best Okonomiyaki he had ever tasted, and his children agreed. This is a great example of how much good food can have a great effect on us once it's prepared well.
For most of the show, it teaches us how special Japan really is and how sacred much of the cuisine is with regards to Japanese tradition. This is a show that is full of fantastic information not just about food but will educate you about Japan as well. We suggest you watch it and learn more about the great restaurants that are found all around the nation.
---
5. Ristorante Paradiso – Casetta Dell'Orso

Episodes: 11
Aired: April 9, 2009- June 25, 2009
We at Honey's Anime certainly love diversity when it comes to food, and so our next contestant is Ristorante Paradiso which comes in at number five. The story revolves around Nicoletta who felt resentment towards her mother Olga, as she ran off to Rome to remarry. Nicoletta never forgave her mother for that and throughout her youth she vowed to ruin her mother's life, that is until she comes across an Italian restaurant called Casetta Dell'Orso where her mother worked. As she walked inside she was immediately greeted by mature gentlemen in formal clothing along with spectacles, and much like the employees the clientele were very decorous as well. Before she could ever really express feelings towards her mother, the environment in which she found herself in started to grow on her leading to an admiration of the Italian lifestyle.
The wonderful thing about this anime doesn't just come from the complicated past, that Nicoletta eventually lets go of, but from the magical cuisine that stems from it all. You can clearly see that much of Nicoletta's mother's love is shown through her fine dining and precise coordination. Once you're greeted with a glass of red wine and some of the world's best pasta, every bit of hatred in your body evaporates and you're immediately enchanted with all of the many oils and herbs that blend well with each other. We suggest you take a bit of time to relax and enjoy the adventures that Nicoletta experiences, and truly take in all that Casetta Dell'Orso has to offer.
---
4. Shirokuma Cafe – Polar Bear Cafe

Episodes: 50
Aired: April 5, 2012 – March 28, 2013
Shirokuma Cafe is not like your ordinary cafe, unless you've been here and know what it's like. Assuming that you haven't Shirokuma Cafe is a small shop run by a big polar bear who makes a living serving other animal customers who come from all walks of life. He tells his customers about how much he disliked his other job and so he quit it to become the owner of his cafe. Although much of his past is a bit blurry, he discovers a new passion which is to provide the best quality to his clientele. The place is always packed to the brim with animals and humans alike, and it's all due to his magnetic charisma towards what he loves.
This slice of life comedy is such a treat to watch because not only do the cast of characters come with their own little backstory, it makes you laugh to believe that a bear is serving coffee to a panda, and penguin while doing his best to cater to their everyone's needs. Panda always begs for bamboo while penguin seems to act more human by trying out various foods that Shirokuma prepares, along with sharing his awkward love life. Shirokuma cafe is sure to serve you up a nice cup of entertainment with a side dish of laugher since you get to see a brighter side to the cafe lifestyle. When do you come and visit Japan there is actually a real life Shirokuma Cafe which is located in Takadanobaba, so we recommend you go check it out!
---
3. Dagashi Kashi – Saya's Cafe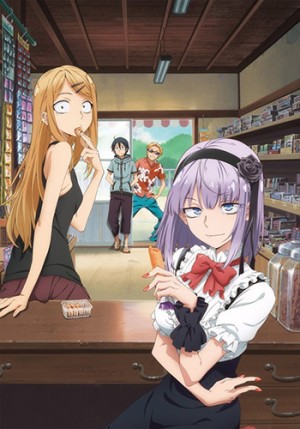 Episodes: 12
Aired: January 8, 2016 – April 1, 2016
Dagashi Kashi was one of this winter's best anime on our lineup. With well received reviews from various anime connoisseurs, Hotaru and her crew of friends made us laugh but also educated us on the many types of nostalgic snacks Japan has to offer. Saya and her brother Tou run a small cafe just nearby Kokonotsu's sweet shop and much of the show takes place between them. Saya is the master of coffee and so whenever Hotaru comes by to share some of her insight on sweets, Saya compliments it with a drink that goes hand in hand with the suggested candy. Tou is usually lingering in the cafe booth drawing away along with Kokonotsu who has no idea what's going on. Saya and Hotaru work secretly together to make sure that Kokonotsu doesn't leave his shop, and so they come up with various ideas to keep him focused. We chose this as number 3 on the list because Saya's cafe is like your typical mom and pop cafe, but with a little twist. A lot of what you see in the cafe is what you'd expect from any establishment of that kind, but with Hotaru throwing in lots of treats to blend well with Saya's passion for drink making, it results in a very cool experience.
---
2. Gochuumon Usagi Desu Ka? - Rabbit House

Episodes: 12
Aired: April 10, 2014 – June 26, 2014
Gochuumon Usagi Desu Ka? makes its way to the number two spot on the top ten anime restaurants. This comedy slice of life series focuses on the life of Kokoa Hoto, who just moved into a new town in hopes to start fresh and find work. On her adventure to seek housing she unexpectedly comes across a cafe called Rabbit House, which to her imagination was filled with very cute rabbits that she could cuddle and play with. Unfortunately, reality kicks in and she soon realizes that it is just an ordinary cafe but with a rabbit named Tippy who brings happiness to everyone.
Kokoa soon realizes that the boarding house she had been searching for was the very same one she was standing in, and that her job was to be a waitress. We take a look into her life of being a waitress, while learning to balance her school and work lifestyle through making new friends such as Rize, Sharo, and Chino.
We chose this as number two because who wouldn't like to be served coffee or omurice by a cute looking young girl while being able to pet a rabbit? The setting in which everything takes place has such a beautiful ambience, and characters such as Rize and Sharo bring forth that spark of energy to create a wonderful balance. If this cafe were real, we most certainly would be here eating dango with a side of tea and so would you! Be sure to check this show out because it will definitely fill you up with joy and laughter.
---
1. Working!! - Wagnaria

Episodes: 13
Aired: April 4, 2010- June 27, 2010
Coming in at number one is Working!! which is another slice of life comedy that follows Souta on his adventure in becoming a better waiter in Wagnaria, a family restaurant in Hokkaido. Throughout his experience he meets a wide range of characters including Yachiyo, who wields a katana, Jun who is the very scary and intimidating head chef, and many others. Wagnaria is just like your typical family restaurant that you would find all across Japan like Gasuto and Saizeriya, but only this time you have a bunch of random personalities combined together to create a wild atmosphere.
Family restaurants are a wonderful place to sit back and relax, while enjoying the great hospitality that it provides. Souta is on a mission to master his craft of being a top waiter by making sure he serves his customers well, while trying to avoid getting his head chopped off by his subordinates. Souta has a tendency to be very frank with everyone which tends to upset most around him especially Popura, who he always pokes fun at causing her to feel overwhelmed. This is one of the best shows you have to watch not because of the wild antics, but because of all the amazing dishes that you'll encounter such as the delicious Cheese Gratin and the close to perfect Tea Cup Parfait. Every episode rewards you with a new dish full of flavor and excitement, so we couldn't help but share it with you all too.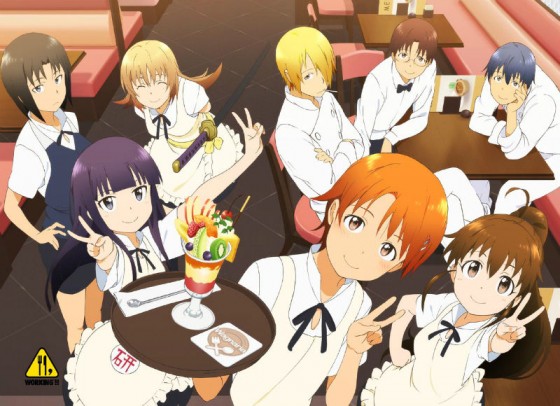 ---
Final Thoughts
Whatever restaurant you prefer is entirely up to you, but we thought it would be nice to share some of our favorites to help get you prepared. While there are a ton of other great anime that feature cool restaurants like Tokyo Ghoul, Shokugeki no Souma and more, we could only fit so much on our list to keep you full. So if you have any other suggestions that you thought should've made our list, feel free to leave your comments down below. Sharing is caring here at Honey's Anime and any ideas are always appreciated in the biggest way.
As always, for your sweet anime fill, keep it locked here at Honey's Anime.