También puedes leer este artículo en:Español
Last year was full of emotion and magic, but do you know what else kept us glued to our screens? Mystery! From the most conventional detective stories to the most original approaches, 2017 was a year of interesting mystery anime. Let's remember some of the best myster anime of 2017!
10. Jikan no Shihaisha (Chronos Ruler)

Episodes: 13
Aired: Jul 8, 2017 to Sep 30, 2017
Sometimes farewells can be painful, and we would do anything to see our loved ones again. When Koyuki Honda listens the legend about the clock tower in the cemetery which can turn back time, she decides to try it. Unfortunately, this opens the path to demons called Horologues which steal human's time. This is why she counts with Kiri and Victor, who have the power to defeat the Horologues.
Jikan no Shihaisha presents us with several self contained stories, tied by the protagonists. There is enough space for human drama and a bit of terror. We do not know much about the protagonists and their powers at first, and as more characters arrive to the scene, the mystery gets more confusing. If you like your mystery anime with a lot of action, try Jikan no Shihaisha!
---
9. Vatican Kiseki Chousakan (Vatican Miracle Examiner)

Episodes: 12
Aired: Jul 7, 2017 to Sep 22, 2017
Perhaps what rings a bell for you is suspenseful series like the Da Vinci Code. In that case, why not watch Vatican Kiseki Chousakan? This anime is set up in the Vatican, and the protagonists are two priests who are also experts in science and cryptanalysis. Together, they will investigate alleged miracles.
Mystery and religion go hand in hand. The breath taking scenery of this anime is perfectly combined with shadows whenever a mystery is the order of the day. You can feel the danger in the action scenes, in great contrast with the capable and calm priests. This is a good recommendation if you like your suspense combined with the supernatural.
---
8. Chaos;Child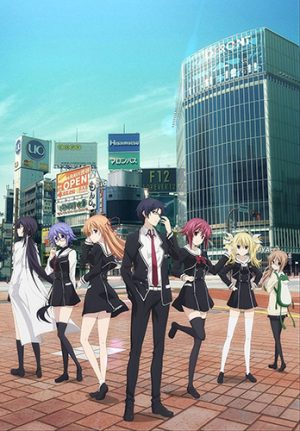 Episodes: 12
Aired: Jan 11, 2017 to Mar 29, 2017
What would happen if disaster strikes Shibuya in a wave of murder? What happens if the tragedy repeats itself? Even worse, what if the dates of the murders match perfectly? Takuru Miyashiro finds this out, and together with his school newspaper club members, he decide to go in depth into the murders mystery.
This anime is the sequel to Chaos;Head. However, the events flow better and some episodes are centered on specific characters. The sensation of being persecuted, of not knowing who to trust and the possibility that you might be the next victim fuel the show. Character development is also better in Chaos;Child, so don't hesitate to watch it to compare it to its predecessor.
---
7. Zero Kara Mahou no Sho (Grimoire of Zero)

Episodes: 12
Aired: Jan 11, 2017 to Mar 29, 2017
Zero Kara Mahou no Sho takes place in a fantasy world where humans, witches and animal-humanoid creatures are at odds with each other. A witch called Zero decides to hire one of this creatures to act as her bodyguard. The mission is to recover the book of Zero, a powerful grimoire that could bring the destruction of the world. The pair are joined by another magician (Albus) on their journey towards adventure and mystery.
Among our recommendations, Zero Kara Mahou no Sho is probably the most medieval looking. It gets extra points for expressily mentioning discrimination and racism. This anime also gets extra points for the epic themes combined with the interactions between their characters. If your thing is to get around in guilds and the medieval online rpg games, this might be the right anime for you.
---
6. Sakurada Reset (Sagrada Reset)

Episodes: 24
Aired: Apr 5, 2017 to Sep 13, 2017
OK, maybe action anime is not your cup of tea. Perhaps you are more into existentialist anime or slice of life. Perhaps you don't shy away from mystery, but like to concentrate more in the human drama. In that case, allow us to introduce you to Sakurada Reset.
The protagonist of this anime is Kei Asai, who lives in the city of Sakurada. One day, he meets a girl called Misora Haruki, who has the power to reset anything around her to up to three days. The detail is that Kei Asai can retain the details of whatever was reseted due to his photographic memory, so they decide to team up to help others. However, there is a mysterious organization that wants to use them for their own egoistic means...
---
5. Kujira no Kora wa Sajou ni Utau (Children of the Whales)

Episodes: 12
Aired: Oct 8, 2017 to Dec 24, 2017
We are in another fantasy world with an ocean of sand. The site is an island-giant boat called the Mud Whale, and nine of its ten inhabitants have supernatural abilities. The protagonist is the archivist, 14 year old Chakuro. Everything changes for him when they meet another human on one of the islands they visit…
Visually stunning and heart moving, we have to warn that the mysteries in Children of the Whales are not for everyone. If you like slow paced anime and philosophical anime, this is the choice for you. The anime takes its time to present each character and the reasons why they are together. However, the maximum mystery is what happens once they meet the new human girl.
---
4. Princess Principal

Episodes: 12
Aired: Jul 9, 2017 to Sep 24, 2017
We are going to travel to another imagined world, this time inspired in Victorian England. The capital has been divided between The Commonwealth and the Kingdom of Albion, who are in war to control a valuable mineral called Cavorite. Amid the conflict, a team of 5 spies posing as students in a prestigious all female college will rock the world with their awesomeness. However, the spies have their own hidden motives to be playing the dangerous game of spying…
Girl power, steam punk and mysteries. What else do you want? Princess Principal was the action packed revelation of last year. With likeable characters, elegance and revelations that left more than one speechless, the fast pace story managed to keep us entertained but also falling in love with the protagonists. If your thing is shoujo anime without too much sugar, search no more and watch Princess Principal.
---
3. Shoujo Shuumatsu Ryokou (Girl's Last Tour)

Episodes: 12
Aired: Oct 6, 2017 to Dec 22, 2017
This anime opens in a devastated city, where the only living humans are a pair of girls riding a motorbike. Chito and Yuuri are on a journey where they find food, clothes and machinery parts in the remains of civilization. One calm and the other always excited, these pair will teach you how to enjoy life in a post apocalyptic world. However, the question of what happened to the world remains…
We might think that an anime about two girls in a devastated world would be the most boring thing ever. Well, think again. There are several animes like this one which have been a great success (for example Kino's Journey). It looks like we otaku enjoy the slice of life with few central characters, which make the solitude of this world bearable and makes us stop to wonder where are our mysterious origins...
---
2. Owarimonogatari

Episodes: 7
Aired: Aug 12, 2017 to Aug 13, 2017
When Kanbaru Suruga met the new transfer student Ougi Oshino, he did not imagine it would be the start of their adventures. A mysterious classroom has appeared in an area that is supposed to be empty, and when the two get inside, they are trapped! It also turns out that the classroom contains a memory that has been long forgotten by Kanbaru. How suspenseful and risky will things turn out? Well, you will have to watch Owarimonogatari to find out!
At first look, Owarimonogatari offers a regular school anime. However, it turns more and more bizarre at each turn. In order to understand it to its fullest, you should watch Bakemonogatari or read the novel series Monogatari. Mystery encounters the supernatural with a Japanese touch in this wonderful coda to one of the longest running anime shows!
---
1. Made in Abyss

Episodes: 13
Aired: Jul 7, 2017 to Sep 29, 2017
Finally, the best mystery anime of 2017 in our humble opinion was Made in Abyss. What will be in the depths of the abyss? Only qualifies explorers called White Whistles can attempt to find out. But what happens when a creature from the Abyss is discovered?
The story of Riko, who aspires to become a great explorer like her mother who disappeared, provided us with a charismatic female protagonist instead of the usual innocent and enthusiastic little boy in adventure and mystery genres. Together with Reg, who has no memory of his previous life, she will embark on a journey of her life, accepting one of the creatures from the Abyss as her friend. Moving, ingenious and dynamic, Made in Abyss left us wanting more.
---
Final Thoughts
As you can see, mystery anime was varied in the past year. We have something for everyone in the list! Which was your favorite mysterious anime of 2017? Comment away! See you soon 🙂
---