For many who play video games on consoles, 2017 was a great year! Xbox gamers, in particular, saw an increase in the quality of video games this year, with several titles making their way to multiple platforms. The introduction of 4k on the Xbox One X made the quality of graphics became less of an issue. And with a plethora of great games released in 2017, there were plenty of options in just about every genre. This year truly had something for everyone!
With all of these options to choose from, how can you possibly pick? We at Honey's Anime are here to help you sift through some of the best games of 2017! We'll look at games from several genres, picking the ones that showcase the best of what the Xbox has to offer. Whether you're looking for a great racing experience or a challenge, we have an option for you. While some of the games we've chosen are available on other platforms, we believe that they are just as enjoyable when played on the Xbox.
10. Forza Motorsport 7

System/Platform: XBO, PC
Developer: Turn 10 Studios
Publisher: Microsoft Studios
Release Date: Oct. 3rd, 2017
Forza Motorsport 7 is the latest in the Forza racing series of video games. At launch, the game included 32 different locations to race on, ranging across past racetracks from previous games. Yet Forza Motorsport 7 is the first Motorsport game to include weather changes and customizable drivers. This game showcases some of the most beautiful graphics, making full use of the 4k improvements on the new Xbox.
When people think of racing games, they often think of the competitive aspect of racing against their opponents. The Forza series especially is infamous for its combination of competitive racing and gorgeous cars. One thing that certainly makes Forza Motorsport 7 stand out among previous games is the use of improved graphics, which in turn, helps highlight the cars and races even more. This is probably the best racing game that came out in 2017. And the fact that it was released exclusively for the Xbox just shows how Forza Motorsport 7 was made to be played on this console.
---
9. What Remains of Edith Finch

System/Platform: PS4, XBO, PC
Developer: Annapurna Pictures, Annapurna Interactive
Publisher: Giant Sparrow
Release Date: Apr. 25th, 2017
What Remains of Edith Finch is set in Washington State, as a series of short stories about a cursed family living there. Though each story is set from the perspective of a different family member, the overall tale encompasses the discoveries that Edith Finch makes, as she explores her family's past to uncover why she is the last one left alive. Each story is set in a first-person perspective and ends with that person's untimely death. What Remains of Edith Finch is an unnerving game, with the eventual outcome always remaining the same. It is a story of humbling magnitude and beauty, despite the contents.
If you like games with a heavy emotional impact, What Remains of Edith Finch is one of the best this year! Each story in the game varies immensely based on the character whose perspective is being showcased, on top of the overarching tale from Edith Finch. This is a game that leaves an impact on the people who play it for a long time. Despite its rather limited gameplay mechanics, the beauty of What Remains of Edith Finch makes it stand out among the games from 2017. You're probably not going to forget this game for a while!
---
8. Call of Duty: WWII

System/Platform: PS4, XBO, PC
Developer: Raven Software, Sledgehammer Games
Publisher: Activision
Release Date: Nov. 3rd, 2017
This latest release in the infamous Call of Duty series focuses on the combat in World War II, bringing the game back to old-school war. Battle your way through one of the most infamous wars in history, experiencing the struggles of soldiers fighting in some of the most iconic places, like Normandy on D-Day. Will your comrades survive to fight another day? Call of Duty: WWII strips away all the jetpacks and high-tech weaponry, taking the players back to the elements that made the series great in the first place. At the same time, advanced graphics and fluid gameplay keep your game at a high quality. And with zombie survival back once again, this has everything you could ask for from a Call of Duty game!
First-person shooters tend to be similar in their composition, especially when the plot focuses on some sort of war. Only a few games in this category have really been able to stand out. Call of Duty: WWII definitely makes its mark on FPS games this year, with its emotionally gripping storyline and excellent gameplay. This game exists to tell the story of a real war, a war that made an impact on a lot of lives for decades to come. And it does a fantastic job of doing so! Call of Duty: WWII manages to look great even as it steps back in time to tell the stories of the past.
---
7. Assassin's Creed: Origins

System/Platform: PS4, XBO, PC
Developer: Ubisoft, Ubisoft Montreal
Publisher: Ubisoft
Release Date: Oct. 27th, 2017
Well before the time of Alistair and Ezio, in ancient Egypt, lies the mysterious origin of the Assassin's Brotherhood. Back when the Great Pyramids and looming monuments were being constructed across the deserts, construction was beginning on a group that would strive to protect the future for generations. Learn the secrets of mummies and pharaohs through the eyes of the first Assassins. These brave warriors fought for their country against dangerous beasts and unknown factions. And the new combat mechanics for fighting certainly lend to improving your own skills! As Egypt begins to fall under inexperienced rule, who will rise to protect the great nation?
In the midst of an immense story of the Assassins' origins, this game is a breath of fresh air for those who love this franchise. While the setting and combat mechanics might be new, some things never truly change – an Assassin will always stand for justice! And the new elements for Assassin's Creed: Origins only add to the enjoyment of the game. The experience truly shines on the Xbox, showcasing the consistently good graphics and fluid motions of the characters. For an origins story that came so late, Assassin's Creed: Origins did not disappoint!
---
6. South Park: The Fractured But Whole

System/Platform: PS4, XBO, PC
Developer: Ubisoft, South Park Digital Studios LLC
Publisher: Ubisoft
Release Date: Oct. 17th, 2017
On a dark and stormy night, you suddenly wake up to sounds of distress from your mother! What you do next will shape the course of your heroic journey forever… Or so the Coon tells you! In a hilarious and twisted game of superheroes and villains, South Park: The Fractured But Whole is a brilliant dive into the world of classic characters – namely, the "infamous" Coon and Friends. Find your own place among this group of kids, using unique abilities to shape your own story and explore South Park how you want to.
South Park is a unique show, to say the least – and South Park: The Fractured But Whole is certainly a game that stands out among the rest! Though it starts out a little slow, the plot actually extends into quite a bit of quality gameplay. The mechanics are easy to follow, allowing anyone who loves South Park to enjoy the game. Its simplicity in combat lends to more strategy, especially as you progress later in the game. The easy mechanics make this a console-must, as controllers allow players to not worry about over-complication and focus instead on great comedy.
---
5. Resident Evil 7: Biohazard

System/Platform: PS4, XBO, PC
Developer: Capcom
Publisher: Capcom
Release Date: Jan. 24th, 2017
The Resident Evil franchise is entrenched in its horrific storytelling and survival mechanics, so it was no surprise that Resident Evil 7: Biohazard should follow this same route. In this latest game, players act as Ethan Winters, a man searching for his wife on a rotting southern plantation. Though he is unaware of the resident family of cannibals dwelling there, Ethan will soon learn that nothing is as it seems, and the fight for survival is a desperate struggle against many enemies. Resident Evil 7 is the first main game in the series to use a first-person point of view, lending to the terrifying experience. If you manage to get out alive, you will leave a changed person… Resident Evil 7 revitalized the franchise with a truly horrific tale of the lengths some will go to keep the bonds of family alive.
Resident Evil 7 stayed a memorable horror game in 2017, despite its release so early in the year. The blend of humanity's disturbing choices with supernatural monsters has always been this franchise's strong suit. Players have been intrigued by this game's story and the twists that it holds within, even if some of the boss battles turned out to be less exciting than some would have hoped. Without the benefit of fine-tuned graphics and fluid character motions, Resident Evil 7 would not have turned out to be half as horrifying as it is. And it was able to deliver this sort of experience on consoles like the Xbox, which is twice as impressive!
---
4. Middle-Earth: Shadow of War

System/Platform: PS4, XBO, PC, Android, iOS
Developer: Monolith Productions, IUGO
Publisher: Warner Bros. Interactive Entertainment, Warner Bros. International Enterprises
Release Date: Sep. 27th, 2017
Following right after the events of its predecessor, Middle-Earth: Shadow of War finds Talion without his spirit guide. Celebrimbor has been taken by the dark spider Shelob, who only agrees to free the ancient elf once Talion hands over the newly forged ring. Set back a bit, Talion and Celebrimbor continue their quest to undermine Sauron, albeit with a bit of disagreement on what their priorities should be. As Talion grows in skill and strength, he will meet new allies – some of whom might even be former enemies! Holding on to what was good from Shadow of Mordor, Middle-Earth: Shadow of War brings in several new improvements to make this game an enjoyable experience, unique to each player.
The subtle stealth and combat tactics from Shadow of War are some of the best that gaming has to offer, especially if you're a fan of the Lord of the Rings series! The story of Talion's lonely quest for revenge is more compelling with each iota of lore you learn about the world. With an improved Nemesis System for the orc captains, you can now recruit former enemies to fight on your side. And a dynamic weather system, along with a day/night cycle, allows players even more unique choices. Shadow of War has truly become a unique experience for each person!
---
3. Fortnite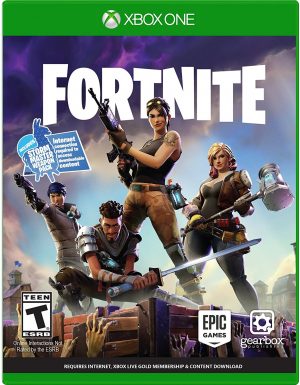 System/Platform: PS4, XBO, PC
Developer: Epic Games, People Can Fly
Publisher: Epic Games, Gearbox Software
Release Date: Jul. 25th, 2017
Fortnite is a game that has become popular relatively recently, despite its release being a few months ago. Players love the 100-person battle royale mode, which has been lovingly crafted on a daily basis. Though its premise is simple and has been done before, Fortnite incorporates a unique system of building that makes gameplay more exciting. Will you be the last one standing?
Fortnite managed to captivate gamers even among many other high-quality battle royale games this year. The game has more than just the battle royale aspect but is known only for this specific part. With plenty of new content and patches being added all the time, Fortnite has seen a lot of love from its developers. This game adds something unique to all its elements, making it truly stand out from other games of its genre. We recommend that everyone give this game a try – after all, its free on all systems, relying on micro-transactions from loot crates and skins to keep it going.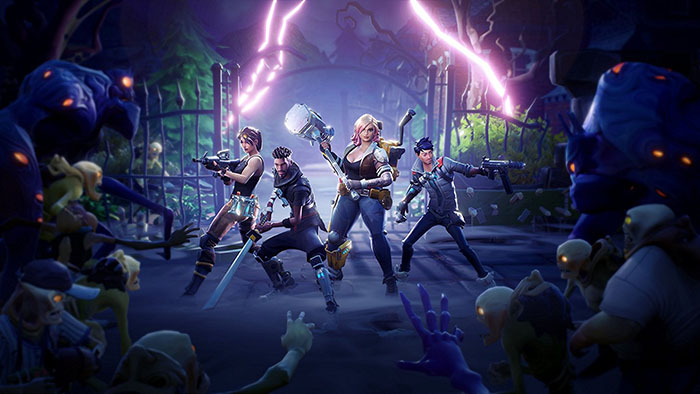 ---
2. PlayerUnknown's Battlegrounds

System/Platform: XBO, PC
Developer: Bluehole Studio Inc., PUBG Corporation
Publisher: Bluehole Studio Inc., Tencent
Release Date: Dec. 20th, 2017 (PC); Dec. 12th, 2017
If Fortnite deserves praise for being an enjoyable free battle royale game, PlayerUnknown's Battlegrounds stands out as being one of the most accurate battle royale competitions. Strategy and a sure shot will get you that coveted chicken dinner victory, but getting there will certainly be a challenge! Realistic gun mechanics are what truly sets this game apart from any other battle royale. Called "PUBG" for short, PlayerUnknown's Battlegrounds has been in the works for many years – and it is well worth the wait! This is a game driven by the community and built to be the best possible. Though it was in early access for many months, PUBG has finally been officially released, expanding over to the Xbox One.
PUBG and Fortnite could easily be interchangeable on this list, depending on your preference. Yet the dedication of developers on both games caused them to stand apart, allowing them to reach console players with quality. It's not often that battle royale games will put this much effort into a console release – and it is apparent for both PUBG and Fortnite that they care!
---
1. Cuphead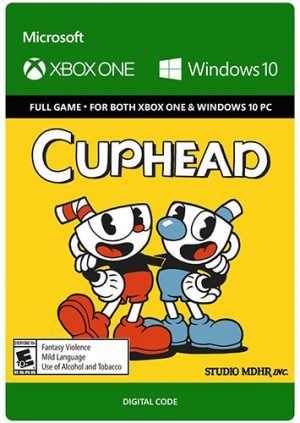 System/Platform: XBO, PC
Developer: Studio MDHR
Publisher: Studio MDHR
Release Date: Sep. 29th, 2017
With some of the most unique graphics of 2017, Cuphead is a cartoon-ish story of Cuphead and Mugman as they travel down a dark path. The game focuses on "run and gun action," with boss battles against devilish monsters to highlight each section. The visuals of traditional animation and painted backgrounds combine with classic jazz music to create an intriguingly unique experience. As Cuphead and Mugman make their way through world after world, we learn a valuable lesson – don't ever make a deal with the devil!
Cuphead is a game that explores the darkest while appearing light and happy. It is also extremely difficult, surprising many who judge it by its appearance. Not only is Cuphead a quality game for players on any system, it is especially fun on Xbox because of its local co-op compatibility. In a time when many video games are moving over to online play, Cuphead brings back the reminiscent days of our childhood, sitting next to someone on a couch and playing through a game together (or against one another). Cuphead is such a unique and enjoyable experience that it easily deserves the top spot on our list!
---
Final Thoughts
This year was a great one for games on the Xbox, with plenty of great titles making their way over to this console. Though they cover a mass of different genres and may be found on other systems, the games on this list are the best that the Xbox has to offer!
Which of these games is your favorite? Let us know in the comments below!
---