As a genre, ecchi is sometimes overlooked as not being serious enough for enjoyment outside of the obvious but, while that may be true for certain series, it paints an unfair picture overall and has actually produced some of the most interesting anime. In this top 10 list, we're focusing on the openings themselves, largely outside of any context for their series and will be ranking them based on the quality of their visuals, music, how well those two work together, and the overall experience as a complete package. Hold onto your pants, let's go!
10. "forever we can make it!" by THYME – To LOVE-Ru

Episodes: 26
Aired: April 2008 – September 2008
To LOVE-Ru's opening, like the show itself, wastes no time getting to the core of its appeal, namely cute girls. Starting off with a twirling topless Lala Satalin Deviluke, To LOVE-Ru's opening is a barrage of beauties that not so subtly alludes to the series' ecchi harem hijinks. The vast majority of the whole sequence consists of slow pans up each of the lovely ladies, first presented in a stylish, washed out, shifting-halftone style with abstract colorful backgrounds, followed by a quick zoom-in to a much more detailed drawing of that character. Interestingly, these zooms actually make the anime credits somewhat diegetic, appearing on clothes tags, tan lines, etc. while also adding more opportunities for ecchi (you may be able to guess what most of these shots are zooming in on).
The music to this opening is "forever we can make it!", the second single by short-lived band THYME. This song, despite being most definitely Japanese, has a very American rock feel to it, especially at the beginning which almost sounds rockabilly. The music has a pretty consistent rhythm and structure that serves the visuals well but has enough variation to keep it from being completely repetitive. Overall, the catchy vocals and somewhat unusual instrumentation come together well with the stylish, sexy visuals to make To LOVE-Ru's opening memorable and fun, and our #10 pick!
---
9. "HIGHSCHOOL OF THE DEAD" by Kishida Kyoudan & The Akeboshi Rockets – Highschool of the Dead

Episodes: 12
Aired: July 2010 – September 2010
Highschool of the Dead's opening is grungy, surprisingly colorful, and gratuitously lewd in some parts. The animation opens with four quick frames of manga-style drawings with strong black and white contrast with vivid color added sparingly, the latter part being the style of the majority of the opening. Many of the following character shots embrace monochromatic color schemes associated with individuals. Imagery of rough splatters of color resembling paint (or blood) is heavily used throughout the opening, along with close-ups on weapons, and depictions of giant electrical towers. The animation gets very energetic about a minute into the opening, utilizing 3D techniques for some impressive shots of the characters plowing through the zombie hordes and closing with some very overt ecchi images to "highlight the anatomy" displayed in the show.
The titular opening track for High School of the Dead matches up wonderfully with the animation in all its heavy bombastic intensity. It flows very well and lets the opening have a great buildup leading up to an exhilarating final 30 seconds at the end. Vocalist ichigo has a powerful, distinctive voice and the band's fast, distorted electric guitar keeps everything lively while still appropriately grungy. Regardless of what you might think of the actual show, it's hard not to get pumped over Highschool of the Dead's opening.
---
8. "*** Passionate" by Iori Nomizu – Kore wa Zombie Desu ka? (Is this A Zombie?)

Episodes: 10
Aired: April 2012 – June 2012
Wow, another zombie anime already? Well, not exactly, but truth be told, Kore wa Zombie Desu ka? of the Dead's (KWZDKOTD? Jeez..) opening does share a lot in common stylistically with our previous "of the dead" pick with its high contrast, largely monochromatic or washed out colors and its share of ecchi moments. The visuals here, however, have a more surreal quality to them, using a lot of photographic images and lens distortion and featuring some bizarre things like battles between the protagonists and a giant kangaroo and koala bear. The climax of the opening has some sweet fight sequences and cool 3D camera work that makes it all the more exciting to watch.
Musically, "*** Passionate" isn't terribly different on its own from other pop-y J-rock songs made for anime, but it nevertheless serves its purpose quite well for the opening, providing a strong buildup that is well synced with the visuals. An added little bit of coolness is that the vocalist for the opening song, Iori Nomizu, is also the voice actress for the chainsaw-wielding "Masou Shoujo" Haruna in the anime. Altogether, Kore wa Zombie Desu ka? of the Dead's opening is all-around well made and entertaining.
---
7. "Now loading... SKY!!" by Sphere – Asobi ni Iku yo! (Cat Planet Cuties)

Episodes: 12
Aired: July 2010 – September 2010
The two biggest things Cat Planet Cuties has going for it, boob jokes notwithstanding, are its otherworldly cute characters and sunny, Okinawan setting which are highlighted brilliantly in its opening. The animation begins underwater where the camera moves through the ocean surrounded by beautiful tropical fish as then flies up to reveal a bikini-clad Eris and the azure sky. While the animation itself isn't particularly exceptional, the opening stays visually interesting with some fun transitions and use of close-ups and zooms.
The opening song "Now loading... SKY!!" by voice actress turned idol group Sphere (whose members also all voice characters in the anime) is one of the catchiest themes of recent memory and fits the light, energetic mood of the show and opening perfectly with its bouncy instrumentation and happy lyrics. Timed to match the visuals, the animation and music come together into a very cute package that makes it our #5 pick! As an added bonus fact, Cat Planet Cuties was partially produced with the help of the official Okinawan tourism board to promote the area, the alien catgirl part might have been an exaggeration though unfortunately...
---
6. "Let Me Be With You" by ROUND TABLE feat. Nino – Chobits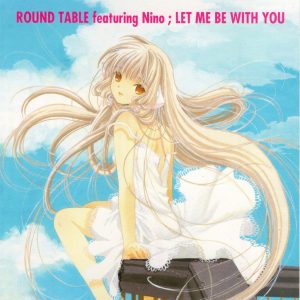 Episodes: 26
Aired: April 2002 – September 2002
The animation in the Chobits opening shows the power of focusing limited resources to the most crucial parts, just look at the animation on Chii's hands reaching out and the lip syncing with the song lyrics! Overall, Chobits opening has a lot of static cels but the many colorful effects and abstract backgrounds, coupled with a few brief instances of detailed animation, make it beautiful and memorable.
All that being said, the real star of the show for Chobits' opening has got to be the music provided by ROUND TABLE and Nino. "Let Me Be With You" is incredibly nostalgic sounding, hyper-cute, and ridiculously catchy. As a whole, the Chobits opening has a simple, infectious charm that feels very genuine, much like the show itself. Small touches like the aforementioned lip syncing of Hideki and Chii with the vocals and the hand animations help make Chobits' opening one of our favorites!
---
5. "Cutie Honey" by Koda Kumi – Re: Cutie Honey

Episodes: 3
Aired: July 2004 – September 2004
The opening animation for Re: Cutie Honey is an absolute joy to behold with its saturated colors, comic book styling, and over-the-top ecchi sequences. This animation heavily references the original 1973 series' opening while still being very much its own work and is brought to new heights by more modern improvements in anime production. As for ecchi, the opening is very tongue-and-cheek about it but nevertheless showcases titular protagonist Honey Kisaragi in a variety of risque situations in her various Honey forms. Perhaps more uniquely, the opening has several comic book-like sequences explaining the basics of the story. Overall the animation is frenzied fun with a very cool look and feel.
As per tradition in the franchise (recently broken by Cutie Honey Universe) the opening music for Re: Cutie Honey is the titular Cutie Honey, this time performed by famous singer Koda Kumi of Final Fantasy X-2 (and much more) fame. Her version of the original theme is the most energetic yet and really brings life into the classic tune. Once more, the animation and music are completely linked, more so than any other opening in this list, with each sound transition corresponding to the visuals. All this together makes Re: Cutie Honey's opening one of the best ever!
---
4. "ambiguous" by GARNiDELiA – KILL la KILL, 2nd Opening

Episodes: 24
Aired: October 2013 – March 2014
KILL la KILL's second opening starts with a rapid zoom from outer space all the way into the plot-important fibers of protagonist Ryuko Matoi's Senketsu sailor uniform. This is done in a unique, monochrome pixel-art style, similar to a Game Boy screen, which is something of a more extreme version of a similar shot in the first opening. The rest of the opening focuses on showing all of the characters rapidly changing between their various outfits and culminates in an exciting battle between Ryuku and Satsuki. Perhaps the coolest part of the animation is how it handles text, with giant diegetic stone letters painted red by blood splatters from Ryuku and Satsuki's fight and the final logo being squished between the scissor blades at the very end. Animation-wise, the opening is designed to get you excited and it largely succeeds in spite of some awkward 3D and rudimentary character animation in certain sequences.
GARNiDELiA's "ambiguous" is a really powerful song that, like with Chobits, is the main reason for this opening working as well as it does. Simply put "ambiguous" rocks, and rocks hard. MARiA's soaring voice and toku's strong instrumentation builds up the hype that KILL la KILL lives off of. This track, combined with the exciting animation and distinctive, albeit ridiculous, character designs makes "ambiguous", and KILL la KILL as a whole, stand out from the rest as one of the best and most different anime experiences ever!
---
3. "You" by Yuria – Shuffle!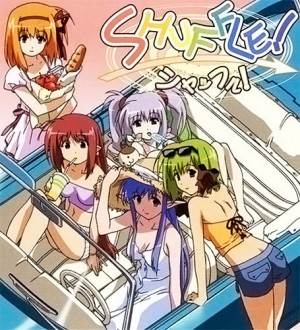 Episodes: 24
Aired: July 2005 – January 2006
Shuffle!'s opening does a great job of capturing series' balance of lighthearted ecchi comedy and the more serious dramatic elements that surface toward the end of this visual novel adaptation without outright giving anything away. Its strongest points visually are its use of a variety of color and lighting styles to enhance each scene's intended feeling, good visual timing, and some unique choices like juxtaposing characters through rotating screen splits and visual-static effect used on the logo when it's first shown.
Like the visuals, Yuria's song "You" has an exemplary sense of timing and balance that keeps the opening interesting throughout. From the echoey, choral start to the distorted electronic title card buildup to the upbeat J-rock remainder and quick-but-strong ending rift, the music of Shuffle!'s opening has enough variety to keep the opening continuously engaging at a quick pace without feeling rushed. We also like how Yuria herself is also the voice of Shigure Ama in the anime! Overall we think "You" is a very well executed, somewhat underrated opening!
---
2. "Esoragoto" by nano.RIPE – Sankarea (Sankarea: Undying Love)

Episodes: 12
Aired: April 2012 – June 2012
Given the anime's bizarre premise, it's not too surprising that Sankarea's opening animation is a little out there in terms of visuals but it makes everything all the more memorable for it. It starts off strong with Rea pulling a black sheet that she then descends into while biting into a hydrangea leaf, an obvious symbol for her fate in the show "sinking into the grave". We love this because it both illustrates a theme of the anime and somewhat mirrors the curtain of a movie or play starting in an interesting way. Some other notable scenes in the opening include the shots of Rea's family with her father's smile and Rea's dead expression perfectly encapsulating their dynamic, Ranko's tennis ball shattering the moon, Chihiro and Rea's hands meeting when he picks her up from the grass and their final dive together into the gravestone at the end. Sankarea's opening feels dreamlike and surreal and has a masterful sense of movement.
Tying this all together is "Esoragoto" by nano.RIPE, possibly the best track ever from the famous pop rock band with a long history of songs being selected for anime openings. "Esoragoto" has fantastic buildup with that same sense of movement echoed in the animation. Along with the excellent instrumentation, Kimiko's iconic vocal style makes the song stand out in your memory. Coupled together with the symbolic, beautiful imagery of the visuals, Sankarea's opening is one of the most well-done and an easy choice for a top slot in this list. We'd love to see more of this unique anime which, as of now, is without a conclusion outside of the manga!
---
1. "Hakkin Disco" (Platinum Disco) by Tsukihi Araragi (Yuka Iguchi) – Nisemonogatari, 3rd Opening

Episodes: 11
Aired: January 2012 – March 2012
The Monogatari series, and studio SHAFT as a whole, is known for having some of the most visually distinct and creative styles in all of anime and its openings are no exception which honestly made it hard for us to choose which one we should feature for our pick. Ultimately we decided on Nisemonogatari's third opening because it has arguably the most interesting animation and one of the best songs. Visually, this opening incorporates a lot of strange angles, reflections, unusual colors, and repeated motion to make a surreal atmosphere. Tsukihi's frenetic dancing is also insanely cute and makes for great segues for a variety of interesting scene transitions!
Musically, "Hakkin Disco" is a real earworm and, true to its name, is a disco track, a genre rarely heard in anime openings nowadays (or much of anything really for that matter). The addition of traditional Japanese instruments makes the sound even more unusual which, in turn, helps it stick in your head. Even putting novelty aside, it's hard not to love Yuka Iguchi's cute voice and the bouncy instrumentation, especially when paired with her character dancing to her own song (more anime should do this!). Overall, "Hakkin Disco" is simultaneously strange and familiar and makes for a very memorable experience. Out of all the ecchi openings out there, we chose it as our #1 for its visual interest and hyper-kawaii atmosphere it accomplishes without feeling cliché or overly simplistic.
---
Final Thoughts
Making this list was harder than we originally imagined, ecchi anime really has a lot of great contenders out there! With a wide variety of subject matter, styles, and we'll say "ecchi intensity", the genre can certainly be an intriguing one and has produced a lot of great opening animations (among other things). We hope that in our list you found something new to enjoy or were happy to look back on one of your old favorites! In any case, please let us know what you think of our picks and what your personal list would be in the comments below! Stay hot!
Some honorable mentions:
"B Chiku Sentai SOX" by SOX – Shimoneta
"Haiyore Once Nyagain" by Ushiro kara Haiyori-tai G – Haiyore! Nyaruko-san F
"- BRYNHILDR IN THE DARKNESS -Ver. EJECTED-" by Nao Tokisawa – Gokukoku no Brynhildr
"Fight 4 Real" by ALTIMA – Strike the Blood
"Trip -innocent of D-" by Larval Stage Planning – High School DxD
---