There's just something about ecchi anime that you just really have to love. Whether it's the over the top fan service, the "plot", or the actual plot, there's a reason why ecchi anime are still pretty popular, although granted, they appear to be on the decline recently. All the same, we had to give ecchi anime props for being as amazing as it is at entertaining us.
Ecchi anime is especially entertaining when its plot is so ridiculous that we cannot help but love it. What makes ecchi anime with ridiculous plots? It could be the lengths they go to for fan service of the absurdity of the premise itself outside of real life scenarios. Today, we are presenting to you top 10 ecchi anime with ridiculous plots for this Thirsty Thursday that we know you'll absolutely love watching.
10. Kanokon (Kanokon: The Girl Who Cried Fox)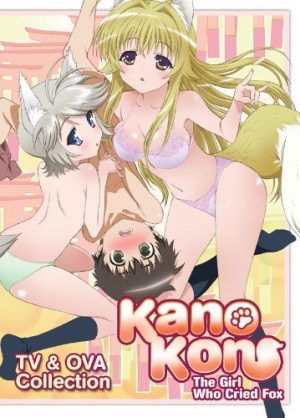 Episodes: 12
Aired: April 2008 - June 2008
For some reason, Kouta attracts many supernatural animal spirits who only have affections for him. Upon moving to the big city, Kouta finds himself troubled by Chizuru, a fox spirit who attaches herself to Kouta. However, Chizuru isn't the only one and soon, Kouta finds himself surrounded by different animal spirits who are completely head over heels for him!
While we have had our fair share of supernatural anime where the main character attracts spirits like xxxHolic, there's nothing qutie like Kanokon where Kouta seems to attract the sexual attention of animal spirits. Why? Who knows! But of course, this gives us the chance to watch girls with animal ears all fighting over Kouta. Plus, there's so much fan service that you know the audience isn't complaining about the plot. Is this an ecchi anime with a ridiculous plot? Yes, but it's also got ridiculous "plot"!
---
9. Amaenaide yo!! (Ah My Buddha)

Episodes: 12
Aired: July 2005 - September 2005
Ikkou is a 16 year old boy who is training to be a monk as per his parents' orders. Here at the Saienji Buddhist Temple, Ikkou is surrounded by beautiful women training to be priestesses alongside him. It is here that Ikkou learns that he has the ability to become a powerful monk upon powering up when he sees naked girls.
If you have never heard of Amaenaide yo!!, it's the original pervy monk anime before Souryo, but it doesn't stop at just seeing naked girls. A lot of times, there's some sort of tentacle monster and well, all sorts of borderline hentai action that powers Ikkou up to become the super monk that he can be. Ikkou is supposed to be the star of the show, but we're sure you'll forget about him quickly and just stay tuned for all of the naked priestesses being assaulted by whatever demons are plaguing them in the episode. Maybe Ikkou's training is just an excuse for demons assaulting well-endowed girls?
---
8. Girls Bravo

Episodes: 11
Aired: July 2004 - September 2004
Due to his small size, girls have bullied Yukinari, which has caused him to develop an allergy to women. One unfortunate day, Yukinari finds himself in another world in a city called Seiren which is only populated by women. Due to being deprived of men, the women swarm and chase Yukinari through the streets. However, Yukinari finds safety and solace in a girl named Miharu who does not activate his allergies.
Back in the early 2000s, allergies to the other sex really seemed to be a major plot point for ecchi anime. This serves as the basis for Girls Bravo, a ridiculous anime that has Yukinari surrounded by rather volumptuous women who all want a piece of him, but he's allergic, save for Miharu. Of course, this anime's original premise is silly, but as the episodes go on, the anime really does all it can to ensure fan service for all including a rather aggressive lesbian, Yukinari crossdressing as a girl and strip mah jong. Was there supposed to be a real plot here?
---
7. Killing Bites

Episodes: 12
Aired: January 2018 - ongoing
People have been participating in an experiment that fuses humans with animals. These humans end up having powers that they then use in a competition with their lives at stake. Powerful businesses then wager on these competitions as a form of entertainment. One day, Nomoto Yuuya, a normal college student, and his friends plan to pick up girls, but Yuuya doesn't realize that "pick up" refers to abducting and raping. The girl they pick up is Hitomi, a hybrid with a honey badger, who kills all of his friends and declares she will stay with Yuuya for his own protection.
You may wonder how Killing Bites could possibly have a ridiculous plot. Well, while the plot appears to be something like a death game, like Juuni Taisen, the anime falls apart faster than melting ice. Most of the time, it's about scantily clad girls attacking each other and tearing off each other's clothes, guys terrorizing the girls with their animalistic genitalia, and of course, episode 7's most useless episode involving two girls basically having sex. This is supposed to be a death game...right?
---
6. Seikon no Qwaser (The Qwaser of the Stigmata)

Episodes: 24
Aired: January 2010 - June 2010
Lately, young women have been the victims of a serial killer at St. Mihailov Academy. It is here that the setting takes place. One day, Mafuyu and Tomo, adopted sisters, come across an injured man named Sasha whom they decide to nurse for the night. Unfortunately, Mafuyu finds herself cornered by the serial killer who wants an icon that belonged to Tomo's father. Sasha appears in time to save Mafuyu's life. Apparently Sasha is a Qwaser who needs Soma, an essence found in female breasts, to control elements. With his abilities, Sasha kills the serial killer and thus, starts a rather curious new year at St. Mihailov Academy.
Did you come here for the action? Well, of course you did, but we're sure you also stayed for the Soma harnessing if you get what we mean. While this anime has a lot of great scenes and action, we know that you sure didn't come to it for any of that. Seikon no Qwaser's plot is just a pretense for the mass amounts of groping and then some that its notorious for. Who uses boobs for powering up? (Stay tuned for something greater) Well, Sasha does and you'll find yourself purely envious of Sasha for being a Qwaser! However, we're sure you'll love the massive amount of "plot" on top of your plot!
---
5. Shimoneta to Iu Gainen ga Sonai Shinai Taikutsu na Sekai (Shimoneta: A Boring World Where the Concept of Dirty Jokes Doesn't Exist)

Episodes: 12
Aired: July 2015 - September 2015
Japan has fallen into a rather strict state of government which restricts all forms of obscenity and impurity. Okuma Tanukichi, son of a obscene terrorist who despised the new laws, lives his life trying to make up for the wrongdoings of his father and follow in the footsteps of the chaste student council president of the most moral school in the country, Nishikinomiya Anna. However, Tanukichi is about to find himself at the recruited for his father's history by the vice president, Kajou Ayame, a girl who actually fights the new moral laws in secret disguised as the terrorist, Blue Snow!
If the plot summary didn't immediately make you think "ecchi anime with ridiculous plot," then we don't know what will. Well, maybe when you watch to find the rather scary yandere or the amount of censorship needed to allow this anime to air whether it be in bleeps or stickers everywhere. Oh, did we forget to mention all of the panties and censorship terrorists? The obsurdity of this plot is merely meant to fuel all of the ecchi humor, but hey, we can't complain. Shimoneta does fall into one of our favorite ecchi anime with ridiculous plots.
---
4. Queen's Blade: Rurou no Senshi (Queen's Blade: The Exiled Virgin)

Episodes: 12
Aired: April 2009 - June 2009
A tournament is held every few years in order to appoint the new queen. However, the competition is rather fierce and deadly. For one warrior woman, she finds herself taken out of the competition early and her life on the line save for one stranger who helps her.
If this sounds like an epic adventure anime with lots of fighting, well, that's probably not what you'll remember Queen's Blade for. The tournament is really an excuse for women to engage in skinship and hurt each other in very scant clothing dubbed "armor". Of course, we cannot forget the absurdity that happens in each episode with it being purely groping or fan service with a fake premise of a plot, but when you have scenes like episode 3's snake scene, who can complain?
---
3. Monster Musume no Iru Nichijou (Monster Musume: Everyday Life with Monster Girls)

Episodes: 12
Aired: July 2015 - September 2015
Kurusu Kimihito lives a very quiet and solitary life until one day, he finds himself at the center of a monster homestay program. Japanese society wishes to integrate monsters into society without causing trouble so these monsters will be sent to stay at people's homes in order to slowly integrate successfully into society. The coordinator of the program, Agent Smith, is completely incompetent and so, Kimihito finds himself the host of a Lamia named Mia and soon, many other different monster girls! However, there is one rule: No sexual interactions between species!
What could possibly be wrong with this monster girl harem? Well, with Mia alone walking around with a little triangle (literally) that she sticks on for her panties and everyone having oppai larger than your head, there is no end to all of the ecchi humor. Plus, that little clause at the end of the plot summary that says no sex? Hm, you know that Kimihito is going to be put to the test by all of these bodacious monster beauties. And that centaur….so many questions.
---
2. Keijo!!!!!!!!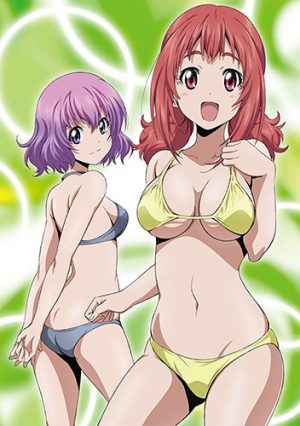 Episodes: 12
Aired: October 2016 - Decembet 2016
Keijo is the latest and greatest competitive sport in Japan involving females fighting on a platform that floats in a pool. Like sumo, the goal is to knock opponents off, but unlike the national sport of Japan, it solely involves utilizing your boobs and butts. This sport is so popular that it brings millions of viewers from all over as well as women who want to dedicate their lives to the sport of keijo in an attempt to make a living.
If you didn't already catch that part about boobs and butts, then let's remind you that this is an anime about using your boobs and butt to fight other girls and throw them into the water. With the pretense of a competitive sport and some sort of vague family issues as the plot, we get an anime about girls in bathing suits doing all sorts of things to knock each other into the water. This includes moves involving titty twisting, hypnotic breasts, and buns of steel!
---
1. Masou Gakuen H x H (Hybrid x Heart Magias Academy Ataraxia)

Episodes: 12
Aired: July 2016 - September 2016
Hida Kizuna has the power of Heart Hybrid Gear (HHG), but he is not very strong so no one really pays him any mind. That is until one day, he is forced to transfer to a strategic defense school by his sister where everyone is able to use HHG to fight against those who are endangering the earth. While Kizuna is not exactly strong, he is able to use his HHG to help girls recharge and power-up so regardless if these girls like him or not, they'll need him and his HHG powers in order to protect the earth!
The winner of the top 10 ecchi anime with ridiculous plots is Masou Gakuen HxH! Just like Seikon no Qwaser, they really just formulated that plot to provide lots of "plot". However, Masou Gakuen HxH is merely an anime filled with gropping oppai, rubbing genitalia, and lots of…"excitement" with touches of actual plot that you probably forgot was actually driving the anime forward. No, this is an anime you watch for all the rubbing, the squealing, the noises, and the oppai. Lots of oppai. Just use your headphones if you don't live alone and have your back to a wall because some people may not be too sure if you're watching ecchi anime or a hentai anime!
---
Final Thoughts
Well, folks, there you go. 10 ecchi anime with ridiculous plots! Whether its for the pure absurdity of the plot or for that extra fan service, it's hard to deny just how ridiculous the plots are. That, however, does not mean that we didn't enjoy these anime!
For those of you who love ecchi anime, what do you think about our list of ecchi anime with ridiculous plots? Do you think some of the plots are believeable? Or do you think there are better anime more well suited for our list? And which ecchi anime with ridiculous plots do you enjoy? Did we name a favorite? Feel free to share all of your thoughts in the comments below!
---