It's not easy finding an ecchi anime with a well-written plot. No, not "plot." Finding good "plot" in ecchi may be one of the easiest tasks ever. No, today we're talking about actual storytelling. Ecchi itself comes in all shapes and sizes, from monster girls (such as Monster Musume no Iru Nichijou) to slice of life (such as Okusama ga Seitokaichou!). The term "ecchi" is used to describe anything considered to be soft pornography. Showing characters having sex (or the tools they'd need to do so) is a no go, but pretty much anything else is fair game. You can even imply sex is happening as long as the audience can't see the actual deed being done.
The most notable examples of ecchi in anime are a woman's naked breast, but writers have displayed a truly impressive amount of creativity when it comes to stimulating their audiences without actually using images of sex (from popsicles to, I kid you not, proper stance technique for sword fighting). However, it's rare for writers to apply this same level of inventiveness as to why the sexual fan service is being included at all. Seldom does ecchi serve a higher purpose or help create a more compelling plot.
Typically, when ecchi and story meet, it's because sexy snippets have been tacked onto a different genre of show (such as Maoyuu Maou Yuusha, Madan no Ou to Vanadis, and Devilman: Crybaby). So when an anime rolls around that has both near-constant sexual content and a compelling narrative, it's a special thing. These ten anime represent the best of the best when it comes to that distinct formula. Every single one may be one misplaced tuft of hair or absent beam of light away from becoming hentai, but they also all tell incredible stories that fans love watching unfold.
10. Sora no Otoshimono (Heaven's Lost Property)

Episodes: 13
Aired: October 2009 – December 2009
Sora no Otoshimono follows the adventures of Tomoki Sakurai after a well-endowed girl falls on him from the sky and begins calling him "master." A fantasy slice-of-life, Sora no Otoshimono tells a few decent stories, but it falters at giving the audience a well-written overall narrative (although it skyrockets in quality if you read the manga or watch the animated movies). The anime is funny, though, and continues to deliver plenty of lewd jokes throughout its 13 episodes.
The biggest problem with Sora no Otoshimono is that it doesn't add anything new to the harem genre. The anime is good, it's why it's on this list, but it doesn't compare to the likes of High School DxD or Trinity Seven. If bouncing oppai are your thing though, then you'll love Sora no Otoshimono. Just know that the other anime on this list tell much better stories.
---
9. Prison School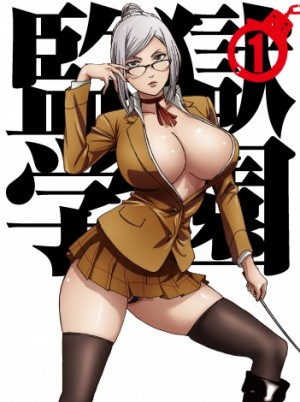 Episodes: 12
Aired: July 2015 – September 2015
Kiyoshi Fujino and his assortment of guy friends think they're the luckiest humans on the planet when they become the first boys to join the previously all-girl Hachimitsu Private Academy. Then they discover the school's dark secret: hidden within its walls is a prison for students who fail to follow the rules. There's nothing fake about this prison either. It's run by a real warden, hosts a strict hierarchy, and occasionally breaks the minds of the inmates who find themselves unlucky enough to be imprisoned there. After being caught spying on the girls' changing room, Kiyoshi and his friends find themselves locked away with some of the most demented women you'll ever see in any anime.
Anyone who's known someone who's been to prison has probably heard the stories of sexual misconduct, domination, and all-out rape that occur behind those bars. Prison School is no exception when it comes to that kind of content. It's why Prison School is so far down on the list. The narrative is a fascinating watch, but it also portrays the sexual abuse that inmates experience as something that's meant to be enjoyed. It's not a fun watch if you know someone who has suffered similar experiences in prison, as the anime fetishizes a very real problem. The rest of the anime on this list escape that problem by putting their heroes in fantastical situations or using sex to analyze a societal issue.
---
8. Zero no Tsukaima (The Familiar of Zero)

Episodes: 13
Aired: July 2006 – September 2006
Summoned to another world, Saito Hiraga is forced to work as the familiar of Louise Françoise Le Blanc de La Vallière, a mage with zero magical talent. Whenever she tries to cast a spell, all she causes are massive explosions. Saito, a normal Japanese boy, doesn't seem to match up that well with the other mages' familiars either. However, after he displays an aptitude for swordsmanship, Louise decides to keep him around. The two are mostly flung from one slice-of-life adventure to the next at first, but their adventures start to take a more sinister turn with the introduction of an alliance of evil wizards hoping to take over the world.
In terms of this list, Zero no Tsukaima is pretty tame when it comes to the ecchi. There are still plenty of seminude boys and girls to ogle at, and an elf girl with a bust larger than her head introduced in the later seasons, but this anime is primarily concerned with telling the story between two failures that eventually become lovers. Perhaps if the anime had done a better job finding suitable reasons as to why the nudity was happening, it could have been rated higher on this list.
---
7. High School DxD

Episodes: 12
Aired: January 2012 – March 2012
The anime High School DxD is almost synonymous with ecchi. There are very few anime fans that haven't heard of this show before. The show stars one of the most lecherous anime protagonists out there; Issei Hyoudou, a high school student who's killed by an angel but reincarnated as the servant of Rias Gremory, a world class devil and senior at Issei's school. Issei continues to go to school, but after class, he assists Rias in her devious duties, which range from fulfilling contracts to engaging in magic-infused battles.
Rias possesses many other servants. Though two are men, the others are a various assortment of adorable high school girls. The harem only grows as the show goes on, with the newest additions coming into the fold in the show's fourth season, High School DxD Hero, which is still airing right now. Issei fits into the role of the typical harem protagonist, attracting the attention and infatuation of the many girls surrounding him (friend and foe alike) as a result of his ever-present good nature and willingness to help others.
Despite the clichés, there is some strong character development and some surprisingly well written advancements in the plot within the show's first season. Unfortunately, the show's plot begins to take a nosedive in the latter half of the second season and reaches an all-time low in the third (most likely in an effort to fit in more boob jokes and panty shots). The fourth season is proving to be a welcome return to form, though, so hopefully this ecchi anime can scoot itself back into the limelight within the coming months.
---
6. Freezing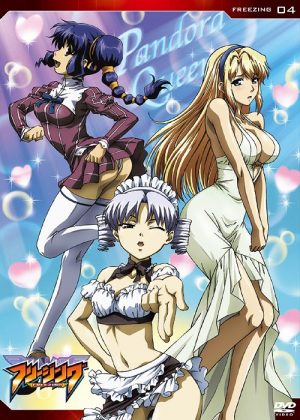 Episodes: 12
Aired: January 2011 – April 2011
Freezing doesn't have the best set-up, but it more than makes up for that with its unique narrative. Taking place in a future where the world is at war against an alien race known as the Nova, Freezing focuses on the interpersonal relationships that form, fall apart, or grow stronger during the "Nova Clashes." These clashes are battles between the Nova and the men and women who are trained to fight them. Women, known as a Pandoras, possess supernatural abilities that make them a force to be reckoned with on the battlefield, while men, known as Limiters, support their female partners by slowing down an enemy's speed.
How these powers were initially discovered and weaponized is, unfortunately, glossed over for the most part (a more detailed explanation exists in the manga). But the anime does this to focus on the relationship between the anime's main couple: Satellizer el Bridget, a beautiful and talented Pandora with an icy demeanor, and Kazuya Aoi, Satellizer's Limiter who initially mistakes her for his deceased older sister. The two grow from strangers into loving partners as they are forced, again and again, to confront an ever-stronger alien threat. It's a good story, and it's one that's filled with battles where clothes are constantly ripped to shreds.
---
5. Shinmai Maou no Testament (The Testament of Sister New Devil)

Episodes: 12
Aired: January 2015 – March 2015
Shinmai Maou no Testament derives its sexappeal through multiple levels of forbidden love. The main couple is a pair of stepsiblings, so there's a hint of incest. They're also from two opposing sides of a viscous war. The dynamic of their relationship is also in reverse, as the spell that would bind them as master and servant was cast backwards. Everything about the central relationship in Shinmai Maou no Testament is wrong, but that just makes it all the sexier.
The forbidden dynamic of this relationship also makes for a pretty good story. Basara Toujou gets two new stepsisters when his father remarries, but he soon learns that both of his sisters are from the demon clan. They tricked Basara and his father in order to accomplish their own agenda. Unbeknownst to them, Basara is secretly from the hero clan so he is able to resist their power. However, instead of turning against them, Basara decides to aid the two. This puts the trio in an incredibly precarious position, stuck within the political strife and war-like friction of a demon clan that wants Basara disposed of and the hero clan that wants to destroy his two sisters.
In order to ensure Basara will always be able to aid them, the younger sister, a succubus, casts a spell that should make Basara subservient. However, the spell backfires and now Basara must sexually satisfy his older stepsister, Mio (who's also the next ruler of the demon clan) regularly to prevent her from succumbing to an uncontrollable aphrodisiac effect. There's a lot of boob play in this anime, but it's hard to judge it when it fits so effortlessly into the overall plot of the show.
---
4. Shimoneta to Iu Gainen ga Sonzai Shinai Taikutsu na Sekai (SHIMONETA: A Boring World Where the Concept of Dirty Jokes Doesn't Exist)

Episodes: 12
Aired: July 2015 – September 2015
The title of this anime sort of explains it all. In Shimoneta to Iu Gainen ga Sonzai Shinai Taikutsu na Sekai, Japan has outlawed anything considered "obscene." This extends from swear words to pornographic magazines. Tracking collars monitor each individual from birth to help the authorities maintain order over children and punish those who engage in dirty behavior. The hope is that, by keeping them pure, children will grow up with healthier minds. Of course, what happens is quite the opposite. By the modern day events of the anime, high school students are clueless as to how babies are made and can't fathom the changes occurring to their bodies. Both their mental and emotional growth has become stilted. Students and adults who do give in to lewd behavior are labeled as terrorists and shuffled out of society.
Tanukichi Okuma is the son of one such criminal. He goes into high school hoping to distance himself from his father's shame and sets his sights on wooing the pure-hearted student council president Anna Nishikinomiya. However, he accidentally stumbles upon a secret: the council's vice-president, Ayame Kajou, is actually Blue Snow, a deviant who's been spreading sexual propaganda in hopes of teaching students the importance of sex ed! Against his will, Tanukichi is roped into helping Ayame sabotage the government's restrictive policies so students can learn to handle sex safely and responsibly. Despite his early misgivings, it's a mission that Tanukichi begins to support. Now a secret sexual terrorist, Tanukichi needs to learn to balance his desire to be with a fair maiden like Anna and his growing passion to see the wild Ayame's ideals become a reality. Things only become increasingly complicated when his actions begin to have effects on the other students, including Anna, who are discovering feelings of love, desire, and lust for the first time.
On the surface, Shimoneta seems like the set-up for some bizarre hentai. Yet, despite the thrill of watching the anime's continued efforts to toe that line between being simply lewd and being outright pornographic, it's Tanukichi's story that's the true appeal to binging the entire series. He's caught between a desire to remain unnaturally pure or naturally obscene. It's a struggle that anyone who's been a teenager will identify with. Plus, despite the anime's ludicrous premise, excessive levels of innuendo, nudity, and cum, and constant efforts to crack a dirty joke, it's a really good story about the importance of educating teenagers about sex. The only place the story actually falters is in its poor execution of its love triangle, pulling it up just short of getting into the top three.
---
3. Trinity Seven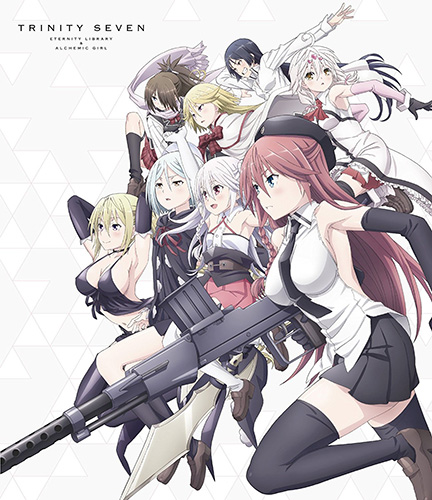 Episodes: 12
Aired: October 2014 – December 2014
Anime harems and all the tropes that come with them have been done into the ground, so it's always refreshing to watch one that does something even a little bit different. Trinity Seven's main character, Arata Kasuga, is no normal harem protagonist. Instead of being a dense idiot or a bashful good guy, Arata is a bit of an arrogant jerk. At least, he pretends to be. He never hides a desire to form a harem, rarely apologizes for his lecherous behavior or speech, and enjoys getting a rise out of the girls. Deep down he's a nice guy, but that doesn't stop him from joking about wanting a "very young bride" when asked how young he likes his girls or thanking one of the ladies "for the meal" when he sees them naked.
Despite the heavy amount of ecchi and humorous content in the anime, Trinity Seven actually tells a pretty serious story. One day, Arata discovers he's capable of pulling off powerful magic that creates Breakdown Phenomenons. Each phenomenon destroys everything in its wake, even organic life. His first phenomenon accidentally destroys his entire town, including his cousin Hijiri Kasuga. Learning that it's possible to save his cousin, Arata enrolls in a top-secret magic school known as Royal Biblia Academy. He's told that he'll only accomplish his goals if he manages to acquire the allegiance of the Trinity Seven, the seven girls at the academy who are the strongest magic users of the seven different schools of magic. Each girl is a powerhouse in her own right, but they each also suffer from their own personal sins.
Watching Arata grow closer to each one as he helps them push through their own personal demons sometimes leads the show down a haunting path. The overall tone of the anime is comedic, but the show also delves into themes of self-worth, the weight of overbearing responsibility, and the seven sins of man. The show is written with the same level of cleverness and occasional seriousness seen in early High School DxD. Hopefully, it doesn't suffer the same fate and continues to offer incredible stories in future seasons.
---
2. Highschool of the Dead (High School of the Dead)

Episodes: 12
Aired: July 2010 – September 2010
A high school outcast, Takashi Kimuro's world is thrown into turmoil after a zombie virus causes most of his classmates and teachers to devolve into the living undead. He's forced to kill his best friend and escape the campus with his ex-girlfriend Rei Miyamoto. However, upon their escape, they discover the entire city is full of the walking dead. Not knowing if the infection extends to the rest of Japan, the two decide to work together to survive the apocalypse long enough to be rescued.
The duo is quickly joined by Saeko Busujima, the cold president of the Kendo Club; Kouta Hirano, a brilliant otaku who's knowledge of firearms allows him to craft a truly startling array of creative weapons; Saya Takagi, a friend of Takashi who's the anime's default tsundere; and Shizuka Marikawa, the school's nurse who's only character trait is her ginormous bust. They eventually save a young girl and a puppy too, and together, this ragtag group works together to keep each other alive.
This anime takes ecchi to ludicrous levels of ridiculous. After watching a few episodes, you'll start assuming that a girl's boobs pop out of her blouse as often as she needs to take a breath. And apparently, she can move them fast enough for a bullet to pass between them like it's no big deal to defy the laws of physics. The show's saving grace is its story, specifically its characters. Each of them is introduced naturally and evolves over time in a realistic way.
The anime's main character, Takashi, receives one of the best character arcs of any anime protagonist. Takashi doesn't wrestle control of the group like most zombie story heroes. Instead, he naturally evolves into the role. As Saya puts it near the end of the season, he's always been the leader whether he realized it or not. His selfish desire to protect his ex-girlfriend at the beginning of the show eventually extends to his entire adoptive family by the series end, and his actions push the other characters in the group to change for the better. The anime (even with the extra OVA) unfortunately ends on a bit of a cliffhanger, so the show doesn't earn top billing on this list. However, the episodes we do have tell one of the best variations of the zombie narrative you'll ever watch.
---
1. Kill la Kill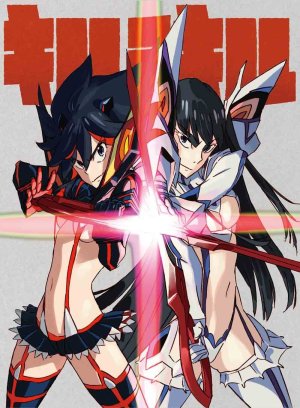 Episodes: 24
Aired: October 2013 – March 2014
Kill la Kill isn't just an incredible anime that's sparked a near-cult-like following; the show put Trigger on the map as an anime studio to watch. Despite the near-constant levels of nudity (heroes and villains are typically defeated when their clothes are cut off, ripped, or shredded from their body) and sexual fan service (the battle attire of both the protagonist and antagonist leaves little to the imagination), the anime offers a violent twist on the magical girl formula and tells a compelling story full of rich character development. The show is pretty funny too.
Kill la Kill tells the story of Ryuuko Matoi, a vagrant who's travelling from one high school to the next in search of her father's killer. She carries with her the only clue to the killer's identity: half of a giant scissor that's both sturdy and sharp enough to be utilized as a sword. The killer ran off with the other half.
Ryuuko's travels take her to Honnouji Academy, where she immediately earns the ire of the student council president Satsuki Kiryuuin. Satsuki rules Honnouji Academy as a violent dictator and relies on the skills of the honorable Ira Gamagoori, school idol Nonon Jakuzure, computer hacker Houka Inumuta, and head jock Uzu Sanageyama to keep the other students in line. Deducing that Satsuki hides secrets as to the identity of her father's killer, Ryuuko decides to fight her way through the entire student body to challenge the school's queen bee. Mako Mankanshoku, a lovable airhead; Aikurou Mikisugi, Ryuuko's homeroom teacher and leader of the terrorist organization trying to bring down Honnouji Academy; and Senketsu, a sentient sailor uniform who can transform Ryuuko into a sexy magical girl whenever he drinks her blood, aid Ryuuko on her quest. Kill la Kill is a wild ride of an anime, but it's one that's absolutely worth taking and that's why it gets the top spot.
---
Final Thoughts
It's no easy feat to stimulate the mind and the body at the same time, but this list demonstrates that it's clearly possible! So the next time your friend complains that all anime is either perverted fetishism or heart-wrenching story, be sure to let them know that it can be both. Which of these ten anime is your favorite? Do you think we missed an ecchi anime that deserves to be highlighted for its excellent story? We'd love to hear your thoughts in the comment section down below.
by Jordan Ramée
---