Ecchi is a popular genre of anime, so you had better believe that new ecchi are being made all the time. That especially goes for recently, when the ecchi industry has been really on point! Of course new ecchi comes out every season along with all the popular genres of anime, but in the past couple of years some really great, fabulously sexy stuff had been produced. And since we at Honey's Anime are always committed to bringing you the best and most up-to-date information, we couldn't pass up making an updated list of the Top 10 Sexy Ecchi Anime!
Of course there is plenty of older sexy ecchi out there for you to get your fingers on, but we have made this list specifically for newer stuff to make sure you're not missing any of the good stuff! So if you're a bit behind with the past couple of years' ecchi releases, fear not - we've got you covered. Most of the sexy ecchi on this list has come out in the last two or three years, so it should be fresh and new for you - we have only kept a couple of really good older favourites, and even they aren't that old! If you're looking for the latest sexy ecchi to come out of Japan, read on! We have chosen our favourites.
10. Shokugeki no Souma: San no Sora (Food Wars! The Third Plate)

Episodes: 12
Aired: Oct. 2017– Dec. 2017
Shokugeki no Souma: San no Sora is the newest season of the popular cooking academy anime Shokugeki no Souma. This time, it's the Moon Festival at Tootsuki Academy, which lets students compete to sell the most of their choice cuisine. It's also Souma's first chance to challenge the Elite Ten who rule over the academy. But his initial challenge against the Elite Ten is only the beginning as it reveals a much deeper plot afoot at Tootsuki Academy - and what happens, in the end, will change the fate of the entire school!
At first, read that might not sound like much of an ecchi, but Shokugeki no Souma: San no Sora might surprise you - it's actually quite a sexy ecchi. It just revolves around food along with beautiful girls. And what's a better combination than delicious food that is sure to make you hungry and sexy girls sure to make you thirsty? Shokugeki no Souma: San no Sora has an easy to follow plot line and quirky, dynamic characters so that is also a big draw because it is a genuinely good anime to watch. But it's the sexy ecchi scenes that happen alongside the presentation of amazingly animated food that keeps us coming back for a second helping. Ever eat food so good your clothes fell off? That's what this is all about.
---
9. Hajimete no Gal (My First Girlfriend is a Gal)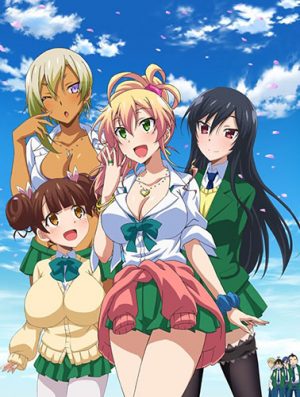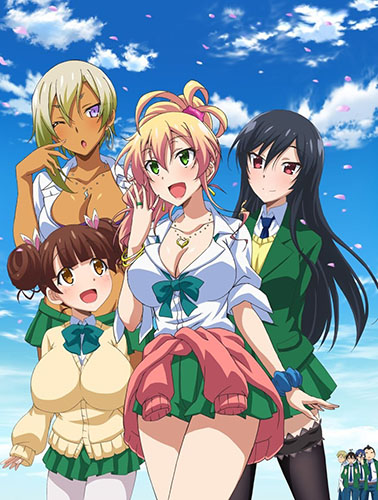 Episodes: 10
Aired: Jul. 2017 – Sep. 2017
Junichi is the main character in Hajimete no Gal, and the setting is a beautiful spring in Japan. All Junichi wants is to find a girlfriend in this season of love and firsts, but it's proved harder than he could have expected. Luckily - or maybe unluckily - for him, Junichi has some very caring friends who force him to confess to a girl. But Yame Yukana is no average girl; she's what's known as a "gal," or a fashionable girl distinguished by her tan, hair, make-up, and nails that all set her apart from the average crowd. Thus Junichi does indeed set off on a series of love and firsts as he has a lot of new experiences and learns a lot about himself and girls.
Hajimete no Gal does not have a lot of plot beyond Junichi wanting to lose his virginity, and thus spends his spring with a lot of gal girls in his own special harem. But if you aren't that fussed about deep characters and a strong story, Hajimete no Gal definitely has a lot of sexy ecchi scenes. All the gal girls are curvy and beautiful, and they are always throwing the senses at Junichi begging for attention - and sex of course - especially in public and unexpected places. There are plenty of fanservice panty shots and more, and for ecchi fans that just want some softcore porn well. Hajimete no Gal has got you covered.
---
8. Kill la Kill

Episodes: 10
Aired: Oct. 2013 – Mar. 2014
Kill la Kill begins with the murder of Ryuuko Matoi's father, and her investigation into what could have happened to him. Her only clue is half of the weapon he created, and using it brings her to a prestigious school called Honnouji Academy. It is controlled by the student council and its powerful leader, Satsuki Kiryuuin, who gives its best members special clothes that give them superhuman abilities. But Ryuuko has a few tricks of her own, like the powerful "God clothes" she has herself that enhance her strength and giving her power. Armed with these clothes and her father's weapon, she fights to learn the truth.
Kill la Kill sounds like an anime with a great plot and good characters - because it is. And it's also a sexy ecchi! That win-win deal is what keeps Kill la Kill on our list of the Top Sexy Ecchi despite being older than all the other anime on the list. It has a genuinely good story and gained a lot of fans that don't necessarily watch ecchi normally, but it's undeniably sexy which keeps ecchi fans very happy! It has curvy girls in sexy uniforms, plenty of fights and action sequences while wearing these uniforms, and lots of fanservice to go around especially with poses and positions. Kill la Kill can keep ecchi and non-ecchi fans both happy, so it's great to watch with a friend... and of course serves its purposes to watch alone, too!
---
7. Oshiete! Galko-chan (Please Tell Me! Galko-chan)

Episodes: 12
Aired: Jan. 2016 – Mar. 2016
Oshiete! Galko-chan is about three high school girls named Galko, Otako, and Ojou who seem to be unlikely friends but actually get along quite well! Galko looks like the party type of girl, but she's actually sweet and innocent. Otako is the manga nerd with plain looks. And Ojou is the rich girl who is pretty normal. But the three of them enjoy discussing the wonders and mysteries of the female body, ask each other personal questions, and sometimes manage to embarrass Galko with their jokes that seem to have no limit to how personal they can be!
Oshiete! Galko-chan has the unique idea of a sexy ecchi that revolves around these girls talking about sex, bodies, and other personal subjects. And they do it in a light-hearted and fun manner, though no topic is off-limits or too personal for them to discuss and make light of. It's more of a voyeur ecchi, letting viewers "overhear" the curious and somewhat vulgar conversations between these three cute high school girls. If you know a little Japanese, you can tell from the girls' names what character archetype each fits into, so all of their opinions are different and interesting - and you're likely to find your "type" at least somewhat represented in one of them.
---
6. Netoge no Yome wa Onnanoko ja Nai to Omotta? (And you thought there is never a girl online?)

Episodes: 12
Aired: Apr. 2016 – Jun. 2016
When Hideki "Rusian" Nishimura finally gets the courage to propose to a girl in an online game in Netoge no Yome wa Onnanoko ja Nai to Omotta?, he is shocked to learn that "she" is actually an older man in real life. From that moment forward, Rusian vows to never trust another girl online. A few years later, Rusian is still playing online and in a guild with three other players. One is using a female avatar named Ako, and she claims to be in love with him. Even though Rusian knows she might be a man, he accepts her proposals with the justification that at least she is cute in the game. When the other guild members suggest meeting up in real life, Rusian learns a surprising truth - not only are ALL of them girls, they also go to his school!
Netoge no Yome wa Onnanoko ja Nai to Omotta? plays with the anonymity that can be found in online gaming, where many players do not use avatars that match their genders in the real world. Using that as a basis, this sexy ecchi sets up a hilarious situation full of surprises for the leading protagonist. And between having some sexy video game girls and also beautiful "real life" girls, Netoge no Yome wa Onnanoko ja Nai to Omotta? is not lacking in that department. Rusian gets to live the ecchi dream both in a video game and in real life, and we can vicariously live it too through this sexy ecchi that doesn't take itself too seriously.
---
5. Renai Boukun (Love Tyrant)

Episodes: 12
Aired: Apr. 2017 – Jun. 2017
Renai Boukun is the confusing romantic story of a young man named Seiji. It all begins when a mysterious girl named Guri shows up at his house, claiming that if she doesn't kiss someone within 24 hours she will die. Of course, Seiji obliges the girl, only to find out she is actually a Cupid with a power called Kiss Note. If she writes down two humans' names, they have to kiss one another. And now Seiji is stuck in a sort of curse where he has to find someone to kiss, fast, or he will remain a virgin forever! Setting his sights on the popular Akane, he is able to kiss her thanks to Guri's power. But when Guri also matches both Seiji and Akane with herself as well, she accidentally turns them into temporary Cupids, too! So Seiji and Akane must help Guri on her coupling quests, or risk being cast into Hell.
If you think that sounds like a wild ride, well, you'd be exactly right. Seiji's normal life is gone forever with the arrival of the sexy Guri into his life, and from then on his world is full of beautiful women. Akane is just one of the sexy ecchi girls that he encounters, especially once he begins to "work" for Guri. With all of these gorgeous girls throwing themselves at Seiji under Guri's spell, and then Guri constantly getting herself involved too...you'd better believe there are plenty of harem scenes, yuri, and even a little-referenced yaoi going on in this over the top sexy ecchi. Good luck following this crazy adventure!
---
4. Tsugumomo

Episodes: 12
Aired: Apr. 2017 – Jun. 2017
Tsugumomo is a light-hearted, silly, and fun ecchi about the confusing and embarrassing life of a young man named Kazuya. It all starts when a mysterious blue-haired girl wearing a kimono shows up and begins living in his room. And then his older sister is overprotective to the point she even wants to bathe with him. Plus he has a childhood friend who always is shoving her nose into his life. And did we mention there's also a voluptuous priestess? And that's only the beginning of the long list of beautiful girls that all make Kazuya's life interesting!
With a setup like that, Tsugumomo is not trying to hide that it's a sexy ecchi. And why should it? The point of that kind of harem with such amazing and perfect girls and a fumbling male main character is to create a sexy ecchi for fans to enjoy. Tsugumomo does it well with so many different girls that ensure everyone's "type" is covered somewhere. And of course, there's tons of fanservice! Don't get caught up on all the tropes and stereotypical plot devices; we aren't watching Tsugumomo for a ground-breaking story and character development. We are watching it for the sexy ecchi girls, and there's more than enough of them to go around.
---
3. Eromanga-sensei

Episodes: 12
Aired: Apr. 2017 – Jun. 2017
Sagari Izumi and Masamune Izumi have only been step-siblings for one year when their parents die in Eromanga-sensei, leaving the new family on its own. Masamune steps into the role of providing for the household by becoming a successful light novel author. Sagari, however, seems to shut down entirely and never leaves her room. As Masamune continues to try his hardest in the publishing industry, he learns a shocking surprise - his illustrator previously known to him only as "Eromanga-sensei" is actually his reclusive little sister! Now they have to face the publishing world as a team, with Masamune's great writing and Sagari's fantastic erotic drawings.
Eromanga-sensei is a twist on the usual brother/sister trope by adding in a unique connection. At first, Masamune has no idea that the talented erotica artist he has been working with was his step-sister, and when he finds out they are able to work together for success. It's quite an interesting way to bring the siblings closer together. Eromanga-sensei has plenty of fanservice for lovers of sexy ecchi, of course, with lots of super cute girls to go around. Namely, Sagari is the subject of most of the fanservice, and her blossoming relationship with Masamune keeps fans of brother/sister relationships happy. Especially appealing to fans of lolicon and sibling relationships, Eromanga-sensei is a fun ride.
---
2. Monster Musume no Iru Nichijou (Monster Musume: Everyday Life with Monster Girls)

Episodes: 12
Aired: Jul. 2015 – Sep. 2015
Monster Musume no Iru Nichijou (often abbreviated as MonMusu) is set in a very forward-thinking Japan, which is the first country to bring non-humans into society alongside humans. One of these humans is Kimihito Kurusu, who used to live alone until he found himself roommates with a Lamia named Miia. Miia is only the first monster girl to move into Kimihito's flat, though, and soon he has a full house of beautiful and sexy non-human girls! It may sound like paradise, but the law strictly forbids sex between species. That doesn't stop the monster girls from following Kimihito's every move as they try to gain his attention and affection - and find as many loopholes around the law as they can.
MonMusu is a fun and sexy ecchi that gives an interesting twist to the usual harem story by making all the females monster girls. They're all different from one another, too, so if you like wings, horns, different skin tones and more there's bound to be one that takes your fancy. And since the main story is these girls trying to find a way around the law that forbids sex with humans, you can count on plenty of ecchi action between Kimihito and all these interesting girls! Especially great for fans of demon or supernatural anime, MonMusu is also a fun sexy ecchi for any harem fan to try out. After all, it's always nice to open your imagination a bit and these monster girls can definitely help with that!
---
1. Keijo!!!!!!!!

Episodes: 12
Aired: Oct. 2016 – Dec. 2016
Keijo!!!!!!!! is about an all-new sport in Japan unlike anything done before. It's female-only, and for good reason - participants use only their butts and breasts to compete! To win, girls have to knock one another off a floating platform in the middle of a pool using their breasts and butt only. Enter Nozomi Kaminashi, a recently graduated young woman who wants to bring the potential fortune of being a Keijo champion home to her poor family. As a gymnast, Nozomi certainly does seem to have what it takes to compete, but she has a long way to go to become the next Keijo champion!
Keijo!!!!!!!! isn't your average sports anime that has been dominating the industry the past few years. Most sports anime are written with a female audience in mind (or those interested in watching sweaty, beautiful men). But Keijo!!!!!!!! was written for an audience that wants to watch cute and sexy girls with big butts and breasts in swimsuits. That's a perfect premise for a sexy ecchi already; the entire point of Keijo!!!!!!!! is beautiful bodies! What you may not expect is that on top of these sexy bodies is actually an endearing and funny narrative. Come for the right swimsuits, and stay for a sexy ecchi that is also a great story.
---
Final Thoughts
Ecchi is such a flexible genre that a lot of different kinds of anime can fit into it and make it work. And lucky for us, anime writers never seem to run out of ideas to make new and sexy ecchi for us! The past couple of years have been no different, and we are proud to have these great sexy ecchi to add to our list of the best sexy ecchi out there. So why are you still reading this? Get out there and get watching!
Which of these sexy ecchi are you itching to watch first? Have you seen any already? Did we miss your favourite recent sexy ecchi and you think it should be on the list? Drop us a comment below!
---
---
---
Let's begin this article by pointing out that this list is about ecchi, a unique genre of anime sometimes known as the fan-service genre. And for good reason, considering ecchi is typically written with a lot of fan-service in mind, and it is usually the end goal of the show. Of course, ecchi can also have great stories, well-written characters, and engaging plot twists. But at the end of the day, it's still ecchi, so you can expect girls with minimal clothes, big boobs, panty shots, and more. Ecchi is different from hentai, however – it will never show genitalia or actual on-screen sex. However, that sex is often implied, and depending on the censorship levels of the network that the anime airs on, most of or even the entire female breast may be shown.
This brings us to the point of this list – our Top 10 Sexy Ecchi Anime. Ecchi anime can be many things, from funny to exciting to steamy and everything in between. It often overlaps other genres of anime as well considering it usually has more of a story to tell than the average hentai. For this list, we are focusing on ecchi whose sequences or girls (or preferably both!) are extra sexy and turn up the heat for the characters involved – and of course for you, the viewer, most of all! Trust us when we say this list was quite hard to make and finalize, and the competition was quite stiff if you catch our drift. But without further ado, because we know why you're all here, we present our Top 10 Sexy Ecchi Anime.
10. B Gata H Kei (Yamada's First Time: B Gata H Kei)

Episodes: 12
Aired: Apr. 2010 – Jun. 2010
Yamada is a pretty typical, self-confident 15-year old girl in B Gata H Kei – except that she has one particular part of her body that she isn't happy about. Her vagina, which she thinks looks quite strange. Upon entering high school, she created a goal to sleep with 100 different men, but her withholdings about her vagina make it difficult for her to get started. And on top of that, she is a virgin, and is scared of someone teasing her about her first time! Thus, Yamada starts on a quest to find the perfect boy to experience her first time with, eventually settling on Takashi Kosuda. Too bad Yamada doesn't know anything even about flirting, let alone about sex….
B Gata H Kei is a fun and light-hearted ecchi that will have you laughing at it's hilarious and ridiculous sexy situations. Yamada's constant attempts and failures at seduction and sex are fun to watch, and while the ecchi is delivered in a more humorous light than the others on our list, it's still sexy in its own way. B Gata H Kei is a good fit for an ecchi fan looking for a laugh, or for someone that is new to ecchi and looking for a way to break into the genre. The ecchi is still sexy and entertaining, without being overwhelming, so it's a great way to start our list!
---
9. High School DxD

Episodes: 12
Aired: Jan. 2012 – Mar. 2012
High School DxD takes place at Kuoh Academy, a school that has not only normal students but also angels, fallen angels, and devils in attendance. The plot centres on a normal (though perverted) student named Issei Hyodo, who by "luck" is asked out on a date by Yuma Amano. Yuma, however, turns out to be much more than Issei expected – she is, in fact, a fallen angel, and kills him! Fortunately, or maybe, unfortunately, for Issei, he is given a second chance at life by Rias Gremory, who reincarnates him as a devil – and as her servant!
High School DxD has a great balance of funny and sexy throughout the show, including in its ecchi sequences. While seeing the interactions between these characters is comedic most of the time, there's also just something inherently sexy about angels and devils flirting and being in risqué situations together. Not to mention the girls in this show are quite well-endowed with some fantastic oppai, which always turns up the sexy factor for any situation. On top of that, you can see some really great fighting sequences between all these attractive girls, and adding that action onto the more traditional ecchi sequences makes High School DxD a supernaturally sexy choice.
---
8. Valkyrie Drive: Mermaid

Episodes: 12
Aired: Oct. 2015 – Dec. 2015
Mamori Tokonome starts off Valkyrie Drive: Mermaid, unfortunately, kidnapped from gym class and transported to an exotic and scandalous island called Mermaid. Mermaid is far from a relaxing, tropical getaway, however – in fact, it's full of many enemies and predators! Luckily for Mamori, she is soon discovered by Mirei Shikishima, who teaches her that through passionate kissing they can unleash special transformative powers to fight against these enemies. The more aroused they are, the more powerful they can fight, and they are going to have to work together if they ever want to survive their time on Mermaid.
Valkyrie Drive: Mermaid holds a special spot on our list of the Top 10 Sexy Ecchi Anime as the only shoujo ai title, meaning that the romance sequences are between two girls instead of a heterosexual couple. Two girls, of course, mean twice the oppai, and twice the potential to exploit ecchi fan-service. Trust us when we say that Valkyrie Drive: Mermaid doesn't disappoint in that regard. You can enjoy plenty of sexy sequences of Mirei and Mamori raising one another's arousals in various ways we will leave to your imagination, as well as see them fight plenty of other girls that they encounter on the island as well! If shoujo ai is your thing, or if you're just looking for a lot of sexy girls without male interruption, look no further than Valkyrie Drive: Mermaid.
---
7. Sekirei (Wagtail)

Episodes: 12
Aired: Jul. 2008 – Sep. 2008
Sekirei are creatures that form bonds with those known as "Ahikabi" by sharing a kiss with them and then fight for that Ahikabi against other Sekirei. Sekirei tells the story of one boy, Minato Sahashi, and his bond with not only Musubi, the original Sekirei he bonds with, but his bond with several other Sekirei as well. Not only are the Sekirei fighting one another under the power of Minato in the Sekirei Plan, they also are fighting amongst themselves as they compete over him.
The very plot of Sekirei places many attractive girls pitted against one another to fight over one boy – ah, isn't that the dream of so many anime fans? And on top of that, they are bonding with him by sharing a kiss! It's the perfect recipe for a great ecchi, and Sekirei doesn't disappoint. You can expect plenty of sexy fight scenes between all of these supernatural girls, in addition to the more usual ecchi scenes you might find in other anime. If you like your sexy girls to be something more interesting than just human, and if you like great fight scenes amongst all the fan-service, check out Sekirei!
---
6. Queen's Blade: Rebellion

Episodes: 12
Aired: Apr. 2012 – Jun. 2012
Queen's Blade Rebellion is the sequel to the series Queen's Blade, but don't let that deter you from trying it out anyway. In this new story, the Continent has fallen under the tyrannical rule of a new sovereign – the Thundercloud Queen Claudette, the last victor of the Queen's Blade competition. Annelotte, the main heroine, and her army of rebels lead a fight to try to overthrow Claudette and return peace once more to the Continent.
Do you like beautiful, well-endowed girls in sexy metal bikini-style armour fighting one another with swords and magic? Do you like some girl-on-girl action that is right there on the screen? If so, then Queen's Blade: Rebellion will be right up your alley! These fighting ladies are most certainly sexy on both sides of the battles, so whichever side you find yourself cheering for, you can be sure you'll have attractive girls to drool over. As powerful fighters, these women are as elegant as they are beautiful, which is certainly a sexy combination! Plus with a minimal amount of male screen time, it leaves plenty of time for ecchi scenes between countless females without anyone else to get in the way.
---
5. To LOVE-Ru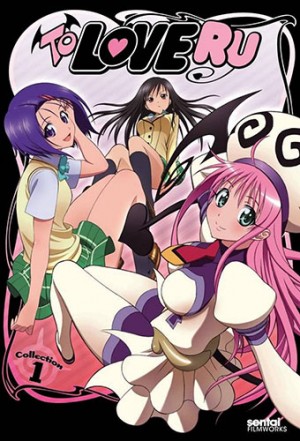 Episodes: 26
Aired: Apr. 2008 – Sep. 2008
Rito Yuuki's life is never the same again after the unexpected arrival of Lala Satalin Deviluke in To-LOVE-Ru. Lala is a princess to an alien empire, and she wants to marry Rito to avoid a political marriage back on her home planet! Although, Rito is just an average and rather shy, teenage boy - can he really marry the princess of the most powerful empire in the galaxy? All he wants to do is confess his crush on his classmate Haruna! However, if Rito is unable to protect Lala from her many fiancées, her father is going to kill him and destroy the world. No pressure, right?
From Lala's initial arrival landing on Rito's lap while he is taking a bath To LOVE-Ru has ecchi scene after ecchi scene sure to satisfy you. There are plenty of girls to go around wearing minimal to no clothing, even when doing daily tasks like cooking and cleaning. To LOVE-Ru also has a fair share of shower and bath sequences that get quite steamy in more ways than one! It's a great comedy anime while still being sexy and full of great fan-service, so To-LOVE Ru makes for a really fun viewing experience where you can enjoy a laugh and some great ecchi at the same time.
---
4. Shimoneta to Iu Gainen ga Sonzai Shinai Taikutsu na Sekai (SHIMONETA: A Boring World Where the Concept of Dirty Jokes Doesn't Exist)

Episodes: 12
Aired: Jul. 2015 – Sep. 2015
The Japan that exists in Shimoneta to Iu Gainen ga Sonzai Shinai Taikutsu na Sekai is very different from the Japan that we know today – society has been purged of all things deemed "impure" through chastity laws, and its citizens are constantly monitored by devices worn around their necks in an Orwellian fashion of government observation and control. What starts out as a simple crush on Ayame Kajou by Tanukichi Okuma ends up with Tanukichi being drafted into Ayame's secret underground organization bent on revolution and spreading lewd materials back to the public! Can Tanukichi help to overthrow the government's unfair rules while also protecting his crush, their number one target?
Of course, Shimoneta wouldn't be on our list of the Top 10 Sexy Ecchi Anime unless there were ways around the chastity laws in Japan, so you can expect to see these laws broken. Add onto that the lewd and sexy material that the organization is spreading around, and you end up with a lot of great ecchi material. And of course as they, say the forbidden fruit is always the sweetest, so when sex is forbidden by the very government somehow seeing it happening anyway is just that much more enticing! With plenty of fun and fan-service, Shimoneta is certainly an ecchi with a unique and new kind of story and lots of great ecchi to go around.
---
3. High School of the Dead

Episodes: 12
Aired: Jul. 2010 – Sep. 2010
The zombie apocalypse is a consistently popular theme these days, and High School of the Dead fulfills that genre of story. The outbreak of a deadly virus turning people into the living dead has arrived at Fujimi High School, and only a few remaining high school students and the school nurse are left to defend it from the zombie hoard. Not only do they want to survive, but they want to figure out exactly what is behind the outbreak so hopefully they can stop it all together – quite the noble goal!
You may be asking why a zombie story is on a list of ecchi, but High School of the Dead has more than earned its place at number three. The girls are certainly well-endowed and beautiful characters, and during their fight sequences, you can expect no shortage of slow-motion panty shots, and oppai that are able to dodge attacks while defying the laws of earthly physics in their movements. If you have never seen boobs dodge bullets seemingly on their own before you have never experienced true ecchi glory – and it's more than time for you to check out High School of the Dead. Not only is it a fun-filled action story with plenty of zombie fighting sequences, but the added sexy ecchi definitely makes it an extra entertaining and fun watch.
---
2. Golden Boy

Episodes: 6
Aired: Oct. 1995 – Jun. 1996
Golden Boy may be the shortest and oldest anime on our list of the Top 10 Sexy Ecchi Anime, but don't let that fool you – after all, it's in our number two spot for a reason. The main character, Kintarou Oe, is an unexpected genius. In fact, he finished all of his courses in university – only to quit before he graduated to become a bit of a vagabond. He travels around on his bicycle without a real agenda other than a curiosity to learn about the real world now, taking and working any job that he needs to take to get by and prove himself.
Okay, you might be questioning our choice of Golden Boy at this point because it's lacking a very important part of being a sexy ecchi – women. But fear not! Along the way, one of the most important parts of the world that Kintarou finds himself getting familiar with is a variety of women. And just as each one begins to fall in love with him, he's gone and off to find the next one! That means that Golden Boy is full of plenty of girls to enjoy, so if you don't necessarily like one there will be more options on the way. There are plenty of tight dresses, short skirts, and lingerie to keep you intrigued, with ecchi scenes that have a great balance of both funny and sexy. Golden Boy is really fun to watch and has a timeless classic style, putting it in our number two spot.
---
1. Prison School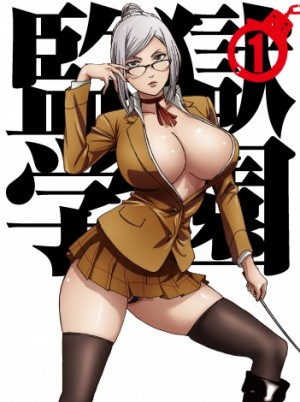 Episodes: 12
Aired: Jul. 2015 – Sep. 2015
Ah, the coveted and special top position on our list of the Top 10 Sexy Ecchi anime – a position any ecchi would love to have, but only one can take it at the end of the day. And for today, that anime is Prison School. Hachimitsu Academy was always an all girls' school – until now when five boys are allowed to join. Before they can make a good first impression amongst all their new classmates, however, the boys take to trying to peep into the girls' bathroom, and they land themselves in the school's underground prison. Their choice is to either endure the prison for one month to pay for their crimes or be expelled. Of course, they choose to stay in the prison, and face the Draconian laws and punishments that still exist in this prestigious academy!
In our opinion, Prison School has more than earned its spot at the top of the list. Between a large amount of oppai shots (and believe us, these oppai are definitely something you won't quickly forget) to the BDSM-style punishments that the main boys have to endure, Prison School is sexy through and through. Watching it, it's hard to not have some masochistic side of yourself wishing that you could experience some of the things the main characters are experiencing for yourself, because punishment or not, it's just so thrilling. If you like your ecchi with a darker and more dominating kind of sexy style, Prison School fits the bill perfectly. You won't be disappointed!
---
Final Thoughts
Ecchi is a really fun genre of anime to watch, and sexy ecchi is even better. Our list of the Top 10 Sexy Ecchi Anime hopefully had something for everyone, from comedy to supernatural, and from light-hearted to more serious. So if you're craving some sexy fan-service, but maybe not something as committed as a proper hentai, check out some of the titles from our list! They're sure to satiate your lust for sexy anime girls.
Did we miss your favourite sexy ecchi? Do you think our list could use a bit of re-ordering? Or would you like to just post your love and devotion to your favourite ecchi girl? Whatever it may be, please leave a comment below because we would have to hear from you!
---