También puedes leer este artículo en:Español
What makes fantasy anime interesting? Is it the mythical and unusual characters? The elaborate, out-of-this-world setting? Or does the interest come from the storylines themselves? Perhaps it is a combination of all of the above elements. Whatever the case may be, the fantasy genre in anime has been popular for many years, captivating the audience with tales that take them far away from their day-to-day lives.
The fantasy genre covers a wide array of options, from the supernatural and thought-provoking to the technologically-advanced. Because of its popularity, there are a number of fantasy movies to choose from – some of them much better than others. This list is to help you sift through those choices. We're going to be looking at movies that touch on important topics, have beautiful visual graphics, and create interesting characters, all while taking the audience member on an epic journey.
10. Kyoukai no Kanata Movie: I'll Be Here – Mirai-hen (Beyond the Boundary: I'll Be Here - Future)

Episodes: 1
Air Date: Apr. 2015
A sequel movie to the anime series Kyoukai no Kanata, this movie offers a two-part story based off a light novel. The first part simply recaps the plot from the anime episodes, while the second part offers a brand new story in Mirai and Akihito's adventures. Mirai-hen takes place a year after the events of the recap. Akihito must fight a new threat that is after Mirai. Meanwhile, Mirai has lost her memories and does not remember anything about herself or the events in her life, including anything about Akihito.
Mirai-hen is a great addition to the original animated story of Kyoukai no Kanata. It is also an excellent fantasy story in its own right. Each character in this series has an important place in the story, which is delved into even further in the film. Even supporting characters will grow and change throughout the course of the story. Kyoukai no Kanata continues its beautiful animation style into Mirai-hen, lending a fantastical element to the setting. Full of both laughter and tears, this movie is worth watching, especially if you loved the anime series.
---
9. Sennen Joyuu (Millennium Actress)

Episodes: 1
Air Date: Sep. 2002
When a studio's buildings are about to be torn down, a former employee and reluctant cameraman decide to make a documentary to honor the studio's closing. And what better subject than the retired star actress Chiyoko Fujiwara, who has since retreated from the spotlight? As the older woman tells her story to the two men, Chiyoko's roles blend seamlessly with her life, and friends and colleagues form into the characters on screen. The story of a woman's life, Sennen Joyuu is a beautiful and thoughtful tale.
This film is fantasy in the way that its story is told. While Chiyoko's characters might be acts, as they blend into her life story it is difficult to see where one person ends and another one begins. Part of the reason that this is so effective is because of the gorgeous animation rampant throughout the movie. Sennen Joyuu may follow more of a historical narrative, telling the tale of Japan's cinematic history. However, its ability to place the audience so effortlessly into Chiyoko's whimsical life makes the movie a vital part of this list.
---
8. Little Witch Academia

Episodes: 1
Air Date: Mar. 2013
Do you like Harry Potter? Then you might enjoy this funny anime! Little Witch Academia follows the story of Atsuko Kagari, an average girl who wants to become a witch like her idol Shiny Chariot. She enrolls in Luna Nova Magical Academy, but soon finds it much more serious than she had imagined. Atsuko is soon labeled a bit of a rebel, due to her magical ineptitude and childish obsession with Chariot. But when a dragon is let loose on campus, Atsuko is given a chance to prove herself to everyone.
Little Witch Academia is a cleverly cute movie about fulfilling dreams against all odds. Atsuko and her friends are interesting and funny, playing off of each other well. The animation is lovely to watch, unique in its own way. And overall, a story about witches and friendship can never go wrong.
---
7. Sword Art Online Movie: Ordinal Scale (Sword Art Online the Movie - Ordinal Scale)

Episodes: 1
Air Date: Feb. 2017
One of the most recent releases on this list, Ordinal Scale is a long-awaited return to the popular Sword Art Online series. Four years after the events that brought Kirito and Asuna together, a new system called the Augma has been released, and it is more popular than ever. The Augma uses Augmented Reality (AR) technology to incorporate games into the real world, with its most popular being a product called Ordinal Scale. While Kirito is reluctant to join his friends in Ordinal Scale at first, he eventually decides to give it a try. But similarities between Ordinal Scale and the old world of Sword Art Online make Kirito and his friends start to question the new game…
For fans of Sword Art Online as it was in its first season, Ordinal Scale brings back many of the best aspects from the series. Kirito and Asuna are able to grow and change as characters, both together and separately. As always, the animation style is fluid and beautiful, especially during the fight sequences. The plot ties well into the past series, bringing back characters from all of Kirito's exploits and tying in themes from the original game of Sword Art Online. Well worth the watch, Ordinal Scale is full of surprises.
---
6. Bakemono no Ko (The Boy and The Beast)

Episodes: 1
Air Date: Jul. 2015
In a blend of two completely different worlds, Bakemono no Ko tells the story of a young boy named Ren and a warrior named Kumatetsu. Ren has no family to return to after his mother dies and his father disappears, so he turns to the streets. Kumatetsu is next in line to become the lord of the beast realm, Shibuten, but he is so unfriendly that he would never be seriously considered unless he could find a disciple. When the two strangers find each other, they soon realize they are more similar than either of them would have guessed.
This movie is a heartwarming tale in which two complete strangers change each other's lives. The way that Shibuten and Shibuya are linked together so effortlessly speaks to the fluidity of this fantasy, even as it alludes to the way that Ren and Kumatetsu are linked. The majority of this story relies on the characters and their development, which is why it succeeds so well. Ren and Kumatetsu are both such interesting characters that they hold the story up on their own. With so many touching moments, Bakemono no Ko is really an excellent movie, one that thoroughly deserves its place on this list.
---
5. Paprika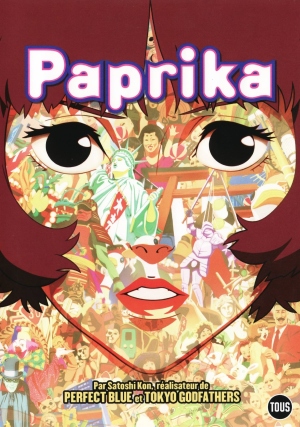 Episodes: 1
Air Date: Nov. 2006
One of the most fantastical and mysterious movies of the fantasy genre, Paprika is a blend of supernatural and technological achievements. When a new technology called the DC Mini is developed, Dr. Atsuko Chiba uses it to become Paprika and enter others' dream worlds. As Paprika, she can see their deepest thoughts and emotions, allowing her to more effectively work through emotional and psychological problems. But when a DC Mini prototype is stolen, Paprika must find the culprit before they wreak havoc upon the very fabric of the dream world.
Paprika is an important addition to this list because of the number of issues it deals with throughout the film. This is certainly a more mature feature, dealing with deep human conditions and fears like depression and rape. The psychedelic animation style is extremely well done, and really adds to the mystical and horrific suspense of the story. While it may not be for everyone, Paprika is an excellent fantasy film if you've ever wondered what the dream world might look like.
---
4. Hoshi wo Ou Kodomo (Children Who Chase Lost Voices)

Episodes: 1
Air Date: May 2011
Asuna Watase has always been drawn to the mystery of strange sounds that seem to be coming from another world – particularly when those sounds are coming from an old crystal radio on a mountainside. When she is attacked by an unusual monster, a mysterious man rescues her and bids her to keep silent about the whole endeavor. However, when the man goes missing, Asuna finds her curiosity unable to abide any longer. Asuna goes searching for answers, and soon finds herself in a world she never knew existed, embroiled in an adventure she never could have imagined.
This film is probably one of the most beautifully animated on the list. One of Makoto Shinkai's earlier works, Hoshi wo Ou Kodomo is a story that draws its audience in through mystery and suspense. Viewers learn the secrets of Agartha alongside Asuna – something which makes this fantasy movie far more compelling. Each of the characters change and develop through their problems, bringing them to a point where they can accept and find peace within themselves. Hoshi wo Ou Kodomo is something that everyone who loves fantasy should watch at least once.
---
3. Howl no Ugoku Shiro (Howl's Moving Castle)

Episodes: 1
Air Date: Nov. 2004
Sophie Hatter, a plain woman who works in a hat shop, is content with her life as it is. But when Sophie meets the mysterious wizard Howl, her life will change forever. She is cursed by a jealous scorned witch, turning her into an old woman. Sophie decides to find the wizard and his unusual moving castle, and sets out on an adventure that will concern the fate of the whole kingdom.
One of Studio Ghibli's best works, Howl no Ugoku Shiro tells an epic tale of how one ordinary woman can change the world. Perhaps the best part of Sophie's story is that she does not change too much, at least in terms of her abilities. As she learns about the world and changes as a person, she continues to be the same friendly and caring soul that she was when she started out on her quest. And it is these traits within her that cause her to succeed on her various endeavors. Howl no Ugoku Shiro is a beautiful film, with compelling characters and storyline, that shows off what a great fantasy protagonist is like.
---
2. Ookami Kodomo no Ame to Yuki (Wolf Children)

Episodes: 1
Air Date: Jul. 2012
When Hana falls in love with a mysterious man in one of her college classes, she never would have guessed that he was actually a werewolf! Despite her initial surprise, Hana remains with him and eventually they start a family. Unfortunately, Hana's werewolf lover soon dies, leaving her with two unusual children who can turn into wolves. Hana decides to take Ame and Yuki to the countryside, hoping that they will be able to live a more normal life together.
A story of a single mother raising her children on her own, Ookami Kodomo no Ame to Yuki is gorgeous and powerful. The animation perfectly captures the feel of the movie, giving Hana and her children more life. The growth of Hana, Ame and Yuki throughout the film allows the audience to connect to the story even more. This movie deserves all the accolades – especially when it comes to the fantasy realm.
---
1. Mononoke Hime (Princess Mononoke)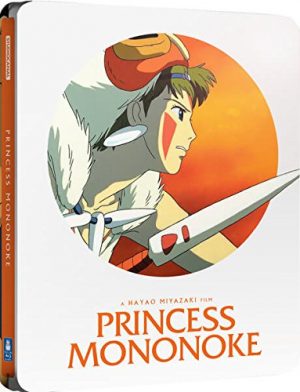 Episodes: 1
Air Date: Jul. 1997
The top fantasy anime movie on our list is also one of Studio Ghibli's greatest works. Mononoke Hime is about a young prince named Ashitaka, who is cursed by a boar after he defends his village. Banished to wander alone, Ashitaka sets out to find a cure for his curse. When he arrives at Tartara, he discovers a conflict between the people of the town and the spirits of the forest. Ashitaka then encounters the Princess San, who lives with the wolf spirits of the forest. The cursed prince continues to learn more about the spirits of nature and the push of civilization, as he struggles to unite the two before his curse takes full hold.
Mononoke Hime shows themes that are relevant and important, even today. Ashitaka's desire to unite nature and civilization in peace is one of the biggest issues humanity faces. This film is beautiful and compelling in its animation style. Its tale is capable of making the audience think about wider issues in society and within themselves. All the while, people are immersed in the world Hayao Miyazaki has created. Despite the darkness that surrounds Ashitaka, he is able to struggle on, searching for a solution to bring hope and wholeness to the world once again.
---
Final Thoughts
Fantasy anime creates a new world for viewers to step into, giving them an opportunity to take a step back from life. And this genre has many elements that help build it up, including interesting and unique characters, an otherworldly setting, and a compelling storyline. But what makes the mark of a truly great fantasy story is its ability to make the audience think more deeply about themselves and the world around them, even as they are watching something that is nothing like this world.
This list is our compilation of the best fantasy anime movies. These are all films that offer the elements of fantasy while making viewers ponder wider questions about life, love and the state of society. So how did we do? Have you seen any of the movies on this list? Did we miss any that you feel ought to be included? As always, we love to hear from you!
---