También puedes leer este artículo en:Español
Christmas is coming, and you know what that means! Of course, we mean presents. And there is nothing better to get for gamers than new video games. 2017 has seen the release of a lot of amazing new games for all the different consoles, including the newest one, the Nintendo Switch. Video games cost quite a bit of money nowadays though, so getting them as a present either for yourself or someone else is extra exciting. But of course, with how expensive they are, no one wants to waste money on a bad game this Christmas. And even more than that, no one wants a disappointing present!
To help you make your own wish list or pick out a present for someone else, we have created our list of the Top 10 Games We Want for Christmas. The games on this list have to fit two specifications to be considered. Firstly, they have to have a release in 2017 that is before Christmas Day. Secondly, they have to have an ESRB rating of E for everyone. That way these games can be enjoyed by anyone on Christmas, even in the living room with the whole family. Luckily, a lot of great titles were released this year that fit into those descriptions. So get ready to take some notes, because here come some great gift ideas for gamers of all ages.
10. Everybody's Golf

System: PlayStation 4
Publisher: Sony Interactive Entertainment
Developer: Clap Hanz, SIE Japan Studio
Release Dates: Aug. 29th, 2017
Everybody's Golf is a simple, but fun sports simulator. And of course, it's all about golf! But it has more freedom than you might expect from a golf game. You have the chance to customise your character as you wish after you create them, and even features online multiplayer gameplay. Everybody's Golf also gives you the freedom to walk around the golf courses yourself rather than just being taken from hole to hole on a track, and also lets you drive golf carts. And of course, you get to play as much virtual golf as you want!
Everybody's Golf had generally favourable reviews when it released, and very few complaints were made. The game is a simple one, but has the customisation and movement features to add something special to what would have just been a boring and straightforward concept otherwise. Everybody's Golf is very aptly named, because the game can be picked up and enjoyed by everybody. It's not too hard to understand, and before long, you can just be having fun playing! And beyond the golf itself, you can enjoy the extra features, too. Great for fans of sports games and golf especially, but also fun for more casual gamers, Everybody's Golf is a safe investment for Christmas this year.
---
9. Forza Motorsport 7

System: Microsoft Windows, Xbox One
Publisher: Microsoft Studios
Developer: Turn 10 Studios
Release Dates: Oct. 3rd, 2017
Although it's called Forza Motorsport 7, the game is actually the tenth one in the series. It allows you to race over 700 different cars, with new ones and ones from previous games as well. There are 32 different tracks to try as well, with both new and old locations. And the tracks have over 200 different configurations to try out! The newest tracks even have dynamic weather conditions to add something new and exciting to the mix. Forza Motorsport 7 also features customisable drivers for the first time, keeping things interesting and new despite it being another chapter in a long-running series.
Games like Forza Motorsport 7 are great for casual and hardcore gamers alike. If someone just wants to do some casual racing or messing around customising and driving cool cars, they can do that. But if someone wants to play a lot and really master the game, Forza Motorsport 7 allows them to do that as well. With the incredible amount of options and changes that you can make, it keeps the game fresh every time you play it as you experiment with all the cars and settings. Forza Motorsport 7 received generally favourable reviews, and fans of the series or racing games, in general, are sure to have a lot of fun with it. Plus 700 cars? That just sounds awesome!
---
8. Hey! Pikmin

System: Nintendo 3DS
Publisher: Nintendo
Developer: Arzest
Release Dates: Jul. 28th, 2017
In Hey! Pikmin, you play as Captain Olimar who leads a group of Pikmin in his journey to find sparklium to power his ship. Olimar can swim and fly with a jetpack, but he must use the Pikmin he finds around him to successfully navigate levels and solve puzzles. Any Pikmin collected on the level are then sent to Pikmin Park at the end of it, where they can be sent to harvest other items using sparklium. With each part of the park explored and cleared, more sections and benefits open. Throughout the game, there are areas that are Amiibo compatible as well, offering, even more, options and benefits when playing.
Hey! Pikmin is admittedly quite simple, and most of the puzzles aren't very hard to solve. That doesn't mean it's not fun though; there's still something satisfying about throwing Pikmin around the level. The game is thus accessible to everyone, even casual, new, or younger gamers that are just looking for some good entertainment. An added benefit of Hey! Pikmin is its use of the Amiibo feature, which is incorporated very cleanly and charmingly. If you or the gamer in your life enjoy using the Amiibo device, this game is a must-have because it takes advantage better than most. Overall, Hey! Pikmin is a great game for people looking to just play a game for fun without necessarily being challenged or stressed while enjoying it.
---
7. Just Dance 2018

System: PlayStation 4, Xbox One, Nintendo Switch, Wii U, PlayStation 3, Xbox 360, Wii
Publisher: Ubisoft
Developer: Ubisoft Paris, Ubisoft Pune, Ubisoft Shanghai
Release Dates: Oct. 24th, 2017
Just Dance 2018 is the newest entry in the Just Dance series. Like previous games, you have to mimic the on-screen movements to the best of your ability, dancing along with the programmes choreography. The game features a lot of new and current popular songs, as well as some old favourites to try to keep as many kinds of music fans happy as possible. It also lets Just Dance 2018 offer a lot of variety! You play using either motion controllers or associated smartphone applications so that the console can judge how close your movements are to what they should be.
Just Dance 2018 is simple to pick up and hard to master, making it a versatile game for a lot of players. Just about anyone can play and have a good time on the easier modes, but the hard ones really present a challenge for gamers looking for something difficult. Just Dance 2018 also features an all new kids mode, which is aimed at younger dancers and sets them up for a more fun and successful gaming experience. There is also a mode called Dance Lab which has choreography featuring animals and professions, which is an added bit of fun. Just Dance 2018 is great for someone looking for a good game for parties or the family, as well as people who just like dancing or want to be more active!
---
6. Lego Marvel Super Heroes 2

System: PlayStation 4, Xbox One, Nintendo Switch, Microsoft Windows
Publisher: Warner Bros. Interactive Entertainment
Developer: Traveller's Tales
Release Dates: Nov. 14th, 2017
Lego Marvel Super Heroes 2 is the second game in the Lego Marvel series. It features Marvel heroes from different universes and timelines as they band together to defeat Kang the Conqueror across time and space. Sounds pretty dramatic, right? Kang the Conqueror also has the ability to move across timelines and between worlds, and he has been kidnapping the most famous cities to merge them into one city he calls Chronopolis. After ruling Chronopolis, Kang wants to rule the universe! As the heroes' cities are kidnapped, they are all brought together where they must work as a team to prevent this from happening, and ensure that Kang is not successful. It's the only way they can free their cities, and protect the universe!
Basically, Lego Marvel Super Heroes 2 is really fun to play. It features two different kinds of gameplay like all Lego video games - action-adventure sequences, and puzzle-solving portions. Lego Marvel Super Heroes 2 also features the ability to manipulate time and space, allowing the player to move through the open world or Chronopolis. This hodgepodge city is made of so many different places, and each one is different from the rest. It keeps the game exciting and fun to explore because there's always something new to see! Lego Marvel Super Heroes 2 appeals to a lot of different people. Plus there are just so many different Marvel characters to control, each with their own unique abilities and customisations. Whether you (or the person you are shopping for) is a fan of Lego, Marvel, or action-puzzle games, it's a great Christmas choice. Lego games are generally well-received by everyone, and Lego Marvel Super Heroes 2 is no different!
---
5. FIFA 18

System: Microsoft Windows, PlayStation 4, Xbox One, Nintendo Switch, PlayStation 3, Xbox 360
Publisher: EA Sports
Developer: EA Vancouver, EA Romania
Release Dates: Sep. 29th, 2017
FIFA 18 is the newest football game in the FIFA series. It is the second game in the series to use the advanced Frostbite 3 engine. Like previous titles, FIFA 18 allows you to take control of your favourite football team from around the world, pitting them against their opponents and trying to win the title. It has a lot of different gameplay modes, including quick matches and campaigns, as well as multiplayer. In addition to these usual options, FIFA 18 continues the new storyline mode that began on FIFA 17. If you played the previous title, you will pick up where you left off. But don't worry, you can start fresh, too, as you guide 18-year old fully customisable Alex Hunter on his journey to become a footballer.
Football is one of the most popular sports in the world, so a lot of different video games are released to simulate it every year. For this Christmas, we are choosing FIFA 18 as the best choice for sports and football fans. The storyline mode adds something extra to the game that most sports games don't have; you can experience an original story and become invested in customising a player, adding a role-playing element to a genre of game that sees little change over the years other than names on the roster. The in-game commentary is also very believable in all modes, drawing from football in the real world to make the simulation of playing very realistic. Overall, for fans of sports game and specifically of football, this year FIFA 18 is a great choice of gift for a fully immersive experience.
---
4. Splatoon 2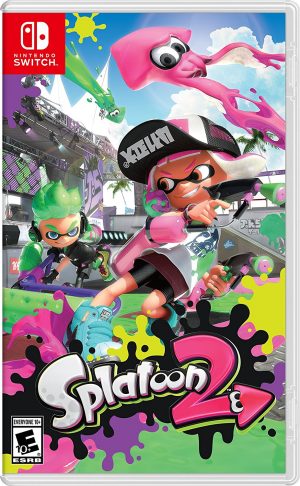 System: Nintendo Switch
Publisher: Nintendo
Developer: Nintendo EPD
Release Dates: Jul. 21st, 2017
Splatoon 2 is the sequel to Splatoon and takes place two years after the first game finishes. It follows Marie, the winner of the last Splatfest when she discovers that her cousin Callie and Great Zapfish have both disappeared from Inkopolis. Fearing foul play and a plot by the evil Octarians, Marie resumes her role as Agent 2 in the Squid Break Splatoon to find her cousin. You play as Agent 4, a random Inkling from the town square who Marie recruits to help her on the case. Together, you fight through Octo Canyon collecting Zapfish and looking for the leader of the Octarians - and hopefully find Callie, too!
After the success of Splatoon, it was inevitable that a sequel would be produced. Splatoon 2 did a good job of keeping what worked well and was loved about the original game, while also adding new features to keep it fresh. A few complaints were made when the game first released in Spring 2017 about game mechanics, but most of those issues have been since resolved. That means Splatoon 2 is working at its optimum right now! And enough people should still be using the online multiplayer to keep that mode fun as well as the storyline, considering the game is less than a year old. For gamers who want the gameplay of a shooter without the blood and violence, Splatoon 2 fills that niche.
---
3. Pokémon Ultra Sun and Ultra Moon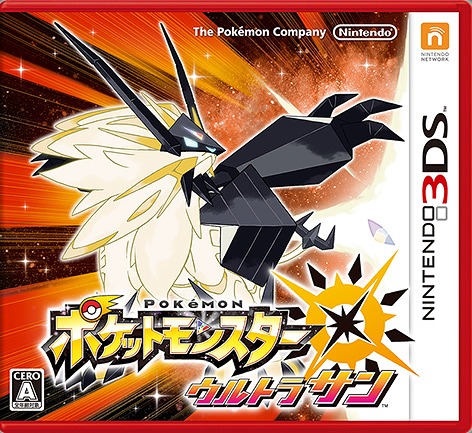 System: Nintendo 3DS
Publisher: The Pokémon Company
Developer: Game Freak
Release Dates: Nov. 17th, 2017
As you can probably guess, in Pokémon Ultra Sun and Ultra Moon, you play as a young Pokémon trainer on their journey to become a Pokémon Master and catch them all. These games are set in the Alola region, which is based on Hawaii, and the player has just moved there with their mum. If you have already played Sun or Moon last year, the game will feel familiar. However, new locations and buildings have been added, previous characters like Lillie and Gladion have undergone massive changes, and the main storyline has changed as well. It now centres on the legendary Pokémon Necrozma, who is the main villain. Team Rainbow Rocket also serves as an antagonistic group, featuring all the previous bad guy leaders from other games in one!
Pokemon Ultra Sun and Ultra Moon feel similar, but different. Enough changes have been made from the previous version of the game to make them worth playing, especially for fans of the Alola region and its Pokémon, but the gameplay is similar enough to make it easy to just pick up and enjoy. Ultra Sun and Ultra Moon also appeal to long-term fans of the Pokémon series by bringing back so many older Pokémon and villains, really playing up the nostalgia factor for gamers. As with all Pokémon titles, Ultra Sun and Ultra Moon appeal to gamers of all ages, making it a failsafe option this Christmas for just about anyone who enjoys 3DS games.
---
2. Super Mario Odyssey

System: Nintendo Switch
Publisher: Nintendo
Developer: Nintendo EPD
Release Dates: Oct. 27th, 2017
Super Mario Odyssey begins with Princess Peach being kidnapped by Bowser to force her to marry him. You play as Mario as you attempt to rescue the princess yet again. However, at the start of the game, Mario is knocked from Bowser's airship and his hat is destroyed in the process! Mario lands in a world called the Cap Kingdom, which is inhabited by sentient cap creatures. Teaming up with one named Cappy whose sister was also kidnapped by Bowser to be Peach's wedding tiara, Mario has to travel through many kingdoms to try to stop true wedding and rescue Peach from Bowser's clutches.
You can never go wrong with a Mario title, so they almost always make a safe gift for people. Super Mario Odyssey is no different and has been critically acclaimed since its release. Some people even claim it's one of the best titles in the Mario series, which is heavy praise for such a long-running name! Cappy is an interesting new character addition, and he gives Mario the ability to capture creatures and objects to help them rescue Peach. There are so many different kingdoms to travel to and freely explore, and each is different from the last. To add a nostalgia factor, some of the kingdoms also feature "flat lands" which imitate the traditional Mario side-scrolling gameplay. For new and old fans of the Mario series, Super Mario Odyssey is a great choice. It appeals to a new generation of gamers while still keeping the old ones satisfied.
---
1. The Legend of Zelda: Breath of the Wild

System: Wii U, Nintendo Switch
Publisher: Nintendo
Developer: Nintendo EPD
Release Dates: Mar. 3rd, 2017
The Legend of Zelda: Breath of the Wild, of course, allows you to play as Link once more. At the beginning of the game, Link awakens from sleeping for over a century to a ruined Hyrule, unlike anything he can remember. Guided by a mysterious voice to a strange old man, Link learns that something called Calamity Ganon has destroyed his home. The Calamity has been contained in Hyrule Castle because no one could defeat it, and in the meantime, the rest of the land was reclaimed by nature. The Calamity has continued to grow in power though, and Link must defeat it before it breaks free and destroys Hyrule forever.
Breath of the Wild is one of the most talked about games of 2017. It's already critically acclaimed, and considered one of the best video games ever made. After five years in development, it was a long time coming, but well worth the wait for everyone. Upon release, it had a lot of technical issues, but they have all been resolved since then, so you shouldn't have any issues playing now. Breath of the Wild is a massive open-world game that lets you explore, experiment, and do what you want as you play, so everyone can make the experience their own. If you or a friend has a Switch, or is planning to get one, Breath of the Wild is unmissable. Some people even claim it's worth buying the system just to play it!
---
Final Thoughts
There's nothing quite like opening up a new, fun game on Christmas for video game fans. And it's, even more, fun when you can start playing it immediately. Whether with friends or by yourself, a handheld or console system, a whole new story or another chapter of a familiar franchise, there are so many games to pick from. We hope with our handy guide, you'll be able to find the perfect game for yourself or someone else this Christmas season from the massive amount of games released in 2017. And remember, all of these titles are safe for gamers of all ages, and you don't have to worry about playing them with your grandma in the same room.
Are there any of these titles you'll be adding to your wish list or be picking up as a gift? Are there any other 2017 games that you think should have been included here? Have you played any of these games and want to leave a good word for a potential player? We want to hear all your comments in the section below!