Halloween is upon us, people. Caramel apples, pumpkins, ghosts, ghouls, vampires, and so much more will be everywhere and that includes our anime. Admittedly, it is rather tough to find episodes that take place exactly on Halloween. It's easy to find one about monsters, easy to find one that's spooky, but not easy to find one that takes place on the holiday. Despite that, many shows will at least have a special Halloween special that is portrayed through a culture festival or through some other type of means. Without further ado, let's get to the list!
10. Hyouka Episode 14

Episodes: 22
Aired: Apr. 2012 – Sep. 2012
Now Hyouka's Halloween special is during a school festival and only has a small focus on Halloween to be honest. In fact, most of the episode is based around a cooking competition. However, you do get quite a few nice snapshots of some awesome costume choices, such as one who takes on Miku Hatsune. Nonetheless, the episode hits its high point when two girls from the confectionary intrude upon the Classic's Club room. They're dressed up with massive pumpkins covering their faces and they repeat trick or treat followed by a 'yay!'. The scene is just somewhat off putting, but more than anything, ridiculous.
---
9. Danshi Koukousei no Nichijou (Daily Lives of High School Boys) Episode 4

Episodes: 12
Aired: Jan. 2012 – Mar. 2012
There are a few awesome episodes in the Daily Lives of High School Boys where the rivalry between the sexes devolves into a pretty glorious battle. In episode 4, the battle is centered upon whether or not the boys' haunted house will be able to make the girls scream. This is quite epic for several reasons. First off, battles of the sexes always make for awesome scenes. Secondly, the boys have a surprisingly terrifying house set up. To be honest, the style and graphic nature of the horrors they throw forth is extremely unexpected, considering the humorous nature of the show. Finally, the fact that Ringo, the president of the girl's school, ends up wrecking the boy's president, because she walks in on him changing, is perfect.
---
8. Gintama Episode 68

Episodes: 201
Aired: Apr. 2006 – Mar. 2010
When you want to see Halloween done right, you need to watch this episode of Gintama. Gintama correctly captures two things about Halloween. The first is that costumes matter. This is something most shows capture as their characters don some type of outfit. However, Gintama does it better than most as each of its characters take on the get-ups of well-known horror stars. Gintoki takes on Jason and Kagura takes on Chuckie and Shinpachi, well Shinpachi didn't get the memo and dressed up as a generic Yakuza member. However, when they're forced to take on different costumes, the creators properly show off the last-minute ditch effort that people generally go through. The shows overall nonchalance about the holiday outside of dressing up is essentially what Halloween is for anyone too old to go trick or treating.
---
7. Orenchi no Furo Jijou (Merman in my Tub) Episode 5

Episodes: 13
Aired: Oct. 2014 – Dec. 2014
Orenchi no Furo Jijou is one of those series that can basically take on any subject with ease and humor due to its styling and short nature. Well, on episode 5 they decided to take on Halloween and they captured the biggest part of it for anyone growing up. The candy. Yep, in this episode, it's clear that the trio is really only interested in getting candy. However there were two standout moments that are fighting for top scene in this episode. The first is from the get go when Tatsumi asks Wakasa "why are you dressed like a woman?" Now there's nothing wrong with dressing like a woman in the first place, but Wakasa's response of "It's the sad destiny of a blond" is pure gold. Then a little later on, when Tatsumi carves a jack-o-lantern, Takasu becomes the star of the show. He takes the pumpkin and shoves it on his head and begins to experience amounts of pleasure that feel inappropriate to describe.
---
6. Yamato Nadeshiko Shichihenge ♥ (The Wallflower) Episode 6

Episodes: 25
Aired: Oct. 2006 – Mar. 2007
When you imagine Sunako, what do you imagine her favorite holiday to be? Christmas? Valentines's Day? Come on, we all know her favorite must be Halloween and this episode makes that fact rather clear. Sadly, the only reason why this episode isn't higher on this list is because only the beginning and end really focus on Halloween. Outside of those moments, it's the crew just trying to figure out why Sunako is so sad. However, few events are as awesome as the beginning scene in any anime. What do we have? We have Sunako running with Jason and his lovely chainsaw, her skeleton Josephine, and the two anatomy figures. Her happiness and the creepiness of the entire scene are quite extraordinary.
---
5. Bleach Episode 304

Episodes: 366
Aired: Oct. 2004 – Mar. 2012
It's somewhat surprising that other shows that have a similarly high episode count don't have a Halloween special. Shows like Naruto and One Piece both fall short in this department, but thankfully Bleach took the time to give us Halloween lovers a special treat. Episode 304 starts off with Ichigo waking up as Frankenstein's monster and being convinced that he must be in a dream. Then Rukia pops up as a succubus and takes him to a castle, where a good chunk of the gang resides. Well, not too surprisingly is the fact that all of them have been monsterfied in some way. Hitsuguya's a wolf, Uryu's a vampire, Rangiku is a witch, Orihime's a pumpkin ghost, and it's all quite ridiculous to be honest. However, there are two particular moments that stand out, and they're pretty close to one another. One is that Uryu refuses to drink blood and so is an anemic vampire and the other is that Rukia has an overt desire to seduce her older brother. Overall, the episode is ridiculous but good for a laugh or two.
---
4. Prism Paradise (PriPara) Episode 17

Episodes: 105
Aired: Jul. 2014 - ?
Thought not actually terrifying, this Halloween episode captures just about every aspect there is to the holiday. It captures scaring people, epic costumes, as well as lots of candy. One of the main things going for this episode, is simply the overload of Halloween-related items they're able to fit within each scene. It's honestly pretty amazing. Admittedly, there are a lot of great scenes to choose from this episode, because the girls are constantly trying to scare one another and there's even a point where Laala takes a selfie with bat balloons that's just too much to handle. However, the actual performance part of the episode takes the cake as their outfit transformations are just spot on. The little touches, like bat wings, a witch's hat, and neko pumpkins, are just amazing.
---
3. Doraemon Episode 580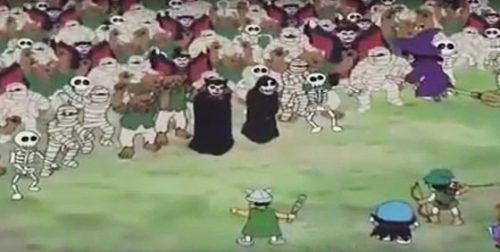 Episodes: 600+
Aired: Apr. 2005 -?
True to its nature, Doraemon's Halloween special is actually quite educational. From the get go they discuss how it's a festival to celebrate the autumn harvest as well as the meaning behind the words 'trick or treat'. Thankfully, they cover that within the first minute, and from there on they have Goda take the idea of trick or treat too far. Admittedly, Nobi didn't do a very good job of explaining what Halloween is actually about, but Goda shouldn't really go about coercing people into giving him free things. Though there are a lot of great moments in this episode, such as Nobi dressing up as a knight by means of newspapers, none are as awesome as the full-on battle that ensues by the end of the episode. Goda, acting as the famous thief Goemon, summons an army of the undead that the crew has to defeat.
---
2. Ouran Host Club Episode 21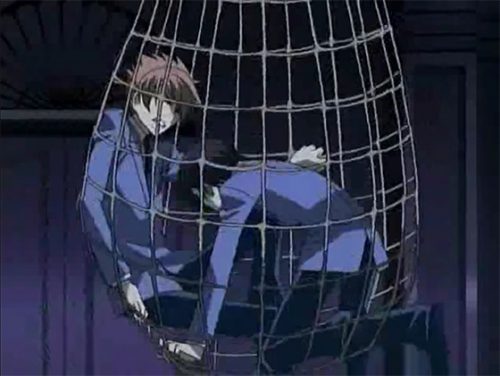 Episodes: 26
Aired: Apr. 2006 – Sep. 2006
Scream challenges and tests of courage have a pretty big role in Halloween. Class 1-A takes on this tradition by splitting up into teams and seeing which team can scare the other better. Enticing each team is the fact that the losers will be featured in the school newsletter with the headline "The Captains of All Cowards." The whole episode has some pretty epic moments. There's Honey jumping out with a massive pumpkin on his head, Tamaki seducing girls as a vampire, and the episode finishes up with Nekozawa scaring the entirety of Class 1-A with a shadow of Beelzenef. However, the shining moment of the episode is when Haruhi and Hikaru get caught up in a net and have a rather intimate, if not awkward, moment. It was one of those moments that really gave shippers of the two something to enjoy.
---
1. Cowboy Bebop: Tengoku no Tobira (Cowboy Bebop: Knockin on Heaven's Door)

Episodes: 1
Aired: Sep. 2001
With Shinichiro Watanabe's love for references within his work, especially ones directed at Western culture, it's no surprise that a few scenes within this movie (which takes place in late October) have nice little shout outs to Halloween. Though the entirety of the movie isn't dedicated to the holiday by any means, it still earns nostalgia points every so often with a well-placed pumpkin. In the very first scene, with the robbery, there's actually a pumpkin balloon in the store. Little touches like that help create an overall nostalgic tone to the movie, which works on multiple levels, considering how the movie in many ways feels like we're receiving a flashback of the Bebop crew when it was still fully together. Nonetheless, the hat must be tipped to the scene where Ed decides to pretend to be a trick or treater by shoving a pumpkin over her head. Sadly, it's the day before Halloween so the first person comes out with a shotgun. The second person believes Ed is giving a little more suggestive ring.
---
Conclusion:
Halloween is simply fun for animators. It provides an opportunity to spice up the visuals as well as throw in a few laughs. It's an enjoyable way to lighten up the mood and make viewers feel a little nostalgic. Now, were there any amazing Halloween scenes that were missed and should have been included on the list?
---