Even though Halloween is primarily a British and American holiday, Japanese people have taken a liking to the fall festivities and spooky spectacles that they've been exposed to through foreign media. Of course, that means that the wonderful world of anime features its fair share of Halloween episodes! But hilariously, most of the ones that are set in Japan focus on how nobody seems to know exactly how Halloween is supposed to work. Today, we're here to see how Japan interprets All Hallow's Eve through ten of our favorite Halloween episodes in anime. Grab a bucket of treats and come with us!
10. The Rogue Robot Chase from Dirty Pair OVA – Episode 2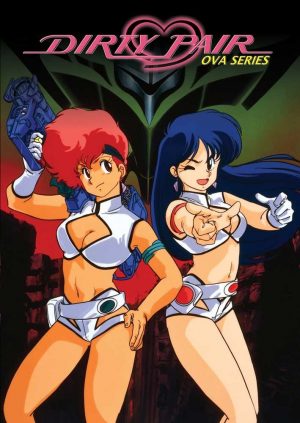 Episodes: 10
Aired: December 1987 – April 1988
Yuri and Kei are excited to party the night away on Halloween, but their hopes are dashed when the 3WA sends them on a mission to dispatch a rogue robot that's terrorizing the town. The Terminator-style robot blends into the crowd of costumed partygoers, making it especially difficult for the Lovely Angels to track it down as it sprints through several other crime scenes that the girls blithely ignore in pursuit of their prize.
They finally manage to put a stop to its rampage by using the town's Halloween fireworks as flashy weapons to blast it into tiny pieces. The crowd is delighted by the display, the robot is left as little more than a head, and Yuri and Kei share a drink to celebrate a job well done. Cheers to Halloween night!
---
9. The Halloween Festival from Keroro Gunsou (Sgt. Frog) – Episode 133

Episodes: 358
Aired: April 2004 – April 2011
Dirty Pair's version of Halloween seemed more like the 4th of July or New Year's, but Keroro Gunsou opts for a traditional Japanese matsuri approach to the holiday. Everyone attends the town's Halloween festival and gets into the spirit of things (the Keroro Platoon wears human disguises to cosplay as monsters, Mutsumi draws little spooky characters that come to life and fly around, the yandere Momoka dons an oddly appropriate half-angel half-devil costume, etc.), but their peaceful night is interrupted when a mysterious girl named Alisa starts attacking the aliens with a shapeshifting cat ear headband. How can the team possibly defeat this strange new threat?
---
8. America and Japan Scare England from Hetalia: The Beautiful World – Episode 12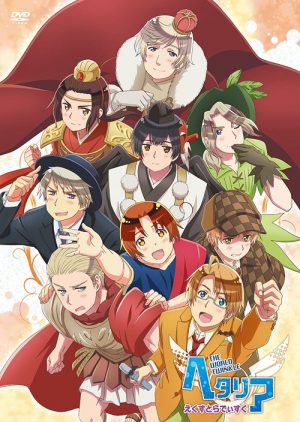 Episodes: 20
Aired: January 2013 – June 2013
America and England have been pranking each other on Halloween since time immemorial, but England has always won. Remembering how terrifying Japanese horror movies can be, America busts into Japan's house while the country is trying to take a relaxing bath and shanghaied him into helping with this year's prank.
England shows up with a jolly old fairy to scare America, but ends up spooked himself when Japan and England decide to use the unsettlingly friendly (but secretly dangerous) Russia as a "receptionist" to send their competition fleeing as soon as he opens the door. Now that's some clever thinking!
---
7. The Pumpkin Treat Party from Himouto! Umaru-chan OVA – Episode 1

Episodes: 2
Aired: October 2015 – April 2017
True to her lazy personality, Umaru gets into the Halloween spirit several weeks early and dresses up in a "monster" costume (really just a wolf kigurumi) so she can demand that Taihei make pumpkin treats for her and Kirie. Her older brother prepares quite the feast: pumpkin gratin served in the gourd, pumpkin pizza, pumpkin sauté, omurice, soup, and of course a pumpkin pie! Everything is actually made with a smaller green pumpkin variety called kabocha that serves as Japan's closest substitute to the American orange pumpkin, but Umaru and Kirie don't mind. They feel like they've been transported to a foreign country!
---
6. Cute and Scary Jack-o-Lanterns from Soul Eater NOT! – Episode 10

Episodes: 12
Aired: April 2014 – July 2014
Soul Eater already incorporates Halloween imagery like witches and zombies into its world of teenage demon hunters, so it's only natural that the holiday itself would be a momentous occasion at DWMA. In preparation for the Halloween festivities, Tsugumi makes adorable little jack-o-lanterns of her friends and shows them off in her dorm room. The sheltered and serious Anya, on the other hand, makes a terrifying jack-o-lantern with a sewn-together mouth and deep-set eyes because she heard that Halloween is supposed to be scary.
This cute little moment is cut short when Tsugumi receives a letter that her beloved pet dog is on death's door, which leads to a series of very somber scenes mixed in with Halloween merriment. The tonal consistency of this show could use some work, but at least we got some precious jack-o-lanterns out of it!
---
5. A Traditional Halloween from Hoozuki no Reitetsu 2nd Season (Hozuki's Coolheadedness 2) – Episode 4

Episodes: 13
Aired: October 2017 – December 2017
Halloween spirit is in full force in both Heaven and Hell this year, with the lecherous pharmacist Hakutaku enjoying the abundance of cute girls in revealing costumes. Hoozuki, however, forbids any kind of Halloween celebration unless it's carried out in the traditional Celtic manner with turnip lanterns and a stronger emphasis on demons.
This is one of very few anime that chooses to explore the British version of the holiday, if only because Hoozuki thinks that it resembles Obon and thus ties in more closely with Japanese Hell. Hoozuki and the Zashiki twins hatch a plan to recreate the Parade of a Hundred Demons, but it's doubtful that it would actually be successful...
---
4. Haruhi Doesn't Understand Halloween from Suzumiya Haruhi-chan no Yuuutsu (The Melancholy of Haruhi-chan Suzumiya) – Episode 13

Episodes: 25
Aired: February 2009 – May 2009
Continuing on with the theme of Japanese people not really understanding Halloween, this parody spinoff of the Haruhi series shows what happens when the SOS Brigade attempts to celebrate the holiday in their clubroom. With only a single flyer depicting bats and a pumpkin-headed ghost to draw inspiration from, Haruhi cobbles together a monster of her own design. It's a medical dummy stolen from the science classroom, dressed in a cloak and a carved-out pumpkin, with live bats tied to it with strings and a seaweed snack taped to its chest. Haruhi calls her project "enshrining the original god".
---
3. Eiji Throws Ash a Halloween Party from Banana Fish – Episode 12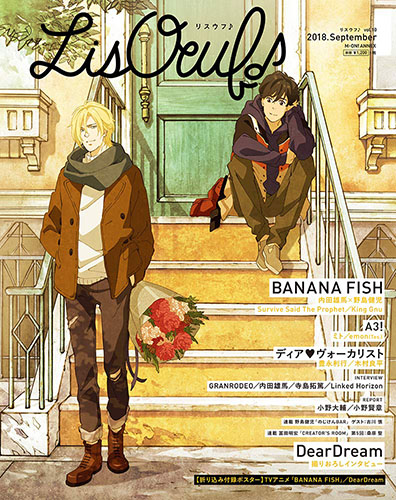 Episodes: 24
Aired: July 2018 – December 2018
New York gang leader Ash is in a very bad place emotionally after being forced to commit atrocities just to ensure the safety of his friends and family. Luckily, his closest friend and personal cheerleader Eiji has just the thing to make Ash smile again.
He finds it adorable that Ash is creeped out by pumpkins, so he arranges a small Halloween party with the other gang members to prank his friend and force him to spend some peaceful time with them instead of being consumed by grief. Ash wears a genuine smile for the entire evening, deeply touched by Eiji's gesture of kindness toward someone as broken as himself.
---
2. The Pumpkin Kingdom's Treasure from Go! Princess Pretty Cure: Go! Go!! Gouka 3-bondate!!! (Go! Princess Pretty Cure: Go! Go!! Gorgeous Triple Feature!!!)

Episodes: 1
Aired: October 2015
This special movie for Go! Princess Precure, which is split into three mini features, is overflowing with Halloween magic. One segment shows a chibi version of Cure Flora playing with a magic mirror, while the other two tell the story of a pumpkin kingdom that has lost its princess to the evil Night Pumpkin.
With the help of their new friend Refi, who has an enigmatic connection to the princess, the Precure girls save Princess Pumplulu from her prison and gain spectacular fall-themed dresses along the way. This movie is just silly, fluffy fun, but it's so well done that you can't help but smile.
---
1. Blood: The Last Vampire

Episodes: 1
Aired: November 2000
And going in the complete opposite direction, we have the gritty tale of Blood: The Last Vampire. Set in an American military base in Tokyo on the eve of the Vietnam War, the movie follows a stoic vampire girl named Saya who hunts bat-like monsters named chiropterans at the behest of a secret government agency. On Halloween night, a group of chiropterans descends upon the nearby high school and Saya is tasked with eliminating them before they can suck the blood of the innocent students.
Besides being a legitimately great horror movie, Blood: The Last Vampire is also a pioneer in technology and presentation. It's the first anime to blend 2D and 3D animation techniques, uses a unique mix of Japanese and English dialogue depending on which characters are speaking, and it launched an entire Blood franchise that follows Saya's adventures in alternate universes. Be sure to experience this classic for yourself!
---
Final Thoughts
Even though Japanese people celebrate Halloween differently than we do, they've still given us some fantastic viewing material for the harvest season. Put on a marathon of your favorite Halloween anime episodes for your party this year – it's a surefire holiday hit!
What did you think of our list? Did we miss any of your favorite Halloween moments? Let us know in the comments, be sure to check out the previous list below, and thanks so much for reading!
---
---
Halloween is upon us, people. Caramel apples, pumpkins, ghosts, ghouls, vampires, and so much more will be everywhere and that includes our anime. Admittedly, it is rather tough to find episodes that take place exactly on Halloween. It's easy to find one about monsters, easy to find one that's spooky, but not easy to find one that takes place on the holiday. Despite that, many shows will at least have a special Halloween special that is portrayed through a culture festival or through some other type of means. Without further ado, let's get to the list!
10. Hyouka Episode 14

Episodes: 22
Aired: Apr. 2012 – Sep. 2012
Now Hyouka's Halloween special is during a school festival and only has a small focus on Halloween to be honest. In fact, most of the episode is based around a cooking competition. However, you do get quite a few nice snapshots of some awesome costume choices, such as one who takes on Miku Hatsune. Nonetheless, the episode hits its high point when two girls from the confectionary intrude upon the Classic's Club room. They're dressed up with massive pumpkins covering their faces and they repeat trick or treat followed by a 'yay!'. The scene is just somewhat off putting, but more than anything, ridiculous.
---
9. Danshi Koukousei no Nichijou (Daily Lives of High School Boys) Episode 4

Episodes: 12
Aired: Jan. 2012 – Mar. 2012
There are a few awesome episodes in the Daily Lives of High School Boys where the rivalry between the sexes devolves into a pretty glorious battle. In episode 4, the battle is centered upon whether or not the boys' haunted house will be able to make the girls scream. This is quite epic for several reasons. First off, battles of the sexes always make for awesome scenes. Secondly, the boys have a surprisingly terrifying house set up. To be honest, the style and graphic nature of the horrors they throw forth is extremely unexpected, considering the humorous nature of the show. Finally, the fact that Ringo, the president of the girl's school, ends up wrecking the boy's president, because she walks in on him changing, is perfect.
---
8. Gintama Episode 68

Episodes: 201
Aired: Apr. 2006 – Mar. 2010
When you want to see Halloween done right, you need to watch this episode of Gintama. Gintama correctly captures two things about Halloween. The first is that costumes matter. This is something most shows capture as their characters don some type of outfit. However, Gintama does it better than most as each of its characters take on the get-ups of well-known horror stars. Gintoki takes on Jason and Kagura takes on Chuckie and Shinpachi, well Shinpachi didn't get the memo and dressed up as a generic Yakuza member. However, when they're forced to take on different costumes, the creators properly show off the last-minute ditch effort that people generally go through. The shows overall nonchalance about the holiday outside of dressing up is essentially what Halloween is for anyone too old to go trick or treating.
---
7. Orenchi no Furo Jijou (Merman in my Tub) Episode 5

Episodes: 13
Aired: Oct. 2014 – Dec. 2014
Orenchi no Furo Jijou is one of those series that can basically take on any subject with ease and humor due to its styling and short nature. Well, on episode 5 they decided to take on Halloween and they captured the biggest part of it for anyone growing up. The candy. Yep, in this episode, it's clear that the trio is really only interested in getting candy. However there were two standout moments that are fighting for top scene in this episode. The first is from the get go when Tatsumi asks Wakasa "why are you dressed like a woman?" Now there's nothing wrong with dressing like a woman in the first place, but Wakasa's response of "It's the sad destiny of a blond" is pure gold. Then a little later on, when Tatsumi carves a jack-o-lantern, Takasu becomes the star of the show. He takes the pumpkin and shoves it on his head and begins to experience amounts of pleasure that feel inappropriate to describe.
---
6. Yamato Nadeshiko Shichihenge ♥ (The Wallflower) Episode 6

Episodes: 25
Aired: Oct. 2006 – Mar. 2007
When you imagine Sunako, what do you imagine her favorite holiday to be? Christmas? Valentines's Day? Come on, we all know her favorite must be Halloween and this episode makes that fact rather clear. Sadly, the only reason why this episode isn't higher on this list is because only the beginning and end really focus on Halloween. Outside of those moments, it's the crew just trying to figure out why Sunako is so sad. However, few events are as awesome as the beginning scene in any anime. What do we have? We have Sunako running with Jason and his lovely chainsaw, her skeleton Josephine, and the two anatomy figures. Her happiness and the creepiness of the entire scene are quite extraordinary.
---
5. Bleach Episode 304

Episodes: 366
Aired: Oct. 2004 – Mar. 2012
It's somewhat surprising that other shows that have a similarly high episode count don't have a Halloween special. Shows like Naruto and One Piece both fall short in this department, but thankfully Bleach took the time to give us Halloween lovers a special treat. Episode 304 starts off with Ichigo waking up as Frankenstein's monster and being convinced that he must be in a dream. Then Rukia pops up as a succubus and takes him to a castle, where a good chunk of the gang resides. Well, not too surprisingly is the fact that all of them have been monsterfied in some way. Hitsuguya's a wolf, Uryu's a vampire, Rangiku is a witch, Orihime's a pumpkin ghost, and it's all quite ridiculous to be honest. However, there are two particular moments that stand out, and they're pretty close to one another. One is that Uryu refuses to drink blood and so is an anemic vampire and the other is that Rukia has an overt desire to seduce her older brother. Overall, the episode is ridiculous but good for a laugh or two.
---
4. Prism Paradise (PriPara) Episode 17

Episodes: 105
Aired: Jul. 2014 - ?
Thought not actually terrifying, this Halloween episode captures just about every aspect there is to the holiday. It captures scaring people, epic costumes, as well as lots of candy. One of the main things going for this episode, is simply the overload of Halloween-related items they're able to fit within each scene. It's honestly pretty amazing. Admittedly, there are a lot of great scenes to choose from this episode, because the girls are constantly trying to scare one another and there's even a point where Laala takes a selfie with bat balloons that's just too much to handle. However, the actual performance part of the episode takes the cake as their outfit transformations are just spot on. The little touches, like bat wings, a witch's hat, and neko pumpkins, are just amazing.
---
3. Doraemon Episode 580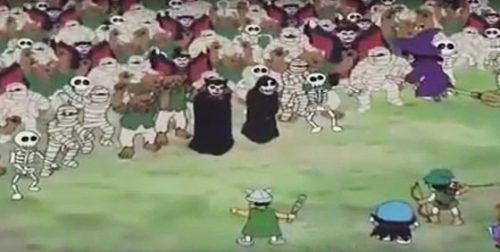 Episodes: 600+
Aired: Apr. 2005 -?
True to its nature, Doraemon's Halloween special is actually quite educational. From the get go they discuss how it's a festival to celebrate the autumn harvest as well as the meaning behind the words 'trick or treat'. Thankfully, they cover that within the first minute, and from there on they have Goda take the idea of trick or treat too far. Admittedly, Nobi didn't do a very good job of explaining what Halloween is actually about, but Goda shouldn't really go about coercing people into giving him free things. Though there are a lot of great moments in this episode, such as Nobi dressing up as a knight by means of newspapers, none are as awesome as the full-on battle that ensues by the end of the episode. Goda, acting as the famous thief Goemon, summons an army of the undead that the crew has to defeat.
---
2. Ouran Host Club Episode 21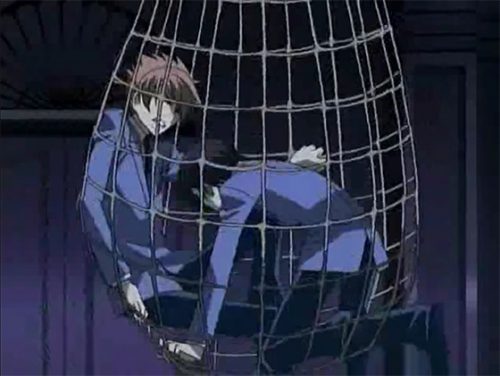 Episodes: 26
Aired: Apr. 2006 – Sep. 2006
Scream challenges and tests of courage have a pretty big role in Halloween. Class 1-A takes on this tradition by splitting up into teams and seeing which team can scare the other better. Enticing each team is the fact that the losers will be featured in the school newsletter with the headline "The Captains of All Cowards." The whole episode has some pretty epic moments. There's Honey jumping out with a massive pumpkin on his head, Tamaki seducing girls as a vampire, and the episode finishes up with Nekozawa scaring the entirety of Class 1-A with a shadow of Beelzenef. However, the shining moment of the episode is when Haruhi and Hikaru get caught up in a net and have a rather intimate, if not awkward, moment. It was one of those moments that really gave shippers of the two something to enjoy.
---
1. Cowboy Bebop: Tengoku no Tobira (Cowboy Bebop: Knockin on Heaven's Door)

Episodes: 1
Aired: Sep. 2001
With Shinichiro Watanabe's love for references within his work, especially ones directed at Western culture, it's no surprise that a few scenes within this movie (which takes place in late October) have nice little shout outs to Halloween. Though the entirety of the movie isn't dedicated to the holiday by any means, it still earns nostalgia points every so often with a well-placed pumpkin. In the very first scene, with the robbery, there's actually a pumpkin balloon in the store. Little touches like that help create an overall nostalgic tone to the movie, which works on multiple levels, considering how the movie in many ways feels like we're receiving a flashback of the Bebop crew when it was still fully together. Nonetheless, the hat must be tipped to the scene where Ed decides to pretend to be a trick or treater by shoving a pumpkin over her head. Sadly, it's the day before Halloween so the first person comes out with a shotgun. The second person believes Ed is giving a little more suggestive ring.
---
Conclusion:
Halloween is simply fun for animators. It provides an opportunity to spice up the visuals as well as throw in a few laughs. It's an enjoyable way to lighten up the mood and make viewers feel a little nostalgic. Now, were there any amazing Halloween scenes that were missed and should have been included on the list?
---