If you grew up with Halloween as a kid, you know very well that dressing up is half the fun of the holiday (of course the free candy is the other half!). But most years, truly awesome costumes are few and far between.
Well, in preparation for this year's Halloween, we're bringing you some absolutely amazing costumes with the moe spice of Japanese cosplay. Specifically, these are cosplays of characters from Love Live!, The iDOLM@STER, Death Note, and Sankarea, with a Halloween spin.
Stay tuned for more cosplay and other Halloween related articles coming soon here at Honey's Anime!
Love Live! Cosplay(Halloween Ver.)
Nozomi Tojo Cosplay
02
03
04
05
Maki Nishikino Cosplay
06
07
08
09
10
11
Nico Yazawa Cosplay
12
13
14
15
16
iDOLM@STER Cosplay(Halloween Ver.)
Hibiki Ganaha Cosplay
17
18
19
20
21
22
23
Takane Shijou Cosplay
24
25
26
27
28
29
30
31
Miki Hoshii Cosplay
32
33
34
35
Death Note Cosplay
Misa Amane Cosplay
36
37
38
39
40
Ryuk Cosplay
41
42
43
Sankarea Cosplay
44
45
46
47
---
About Love Live!
Otonokizaka High School stands on the border of three cities: Akihabara—a pop culture mecca that's evolving by the minute; Kanda—a conservative, cultured city where history and tradition reign supreme; and Jinbo—a quiet area reserved for a more mature, sophisticated population. Amidst this culture clash, the school now faces closure due to the enrollment of fewer and fewer students.
With the school planning to close within three years, nine female students come together with one thing in mind—form a pop idol group to revive the school's popularity and keep it from shutting down. "In order to protect our beloved school, there's only one thing we can do... become pop stars!"
Their goal is simple: Become an overnight sensation and use their nationwide media exposure to promote their school and bring in a wave of new students to the ailing area. A simple but solid plan, they figure. Naturally, they're nervous and wonder if this plan can really succeed, but for better or worse their new journey has begun...
"All we can ask for is just a tiny bit of support from you. We truly believe that with your help, we can change the world around us. We will make our dreams come true!"
(Source: NIS America)
Love Live! Characters Profile
Nozomi Tojo Profile
Age: 17
Birthday: June 9
Blood type: 0
Height: 159 cm
BWH: 90-60-82
Favorite food: Yakiniku
Least favorite food: caramel
Nozomi is Eri's best friend and the vice president of the school's student council. She often advises μ's and appears as wise. However, because of the way she punishes them (by grabbing their breasts), she often seems perverted. Despite this, she is the eldest member of μ's.
She likes spiritual things such as "power spots" and charms, though she is most well known for her fortune-telling which she uses as her secret method of quickly fitting in whenever she is forced to change environments. She also finds an interest in helping the other girls as much as possible. She was Otonokizaka High School's student council vice-president. It is also stated that she likes taking naps.
(Source: Love Live! School Idol Project Wikia)
Maki Nichikino Profile
Age: 15
Birthday: April 19
Blood type: AB
Height: 161 cm
BWH: 78-56-83
Favorite food: tomatoes
Least favorite food: tangerines
Maki has the qualities of a tsundere and has a hard time admitting her true feelings to her peers. She also has somewhat childish beliefs due to the group finding out that she still believes in Santa Claus. Maki is also quite stubborn.
Maki is skilled at playing the piano, and is the composer of the group. Her other hobbies are photography and stargazing.
(Source: Love Live! School Idol Project Wiki)
Nico Yazawa Profile
Age: 17
Birthday: July 22
Blood type: A
Height: 154 cm
BWH: 74-57-79
Favorite food: sweets
Disliked Food: spicy foods
Normally, Niko has quite an aggressive personality, but when she takes on her alternate personality she becomes a happy, upbeat character who is always smiling. Her catchphrase is "Nico Nico Nii!" accompanied with a pose. She often thinks a bit highly of herself but despite that, she is also caring.
A common joke in the series is that she's often ignored by the other members of μ's at her attempts at being the better idol.
Yazawa Niko was the Idol Research Club's president. In Episode 10 Niko is shown to be a very skilled cook despite her saying she has never cooked before. She is also interested in fashion.
(Source: Love Live! School Idol Project Wikia)
About iDOLM@STER
THE iDOLM@STER follows 13 girls from the 765 Production Studio, whose sole goals is to become the top idols in the Japanese entertainment industry. Along with the laughs, struggles and tears that are inherently part of this journey, you will cheer for the girls of iDOLM@STER as they climb their way to the top!
(Source: Crunchyroll)
iDOLM@STER Characters Profile
Hibiki Ganaha Profile
Age: 16
Birthday: October 10
Height: 152 cm
Weight: 41 kg
Blood type: A
BWH: 83-56-80
Likes: knitting, table tennis, animals
Image color: light blue
Hibiki is a member of "Project Fairy," she appears in the PSP game as a rival. Hibiki has long black hair tied into a wild ponytail and is usually seen in sporty outfits, usally using hoop earrings. Hibiki is from Okinawa, and is highly energetic and cheerful. Despite being a rival to other idols, she always remains friendly and happy, without becoming overly competitive like Takane. Hibiki has an outstanding amount of pets, which she happens to lose quite frenquently. Her pets include a mouse, a hamster named Hamuzou, a gerbil, a parrot, a rabbit, a cat, a dog named Inumi, a pig, a flying squirrel, and oddly enough, a crocodile; the closest of these being Hamuzou the hamster. In the anime, Hamuzou sometimes whispers information into her ear while standing on her shoulder. Hibiki joins Studio 765 in the IM@S2.
(Source: Project-iM@S, iDOLM@STER Wikia)
Takane Shijou Profile
Age: 18
Height: 169 cm
Weight: 49 kg
Birthday: January 21
Blood Type: B
B-W-H: 90-62-92
Hobbies: Stargazing, Stage Shows
Image Color: Carmine
Takane Shijou is an elegant, mature woman, although mysterious. Nobody is sure where's she from or her background story. She prefers not to answer any personal questions out of curiosity. She is considered one of the smarter characters in the series, and is fluent in numerous languages, one of which being German. Furthermore, it is implied in the anime that her native country is not Japan. In The iDOLM@STER (TV Series) She is rumored to be of foreign royalty, giving her the nickname "Silver Queen".
(Source: Project-IM@S)
Takane Shijou, an elegant and majestic figure, she is known as "The Silver Queen" by her fans in the game, and also known as "The Vocal Master" of 961 Production, rivaling, and even supposedly surpassing Chihaya's ability. She comes from a very wealthy family, like Iori, and is in fact half European, most likely German.
Because of the way Takane was raised in a rich family, she has a strong and stuck-up personality, though she talks very politely to others, even towards her rivals and enemies.
Even though very hard-headed sometimes, she hates being alone and in fact when alone she begins to cry while staring at the moon. Takane is also a very smart girl, almost comparable to Ritsuko, and though she does nothing against it, she is well aware that President Kuroi is telling her ridiculous lies.
Takane's family consists of herself and father, her mother having passed away when she was little. In fact, she stated that she never even met her mother. She is raised by her strict butler due to her father frequently being away for business trips.
Takane has a strong passion for music and stage shows, she is also fluent in almost all languages related to Latin.
(Source: Project-iM@S, iDOLM@STER Wikia)
Miki Hoshii Profile
Age: 15
Birthday: November 23
Height: 161 cm
Weight: 44 kg
Blood type: B
BWH: 86-55-83
Likes: bird-watching, chatting with friends
Miki has rarely had to work hard for anything. It is because of this that she always approaches tasks with a very laid back attitude. She manages good grades with minimal effort, and was born with good-looks that belie her age. She even receives around 20 confessions of love per day from boys. She's grown up in a very laissez-faire family, who had no problems with her becoming an idol. While she doesn't really have cruel intentions, she believes like everything else, she can make her way to becoming top idol easily. As she appears only in the Xbox 360 version of the game, Miki is in some ways the second main character (behind Haruka) and her character is developed considerably over the game's year-long timespan. Later in the game, she cuts her hair short and no longer dyes it blonde. Originally, Miki wasn't supposed to be in the game (as seen in the promo). This could be why she does not appear in anime spin-off Idolmaster: Xenoglossia.
(Source: Wikipedia, idolmaster.jp))
About Death Note
A shinigami, as a god of death, can kill any person—provided they see their victim's face and write their victim's name in a notebook called a Death Note. One day, Ryuk, bored by the shinigami lifestyle and interested in seeing how a human would use a Death Note, drops one into the human realm.
High school student and prodigy Light Yagami stumbles upon the Death Note and—since he deplores the state of the world—tests the deadly notebook by writing a criminal's name in it. When the criminal dies immediately following his experiment with the Death Note, Light is greatly surprised and quickly recognizes how devastating the power that has fallen into his hands could be.
With this divine capability, Light decides to extinguish all criminals in order to build a new world where crime does not exist and people worship him as a god. Police, however, quickly discover that a serial killer is targeting criminals and, consequently, try to apprehend the culprit. To do this, the Japanese investigators count on the assistance of the best detective in the world: a young and eccentric man known only by the name of L.
[Written by MAL Rewrite]
Death Note Characters Profile
Misa Amane Profile
Birthdate: December 25, 1984 (1987 in the anime)
Born in: Kyoto
Height: 152 cm (4 ft 11 in)
Weight: 36 kilograms (79 pounds)
B-W-H: 76 cm - 51 cm - 75 cm
Blood Type: AB
Misa is a famous model, singer and actress and has an immense crush on Light Yagami. She usually refers to herself in the third person by calling herself "Misa-Misa" and tends to be hyperactive. She poses as the second Kira to attract the attention of the first Kira.
Ryuk Profile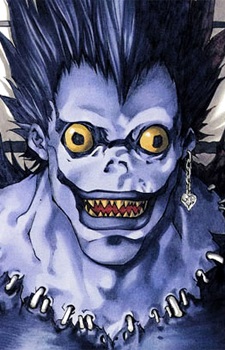 Likes: apples, the human world, chaos, Misa
Dislikes: Being bored, not having apples, relapse
The original Shinigami who dropped the Death Note in the human world, and also love apples, which Light would pick up. Acting out of pure boredom, Ryuk begins the story of Death Note on a whim. Perhaps neutral by nature, Ryuk often refuses to aid Light and instead enjoys watching him struggle for his goal. The most important facet of Ryuk's character is that he is not Light's friend. He acts for his own interests and entertainment, and often fails to tell Light key details about the Death Note. Ryuk is selfish, however, and will aid Light if it serves his own goals, such as providing amusement or obtaining apples.
(Source: Wikipedia)
About Sankarea
Furuya's not interested in the living, he's got zombies on the brain! When Furuya's cat dies, he decides he's going to try and bring it back to life. In the process, he stumbles across a girl who is involved in an accident and turns into a real zombie! What's Furuya going to do now that the thing he loves the most is right in front of his eyes?
(Source: FUNimation)
Sankarea Characters Profile
Sankarea Profile
Age: 15 years old
Height: 161 cm (5'3")
School: Sanka Girls' High School
Class: First Year Student
Rea is the heroine of the story who steals and drinks some of the zombie potion made by Chihiro in an attempt to commit suicide because of the sheltered life she lives. She fails in the attempt but she resurrects as zombie when she accidentally falls of a cliff and dies. As a zombie, she lives together with Chihiro in order to know how it feels to become free from her father's chains.
Rea is friendly with everyone at the shrine, including Darin despite her intentions to use Rea as a research subject. She calls Mero by Mero-Chan similar to that of Mero's mother which causes Mero great discomfort at first. Similarly, she calls Darin with the -Chan suffix to Darin's discontent.
She likes Chihiro and feels like she is bothering or interrupting Chihiro and Ranko's relationship. She seems to understand Bābu. She's also physically strong as her body is no longer restrained by her brain as a result of her death.
---