También puedes leer este artículo en:Español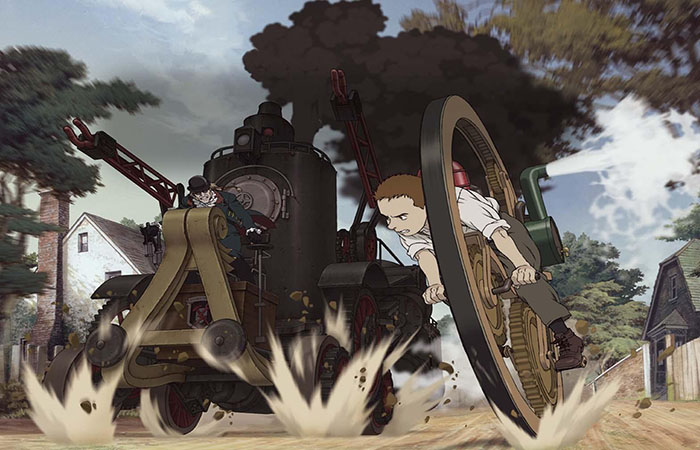 Warning: some of the animes mentioned in this article contain references of war. If you find such content sensitive, you can choose to read other articles instead.
It looks like nowadays, anime movies are an awesome experience which combine the best of technology and entertainment. Internationally, films like Kimi no Na Wa are winning over anime new fans. It might look like Japan is always at the top of futuristic utopias for some of those new audiences. That is why it is refreshing to remember that anime has a long history behind, spurring since after World War II. Creators have put their best efforts into crafting the story of their country or adapting the stories of others into movies. Today in Honey Anime's we would like to remember some of the best films that capture the essence of an age gone or that have been able to convey the life of a remarkable person in a masterful way. Without further ado, here are some of the best historical anime movies.
10. O-Hoshisama no Rail (Rail of the Star: A True Story of Children)

Episodes: 1 hr. 19 mins.
Released: Jul 10, 1993
We are at the World War II but in a different country (North Korea). O-Hoshisama no Rail tells us the real story of Chitose Kobayashi, a Japanese girl who was living there with her family. Because of her father's past as a soldier and the hostilities of the Chinese and North Korean armies combined, the Kobayashis decide to make a dangerous trip on foot to reach the South Korean peninsula.
What is interesting about O-Hoshisama no Rail is the interaction the Japanese have with the Koreans. In a relatively short time, the Japanese pass from being owners to being persecuted. The story between both countries has never been easy, but here we can take a first hand look of that. It also is a story that focuses on girls, which is a difference among historical anime Japanese films of the time.
---
9. Anne no Nikki (The Diary of Anne Frank)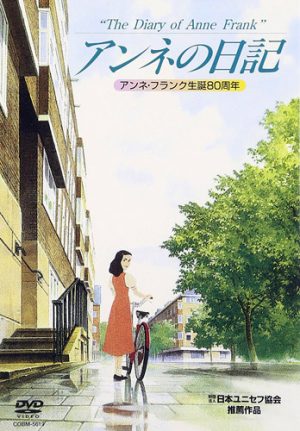 Episodes: 1 hr. 28 mins.
Released: Aug 19, 1995
It is Amsterdam in the 1940's. Anne Frank receives a diary and starts recording her daily life. Unfortunately, the Nazis are rounding up Jews and Anne's family goes into hiding. From that point on, her diary becomes a chronicle of survival but also of Anne's coming of age.
This version of the life of Anne Frank does not look much like an anime. The creators opted to give it a more occidental look. The backgrounds are so detailed that they look like watercolor paintings sometimes. It takes a while to get used to the style, but the timeless adventures of Anne will capture your heart.
---
8. Hadashi no Gen (Barefoot Gen)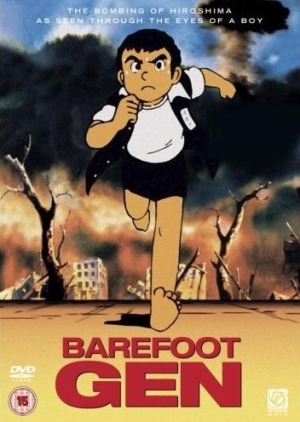 Episodes: 1 hr. 23 mins.
Released: Jul 21, 1983
Keiji Nakazawa was a resident in Hiroshima when the bomb was thrown there. He spent most of his life depicting diverse versions of what happened in his work, but perhaps, none of them is as famous as Hadashi no Gen. Gen Nagaoka is a normal boy who lives with his family. They are trying to survive to the long World War II, but everything radically changes when the US government decides to throw a bomb on the city.
If there is a combination that the Japanese have been mastering since the end of World War II, is the depiction of armed conflict (especially if it happened for real) and children. Keiji Nakazawa was one of the pioneers in this department, and he does not mince words nor images. You will need a strong stomach to watch this classic. However, the charismatic protagonist, his misfortunes and battle to survive are worth your time. This movie won a prize at the Mainichi Film Awards in 1983.
---
7. Flanders no Inu (The Dog of Flanders)

Episodes: 1 hr. 42 mins.
Released: Mar 15, 1997
We will travel to Europe once again. Now we are in Belgium in the beginning of the 19th century! Based on a classical novel, Flanders no Inu tells us the moving story of a boy and his dog. Nello is a poor boy who dreams of becoming an artist, so he moves to the big city. Will he achieve it? How might Nello's dog friend Patrash help him?
The Dog of Flanders has been remade several times in the anime realm. This version takes advantage of computer graphics combined with traditional animation to revive the old times in Europe in its full glory. Not only is the classical art reflected here, the lovely countryside is also included. For being a brilliant remake of a sweet and classic story, we could not ignore Flanders no Inu in this Top 10.
---
6. Juubee Ninpuuchou (Ninja Scroll)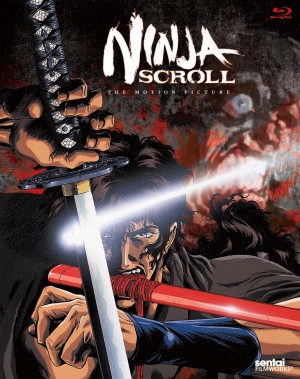 Episodes: 1 hr. 34 mins.
Released: Jun 5, 1993
Let's leave Europe for a moment. Now we are back in Japan during the Sengoku period. A vagabond swordsman under the name of Jubei Kibagami saves a female ninja called Kagero. Thus, Jubei, who hates to be involved in war and politics, will inevitably go back to confront both while he tries to help Kagero.
Juubee Ninpuuchou was a classical fighting anime that stood on its own. Highly acclaimed by both the critics and the fans, it still holds its charm today. If you are into action, adventure and some intrigue, Juube Ninpuuchou is the historical anime film for you. It will take you back to the times when the sword ruled the lands!
---
5. Steamboy

Episodes: 2 hrs. 6 mins.
Released: Jul 17, 2004
Katsuhiro Otomo is well known because of Akira, however, one of his other masterful works is Steamboy. Located in a reimagined Victorian England, this film tells us the adventures of the Steam family. All the men in the family are engineers who get in a tricky situation with a new invention courtesy of grandpa Steam.
Although Steamboy might also qualify for one of the best steampunk anime movies of all time, the faithful way in which the architecture and the fashion of the Victorian era were reproduced distinguish it from other similar productions. Also, the notion that the power of steam was the angular stone of the era is the foundation for the plot. In many ways, this is an unforgettable anime that will take you to a wonderful ride into early technology. Steamboy won a prize for Best Animated Feature Film at the Catalonian International Film Festival. You definitely should not miss out!
---
4. Stranger: Mukou Hadan (Sword of the Stranger)

Episodes: 1 hrs. 43 mins.
Released: Sep 29, 2007
Studio Bones have brought us high quality anime for a long time now (remember Cowboy Bebop?). In Stranger, they take us to the Warrior States era in Japan. The protagonists are one boy and his dog. Kotarou and Tobimaru steal to survive, but something strange happens when the soldiers of Ming Dynasty arrive with orders to capture Kotarou at all costs. Now, he will depend on the protection of a vagabond samurai called Nanashi to find out why the Ming troops and the Japanese ones are so interested in him.
We only have to watch a few minutes of this film to see how badass it is. If you are into samurais and action (Rurouni Kenshin for example), this might be the film for you. Besides that, we get all the charisma of a little boy and his shiba inu companion to balance the violence. Stranger won two international prizes, so it is worth watching.
---
3. Sennen Joyuu (Millennium Actress)

Episodes: 1 hrs. 27 mins.
Released: Sep 14, 2002
During the Showa period (1920's to 1940's), there was a boom in the Japanese film production. The famous director Satoshi Kon (most known for Perfect Blue) takes us to this fleeting world through the recollections of a retired actress called Chiyoko Fujiwara. However, the secret behind Chiyoko's successful career reveals a sad story of lost love and conflict. Throughout her filmography, her own life events blend to the point that we can not distinguish reality from fantasy.
The story of a woman pursuing a mysterious man would be dull in the hands of a less skilled director. However, this is Satoshi Kon, who makes art in every film that he is in charge of. If we add all the representative time periods of Japan that he covered through Chiyoko's filmography, we get a unique feeling. Millennium actress won 4 domestic and international prizes. If you like love stories but also historical anime, you might like to give a chance to Chiyoko.
---
2. Hotaru no Haka (Grave of the Fireflies)

Episodes: 1 hrs. 28 mins.
Released: Apr 16, 1988
Here we are, back at World War II in Japan. It is often said that those who survive a conflict are more pitiful than those who die in it. In Hotaru no Haka, a production by the legendary Studio Ghibli, we can get a glimpse of why. Seita and his sister Setsuko are surviving the war, having lost their parents and their home on the way. However, their struggle increases when people around them turn more and more selfish as resources diminish.
Many have cried with this movie, which projects the effects of war on children with devastating accuracy. Hotaru no Haka is based on the real life of Akiyuki Nosaka, but the treatment that Studio Ghibli gives to the story puts the right amount of emotion in the characters and a masterful color palette to go with it. This movie received five international and domestic prizes. Nowadays, many otaku consider it a timeless classic.
---
1. Sarasuberi: Miss Hokusai

Episodes: 1 hr. 30 mins.
Released: Jul 17, 2004
Let's go back further in time until we reach the 1800s in Japan. In this age, the capital was called Edo, and we could find samurais and geishas in the streets. You could have also stumbled upon a man better known as Hokusai, an artist who would become one of the most emblematic icons of Japan in the world stage. However, Sarasuberi tells us the life of Hokusai's daughter, O-Ei. Married and later divorced, this outspoken lady was an artist, an assistant, and a critic of her father's work. O-Ei's often obscured life is now retold for the world to appreciate her.
Not only can we enjoy Edo just like it used to be in Sarasuberi. We also get the life and works of two notable artists who were pursuing art for itself in an era where the printing press was just starting to take of. Yes, there was also money involved, but they were not rich and this movie shows us how a life with just enough of what is needed can be fulfilling. Sarasuberi has received eight international and domestic prices including a Fans Choice award, so you definitely should check it out.
---
Final Thoughts
So there you have them. Ten grand anime films that reflect the best of an era and/or the persons who lived in that age. We can imagine we are right there with the characters and how our own lives would have been. But tell us, which historical anime movie do you like? Which ones among the list have you seen? Don't forget that we are open to all your comments and suggestions. See you soon!
---