También puedes leer este artículo en:Español
Part of what makes manga such a ubiquitous part of Japanese culture is the sheer variety of genres, with something sure to pique even the most obscure of interests. One of the most enduring topics is history, both Japanese and around the globe. Readers are offered a window into an age gone by, as well as the opportunity to learn valuable info about mankind's past while immersing themselves in an entertaining story.
While historical manga might seem like an overly broad, somewhat rigid guideline for a story, writers have found surprising flexibility in the types of stories they create. Some adhere to events the way they folded out, but by adding fictitious elements to otherwise true stories, writers can create a sense of drama even more intriguing than the events they're based off. Be it through a slice of life comedy, action-packed battlefields, or fantastical, original stories utilizing real-life characters, the historical genre is able to explore some of humanity's most enduring themes. Here are our Top 10 Historical Manga!
10. Nobunaga no Chef

Mangaka: Mitsuru Nishimura (story), Takuro Kajikawa (art)
Genre: Historical, Comedy, Seinen
Volumes: 16+
Published Date: March 2011 – Present
Nobunaga no Chef tells the story of Ken, a modern-day chef who prides himself on his abilities to create extravagant menus from culinary traditions across the globe. He awakes to find himself mysteriously transported to a battlefield in Japan's Warring States period, with no recollection of who he is or the circumstances that brought him there. Strangely enough, the only knowledge he has retained is culinary.
Caught between soldiers on both sides, who assume he's a spy due to his lack of military regalia, Ken is forced to run for his life. Along the way, he runs into Natsu, a young blacksmith girl disguised as a boy, who assists him in his flight. Able to cook dishes that people of the time have never dreamed of, it isn't long before his reputation sees his talents sought out by Oda Nobunaga, the powerful warlord with dreams of unifying the country.
Nobunaga no Chef fires on a lot of cylinders. It's a fan-favorite because it centers around the exploits of one of Japan's most beloved historical figures, Oda Nobunaga, and takes place in one of Japan's most romanticized times. It blends comedic elements into the setting effortlessly, and also a heaping dose of immaculately illustrated dishes that will have the reader's mouth watering as they turn the page. With an engaging story that teaches readers about history and food, it's definitely worth a read.
---
9. Arslan Senki (The Heroic Legend of Arslan)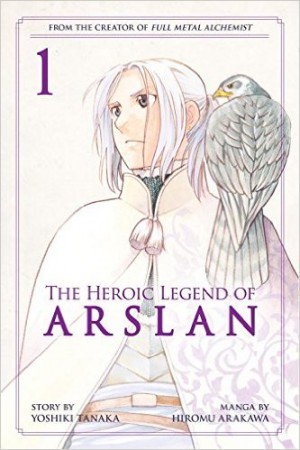 Mangaka: Hiromu Arakawa
Genre: Action/Adventure, Historical, Fantasy
Volumes: 6+
Published Date: July 2013 – Present
The Heroic Legend of Arslan has a storied history, first published as a series of fantasy novels written by Yoshiki Tanaka in 1986. The latest serialization is actually the second time that it has been adapted into a manga, this time in the hands of the legendary Hiromu Arakawa, of Full Metal Alchemist fame. Loosely based on the Persian epic of historical figure Amir Arsalan, the story is also heavily inspired by the life of Cyrus the Great, and other events of the 6th century BCE Persia, as well as the Byzantine – Persian Wars of 6th century CE.
The story centers around the land of Pars, a wealthy kingdom that profits as a crossroads between its neighbors, and engages in institutionalized slavery. The leader of Pars, King Andragoras, holds a legendary reputation of being undefeated in battle and hopes to harden his soft-hearted son, Arslan, through rigorous military training. At war with the neighboring kingdom of Lusitania, Andragoras is betrayed in battle by one of his most trusted advisors, and Arslan is forced to flee for his life. With the help of his trusted retainer, Daryun, and a mismatched band of misfits, Arslan seeks to reclaim his place as crowned prince, and take back his country.
The Heroic Legend of Arslan is a rich story based on a fairly obscure but essential part of history. It is brought to life by its expert illustrations, and the complex themes of morality explored in the early stages of the story. Battle sequences are white-knuckled, and as the series continues, fantastical elements are added, making an already intriguing story even more interesting. If readers have somehow missed out on this gem, now is the perfect time to start catching up.
---
8. Rainbow: Nisha Rokubou no Shichinin

Mangaka: George Abe (story), Masasumi Kakizaki (art)
Genre: Drama, Historical, Psychological
Volumes: 22
Published Date: November 2002 – January 2010
Rainbow is an award-winning manga that has been adapted into anime series. Set in Japan in the 1950s, Rainbow centers around six delinquent boys and their mentor, who are sent to the Shonan Special Reform School. While there, they learn to set their troubled pasts aside and rely on each other, while trying to cope with the atrocities and mistreatment they are subjected to daily.
With an ensemble roster of main characters, Rainbow is a slow burn that gradually reveals the circumstances that lead to the incarceration of its seven protagonists. Although initially portrayed as rowdy, violent-prone kids who don't fit into typical society, the series does a fantastic job of demonstrating exactly why one should never judge a book by its cover. Each character is fully realized, with complicated pasts deeply informed by Japan's post-war period, and the rampant abuse of power that was all too common in institutions of the era. With such mature, complex themes, readers should prepare themselves for a heart-wrenching, thoughtful manga that never pulls punches, and is all the better for it.
---
7. Rurouni Kenshin (Rurouni Kenshin: Meiji Swordsman Romantic Story)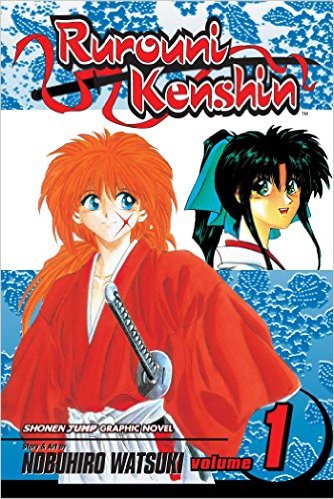 Mangaka: Nobuhiro Watsuki
Genre: Action, Historical, Drama
Volumes: 28
Published Date: April 1994 – September 1999
Perhaps one of Japan's most well-known historical manga series', Rurouni Kenshin has been adapted into an anime, as well as several live-action movies, thanks to its enduring popularity. Set at the end of the Edo period known as the bakumatsu, and the early stages of the Meiji Restoration, Rurouni Kenshin tells the story of Kenshin Himura, a former assassin known as Hitokiri Battosai during the blood-filled transition between the Edo period and the Meiji Restoration. After vowing to never take another human life, Kenshin wanders Japan protecting the innocent from those who mean them harm to help atone for his violent past. He arrives in Tokyo and begins to plant roots after assisting the operator of a dojo, Kaoru, in defeating an imposter.
Rurouni Kenshin is remarkable for many reasons, especially its depiction of one of Japan's most complicated periods. The series' Tokyo is populated with complicated heroes and villains that are very much a product of the social and political growing pains of the time, and each volume is illustrated perfectly. The exploits of Kenshin and his friends effortlessly blends humor, action, and romance with mature themes of redemption and peace, making it an essential read for fans of multiple genres and history buffs alike.
---
6. Kingdom

Mangaka: Yasuhisa Hara
Genre: Action, Historical, Military
Volumes: 44+
Published Date: January 2006 – Present
Based on the immensely popular Warring States period in China often referred to as the Romance of the Three Kingdoms, Kingdom has also been adapted into a well-received anime series. Xin and Piao are orphans of the war in the kingdom of Qin, who dream of rising above their humble circumstances to become "Great Generals of the Heavens." Piao is taken from their village by a minister for unknown reasons, only to return months later, on the verge of death, seeking Xin's help. Piao was the double of Qin's rule, Ying Zheng, who Xin agrees to assist in securing his throne. As a Qin commander, Xin fights to realize the dream once held by his departed friend and bring peace to the land.
Kingdom has a staggering roster of characters, most of whom are actual historical figures who played important roles in China's warring states period. The epic human drama unfolds over each action-packed page, with enough twists to surprise even the most devoted Chinese historian. As of writing, the publication is still going strong, with over forty volumes out already, there's plenty for fans to sink their teeth into.
---
5. Vagabond

Mangaka: Takehiko Inoue (Story, Art), Yoshikawa Eiji (Story)
Genre: Action, Historical, Samurai
Volumes: 37
Published Date: March 1999 – May 2015
Another series set in Japan's Warring States period, the Sengoku era, Vagabond follows Shinmen Takezou, a wild child with a violent streak who is shunned by the other members of his village. Along with his best friend Matahachi, Takezou runs away at seventeen to enlist in the Toyotomi army, hoping to find glory on the battlefield. What they find is death and destruction, as the Toyotomi suffer a crushing defeat at the Battle of Sekigahara, and they barely make it off the battlefield alive. The two become separated, and Takezou is strung up and left for dead until he is rescued by an itinerant monk, and christened with a new name: Musashi Miyamoto.
Vagabond is a fictitious retelling of the life of one of Japan's most legendary swordsmen, from his humble beginnings to his legendary rivalry with Sasaki Kojiro, and everything in between. Illustrated in a hyper-realistic style, the often-violent consequences of Takezou's hot-headed actions are conveyed in such a way that the reader is transported. Takezou's journey is brutal, but surprisingly human, with unexpected romantic and contemplative overtones that help round out the story. For fans of action and samurai drama, Vagabond is a must-read.
---
4. 20th Century Boys

Mangaka: Naoki Urasawa
Genre: History, Drama, Sci-Fi
Volumes: 22
Published Date: September 1999 – April 2006
20th Century Boys is a sci-fi series that spans generations. In 1969, four young boys build a secret fort in an empty field, where they spend their free time listening to the radio, reading comics, and getting into trouble. When their circle of friends expands, they create a journal they call "The Book of Prophecy," where they imagine a future scenario where villains try to destroy the world, and it's up to them to save it.
Fast-forward to the late 90s, where one of the boys, Kenji, is now a grown man who owns and operates his own convenience store. Kenji stumbles upon a strange cult led by a mysterious man called "Friend," while global disasters that resemble the writings in their journal begin to unfold. It's up to Kenji and his friends to get to the bottom of things and discover how Friend is linked to their past.
20th Century Boys is an interesting blend of history and sci-fi, unlike any other series. Much of the narrative takes place in the past, and references popular culture at the time, especially songs and manga. The strange events that take place in the present and future of the story revolve heavily around a group of childhood friends trying to resolve issues from the past that have complicated their adult lives, with grounded, personal storytelling blending expertly with dystopian mystery. To say more would be to spoil half the fun of going along for the ride.
---
3. Kozure Ookami (Lone Wolf and Cub)

Mangaka: Kazuo Koike (story), Goseki Kojima (art)
Genre: Historical, Action, Samurai
Volumes: 28
Published Date: September 1970 – April 1976
The most enduring work to come from the collaboration of the legendary duo Kazuo Koike and Goseki Kojima, Lone Wolf and Cub tells an epic tale of revenge. Comprised of small vignettes, Lone Wolf and Cub centers around Ogami Ittou, former executioner of the Tokugawa Shogunate, who lost his family and his position in a treacherous plot carried out by the ambitious, black-hearted Yagyu clan. Together, with his son Daigoro, Ogami travels down the self-inflicted Hell of the assassin's path, dead-set on revenge, no matter who stands in his way.
Lone Wolf and Cub sees Ogami and Daigoro almost literally swimming in the blood of their enemies, each body bringing them one step closer to ultimate vengeance. And while the violence is flashy and brutal, each vignette tells a self-contained story that gives readers insight into the minutiae of life in the Edo period and the strict social codes by which people lived. A true classic, once fans have worked their way through the series, they can pick up the follow-up series New Lone Wolf and Cub, currently in publication.
---
2. Gekiga Hyouryuu (A Drifting Life)

Mangaka: Yoshihiro Tatsumi
Genre: Historical, Slice of Life, Autobiographical
Volumes: 2
Published Date: November 2008 – December 2008
Referred to as "the grandfather of Japanese alt-manga," Yoshihiro Tatsumi is known for telling gritty, literary stories about the private, everyday lives of deeply flawed people. With A Drifting Life, Tatsumi turned his creative eye inward, telling his own personal story of growing up in post-war Japan and working tirelessly from a young age to help transform the newly-burgeoning manga industry into the global force it is today.
A Drifting Life is essential reading for fans of manga, as it provides an insider's firsthand account of the demands of tireless creative pursuit. Alongside contemporaries such as Tezuka Osamu, Tatsumi, and his friends almost literally built the manga scene from the ground up by pioneering new genres, and creating more dynamic ways of storytelling. Like the life of Tatsumi himself, A Drifting Life is a labor of love and a fitting swansong for one of the industry's greatest forces.
---
1. Comic Showa-shi (Showa: A History of Japan)

Mangaka: Shigeru Mizuki
Genre: Historical, Autobiographical, Slice of Life
Volumes: 8
Published Date: November 1988 – December 1989
Best known for GeGeGe no Kitaro, and helping to bring Japanese folklore into the public consciousness, Shigeru Mizuki's Showa is an autobiographical work that weaves together narratives that are both deeply personal and globally significant. As the name would imply, it offers a broad historical perspective of global events during an incredibly tumultuous time in the world, Japan's Showa period, from 1923 onward.
From his education in Japanese folklore from the eccentric old woman in his small town in Tottori prefecture, to his academic struggles in school, his enlistment in the Japanese army during WWII that included a tour to some of the most brutal locales in the Pacific theater, to his adjustment to life following Japan's surrender, Showa offers invaluable insight into the Japanese experience, and how the country was shaped into what it is today. Meticulously researched, excellently written, and perfectly executed, Showa might be one of the most important manga ever written, and should be in the library of any true fan.
---
Final Thoughts
With that, our Top 10 Historical Manga goes down in history. With so many different genres blended together under such a broad category, it was incredibly difficult to narrow it down to only ten. Certainly, there are countless series' that provided engaging perspectives on historical events across the globe. Are there any series' that didn't make the cut, that fans of historical manga would be foolish to miss out on? Sound off in the comments below and let us know!
---