What You Need to Know:
It's been a crazy week for anime updates thanks to Anime Japan 2016, but we can't forget our light novels!
Last week, KonoSuba was finally kicked off its throne by Mahouka Koukou no Rettousei, and Grimgar was booted back down to fifth place.
So what does this week's Oricon sales chart have in store for us? Let's take a look and find out!
---
Top 10 - Top 6
---
10. Orange: The Novel
9. Saenai Kanojo no Sodatekata: Girls Side
8. Sword Art Online Alternative: Gun Gale Online ↓
7. High School DxD
6. Hai to Gensou no Grimgar ↓
---
Top 5 - Top 1
---
5. Date A Live
4. Imouto Sae Ireba Ii
3. Saijaku Muhai no Bahamut
2. Mahouka Koukou no Rettousei ↓
1. Kono Subarashii Sekai ni Shukufuku wo! ↑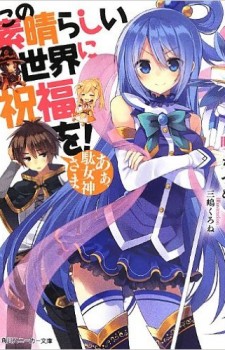 Source: Oricon
---
KonoSuba is back at number one!!! That didn't take long!
Haha I wouldn't expect anything less from the might KonoSuba! Poor Grimgar has fallen out of the top five, though...
---
[ad_dfp position="bottom1" unit_pc1="true" unit_pc2="true" unit_sp1="true" class="mt40"]