♬"Oh, Oh, Oh, It's magic, you know…".♫
Magic is a topic that's existed since ancient times, whether as a source of worship, lifestyle or entertainment. Over the years, magic continues to bewilder and ensnare its admirers, as many claim that various techniques are meant to trick the mind, that the hand is quicker than the eye! Some in the beehive may be too young, but can anyone remember being so shaken by the show that revealed all the masked magician's biggest secrets?! In regards to anime, the magic genre does exactly the same when it comes to impressing and exciting its viewers. "OMG, how did you do that? It's magic!" With that being said, we give you our top 10 picks for magical anime movies. So POOF! Now you see it!
10. Arete Hime (Princess Arete)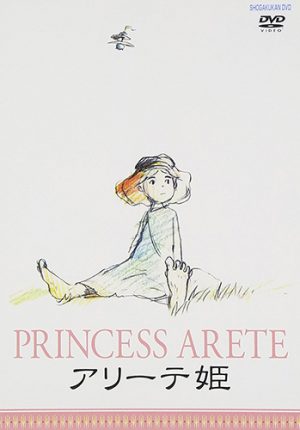 Episodes: 1
Aired: July 21, 2001
Princess Arete longs for a life different than the one she currently leads. Locked away in the castle tower by the King, Princess Arete dreams of living among the commoners, traveling to exotic places, and pursuing a more meaningful existence. When countless knights compete for her hand in marriage, Princess Arete's love and companionship is only downplayed, as these knights need only to locate powerful magical objects to win her hand. Hoping for an escape, Princess Arete finally receives her salvation, as a sorcerer named Boax appears in a marvelous flying machine. Telling her that he is the one to sweep her off her feet, Arete can finally be the Princess she deserves to be.
Princess Arete conveys the message that life may deal us unfortunate circumstances, but if we hope and dream optimistically, we will definitely see a positive outcome. While some of us are still waiting for our own sorcerer to sweep us from our tower and treat us like a princess, this film has such a magical, airy quality to it that we cannot help but indulge in its story. As we watch Princess Arete experience the wonders of the world in awe, we observe her personal growth and her reverence for Boax. An exceptional film, Princess Arete is a must see!
---
9. Majokko Shimai no Yoyo to Nene (Magical Sisters Yoyo & Nene)

Episodes: 1
Aired: December 28, 2013
Sisters Nene and Yoyo are magical pair, introducing only a fraction of their abilities to viewers from the start. Offering their magical talents to the public, these girls seem to be able to handle any problem that comes their way. While working with a client, a strange abnormal structure appears before them and the sisters have no idea what this massive thing could be. This curse/structure of clumped-up buildings is unlike anything they've ever seen, so the brash Yoyo decides that they should investigate. After taking a long time to report her findings, Nene goes into the structure to look for Yoyo, but finds that she is in a place where she can't be reached. Furthermore, the two worlds have been fused and linked together. They say magic is just smoke and mirrors? We don't think so!
Magical Sisters Yoyo & Nene is a very imaginative fantasy film filled with vibrant colors and a lively personality. The sisters, their non-humanoid friends, and the family they meet on the other side take viewers on the most epic magical journey. The characters, music, and overall story are enchanting. The animation utilized for this film is absolutely stunning and visually appealing, drawing you in and making you hope you'll get sucked into this magical world as well! It is definitely a place we'd love to live in, minus the cursed blob parents!
---
8. Planetarian: Hoshi no Hito

Episodes: 1
Air Date: September 3, 2016
Earth and humanity have become extinct, as everything has fallen into destruction. There is silence and no sign of life. Venturing around, we come to a building with a robotic doll, Yumemi, who greets and invites you to stay. What little population of humanity is left, there are some who employ themselves as "Junkers", individuals who scavenge for goods and artifacts. As it has been a long time since Yumemi's last customer, she is eager to please when Kuzuya enters her sight. A reluctant Kuzuya winds up sticking around longer than intended, as her cheerfulness and optimism bring solace that hasn't appeared for a while. Ultimately, the two of them offer one another more than what they expected, and over time, this experience is something Hoshi no Hito can't ever forget.
Planetarian: Hoshi no Hito follows an old traveler recollecting his past as a young and serious Junker, whose heartfelt encounter with the robot Yumemi shaped the events thereafter that led him to become a "Stargazer". His unintentional visit with this cheerful robot changed him completely, as he is now less rigid, warmer, and compassionate. The magic may have appeared when Hoshi no Hito met Yumemi, altering his perspective on life, or he could have loosened up over time. Whatever it may be for him to see things differently, the newfound magic/spark in his soul has allowed him to view the world with eyes wide open. Just remember not to limit yourself to A or B possibilities, as there is so much more out there.
---
7. Brave Story

Episodes: 1
Air Date: July 8, 2006
The film Brave Story accounts the life of Wataru and his endeavor into an enchanted fantasy world called Vision. After his friend Mitsuru tells him about this place that can change his fate by completing certain quests, Wataru embarks on this journey in order to salvage his own reality and broken home. Devastated by his father's betrayal and how his mother succumbed to grief and illness due to his father's action, Wataru proves that there is no limit in wanting to change your destiny. Filled with monsters, mythical creatures, and tons of magic, Brave Story is a film that brings out the adventurous spirit in all of us.
Aside from all the tragedies and feels Wataru endures at such a young age, upon entering Vision, he is exposed to a marvelous, and exciting realm vastly different from his own. Destiny can never be changed, or so they say, and Wataru shows us that an unacceptable outcome is never finalized; that one can always do something about it if they don't like what they see. Brave Story is engaging, the music accompanies scenes very well and we are all crossing our fingers for Wataru, hoping that the Goddess of Destiny will grant his wish!
---
6. Mahouka Koukou no Rettousei Movie: Hoshi wo Youbu Shoujo (The Irregular at Magic High School The Movie: The Girl Who Summons the Stars)

Episodes: 1
Aired: June 17, 2017
"The Seasons go by and our second spring is now upon us. Over spring break, we head to Minami Tateshima, where we meet a certain young girl. 'Please help me' Kokoa says. And then….*BOOM!* A massive conspiracy lurks in Minami Tateshima, the city's demise is fast approaching…The girl's wish is entrusted to the almighty Irregular, Tatsuya Shiba!"
Talk about putting a damper in your spring break, thanks Kokoa! As we continue journeying with siblings Tatsuya and Miyuki Shiba of Irregular Magic high school, we still detect the role that magic plays with the myriad tiers of skill and abilities. As we travel to the archipelago, being a suave and emotionless guy, Tatsuya is unable to turn down a call for help. There is a lot of mystery surrounding Kokoa, as she is a deserter of the naval defense base. When she falls under the care of Miyuki, we will soon unearth her essential part in this story.
With an amazing character lineup once again, Irregular at Magic High School the Movie: The Girl Who Summons the Stars is bound for an eventful sci-fi, supernatural, and magical voyage. Tatsuya is still a highly skilled and brilliant magician; so naturally, he is able to help Kokoa with his baffling abilities. More than that, magic in the film as well as the series doesn't naturally appear, but is backed by theories, explanations, and calculated studies. Branching with other students, we watch the brother/sister duo take on Kokoa's wish.
---
5. Fairy Tail Movie 2: Dragon Cry

Episodes: 1
Air Date: May 6, 2017
In a world filled with magic, Fairy Tail follows many young men and women on a quest to improve their magical abilities by joining the best guilds and participating in various jobs and missions in order to increase their magical status. In this magical world, the one guild everyone has his or her sights on is the Fairy Tail guild. Fairy Tail Movie 2: Dragon Cry accounts the guild's retrieval of a magical artifact of significant power after it's been stolen by the evil Zash Caine when he flees to the island of Stella. Through their journey, the task seems to be daunting for the guild, as it is later revealed that there is more to the Kingdom of Stella than they had prior knowledge of.
Fairy Tail Movie 2: Dragon Cry is a recent release and excellent addition to the Fairy Tail franchise, with claims as the final chapter...or the end of a beginning?! As popular as it is, Fairy Tail is essential to this list because of its setting in a magical world, dealing with magic users and competition against various magical guilds. In composition, the music accompanying scenes, both original and revived are fantastic. The action sequences are impressive, as old and new characters tangle and combat against one another. In its entirety, recurring issues, in addition to the new plot are put together to establish an exciting chain of events.
---
4. Toaru Majutsu no Index: Endymion no Kiseki (A Certain Magical Index the Movie: the Miracle of Endymion)

Episodes: 1
Air Date: February 23, 2013
A Certain Magical Index the Movie: The Miracle of Endymion takes place in Academy City, which is technologically advanced, as well as scientifically and magically influenced. Jumping into the story, Touma Kamijou and his companion Index run into Arisa Meigo, a girl with amazing singing abilities. Aside from meeting the upbeat and cheerful Arisa, Academy City is about to unveil the world's first space elevator, Endymion. Following this display, a string of strange occurrences begin to take place all over the city that reveal a connection between Arisa and Endymion. Adding more complication to the matter, certain characters from the magical world are tied into this crazy hot mess.
With several series established before the creation of this film, A Certain Magical Index the Miracle of Endymion shares a straightforward story that isn't too complex to follow. Touma and Index are a dynamic duo, producing a feel good effect when observing their interaction. The artwork and animation is crisp, dazzling and bright, a slight upgrade from the series, as many have pointed out. Pushing the issue of data-driven science and the miracles of magic, this movie displays the flaws and benefits of each.
---
3. Mahou Shoujo Madoka Magica Movie 1: Hajimari no Monogatari (Puella Magi Madoka Magica the Movie Part 1: Beginnings)

Episodes: 1
Aired: October 6, 2012
In Puella Magi Madoka Magica Beginnings, we follow Madoka Kaname, who lives an average normal life, until one night, she has a nightmare of a future doomed with darkness. Further into this dream, the only resolve in saving the future is to sign a magical girl contract. Unalarmed and dismissing it, she disregards all of it. Unfortunately, Madoka is unable to escape her nightmare, as little things slowly start to surface in her everyday life. As these components begin to shape into reality, Madoka must face the difficult decision of whether or not she should become a magical girl. Adapting the first eight episodes of the anime series, watch Madoka, Kyubey and her magical girl friends take on various foes that come their way.
Witches, monsters, and an adorable catlike familiar, this is one film we couldn't leave off the list because it screams MAGIC! As these magical girls are thrust into some pretty heavy stuff, they no doubt appear extra badass when taking on the dark witches. With an amazing, suspenseful story and superb animation and visual effects, Puella Magi Madoka Magica Beginnings presents itself as a magical girl film unlike anything to date. Cute, serious, hopeful, and dark all in one, this film is one that needs to be on your "watch" list.
---
2. Little Witch Academia

Episodes: 1
Air Date: March 2, 2013
Little Witch Academia is about a school for witches, showing their path and journey in becoming witches themselves. The story starts with many young girls gathered around to watch the famed Shiny Chariot. Shiny Chariot is super awesome and everyone wants to be just like her! Fast forward several years, we are introduced to Atsuko Kagari, a newly admitted student to Luna Nova Magical Academy and mega fan of Shiny Chariot, although Shiny's fame has died down due to being labeled a fraud. As this infuriates Atsuko, she still strives to be just like her idol. As Atsuko muddles through her boring studies, the constant trash talk of her Shiny among peers, and her lack of magical talent, can she essentially prove to herself and others that she has what it takes to become a witch?
Little Witch Academia is an incredibly short film in length, but is an overall enjoyable viewing experience. It contains a light and entertaining story about young witches coming into their own, learning various magical craft and spells. The characters are lively and adorable, and the animation style is aesthetically charming. Adventurous, comedic and fantasy, ingredients for a great magical movie. Reminiscent of Hogwarts minus the darkness and drama, it is exciting to see what life would be like at a magical school! Sign us up for the next school year!
---
1. Majo no Takkyuubin (Kiki's Delivery Service)

Episodes: 1
Air Date: July 29, 1989
Kiki's Delivery Service is a coming-of-age story about a young witch in training, Kiki, who leaves her home in search of bigger and brighter aspirations. On her journey in finding a place to settle, she runs into other trainees, some nice and some not so nice. After those encounters, Kiki and her cat Gigi travel further, finding a far off town that is bustling with life, a place that hasn't had a witch inhabitant for quite some time. There, she befriends a couple that owns a bakery, who propose to Kiki the idea of a delivery service in order to earn her keep. From that moment on, we watch Kiki develop her abilities and grow as a young woman.
A timeless and classic film, Kiki's Delivery Service is a magical, heartwarming story that reflects on experiencing new surroundings with openness and optimism. As a young witch in training, Kiki could have decided on any type of magical practice, but she chose a skill she was very good at, flying, and focused that ability on helping others. Kiki's kind and eager nature is very admirable and in addition to the magical aspect of this film, we get to observe her hard-working nature and determination in making a place for herself in this new town.
---
Final Thoughts
We hope you enjoyed our choices of top 10 magical anime movies! If you haven't already, make sure to check out all of these great titles! With the power to influence events by using mysterious and supernatural forces, magic is and will always be a genre to elicit a wondrous and euphoric feeling. By spell work or an unexplained miracle, we anticipate more exciting magical anime movies in the future! Lastly, let us know if we've missed any other great magical movies by commenting below! See ya!
---