Unlike dogs that will shower you with unconditional love, compassion is not something that comes naturally with cats. You can give them tasty foods, groom them as best as you can, and do everything in your power to make sure they have a nice and comfortable life, and it still won't guarantee that they will let you pet them whenever you want.
You see, unlike most animals, cats are a prideful bunch. There's an old and weary soul underneath that cute appearance. So rather than you telling them what to do, it is actually the cats that give you permission to hang out with them. So it's not so much as you own them, but more like they own you.
Strangely enough, this weird conundrum is what makes most cat owners different than most dog owners. You trained and disciplined your dogs, while we are servants to our cat overlords. And that is how it is supposed to be. With that in mind, the following are some of the best manga that every cat lover should read.
10. Nyankees

Authors: Okada, Atsushi
Genres: Action, Comedy, Shounen
Volumes: 6
Published: Jan 2019
Even more so than other animals, cats can be quite hard to understand. Their passive-aggressiveness makes it difficult to know what is actually going on in their heads. And that is basically the problem that the Nyankees try to tackle.
The solution that this manga came up with is simply to tell the cats' story, but the cats are drawn as real humans. But not just any ordinary humans - they are street guys, rough people, they are the Yankees.
When the story uses the cats' perspective, we'll see a bunch of tough guys ready to fight over their territory. But then the perspective shifts to the little girl around the corner, and all she sees is a couple of cats gathering around in a circle and meowing at each other. It's hilarious.
---
9. Dekiru Neko wa Kyou mo Yuuutsu (The Masterful Cat Is Depressed Again Today)

Authors: Yamada, Hitsuzi
Genres: Comedy, Slice of Life, Seinen
Volumes: 5+
Published: Sep 2021 - Present
Cats have a reputation as animals that can be hard to take care of. After all, they tend to do whatever they like and ignore most of our pleading. The Masterful Cat is set to turn this reputation around.
In the story, Saku is an office worker who lives alone with her cat, Yukichi. In the office, she always brings her own home-made lunch that is not only delicious, but also looks very pretty. What people don't know, however, is the fact that Saku is not the one who makes these amazing lunch boxes. They are actually made by Yukichi, her cat.
Yukichi is actually a human-sized cat who loves to do chores and other house work. He cleans the house, prepares good food, and even takes Saku to bed if she is too drunk to get up on her own. But he also likes to pout when Saku comes home late and misses the dinner that he has prepared for her. In a sense, Yukichi the cat is actually the one who takes care of his human owner, and not the other way around.
---
8. Kottou Nekoya (The Antique Cat Shop)

Authors: Takano, Hisa
Genres: Fantasy, Supernatural, Slice of Life, Josei
Volumes: 1
Published: Jan 2020
Have you ever wanted to talk to a cat? If you do, you can visit a small, unassuming antique shop that has a talking cat as the shopkeeper. The name of this special cat is Bonten, and he has the ability to quickly discern the quality of antique items.
A glance and a sniff is all it takes for Bonten to not only find out whether something is a genuine antique item or not, but he can also give the appropriate price valuation for it.
But other than talking and being a master of antiquity, Bonten can also do so many other things. He can make and serve tea, he can write delicate kanji with a brush and ink, and if he feels in the mood for it, he can also help clean the shop. The Antique Cat Shop may only be one volume long, but every page is filled with charming stories and illustrations that warm our cat-loving hearts.
---
7. Walking Cat (The Walking Cat: A Cat's-Eye View of the Zombie Apocalypse)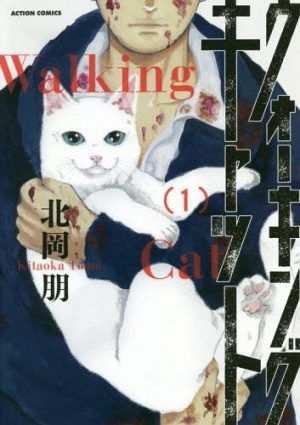 Authors: Kitaoka, Tomo
Genres: Horror, Sci-Fi, Slice of Life, Seinen
Volumes: 1
Published: Oct 2021
Zombies are one of the most iconic horror creatures in the world of fiction. That is why there are countless zombie stories out there. For most of those, we follow the surviving humans. After all, they are the ones who have to fight for their lives, so it makes sense that their stories are the most interesting ones, right?
Well, The Walking Cat chooses to tell the same survival story, but instead of humans, we follow a cat instead. We observe a stray cat as a man saves him from a horde of zombies. We see the cat as the man spends time with him and talks about his tragedy. And we follow the cat when he is separated from the man, and is then saved by another group of people who try to look for their missing loved ones. It is dreadful and fascinating at the same time.
---
6. Fushigi Neko no Kyuu-chan (Wonder Cat Kyuu-chan)

Authors: Nitori, Sasami
Genres: Comedy, Slice of Life, Seinen
Volumes: 6+
Published: Mar 2021 - Present
There are times when you're not in the mood for a serious story. All you need is just a wholesome manga with cute cats that can instantly bring a smile to your face. Wonder Cat Kyuu-chan is precisely that kind of manga. This is a 4-koma, which means there are different stories told on every page, and each page consists of 4 large, horizontal panels.
In the story, a young man finds an abandoned cat, decides to take her home, and names her Kyuu-chan. And that is the beginning of their wholesome life together.
The boy goes to work and Kyuu-chan will eagerly wait for him to come home. And when he's back and feels exhausted, Kyuu-chan will pull his sleeve, take him outside, and they will watch the sunset together. As you can see, this manga is filled with moments that can easily melt your weary heart.
---
5. Doukyonin wa Hiza, Tokidoki, Atama no Ue (My Roommate is a Cat)

Authors: Minatsuki, Tsunami (Story); Futatsuya, Asu (Art)
Genres: Comedy, Slice of Life, Drama, Shoujo
Volumes: 7+
Published: Sep 2020 - Present
Subaru Mikazuki is a mystery novelist who prefers to stay at home all the time. He doesn't like talking or socializing with other people. The only one who he talks to is his editor, but even that can be quite stressful to him. However, a fateful encounter with a stray cat turns his life around forever.
There are other manga that showcase the relationship between a human and a cat. What makes this manga different, however, is the fact that it takes time to tell the story of both the human and the cat. It will show the same event, but tell it through the perspective of the human in one chapter, and then through the eyes of the cat in the next chapter. It's really cool.
For example, Subaru is puzzled as to why the cat keeps bringing him food scraps, and since he doesn't know what to do, he simply throws it into the trash bin. The cat, on the other hand, simply wishes to share her food to Subaru as an appreciation for feeding her, and she is also puzzled why Subaru keeps throwing the precious food away. It is such a hilarious and wholesome concept.
---
4. Ito Junji no Neko Nikki: Yon & Mu (Junji Ito's Cat Diary: Yon & Mu)

Authors: Itou, Junji
Genres: Comedy, Slice of Life, Seinen
Volumes: 1
Published: Oct 2015
The world knows Junji Ito as the Master of Horror Manga. What most of us don't know, however, is the fact that he is also a cat person. This manga is an autobiography that retells the moments when the cats named Yon and Mu entered the life of this legendary horror mangaka.
The story begins when Junji Ito and his fiancée move into a brand new house. His fiancée is actually the one who brings the cats to their house. Junji Ito is a bit reluctant with the idea of living together with two feral cats in his new house, but as soon as he spends some time with them, he can't help but fawn over them and get frustrated when the cats favor his fiancée over him.
Junji Ito's Cat Diary will give you a really bizarre reading experience. Because while the story itself is actually quite heartwarming, the manga is still drawn in Junji Ito's trademark eerie style. It's like hearing a charming fairy tale told by Pennywise the Dancing Clown.
---
3. Chi's Sweet Home

Authors: Konami, Kanata
Genres: Comedy, Slice of Life, Seinen
Volumes: 12
Published: Jul 2015 - Dec 2016
Chi is an energetic little cat who got separated from her mother. She runs around the park looking for her mother, but couldn't find her. And that is when she meets the Yamada family. Seeing the tiny cat alone and tired, they decide to take her to their home and take care of her.
The initial plan is simply to nurture Chi back to health and then give her to somebody who wants to take care of her, because they can't keep pets in their apartment. However, it doesn't take a long time for their little boy, Yohei, to get attached to Chi. So the Yamadas finally decide to keep Chi with them. Even though Chi seems a bit sad because she can no longer see her mom, the Yamadas give her lots of love so that she can finally feel at home with her new family.
Chi's Sweet Home is a snapshot into the daily life of a family who keeps a cat. From training her to pee in the proper place, to buying all kinds of cat toys that can make her happy, everything is depicted in here. If you own a cat, then you will certainly relate to this manga. If you don't have a cat, then you will have a sudden urge to adopt one.
---
2. Ojisama to Neko (A Man and His Cat)

Authors: Sakurai, Umi
Genres: Comedy, Slice of Life, Shounen
Volumes: 7+
Published: Feb 2020 - Present
There's a cat in the pet shop that nobody seems to want. He's nearly one year old now and he is also not the cutest cat around. That is why everybody prefers a younger, cuter kitten than this particular cat. He's already given up on ever being adapted when an old gentleman comes in and immediately picks him up.
The name of the old man is Kanda, and he lives alone in his house. His wife has passed away, and his children have grown up and live their own lifes. He's never owned a pet before, but his late wife always said that he should try getting a cat. So he chooses this cat, names him Fukumaru, and now he finally has somebody waiting for him to come home every day. Both Kanda and Fukumaru are no longer lonely anymore.
In a way, A Man and His Cat is like a mature version of Chi's Sweet Home. Both are about a person and a cat's first encounter with each other, and both stories also allow us to see the thoughts of the cat at any given moment.
What makes them different, however, is the fact that rather than the cheerful feelings in Chi's Sweet Home, there's a melancholy vibe in this manga. After all, both Kanda and Fukumaru have experienced loneliness, so they genuinely need each other to fill that void in their heart. And that's what makes this manga so heartwarming to read.
---
1. Kanojo to Kanojo no Neko (She and Her Cat)

Authors: Shinkai, Makoto (Story); Yamaguchi, Tsubasa (Art)
Genres: Drama, Slice of Life, Seinen
Volumes: 1
Published: Aug 2017
If Chi's Sweet Home is a story of a cat and a child, and A Man and His Cat is about a cat and an old man, then this one is about a twenty-something woman named Miyu and her young cat named Chobi. And in a sense, it is a story that almost every young person, especially those who have just gotten out of college and finally found a job, can certainly relate to. After all, this is a story of living alone and giving your best at your work, but still feeling empty inside.
"Every day, it feels like I'm headed towards some sort of time limit. But I don't know what that is," says Miyu to Chobi who looks at her with a puzzled look on his face. Similar to A Man and His Cat, there's a sense of loneliness here, but there's also a thick air of burnout and uncertainty in this one. Miyu is on the brink of depression and Chobi is the only one who understands and actually comes to help her.
As you might've already noticed, this story is written by the legendary anime director, Makoto Shinkai. To our knowledge, there are only some short anime that came out of this story. So in a way, this is a Shinkai movie that never came to be. If you ever watch any of Shinkai's movies, such as 5 Centimeters per Second or Garden of Words, then you know what to expect from this manga.
There are a lot of charming, wholesome, and heartwarming stories featuring cute cats on this list. However, this is the only one that is truly grounded in reality and depicts the role of a cat to his owner. They are not just our pets - they are part of our family. And sometimes, for some strange and mysterious reason, they are the only ones who understand our feelings.
---
Final Thoughts
Despite their carefree and devil-may-care nature, cats can bring joy and excitement to our lives. They might be a handful from time to time, but their company will always bring a smile to our faces. For you fellow cat owners out there who also happen to be avid manga readers, this list is made for you.
Have you read any of the manga on this list? Or maybe you know other manga that deserve to be here? Let us know in the comment section below.
---