In our past articles we talked about manservice, and explained how it works: basically, in a manservice manga, male characters find themselves in subtle, sexual situations with other male characters. Therefore, you can expect manservice-filled scenes in shounen, shoujo, seinen, and josei manga. But what if we apply the term "manservice" on those manga that already involve BL? Manservice BL manga are those in which there's clearly romance between two characters, but the drama and teasing are dragged out to the point that the readers may want to scream their frustrations out! In this ranking, we'll talk about ten manservice BL manga – shounen-ai, or yaoi – that really torture their readers. Stick with us until the end to discover our picks!
10. Tamayura

Authors: Yuki, Ringo
Genres: Drama, Historical, School life, Yaoi
Volumes: 1
Published: Apr 2013 – Apr 2014
Tamayura revolves around Michitada Asakura, whose only friend when he was a child was Tachibana, a kid older than him. As a child, Tachibana was the only person Asakura could trust, that's why when Tachibana "betrayed" Asakura, they eventually grow apart. Years after, as the only son of a trading firm, Asakura enters the dormitory of an all-boys school. Destiny is cruel with Asakura, as his roommate turns out to be Tachibana.
For the themes debated, its setting, and its enigmatic ending, Tamayura is a wonderful yaoi manga. The manservice-filled scenes drag on for the entire volume, in which the readers can actually see the sexual tension between Asakura and Tachibana, yet Tachibana – blatantly interested in Asakura, as well – has his own reasons to keep refusing Asakura's attentions. Tamayura is a one-volume manga, so luckily everything can be solved within the last chapter, right? Don't be fooled, even its ending will leave you puzzled.
---
9. Omairi desu yo (A Blessing on Your House)

Authors: Yamamoto, Kotetsuko
Genres: Drama, Romance, Slice of life, Yaoi
Volumes: 7
Published: Aug 2011 – ongoing
Yuuji and Kenji Miza are two beautiful brothers, priests of Uguisuzaka Shopping District. They are very different from each other: while Yuuji is shy and adored by everyone, Kenji is brusque and feared by the others. Yuuji is in love with his childhood friend, Saburou, since middle school, and even though he vowed to remain unmarried, when Saburou comes back in town after eight years away, Yuuji realizes that he still loves him. In the meanwhile, Yoshito Kimura falls in love with Kenji, who treats him as his minion...
As you can see by the premises, the main couple is lovey-dovey; in fact, Yuuji's feelings are reciprocated by Saburou. Yoshito, on the other hand, is reciprocated by Kenji only on a sexual level. The torture the readers have to undergo is that whenever Yuuji and Saburou get ready to go at it, something goes wrong, and they never get it on. On the other side, whenever it seems that Kenji is about to show some affection toward Yoshito, it turns out that's just an illusion. And this situation drags on for seven volumes now... we still think you should give Omairi desu yo a shot, though, as its gags can really make you crack up!
---
8. Smells Like Green Spirit

Authors: Nagai, Saburou
Genres: Drama, Gender bender, Psychological, School life, Shounen-ai
Volumes: 2
Published: Aug 2011 – Feb 2013
Futoshi Mishima lives in the countryside, and his life is very difficult, being surrounded by classmates that keep bullying him. With his frail figure, and delicate features, the bullies torture him because seemingly he is gay. Indeed, Mishima is gay, but he faces the bullies without resisting, finding solace in secretly cross-dressing, or using make-up. When he loses the lipstick, he had stolen from his mother, and later on he finds it in the hands of Kirino, one of the bullies, things begin to change...
Smells Like Green Spirit is a shounen-ai manga, and as such, the torture is a default. However, it gives some satisfaction at some point, after which the readers are left dumbfounded, wondering with whom they should ship Mishima, and if there will be a happy ending. Aside from the manservice, though, this amazing shounen-ai manga provides food for thought, and its characters are so well-developed that you'll find very easy to feel sympathy for them. Give it a shot: it won't fail you!
---
7. Border

Authors: Kodaka, Kazuma
Genres: Action, Comedy, Drama, Romance, Tragedy, Yaoi
Volumes: 7
Published: May 2007 – ongoing
Suou Yamato runs a detective agency carrying out each kind of job, even the unconventional ones. Alongside Yamato, there's his family made up of his three employees, each of them with a different skill. Their adventure will be action-packed, and uncover shocking truths about Yamato's past.
Border is one of those yaoi manga you really don't want to stumble upon. Firstly, because it's addictive, and one chapter demands you to read the next; secondly, because when you expect a certain sexual situation to start, it never does. As our protagonist is still bound to his previous lovers, he will never accept the advances of men blatantly in love with him. There's one character who Yamato really likes with reciprocated feelings, but forget spicy scenes between the two: you'll only get to see innocent kisses. However, since Border is action-packed, and really plot-driven, it still deserves to be read by yaoi lovers. What's more, for some man on man action, there's still Yamato's past throughout the story!
---
6. Acid Town

Authors: Kyuugou
Genres: Action, Drama, Mature, Yaoi
Volumes: 5
Published: Mar 2008 – ongoing
Yukio and Tetsu are best friends, and they live in a city where the law has been rendered non-existent. Yukio's little brother, Jun, has been hospitalized, and in a desperate attempt to finance the hospital's fees, he and Tetsu decide to sneak into the Seidoukai to steal money. They get caught by Kazutaka Hyodo, the young yakuza leader, who offers them to leave unharmed. In exchange, though, Yukio will have to visit the Seidoukai office once a week...
Acid Town is wonderful if you consider it as an action-packed manga, set in a dystopic world. If you wish to see boy on boy action, though, you can keep dreaming. Within the five volumes published so far, you'll only get to imagine that Yukio and Hyodo will eventually get together, but that's all. The drama in Acid Town is dragged out, as the story focuses everywhere but their relationship. We still recommend Acid Town, but at your own risk!
---
5. Me de Shireru Yoru no Junjou (Kimono Boys)

Authors: Suzuki, Ami (Story), Itsuki, Kaname (Art)
Genres: Drama, Romance, Yaoi
Volumes: 3
Published: Mar 2007 – Apr 2010
The story takes place in Yoshiwara – Tokyo in the Edo Period – where brothels were restored, and a red light district was created. Kagerou was sold to the Men's Brothel Quarters at Hanafurirou by his grandmother, and there he meets Kichou, who immediately gives Kagerou the nickname of "princess", because of his looks and attitude. The two boys fight for the title of best-selling courtesan, but they clearly have feelings for each other...
Me de Shireru Yoru no Junjou tells the story of male prostitutes wishing to change their lives. It's a wonderful yaoi manga, but the manservice here is all up to Kagerou and Kichou who love each other, and play the cat & mouse game. They eventually end up together, but brace yourselves because before getting to that point, there's a lot of drama, hardships, misunderstandings. The brave who will pick it up will be rewarded with a wonderful ending!
---
4. Super Lovers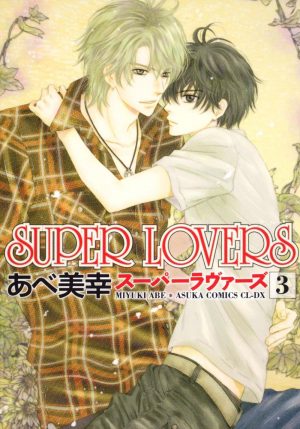 Authors: Abe, Miyuki
Genres: Comedy, Drama, School life, Shotacon, Slice of life, Yaoi
Volumes: 12
Published: Oct 2009 – ongoing
Haru Kaidou grew up in Canada, but moved in with his father in Japan when his parents divorced. In the summer when he turned 17, Haru's mother called him back in Canada, saying she urgently needed his help. Upon arriving in Canada, Haru met Ren – an 8-year-old boy – who was saved from an orphanage by his mother. Haru's task for the entire summer will be taming the unruly Ren, and years after, some circumstances will bring Ren in Japan by Haru's side...
Super Lovers is very popular, and it's super-appreciated by the fandom. Even if Haru and Ren's relationship could look like a shota-con on Haru's part, Abe sensei legitimizes it with tons of love and affection between the two characters. But Haru is a responsible adult, as well as a man in love with his little Ren, so throughout the entire story you'll only get to see the two of them getting close to sex, with Haru backing up at the last minute. Is it frustrating enough? Well, Ren thinks the same, and he will show his frustration by acting like a rebellious teenager!
---
3. Hana wa Saku ka (Does the Flower Blossom?)

Authors: Hidaka, Shoko
Genres: Drama, Romance, Slice of life, Yaoi
Volumes: 5
Published: Aug 2006 – Jan 2015
Kazuaki Sakurai works for an AD agency, and one day, on his way home from work he bumped into a young man, dropping business materials and messing up a magazine he was really fond of. Youichi Minagawa, the young man, is a college student living in an old house used as a boarding house. He happens to have the same magazine, so he offers to hand it over to Sakurai as an apology. Sakurai then follows Youichi to his house, and even thinking that the boy is a bit unsociable, Sakurai start visiting him more often, until the two eventually become friends...
Hana wa Saku ka – Does the flower blossom? is the perfect title for a manservice yaoi manga. In fact, this is the question each reader asks while reading this manga. It is well-developed, and plot-driven, but yaoi lovers can't help but wondering: will these two eventually get down to the nitty-gritty? Don't worry, they will; but first, be ready to a roller-coaster of feels made of manservice- filled scenes, full of unspoken words, meaningful looks, and sweet kisses.
---
2. Given

Authors: Kizu, Natsuki
Genres: Drama, Romance, School life, Slice of life, Yaoi
Volumes: 4
Published: Apr 2013 – ongoing
One day, Uenoyama and Mafuyu meet while Mafuyu was holding onto a broken guitar. Uenoyama, who plays guitar in a band, offers to fix Mafuyu's guitar. From that moment on, the two of them become friends, and eventually Mafuyu joins the band. His voice is powerful, and his song full of the emotions Mafuyu couldn't put into words. But what kind of pain is Mafuyu hiding behind his affection towards that guitar?
Given is a sweet story that debates delicate topics with a light touch. It depicts what a relationship between two teenagers could look like, made of embarrassment, blushing cheeks, and unspoken words. This kind of story, though, is a perfect example of manservice BL manga, as the readers expect that Mafuyu and Uenoyama – clearly in love with each other – eventually will confess their feelings and, hopefully, at least kiss. Why don't you pick Given, and discover if 4 volumes are enough for this to happen?
---
1. Saezuru Tori wa Habatakanai (Twittering Birds Never Fly)

Authors: Yoneda, Kou
Genres: Action, Adult, Drama, Mature, Psychological, Smut, Tragedy, Yaoi
Volumes: 5
Published: Mar 2008 – ongoing
Yashiro is a yakuza leader who loves to show people his perverted, and sadomasochistic kinks. Yet, the carefree attitude is just a facade hiding a past full of abuse, loneliness, and sadness. Through the years, Yashiro has turned into a broken man who refuses to become attached to people. It's the meeting with Doumeki Chikara, his new bodyguard, that turns the tables: Yashiro is attracted to that silent man, but there's a problem, as Doumeki is impotent, therefore unable to sexually satisfy Yashiro.
Saezuru Tori wa Habatakanai is full of smut, so if that's what you're looking for, it won't fail you. If you wish to see Yashiro fall in love with Doumeki and Doumeki reciprocate his feeling, though, there's a long path of manservice-filled scenes you'll have to go through. Saezuru Tori is probably the epitome of the manservice BL manga, as the manservice here is all up to the main characters, who turn out to be unable to express their feelings. Broken men meeting and falling in love with each other, both with a difficult past to cope with, one of whom is impotent. This manga screams manservice in every single page! The story becomes addictive right because the readers crave to see what will become of Yashiro and Doumeki's relationship. You all should totally give it a shot!
---
Final Thoughts
With this ranking we gave you proof that manservice, in different ways, can apply to BL, as well. We chose those manga that really torture their readers by dragging out certain situations, even though the two guys are clearly interested in each other. We really hope you enjoyed the ride as much as we did while writing it, and please don't forget to let us know what you think in the comments below. See you next time!
---