Shounen-ai/BL anime are those full of cute characters, in which a sweet boy falls in love with another cutie pie, and after facing numerous hardships, the viewers get to see the mild boy-on-boy action expected, and craved for. Some other shows along those lines feature male characters very compassionate with each other, bromance, or subtle BL situations even when the anime in question is not labeled as "shounen-ai". Year after year, this adorable anime genre keeps giving us a lot of amazing works, often full of gags, comedy parts, and even hot boy-on-boy action moments. In this ranking, we'll talk about the six wonderful shounen-ai/BL – or BL wannabe – shows that characterized 2018. Fans of the genre, stick with us until the end and see if you missed some of them!
6. Zoku Touken Ranbu: Hanamaru

Episodes: 12
Aired: Jan 2018 – Mar 2018
Dark forces me threaten to change the past so, using his ability to breathe life into inanimate objects, Saniwa decides to transform historical Japanese swords into muscular young men, in order to fight against the enemy. All the young men spend their time together in the citadel, drinking, playing games, or simply lazing around, until they get summoned to counter the dark forces. During the second season, we find once again Yasusada – Okita Souji's former sword – and his best friend trying to make it through the missions, and dealing with their comrades' deeds.
Zoku Touken Ranbu: Hanamaru is the sequel to Touken Ranbu: Hanamaru. Once again, the setting is a huge traditional Japanese house, where young men in traditional clothes run here and there, doing all but what they should. This show isn't exactly a BL, yet multishippers can clearly catch sight of the possible couples. What's more, the young men like to show their bodies while training with their swords: it's a feast for the eyes!
---
5. Binan Koukou Chikyuu Boueibu Happy Kiss! (Cute High Earth Defense Club Happy Kiss!)

Episodes: 12
Aired: Apr 2018 – Jul 2018
In Binan City, at Binan High School, the Earth Defense Club is frequented by five boys who use it as a place where to simply chill and do nothing at all. They drink tea, play video games, eat, and chitchat about pointless things. One day, after spending time at the club, they decide to hit the Kurotama Bath. There, because of some circumstances, these five boys meet a guy dressed in strange clothes. He turns them into magical boys who can transform, and drags them into a battle for the magical kingdom of Honila Land.
If you hadn't had enough of the Binan Kouko series, take this refreshed version with new protagonists and enjoy! Once again, there's a blatant parody of the magical girls' genre, and the manservice here is quite heavy. Even though this show is not labeled as a BL, there are clear hints of BL among the characters, who are very compassionate toward each other: it's more than simple bromance, but less than BL. This is worth watching if you enjoy shipping characters, and if you like absurd situations leading to hilarious gags!
---
4. Free!: Dive to the Future

Episodes: 12
Aired: Jul 2018 – Sep 2018
Free! Eternal Summer left us wondering about Haru, Makoto, Nagisa and Rei's future. In this third season we find Haru and Mako in Tokyo, attending college. The two of them meet Asahi, who reawakens the memories of their middle school years. Rin, in the meanwhile, is in Syndey, where he faces an unexpected meeting. But what about Rei and Nagisa? And is there a new challenge awaiting Haru and Mako?
Free!: Dive to the Future, exactly like its prequels, is a paradise for the fujoshis/fudanshis out there, as well as for the multishippers. In a show about swimming, it's only obvious to see hot boys playing with water and showing off their wonderful biceps. Let's not forget how Free is the epitome of the manservice anime, with a blatant BL subplot: it's in plain sight how Makoto has the hots for Haru, even if Free! is not a BL show, and this isn't the only example. Give it a try; all the more if you enjoyed Free's prequels.
---
3. Spiritpact 2

Episodes: 12
Aired: Feb 2018 – May 2018
Spiritpact revolves around You Keika, a very poor 23-year-old fortune-teller and computer mechanic part-timer, who died hit by a truck. When he woke up in a spirit form ten years younger, he met an exorcist called Ki Tanmoku, with whom he forms a pact. You becomes Ki's spirit shadow, so they can fight against the evil spirits together. In this second season, Ki's past is finally reveled, and through his memories he will discover more about his ancestor, Rakugetsu.
Spiritpact 2 keeps all the characteristics we enjoyed in the first season: a lot of gags, what with You Keika getting flustered, or doing things he shouldn't. As during the first season we got to see You and Ki's relationship gradually evolve, in the second one we finally see more explicitly a deep feeling of affection between the two of them. In Spiritpact 2, the pact formed by You and Ki will be stronger than ever against the evil spirits, and finally the viewers will get to understand Ki's personality, through his past.
---
2. Dakaretai Otoko 1-i ni Odosarete Imasu. (DAKAICHI -I'm being harassed by the sexiest man of the year-)

Episodes: 13
Aired: Oct 2018 – Dec 2018
For an actor who topped the "Most Huggable Man" charts for 5 years in a row, it was very difficult for Saijou Takato to bear it when someone stole his first position. Not only he was robbed of his first position, but he had to face the humiliation of being surpassed by a newbie – Azumaya Junta. If things could go worse, Azumaya catches Takato while drunk, and films him, stating that he will keep silence only if Takato will let him hold him. In the meanwhile, the two of them begin working on the same TV series, and the tension builds up...
Born as a manga by Hashigo Sakurabi in 2014, DakaIchi immediately became popular. As a BL anime, this is a very funny show: the two main characters are rivals, but they gradually become lovers, too. Yet, Takato can't stand the fact that Azumaya stole his first position, as he thinks very highly of himself. That alone can start a lot of gags, all the more when Takato gets flustered, while Azumaya stays unfazed toward the matter. In DakaIchi there's a lot of boy-on-boy action, lovely interaction between two hotties, and a lighthearted atmosphere. It won't fail you!
---
1. Banana Fish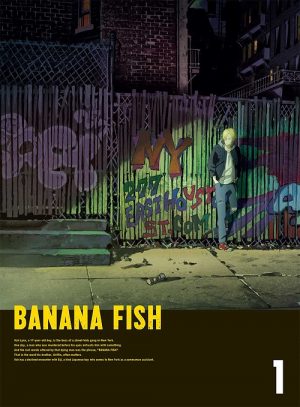 Episodes: 24
Aired: Jul 2018 – Dec 2018
Ash Lynx is a 17-year-old beautiful boy with no hope for a better future: he is a ruthless killer, and a gang leader walking the streets of the Big Apple. The mob boss who raised him, Dino Golzine, wanted to make him his heir, and used Ash as his sex toy. But Ash's life changed for good when he met a dying man in an alley, and days after, the possibility of a different future appeared in the form of Eiji Okumura, a Japanese photographer...
Adapted into an anime show from the shoujo manga created by Akimi Yoshida in 1985, Banana Fish is a touching story debating dark themes. Even if labeled as a shoujo, though, it clearly features a gay couple, even if not explicitly. Ash, who is bold, and ruthless, loses his composure in front of Eiji Okumura, and the feeling developing between the two of them is way deeper than mere friendship. Banana Fish is a plot-driven show, leaving the viewers with bated breath, craving for the next episode. Give it a shot, as it can please both shounen-ai and shoujo fans!
---
Final Thoughts
Banana Fish put an end to our ranking of 6 Shounen-ai/BL Anime of 2018! We really hope you enjoyed this trip surrounded by hotties showing off their beautiful bodies, or pleasing us with boy-on-boy action, and romance. Let's hope 2019 will bring us other wonderful shounen-ai/BL shows, as well. Now please, don't hesitate to let us know which was your favorite BL anime of 2018 in the comments below. See you next time!
---