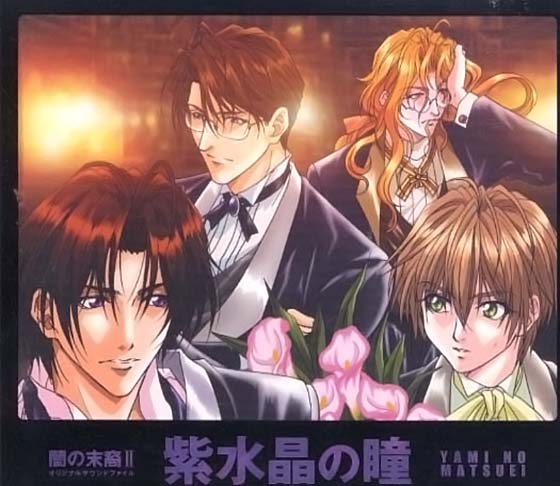 The term "manservice" comes from the term "fanservice", yet it holds a different meaning. In fact, fanservice is a term that describes some situations that can surprise the viewers, such as characters doing something totally out of character, or hot scenes in a manga/anime which is not labeled as ecchi. The term manservice, on the other hand, is used when male characters find themselves in subtle, sexual situations with each other. Since BL/shounen-ai/yaoi manga, or anime, involve gay guys who fall in love with each other, these genres can't always be considered as manservice; but when certain situations happen in a work that isn't labeled as such, that's manservice!
Brace yourselves, as in this ranking we'll talk about ten amazing manservice manga that you'll enjoy for sure!
10. H³ School (Happy Hustle High)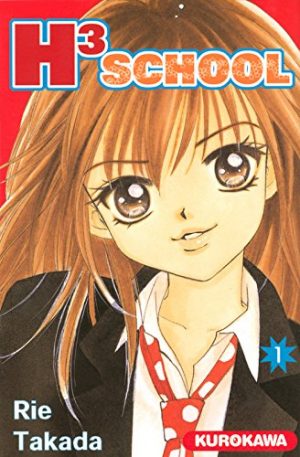 Authors: Takada, Rie
Genres: Comedy, Romance, School life, Shoujo
Volumes: 5
Published: August 2003 – December 2004
Hana Oozora is a 16-year-old tomboy attending an all-girls high school. In exchange for food, her high school life goes by helping her friends. When Hana finds out that her school is about to be filled with boys, though, her life is turned upside down. Upon meeting Yasuaki Garaku, member of the Student Council, she falls in love with him. There's just a problem: Yasuaki is not interested in girls! That's how Hana's life turn to a mission devoted to change Yasuaki's mind.
This funny RomCom manga revolves around a stubborn tomboy who falls in love with an even-more-stubborn boy. During his childhood, Yasuaki was surrounded by male relatives only, then he attended an all-boys school, and so he became overwhelmed by girls. As a consequence, expect to see Yasuaki interact in a certain way with his male friends, or brothers. As a manservice manga, H3 School is full of misunderstandings spiced with subtle hints of bromance/BL. Pick this manga to discover how Hana's mission will turn out!
---
9. Midnight Secretary

Authors: Ohmi, Tomu
Genres: Ecchi, Romance, Vampire, Supernatural, Josei
Volumes: 7
Published: September 2006 – June 2009
Kaya Satozuka is a secretary excelling at her job. When she is assigned to Kyohei Touma of Touma Food, she stays unfazed, even knowing how difficult a person Kyohei Touma is. Her new boss seems willing to make her fail, but Kaya is able to adapt to every situation, and even upon discovering that her boss is a vampire she doesn't bat an eye. She'll start wavering the moment Touma begins to look at her intently...
As a manservice manga, Midnight Secretary is amazing at making girls drool. Hot Kyohei likes to stay shirtless, and what's more, he acts like Kaya is his property, and that's what makes him a mysterious, intriguing man. If you are into vampire stories, and enjoy a manservice manga, Midnight Secretary won't fail you!
---
8. Drug & Drop

Authors: CLAMP
Genres: Mystery, Supernatural, Seinen
Volumes: 2
Published: November 2011 - On Hiatus
Sequel to Legal Drug, the story revolves around Kazahaya, with the ability to see the memories of the people, and the items he touches, and Rikuo, his coworker, and roommate. These two guys run the Green Drugstore, which is a pharmacy dealing with singular stuff. Indebted to Kakei, the actual owner of the store, Kazahaya is frequently asked to use his peculiar abilities together with Rikuo in order to carry out some side jobs. But Kazahaya can take a look in Rikuo's mind, too, and he wants to know more about his coworker's past...
Durg & Drop is yet another interesting manga by the bestselling group CLAMP. In this work, the manservice is very explicit, what with the ambiguous relationship that the two guys build up. As coworkers, they are always there helping each other; as friends, Kazahaya craves to know more about Rikuo, and Rikuo is touchy-feely with Kazahaya. Even though Drug & Drop is currently on hiatus, we still recommend you catch it up, as it is a rare gem in the world of the manservice manga!
---
7. Yami no Matsuei (Descendants of Darkness)

Authors: Matsushita, Yoko
Genres: Adventure, Comedy, Drama, Fantasy, Mystery, Supernatural, Shoujo
Volumes: 13
Published: March 1994 - Ongoing
Asato Tsuzuki died in strange circumstances, and is currently working for the Jouhcho organization as a god of death. Usually, the gods of death work as a pair, yet Asato changed partners as no one of them managed to stuck with him until the end. Hisoka Kurosaki is ten years younger than Asato, and their meeting changes both their destinies forever. Both of them will discover the truth about their past, and their relationship will gradually develop...
Exactly like Drug & Drop, Yami no Matsuei is a perfect manservice manga. It's labeled as shoujo, but it's undeniable how Asato and Hisoka's relationship is more than simply friendship, even if never spelled out. If you join their adventure, you're bound to see two guys very compassionate toward each other, that unavoidably you'll come to ship!
---
6. xxxHOLiC

Authors: CLAMP
Genres: Comedy, Mystery, Drama, Magic, Supernatural, Seinen
Volumes: 19
Published: February 2003 – February 2011
xxxHOLiC revolves around Kimihiro Watanuki, a boy who was able to see the spirits since his childhood. One day, he stumbles upon a shop owned by a woman called Yuuko. She wields a great power, as she can grant people's wishes. Of course, nothing comes for free, and Yuuko is very expensive. So, she offers Watanuki to remove his ability to see and feel spirits, and in exchange, he will have to work for her. Watanuki accepts the offer, and begins working for Yuuko until his debt is repaid!
XxxHOLiC is yet another masterpiece signed CLAMP. The manservice here is all up to Watanuki, and Doumeki's relationship. Doumeki is Watanuki's classmate, and they keep on bickering with each other. Yet, Doumeki gives all he can when it's time to help, or rescue Watanuki. In time, their relationship improves, and manservice scenes with hints of BL/bromance keep growing, as well. What else is left to say? Give xxxHOLiC a try!
---
5. 07-Ghost

Authors: Amemiya, Yuki (Story), Ichihara, Yukino (Art)
Genres: Action, Demons, Fantasy, Magic, Military, Josei
Volumes: 17
Published: April 2005 – August 2013
Teito Klein attends the elite Barsburg Academy. He is an orphan, and a slave, with no memories about his own past. Mikage Celestine is Teito's only friend: despite Teito's behavior, Mikage managed to befriend him, and immediately became a shoulder to cry on for Teito. When Teito discovers the truth about the Empire and the Seven Ghosts, his life is turned upside down, and he is forced to run away from the Barsburg Academy. The fated meeting with Frau, a priest and one of the Seven Ghosts, will change Teito's life for good!
07-Ghost is a josei manga full of bishounen. The interactions between Teito and Frau are really something else, as you see how Frau makes fun of Teito, but he is always there for him. There are some hot scenes in which the muscular, tall priests get shirtless, and some other sweet ones between Teito and Frau that give off real BL vibes. Aside from the manservice, 07-Ghost is also a touching manga, dealing with some delicate themes. It's a must-read for the fans of the genre.
---
4. Hakkenden: Touhou Hakken Ibun (Hakkenden: Eight Dogs of the East)

Authors: Abe, Miyuki
Genres: Action, Mystery, Drama, Fantasy, Supernatural, Shoujo
Volumes: 18
Published: June 2005 – Ongoing
When their village was turned to ashes, Shino Inuzuka and Sousuke Inukawa died. Some fortunate circumstances, though, brought them back to life, and the peony-shaped birthmark the two of them share is related to the event. In fact, one day the Church shows up in front of their eyes, asking them to leave on a quest to find other six people with the same peony-shaped birthmark. Shino and Sousuke's journey begins, and they will have to face numerous hardships along the way.
Hakkenden is a shoujo manga full of bishounen who are tall, and well-built. Manservice-filled scenes are really all over the place, what with Genpachi who doesn't hide his affection toward Shino, and keep trying to hit on him. Shino and Sousuke's relationship is very ambiguous; in fact, it's easy to see BL hints that appear very clearly in certain situations. What's more, the handsome men in Hakkenden love to keep their shirts off, so it's a real feast for the eyes. Give it a shot, Hakkenden more than deserved a mention here!
---
3. Karneval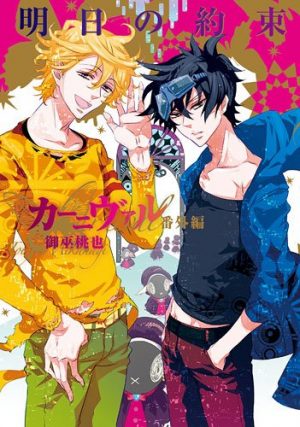 Authors: Mikanagi, Touya
Genres: Action, Mystery, Fantasy, Sci-Fi, Josei
Volumes: 22
Published: August 2007 – ongoing
The "Circus" is a government defense agency which deals with those criminals the police can't handle. Not only that, the Circus protect the civilians from monsters called "varuga". Nai and Gareki are two boys that meet by chance in a dangerous situation; in fact, they end up facing a varuga, but somehow, they manage to survive and escape. The Circus then finds them, and forces the boys to join the agency for certain reasons...
Karneval is a josei manga with manservice-filled scenes that are very hot. First, it's full of handsome boys and men who enjoy showing off their well-built bodies; secondly, BL hints are sprinkled here and there. For example, Yogi tries to catch Gareki's attention, Nai can't stop talking about Karoku, the boy he's looking for. What's more, in Karneval the skin ship among boys is very frequent! What else do we need to add? Catch it up!
---
2. Uragiri wa Boku no Namae wo Shitteiru (The Betrayal Knows My Name)

Authors: Odagiri, Hotaru
Genres: Adventure, Fantasy, Romance, Supernatural, Shoujo
Volumes: 13
Published: September 2005 – April 2017
Sakuragi Yuuki is a sweet, gentle high school boy, who was abandoned as a baby and raised in an orphanage. Yuuki wields the strange ability to read the people's deepest thoughts by touching them, and the mysterious dreams plaguing him every night spark in Yuuki the need to understand the reason for his existence. The fated meeting with a beautiful young man called Luka Crosszeria tugs on Yuuki's memory: have they ever met before? Why does he feel so attracted to him?
UraBoku is a shoujo manga in which "manservice" becomes a keyword. In fact, Yuuki soon discovers that in his past life he was a girl, and Luka's lover. You can imagine how this spices things up as the story progresses: Luka becomes overprotective with Yuuki, and Yuuki – not so covertly – feels something toward Luka. Aside from this couple, there are other characters that contribute to add manservice-filled scenes in this manga, for example Shuusei and Renjou, and their tormented – and blatant – romance. We highly suggest UraBoku as one of the best manservice manga out there!
---
1. Adekan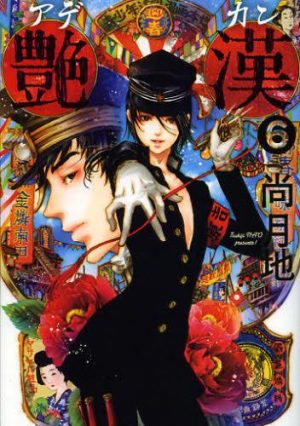 Authors: Nao, Tsukiji
Genres: Action, Historical, Shoujo
Volumes: 12
Published: July 2007 – ongoing
Adekan revolves around Shiro, a laid-back umbrella craftman, who is also an unaware seductive man, and Koujiro. Contrary to Shiro's attitude, Koujiro is a strong-willed young police officer, who can't stand undisciplined things. Shiro and Koujiro, surprisingly, become friends and find themselves involved in some bloody events that will lead them to discover unsettling truths...
Adekan is a shoujo manga that we consider as the epitome of the manservice manga. It holds all that you expect from a manservice work: hot guys that can't stay dressed, what with Shiro always willing to undress and stay naked, skinship between hotties–in fact Shiro is always on Koujiro who blushes like a girl–and sexy men who blatantly act like seducers. In addition, Adekan is also action-packed, so much so, that the readers are left craving for more chapter, after chapter! Trust us, Adekan is literally addictive... you should totally give it a try!
---
Final Thoughts
With Adekan our ranking of 10 Manservice Manga comes to an end! We really hope you enjoyed it as much as we did while writing it. We put in this ranking all those manga able to surprise the readers with some BL/bromance scenes, or those in which the hot guys like to stay shirtless. What other manga do you think could be a good fit in this ranking? Please, share your thoughts in the comments below! See you next time.
---