Recently, beside the term "fanservice", another term is taking off, and it's "manservice", which comes from fanservice, but holds a slightly different meaning. In fact, while fanservice is used, for example, to describe something that surprises the viewers – an ecchi scene in an anime which is not ecchi, a character doing something which is out of character, and so on; the term manservice is all about men and boys in unexpected, subtle, sexual situations.
Those anime full of manservice, as one could expect, are reverse harems. A female is surrounded by a lot of boys or men, who interact and start those situations full of manservice. Of course, there are yaoi vibes in manservice anime, but since a real yaoi involves gay boys or men, who fall in love with each other and start actual sexual situations, yaoi can't be considered part of the manservice genre. When those alleged sexual situations occur in anime which aren't yaoi, nor shounen-ai, that is manservice.
In this ranking, we'll talk about ten wonderful manservice anime, where subtle sexual situations made all the fujoshi and fudanshi out there go crazy! So, brace yourselves, as a wave of amazing boys and men is about to be uncovered right below!
10. Bungou Stray Dogs

Episodes: 12
Aired: April 2016 – June 2016
Bungou Stray Dogs revolves around Atsushi Nakajima. As an orphan, he spent his entire life in an orphanage, but one sad day he was kicked out. The reason is that strange events involving a mystical tiger keep occurring, and Atsushi is suspected to be behind them. Left alone and starving, while lying on a riverbank he happens to save Osamu Dazai – a supernatural detective – from drowning. That's the moment when Atsushi's life is turned upside down: he joins the Special Detective Company and his new, chaotic life begins!
Bungou Stray Dogs is a seinen anime show, that's why it's easy to understand why it fits with this ranking. In this show we find a lot of good-looking men and boys, and some of them show an affection toward each other that really spices things up. For example, the way Dazai and Atsushi interact, what with Dazai being touchy-feely at times, while turning serious and showing how much he cares for Atsushi. Like Dazai and Atsushi, even other characters love to show off; Chuuya strikes poses like a male model, and at times all the others happen to become shirtless, too. With subtle yaoi vibes, good-looking men showing off, and a lot of bromance, Bungou Stray Dogs deserves to be mentioned here!
---
9. Watashi ga Motete Dousunda (Kiss Him, Not Me!)

Episodes: 12
Aired: October 2016 – December 2016
Kae Serinuma is a chubby and funny high school girl with a passion: Boys Love. Her hobby is to keep shipping her hot male classmates, or her senpais. When some circumstances make her lose weight, she turns to a beautiful girl and begins to draw attention. Those male classmates start to look at her differently, but she's a fujoshi to the core: she just wishes to keep fantasizing over her favorite ships. How will Serinuma deal with boys fawning over her, while she just wants to see boy-on-boy action?
Watashi ga Motete Dousunda is a shoujo anime with explicit manservice premises. As Serinuma is an otaku fujoshi, the way she looks at the hot boys in her school is screened through her eyes, and so normal events like a basketball match, suddenly turn into something very hot. Serinuma drools on her classmates' bodies, in the meanwhile she imagines BL scenes where they're totally absent. Just like every fujoshi/fudanshi out there!
---
8. K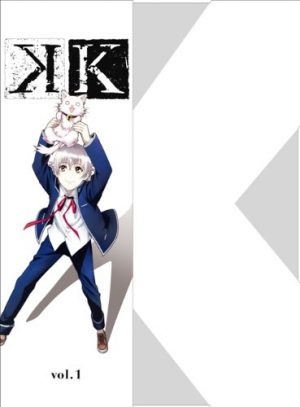 Episodes: 12
Aired: October 2012 – December 2012
Those individuals with supernatural powers are the "Kings", who can choose people for their own clans. Suou Mikoto is the Red King, and is now looking for Yashiro Isana, who is accused of the homicide of a Red Clansman. Yashiro, though, is totally unaware that a video depicting him murder another man has now gone viral. When Yashiro is saved from the Red Clansmen by Kuroh Yatogami, he understands that he needs to prove his innocence. But in the meanwhile, another, bigger conspiracy is about to be uncovered...
K was presented as an action anime show, and it's packed with action actually. It is also full of handsome men, though, who like interacting with each other. It's manservice-filled, as it's literally a feast for the eyes. Subtle BL hunches are all over the place; the Red King and the Blue King, who are enemies, and speak to each other spitefully, make the viewers think "Okay, now kiss". Kuroh is obsessed with Yashiro, who even blushes when one reason or the other bring them close. K was an anime overly appreciated by all the fujoshis and fudanshis, as it is manservice-filled, and spread BL hints, without actually doing it!
---
7. Karneval

Episodes: 13
Aired: April 2013 – June 2013
Let's go on with our 7th position! Karneval revolves around the "Circus", which is a government defense agency dealing with those criminals the police can't handle and protect the civilians from monsters called "varuga". Nai and Gareki are two boys who meet by chance in a dangerous situation, bringing them to face a varuga. When they manage somehow to survive, and escape, the Circus finds them and forces them to join the agency. And that's how their lives suddenly change...
Karneval is a josei anime, but we all know that josei doesn't always imply "manservice". Well, with Karneval it's the case. This show is full of hot boys and men who like to show off and display their beautiful bodies. If this wasn't enough manservice, then there are BL hints, what with Yogi trying to catch Gareki's attention, and Gareki losing his temper, while blushing instead. In Karneval skinship among boys is not rare, and the same is true for the muscular fighting bodies. A wonderful manservice-filled show, that deserved to be here!
---
6. Hakkenden: Touhou Hakken Ibun (Hakkenden: Eight Dogs of the East)

Episodes: 26
Aired: January 2013 – September 2013
Shino Inuzuka and Sousuke Inukawa died when their village was turned to ashes, but some fortunate circumstances, brought them back to life. Both of them share a peony-shaped birthmark which holds a deep meaning; in fact, one day the Church shows up in front of them, asking them to leave in order to search for the remaining other six people with the same peony-shaped birthmark, and the other six mystical gems they already hold. Shino and Sousuke's journey begins, and it will be full of hardships...
Hakkenden is a wonderful shoujo anime, full of guys who are tall, well-built and handsome. Throughout the show manservice-filled scene can become real spicy. For starters, Genpachi who is supposed to be the serious one, doesn't hide his affection toward Shino, and sometimes he blatantly tries to hit on him. Then, there's Shino and Sousuke's relationship which is – let's admit it – very ambiguous. Aside from the BL hints, however, Hakkenden's guys love to take their shirts off: beware, as there's too much beauty in one single show!
---
5. Touken Ranbu: Hanamaru

Episodes: 12
Aired: October 2016 – December 2016
As menacing dark forces are planning to change the past, Saniwa – a sage with the ability to breathe life into inanimate objects – decides to turn historical Japanese swords into muscular, young men, in order to counter the threat. Yamatonokami Yasusada, who originally was Okita Souji's sword, together with his friend Kashuu Kiyomitsu, spend their time in Saniwa's citadel with the other historical swords. Sometimes they get summoned to fight against the dark forces, sometimes they just enjoy themselves playing games or drinking...
Well, imagine this ancient Japanese citadel, in a different dimension, where everything is peaceful and surrounded by green. Then imagine a huge Japanese house, FULL of young men going here and there in traditional clothes. In Touken Ranbu, there's enough manservice to literally suit everyone's tastes, as the range of characters is really huge. Touken Ranbu's men love to show their beautiful muscles while they plow the field, or drink together, or simply train with their swords, while they're all sweaty. It's the show you pick when you simply want to fill your eyes with manservice!
---
4. Binan Koukou Chikyuu Bouei-bu LOVE! (Cute High Earth Defense Club LOVE!)

Episodes: 12
Aired: January 2015 – March 2015
Binan Koukou revolves around five high school boys who have a mission: to cover the world with a shower of love! Initially, these five boys joined the Earth Defense Club only to get to do what they wanted, like reading, playing video games, eating, and so on. Then, things got serious when a pink wombat – named Wombat – gave each of them a magical power, and the possibility to transform. Wombat entrusts them with the duty of showing people what love truly is!
Binan Koukou is a parody anime trying to make fun of the magical girls' genre, that's why the magical girls here are magical boys. It goes without saying: here the manservice is to its fullest. Not only these five boys keep taking long baths together at the onsen, but when they transform into princes, they proudly show their bodies. If it wasn't enough, there's a BL subplot going on throughout the show, and it's obvious enough that the viewers could guess the couples. It's worth watching if you enjoy both shipping characters and manservice-filled shows!
---
3. Kamigami no Asobi – Ludere Deorum

Episodes: 12
Aired: April 2014 – June 2014
Kamigami no Asobi is a reverse harem show revolving around gods. Yui Kusanagi is a high school girl who, waking up one morning, finds herself in a beautiful school. Then, she is suddenly summoned by Zeus, who explains the situation: Yui has the duty to teach six whimsical young gods what love truly means. The task will prove to be much harder that she expected...
As a reverse harem, Kamigami no Asobi is full of handsome boys, either as main characters, or supporting ones. The six guys revolving around Yui look like normal high schoolers, and it's already a feast for the eyes. The manservice-filled highest peak, though, is when they turn into gods and show their true appearances: basically, they get naked, and then all their muscular bodies are shown, and their godly clothes leave a lot of naked skin to drool over. Not only that: skin ship and BL/bromance hunches are all over the place, and they like to take their shirts off even when they should be wearing their normal attire!
---
2. Free! (Free! - Iwatobi Swim Club)

Episodes: 12
Aired: July 2013 – September 2013
Haruka Nanase loves swimming free style, and water in general. During elementary school, he and his friends – Makoto, Rin and Nagisa – won a relay race and then went separate ways. Years after, they reunite attending the same high school – Iwatobi – except for Rin who attends the Samezuka High. Nagisa, full of energy and passion for swimming, decides to form the Iwatobi Swim Club, forcing Makoto, Haruka, and Rei – a new entry – to join. This will lead Haru to meet Rin once again, and face him as a rival...
The epitome of the manservice anime is Free!, a sports show where high school hotties are almost always wearing only a swimsuit, showing their perfect bodies off. Talking about sexual situations, in Free! you only see hot boys playing with water, staying shirtless and displaying their biceps and quadriceps. Here, too, BL hints are everywhere: Makoto seems to have the hots for Haru, reciprocated; Rin and Sousuke play the wife and husband game; Nagisa clings to Rei. But that's just our point of view, as everyone manages to see different ships according to their preferences. Free! really had to be in this list: manservice and subtle BL are the keywords for this show!
---
1. Yuri!!! on ICE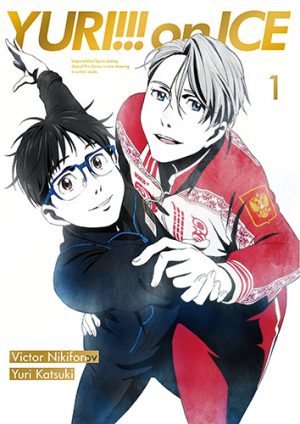 Episodes: 12
Aired: October 2016 – December 2016
Let's end this ranking with an amazing show that stole everyone's hearts! It revolves around figure skating and Yuuri Katsuki, a figure skater who is about to give up skating after a defeat at the Grand Prix Finale. Upset and brokenhearted, Yuuri simply wishes to go back home in Japan and eat pork cutlets to his heart's content. After his return home, though, he is filmed by chance while performing a routine executed by Victor Nikiforov – a living legend, five-time champion of the World Championship, and idolized by Yuuri – and the video goes viral. Seeing the video, Victor impulsively decides to become Yuuri's mentor, and so he leaves for Japan and appears in front of Yuuri's incredulous eyes...
Yuri!!! on ICE brought the viewers to think it was a sports anime like any other, but it hid a treat; a very special one. Talking about manservice, it goes without saying that it was full of well-built, handsome guys shaking their asses on the ice while wearing leotards. Then, the special treat for fujoshis and fudanshis came with Victor blatantly courting Yuuri and proposing by the end of the series. There was even a ring and a "kiss" to seal the promise. And isn't it full-fledged manservice, when the tag "yaoi", or "shounen-ai" lacks altogether? We really thought Yuri!!! on ICE deserved our first position, as it perfectly mixes what one would expect from a manservice-filled anime!
---
Final Thoughts
Yuri!!! on ICE totally deserved our first position, we bet you all agree with us. It put an end to our ranking, and we truly hope you found it amusing. We tried to mention anime which stick to the purer meaning of manservice anime: there are reverse harem, shoujo, josei and even seinen ones. It was a hard task, as the world of anime is full of series that could have fit this ranking. That's why, please, let us know what you think in the comments below, and what other anime you would have chosen for this ranking. See you next time!
---
---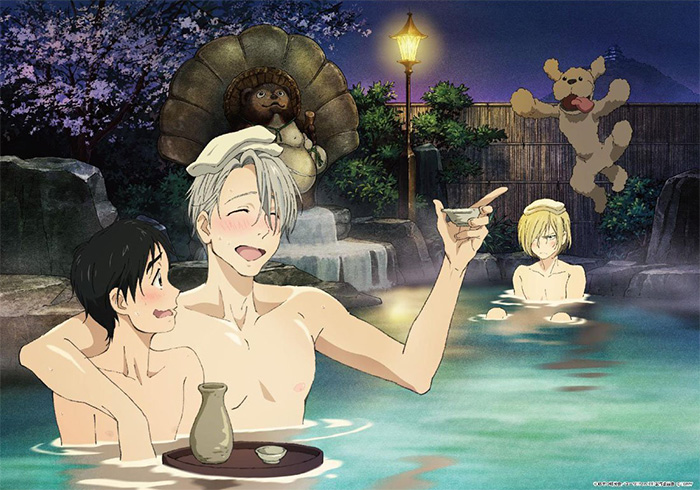 Manservice. It's like regular fanservice, but instead of big boobs and moeblobs, it's studly guys in skintight outfits staring longingly into each other's eyes. In short, manservice is intentional titillation made for a predominately female audience. At first it can seem like little more than a cheap ploy for ratings, but there's a subtle art to fulfilling women's fantasies that a select few anime can nail absolutely perfectly.
Today, we're going to take a look at the top 10 manservice anime, ranked in order of how much they make fangirls squee with joy. Whether it's muscly athletes inspiring yaoi fanfiction or bishounen vampires fighting over the heart of one fair lady, these anime are sure to make your imagination go wild.
10. Food Wars! Shokugeki no Soma (Shokugeki no Soma)

Episodes: 24
Aired: Apr 4, 2015 to Sep 26, 2015
Food Wars is a show that's all about spectacle. It focuses on teenage chefs who compete in over-the-top shounen-style cooking competitions, all lovingly brought to life by a well-known hentai artist – so what else would you expect? Its story and characters are interesting in their own way, but the most spectacular part (and the reason why so many people watched this anime in the first place)... are the foodgasms.
Whenever someone eats a particularly amazing dish, they enter a blissful dreamland where their clothes fly off and they moan delightedly over the flavor. This happens regardless of the character's sex, so there's fanservice for everyone! There's just nothing more entertaining than watching resident free spirit Isshiki shed his naked apron in ecstasy at the taste of protagonist Soma's cooking, or seeing Soma and his rival Akira clash as a boxer and a knight in the judges' minds. Even though the foodgasms are played for laughs, there's plenty of eye candy for everyone in this imaginative anime.
---
9. JoJo's Bizarre Adventure (JoJo no Kimyou na Bouken)

Episodes: 26
Aired: Oct 6, 2012 to Apr 6, 2013
Who says that manservice is only for skinny pretty boys? For those of us who like our men with a little (or a lot) more meat on their bones, JoJo's Bizarre Adventure is here to serve. This is a series with decades of history and its source material is considered to be one of the best manga of all time, so we're already off to a good start with that kind of pedigree. JoJo's characters all have multifaceted personalities and intriguing motivations, but what they have more than anything is muscles.
Yes, JoJo's distinctive art design accentuates each fighter's swole figure with heavy shading and a larger-than-life color palette. A standout example are the villainous Pillar Men, whose Arabian-inspired clothes are valiantly trying, but failing to contain their massive musculature. Everything is so over-the-top that it borders on comedic, but the sheer passion of this anime keeps you invested until the very end.
---
8. All Out!!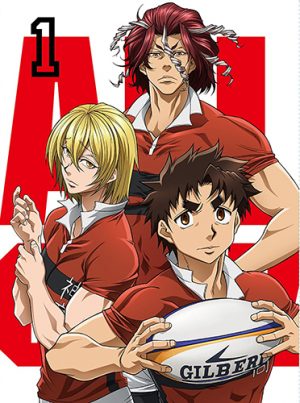 Episodes: 25
Aired: Oct 7, 2016 to Mar 31, 2017
How do you know that All Out is a fountain of manservice? Just look at its poster. If those uniforms were any tighter, they'd be too hot for television. And with all of the full body tackling and rolling around in the dirt that rugby provides, it's no wonder that this anime has caught the eyes of more than a few fangirls.
Although it had the bad luck to come out at the same time as Yuri on Ice, All Out still has its own distinctive features. All of the characters are uniquely designed with different eye shapes, body structures, and other small details that emphasize how much of a ragtag team they are. Tying it all together is the odd friendship between pint-sized punk Gion and gentle giant Iwashimizu, as well as captain Sekizan's turmoil-filled backstory. If you like a little something different in your sports anime, find your tightest polo shirt and check this one out.
---
7. Yuri!!! On Ice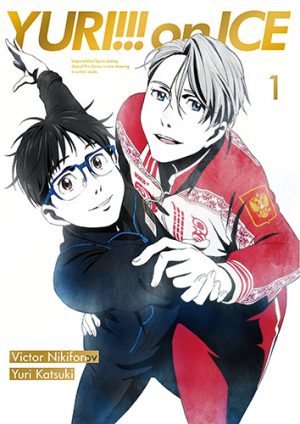 Episodes: 12
Aired: Oct 6, 2016 to Dec 22, 2016
What's so wonderful about Yuri on Ice is that, while there's plenty of manservice in every episode, it portrays the gay characters as realistic and well-rounded people. From an LGBT perspective, it's refreshing to see Victor and Yuri actually grow together as a couple rather than have their attraction only be used as titillation for the female audience. And yet, it's still delightful for women to watch because all of the characters are so handsome, passionate, and athletic.
Here, you'll find a colorful cast of guys from all over the globe who each want to claim the top spot as the best male figure skater in the world. The gorgeous animation gives them bright eyes, full lips, flowing hair, and gracious movement during their complicated ice skating routines, as well as when they're getting to know each other better. Yuri on Ice is a show to binge whether you enjoy digging deep into character relationships or you just like watching beautiful boys skate their hearts out.
---
6. Cute High Earth Defense Club LOVE! (Binan Koukou Chikyuu Bouei-bu Love!)

Episodes: 12
Aired: Jan 7, 2015 to Mar 25, 2015
As you can guess from the title, Cute High Earth Defense Club Love doesn't take itself too seriously. It's essentially a standard magical girl show, but with the genders reversed. There have been magical boys before in anime like Shugo Chara and Kore Wa Zombie Desu Ka, but this one is the be-all and end-all of the genre. Even searching online for "magical boy anime" turns up more results featuring these color-coordinated cuties than anything else.
Yumoto and the other members of the Earth Defense Club use sparkly transformations and weapons granted to them by a giant pink wombat to vanquish the evil forces threatening their world. It's all very tongue-in-cheek and the story isn't particularly deep, but it accomplishes its goal of being a manservice version of a genre that's been delivering female eye candy for decades. Topped off with some lighthearted antics and a dose of good old-fashioned gay subtext, Cute High Earth Defense Club Love is a perfectly silly little romp to indulge in.
---
5. B-Project: Kodou*Ambitious

Episodes: 12
Aired: Jul 3, 2016 to Sep 25, 2016
The realm of idols is traditionally dominated by adorable girls and their moe exploits, but this anime is determined to show that guys can rule the idol-sphere as well. Based on the multimedia franchise of the same name, B-Project brings us a huge lineup of men who've been working all their lives to be the best idols ever. Their character designs come courtesy of the same artist behind Uta no Prince-sama, so, of course, they're bishounen perfection.
But the wish fulfillment doesn't stop there. The guys are constantly flirting with their new manager Tsubasa, who stutters and blushes at their charm, but understands them at their core and ultimately brings the group closer together. And after the credits of each episode, the boys whisper sweet nothings directly to the viewer while lying undressed on a bed. B-Project's manservice techniques may be obvious, but we can't doubt that they're effective.
---
4. Gakuen Heaven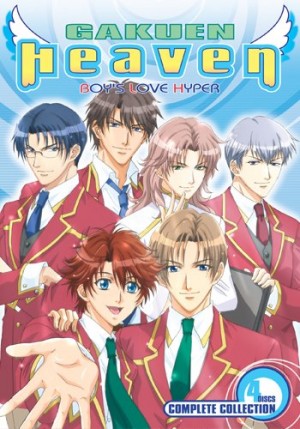 Episodes: 13
Aired: Apr 1, 2006 to Jun 24, 2006
Ah, boys love. Where would manservice be without it? Gakuen Heaven is an adaptation of a visual novel from the far-flung year of 2002, so it sports a more old-school shoujo art style that complements its story of love in a school for the impossibly rich. The anime significantly tones down the sexual content from the original game, but luckily, there's still plenty of aristocratic romance to be had.
Taking place at the cheekily named Bell Liberty Academy, Gakuen Heaven focuses on average kid Keita and his quest to prove himself worthy of the stunning and sophisticated men he meets at this luxe all-boys school. The plot reads a bit like a soap opera with all of its kidnappings, amnesia cases, and mysterious backstories, but it honestly fits well with the premise. It's melodrama to the bone, which is sometimes exactly what we're in the mood for.
---
3. Vampire Knight (Vampire Kishi)

Episodes: 13
Aired: Apr 8, 2008 to Jul 1, 2008
Okay, we'll be the first to say it – it's still a better love story than Twilight. Vampire Knight is a supernatural high school love triangle romance that takes its deeply ridiculous plot way too seriously, but it's so earnest that you can't help but get sucked into its dark world of vicious vampires and those who hunt them down.
Main character Yuuki's two suitors are Kaname, a longhaired princely pureblood with a strange connection to her past; and Zero, a tattooed half-vampire who resents his own kind and hunts them down with a magical gun called "Bloody Rose". These impossibly handsome men are constantly at each other's throats to win Yuuki's heart, perfectly feeding into our own self-indulgent fantasies. Kaname or Zero – whose team are you on?
---
2. Miracle Train: Welcome to the Oedo Line (Miracle☆Train: Ooedo-sen e Youkoso)

Episodes: 13
Aired: Oct 5, 2009 to Dec 28, 2009
Continuing with the theme of gorgeous men fawning over a woman's every desire, in comes Miracle Train. As possibly the most shameless anime on this list, Miracle Train's gaggle of guys exists only to solve troubled women's problems. And since the female protagonists change every episode, the focus is much more on watching these charming lads work their magic to make these ladies' lives a bit better. It's kind of like Makura no Danshi, but without the creepy undertones.
Each of the six men represents one of the stations along the Oedo subway line, which runs through Tokyo. There's a boy for every taste, plus a cute dog and little girl to round out the cast. Give it a watch if you're enraptured by the idea of falling in love with a kind and beautiful stranger in the unlikeliest of circumstances. As the narrator says, will you be the next passenger on the Miracle Train?
---
1. Free! – Iwatobi Swim Club

Episodes: 12
Aired: Jul 4, 2013 to Sep 26, 2013
All rise for the prince of pecs, the earl of abs, the sultan of swimwear and undisputed king of all manservice anime – Free! When this sports anime exploded in popularity after just one promo video, it laid the groundwork for similar shows like Haikyuu and even All Out!! to expand on the "gorgeous young guys playing sports" niche. And although Free certainly wasn't the first to dip its toe in those waters, it's definitely the one selling the most merchandise at anime conventions.
Free! is the number one manservice anime because it delivers exactly what girls want while still having value outside of that. Everyone can appreciate the expertly crafted animation and emotionally resonant story of this group of swimmers who all have something to prove. Their diverse personalities also make it easy to choose a favorite who appeals most to you so you can follow their journey to success. And maybe write some fanfiction about them while you're at it, too.
---
Final Thoughts
Traditional fanservice still far outweighs manservice in the anime world, but these 10 shows give us hope that more sexy men are in our future. And when those men are bundled with a well-crafted story and lovely animation to create an even more perfect package, we can't seem to praise them enough.
What did you think of our list? Did we miss any manservice anime that you love? Who's your top anime husbando? Be sure to let us know in the comments and thanks for reading Honey's Anime Top 10s.
---