También puedes leer este artículo en:Español
Whether you are a veteran or new to the anime scene, you probably have come across OVAs (Original Video Animation). Unlike regular anime series, these OVAs are often short series that vary depending on how these OVAs are made. These OVAs can be short episodes that last only for 5 minutes or long episodes that can run for nearly an hour in 5 episodes or more. No matter how these OVAs are produced, we often get great quality OVAs, whether they are extras episodes from your favorite anime series or episodes that made the OVAs a stand-alone anime themselves.
With lots of great OVAs, choosing which ones to watch is tough. Luckily, we are here to help! Here are the Top 10 OVAs you should check out!
10. Tsubasa Chronicles Tokyo Revelations (Tsubasa RESERVoir CHRoNiCLE: Tokyo Revelations)

Episodes: 3
Aired: November 2007 to March 2008
After leaving Record country, Syaoran and the gang continue their journey to find Sakura's feathers. Their journey leads them to Tokyo, or what is left of Tokyo as it was destroyed by the acid rain. As they got themselves involved in the race for survival with the locals, the group suddenly discovers their revelations that change them forever.
Tsubasa Chronicles Tokyo Revelations is so far one of the best OVA for this series. It covers the Tokyo arc in the manga and follows the events in the manga very well. The story was well written, and some plot twists kept your mind spinning. There was character development for Sakura as we see how much she had grown from when she first started the journey to look for her feathers. Not only that, this might be the only OVA where we see the entire cast of a previous CLAMP anime X/1999 as this anime brings in characters from other CLAMP works. If you are a fan of CLAMP works, check this OVA out!
---
9. Given: Uragawa no Sonzai

Episodes: 1
Aired: December 2021
This OVA takes place during the events of the Given movie as it follows Mafuyu Satou and Ritsuka Uenoyama and their relationship with one another. However, like in any relationship, there is always some trouble as the two begin dealing with their inner turmoil.
This OVA will show scenes never seen before during the Given movie and focuses on the development between Mafuyu and Ritsuka. Since it was tied into the film, it would be best to watch the movie, first, to enjoy this OVA fully.
---
8. Hunter x Hunter Original Video Animation

Episodes: 8
Aired: January 2002 to April 2002
Hunter x Hunter Original Video Animation takes place a little after the events of the original Hunter x Hunter series. After reuniting with Gon and his friends, Kurapika explains his abilities, the risks, his burdens, and the responsibilities he bears as the sole survivor of his clan. With the Spiders, the purpose of his revenge, dead, he thought he could finally start collecting his clan members' eyes until one message stated that they are, in fact, alive.
One of the best OVAs in the Hunter x Hunter series, this OVA focuses more on Kurapika. We see a new side as he struggles to hunt down and take revenge on the spiders. This OVA was well written as it brought out many exciting and great action scenes, and character development. We recommend our readers watch this OVA.
---
7. Natsume Yuujinchou: Itsuka Yuki no Hi ni (Natsume's Book of Friends: On a Certain Snowy Day)

Episodes: 1
Aired: February 2014
Natsume Yuujinchou follows the story of a boy named Natsume, Takeshi, who can see ayakashi or spirits. This OVA tells the story of how Natsume meets a snowman looking for something warm and sparkly on one snowy day. With no other information to go off on, Natsume decided to help the snowman find what that something was.
One unique thing about this series is that there are many short stories within it. By following Natsume, we learn the stories of each ayakashi that Natsume meets, and none of the stories are the same as the last, and this OVA kept true to that trend. So, while it's good to know a bit about the characters and their setting, you don't need to in order to enjoy this OVA.
---
6. Mobile Suit Gundam: The Origin

Episodes: 6
Aired: February 2015 to March 2018
There are many different Gundam series, and choosing which one to watch can be difficult. If you are looking into getting into the Gundam series or are interested in sci-fi and mecha, then Mobile Suit Gundam: The Origin may be the one for you.
This OVA takes place years before the original Mobile Suit Gundam and follows the life of Char Aznable, also known as the "Red Comet" in the original Mobile Suit Gundam. Before becoming known as Char and the "Red Comet," he was known as Casval Reim Deikun. After his father's assassination, his life turns as he and his sister fight for survival and vengeance.
Although it is a prequel to the Mobile Suit Gundam series, you don't really need to watch the original series to enjoy this OVA and can act as a stand-alone anime in the series. This OVA can also give you a peak of what the Gundam franchise is about if you don't want to watch the whole series in the franchise.
---
5. Uchuu Senkan Yamato 2199 (Star Blazers: Space Battleship Yamato 2199)

Episodes: 26
Aired: March 2012 to October 2013
Uchuu Senkan Yamato 2199 is a sci-fi anime filled with action and drama similar to Ginga Eiyuu Densetsu; the difference is that instead of a war between two powers, they are fighting to save Earth.
In Uchuu Senkan Yamato 2199, Earth has become a desolate wasteland after the invasion of the extraterrestrial race, the Gamilia. The crew of Yamato, which consists of various people, from young talents like Tactical Officer Susumu Kodau to veterans like Captain Juuzou Okita, were given an essential task in retrieving humanity's last and only hope: the Cosmos Reverse System from Iscandar. The catch- they must complete this mission within one year.
With amazing animation combined with a great story and cast of characters that suck you in, it is no wonder many people consider Uchuu Senkan Yamato 2199 as one of the best OVAs they've seen. If you are looking for a story-driven space opera series with great animation, we recommend watching Uchuu Senkan Yamato Yamato 2199.
---
4. Zoku Owarimonogatari

Episodes: 6
Aired: November 2018
Zoku Owarimonogatari is the sequel to the Owarimonogatari series and takes place after the events of Owarimonogatari. After high school graduation, Kyomoi Aragi thought he was done with his high school life and outwardly beings. He thought wrong when he was suddenly pulled through his bathroom mirror and into another world, a reverse world, and everything he knows is reverse. Now he struggles to understand this new world as he tries to find his way back into his own.
Just like the original series, Zoku Owarimonogatari is also packed with supernaturals and mystery that Owarimonogatari is known. It brings up the final story of Kyomoi Aragi, so it would probably be better to watch or understand the whole series to enjoy this OVA fully.
---
3. Shingeki no Kyojin Gaiden: Kuinaki Sentaku (Attack on Titan: No Regrets)

Episodes: 2
Aired: December 2014 to April 2015
You could say that Shingeki no Kyojin Gaiden: Kunaki Sentaku is a prequel to the original series Shigeki no Kyojin. Instead of following the story of Eren Yeager, however, we follow the story of Survey Corps Squad Captain Levi Ackerman. Levi's story unfolds in this OVA as we learn how he became a squad leader and humanity's strongest soldier.
Just as in the original, this OVA was filled with action-packed scenes that you would expect in Shingeki no Kyoujin. What makes it different from the original is that it focuses on Levi's past. It gave us insight into how Levi became who he is in the original series and how he made an impact in it as well. If you couldn't get enough of Shingeki no Kyojin, or if you were sad to hear the news that the series will end soon, why not watch this OVA?
---
2. Rurouni Kenshin: Meiji Kenkaku Romantan- Tsuioku-hen (Samurai X: Trust and Betrayal)

Episodes: 4
Aired: February 1999 to September 1999
If you are looking for action, drama, and sword-fighting samurai, then this Rurouni Kenshin OVA would be the one for you.
This OVA series is a prequel and takes place before the original Rurouni Kenshin series before our favorite samurai, Kenshin Himura, takes on the oath not to kill. It follows him on how he took up the sword in the first place, how he became the Battousai, and why he took the oath not to kill. A must-watch OVA for new and old fans alike.
---
1. Ginga Eiyuu Densetsu (Legend of the Galactic Heroes)

Episodes: 110
Aired: January 1988 to March 1997
Adapted from a series of ten novels, Ginga Eiyuu Densetsu holds the title of the longest OVA series. This sci-fi series was set in space where two powers, the Galactic Empire and the Free Planets Alliance, are locked in a long war. It follows the perspective of two commanders from the two sides, Reinhard von Lohengramm from the Galactic Empire and Yang Wenli from the Free Planets Alliance. As they try to deal with politics, ideals clashing, and winning battles; two commanders were on their journey to find the real reason for their battles and the war.
So, if you are into sci-fi and looking for a good sci-fi anime series, why not give this series a try? If watching all 110 episodes isn't enough to satisfy you, this series also has Ginga Eiyuu Densetsu: Arata Naru Tatakai no Overture, Ginga Eiyuu Densetsu Gaiden, and the remake version, Ginga Eiyuu Densetsu Die Neue These - Kaikou. Be sure to check those out as well.
---
Final Thoughts
Besides the list above, there are still so many great OVAs that it was hard to put them all in one sitting. If we did, this list would be long, and it would take a long time to talk about how great each of them is. If there are other OVAs you would like to recommend that weren't listed here, feel free to share them in the comments below.
by Gerrymelyn "Lyn"
---
---
Whether you're new to anime, or are an anime aficionado, you'll enjoy OVAs (Original Video Animation). They usually have topnotch quality, since the home video format grants more creative freedom to the writers, directors and animation teams as a whole. Also, if you're too busy to marathon a hundred-episode series, but still want to sample the best of anime, OVAs are the way to go.
Without further ado, here are the ten OVAs you'll want to check out before anything else:
10. Denpa Teki na Kanojo

Episodes: 2
Aired: Feb 2009 - Dec 2009
At first glance, this seems like your typical boy-meets-girl anime. There's Juu Juuzawa, the antisocial high school delinquent, and Ame Ochibana, the eccentric pushy girl. Ame tells Juu that he was, in fact, a king in his previous life, while she was his knight. Understandably, Juu was freaked out by this strange declaration, and decided afterwards that he wouldn't touch Ame with a ten-foot-pole.
That is, until a friend of his gets murdered, and he realizes he needs her help to track down the killer. With a well-paced plot and clever twists packed into two 42-minute episodes, this anime will leave you wishing it's a full-blown series.
Denpa Teki na Kanojo PV (Raw)
---
9. Seto no Hanayome OVA (My Bride is a Mermaid OVA)

Episodes: 2
Aired: Nov 2008 – Jan 2009
If you want to laugh, and laugh, and laugh until your sides split open, this one is for you. Kicking off from the original 26-episode series, these shorts continue the (mis)adventures of Sun and Nagasumi, as they deal with third-year high school woes, damsels in distress, and other shenanigans that are bound to happen to a human-and-mermaid couple.
To be honest, you won't find a "deep" plot here. What you will find is outrageous, well-executed humor that makes the most of a 30-minute format. And isn't that a good enough reason to watch a series like this in the first place?
Seto no Hanayome OVA Trailer/Commercial/PV
---
8. Furi Kuri (FLCL)

Episodes: 6
Aired: Apr 2000 – Mar 2001
Okay, I have to warn you: This is one of those anime that you'll either love to bits, or make you want to scream: "KILL IT WITH FIRE!"
It's about a typical sixth-grader named Naota Nandaba, who finds himself dealing with not-so-typical sixth-grader problems: His older brother goes to America, leaving behind a girlfriend who develops more-than-sisterly feelings towards Naota. One day, Naota gets run over by a woman on a Vespa, who hits him over the head with a bass guitar, which causes him to grow horns – and things get crazy from there.
Whether you'll appreciate this anime or not depends on your tolerance for absurdity, really. If you enjoyed series like Nichijou, Lucky Star or Joshiraku, you'll probably enjoy this one too. Otherwise, it will just leave you scratching your head and wondering what the heck's going on.
FLCL – Trailer – Available on DVD & BD 2.22.11 (English Dub)
---
7. Black Lagoon OVA: Roberta's Blood Trail

Episodes: 5
Aired: un 2010 – Jun 2011
Think the Black Lagoon anime couldn't get any more intense? Think again.
This OVA cranks up the violence (and sexy shots) up to eleven. It's basically about Roberta, a maid-slash-supersoldier who's out for vengeance, and other characters who want to either help or stop her. You'll probably appreciate this better if you watched the original series or read the manga, but it's still an interesting, high-stakes cat-and-mouse story in its own right.
Black Lagoon Roberta's Blood Trail Trailer
---
6. Boku no Chikyuu wo Mamotte (Please Save My Earth)

Episodes: 6
Aired: Dec 1993 – Sep 1994
Despite what the cover art may tell you, this isn't an ordinary shoujo anime. It tells of Alice Sakaguchi, who discovers that she – along with six other classmates – is a reincarnation of a scientist tasked to observe the Earth from the moon. The seven friends decide to investigate into what this all means, only to find that their past lives have a stronger connection to their present than they realized.
The art may be typical of early 90s anime, but the story isn't. All of the seven main characters were developed so well, you'd forgive the OVA for not wrapping up the story properly (which is its only flaw, really). If you're into character-driven stories, try this one.
Please Save My Earth Advertisement (English Dub)
---
5. Hellsing Ultimate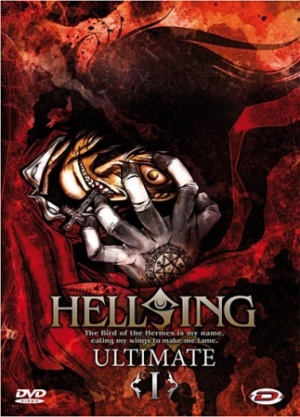 Episodes: 10
Aired: Feb 2006 – Dec 2012
Unlike many OVAs, this one is a remake rather than a sequel, so you don't have to watch the original series to understand it. Its main character is Alucard, a nigh-invulnerable, anti-heroic and sadomasochistic vampire who serves the Hellsing organization, which keeps the world safe by destroying creatures of the night (read: ghouls and vampires).
If you're wondering why a monster would want to kill other monsters, you can't go wrong with this blood-soaked, visually-stunning and thrilling series.
Hellsing OVA 1 English-dub trailer
---
4. Aoi Tamago (Pale Cocoon)

Episodes: 1
Aired: Dec 2005
If dystopia is your cup of tea, you'll want to take a sip of this OVA. The story centers around Ura, who works in the Archive Excavation Department to discover why the world is the way it is: no continents, no oceans. One day, he stumbles across something that will shake up everything he believes in.
It's hard to pull off an original, compelling sci-fi story within 23 minutes, but Aoi Tamago's creators somehow managed to do just that. This OVA is more than just a ham-fisted message about the environment; it's also about looking into the past to make sense of the present. Watch it if you can; it will be the best 23 minutes of your life.
Pale Cocoon Trailer (Raw)
---
3. Hoshi no Koe (Voices of a Distant Star)

Episodes: 1
Aired: Feb 2002
Like Aoi Tamago, this one is a sci-fi story – with a bit of romance thrown in. It's set in 2046, when humans decide to send an expedition to Mars after discovering evidence of a now-disappeared alien civilization there. Mikako Nagamine, a junior high school student, is chosen to join the expedition, which will separate her from Noboru Terao, who's about to enter senior high.
Creator Makoto Shinkai skillfully balances all the mechas, space and other elements you'd expect from a work like this, with the tenderness of the relationship between Mikako and Noboru. If you like a sci-fi story that's more about the characters than the science, this isn't one to miss.
Voices of a Distant Star Trailer
---
2. Ginga Eiyuu Densetsu (Legend of the Galactic Heroes)

Episodes: 110
Aired: Jan 1988 – Mar 1997
At the moment, this holds the record as the longest OVA series ever. Its plot is similar to that of Star Wars (i.e. a war between a galactic empire and freedom fighters), but it is by no means inferior to the latter. In fact, you can argue that this OVA is better than George Lucas' world-famous series in terms of character development, plotting, and handling of both small-scale and large-scale conflicts between two sides.
Aside from this OVA series (which should probably just be a "series"), you can also watch Ginga Eiyuu Densetsu: Arata Naru Tatakai no Overture to appreciate this work better.
Legend of the Galactic Heroes Trailer (Raw)
---
1. Rurouni Kenshin: Tsuioku-hen (Rurouni Kenshin: Trust and Betrayal)

Episodes: 4
Aired: Feb 1999 – Sept 1999
If an anime fan were asked "What's the best OVA you've ever seen?", this is the most likely answer. This OVA takes us back to the Bakumatsu era, roughly a decade before the main Rurouni Kenshin storyline. It's basically Kenshin Himura's origin story: how he became Battousai, how he got his distinct X-shaped scar, and why he made a "no-kill" vow despite being a very capable killer.
Unlike the original series, there's zero comedy in this one – which is actually fitting, considering the time period. Also, the gorgeous animation, the memorable music, and the touching story are more than enough to make up for that. If you're going to miss most of the series on this list, at least don't miss this one!
Rurouni Kenshin – Tsuioku Hen – Trailer 2
---
Due to space constraints, we've unfortunately left out a ton of other great OVA here, like the Hunter X Hunter OVAs (before Greed Island), the Prince of Tennis OVAs and the Fullmetal Alchemist: Premium OVA Collection. If you have any other OVA recommendations that haven't been listed here, do share them in the comments!
---