Intro: Hello, Loves.
It's been a minute since we turned our lens to the world of romance, but what better time than the present to revisit some of the best romance OVAs available in our world. OVAs have the distinct quality of never hitting the silver or the small screen, but they still bring in the big bucks with their releases. Sometimes, OVAs encompass a stand-a-lone story, perhaps, an adaptation of a manga or light novel that has yet to be animated. Often times, the OVA is a side-story or an alternate telling of a popular anime, and can be included as a extra for fans. OVAs are distinct from both films and standard TV series releases, sometimes marked with superior animation. Sometimes, they have subpar animation. Today, though, we'll be looking at the OVAs that did their best to get our romance hearts pumping.
10. Bird's Song (Tori no Uta)

Episodes: 1
Aired: Jan. 2007
Tori no Uta is an intriguing and softly told love story on the background of ga-nime, which is an animation style that is similar to hearing the reading of a picture book. The art of the anime can be a little distorting, but also intoxicating. In the case of Tori no Uta, the art style enhances the dreamlike story of a fleeting encounter between a young man and a mysterious girl and their fantastical reunion.
The narrator in his youth takes a new way home only to get caught in a sudden shower. There he meets a colorful girl and falls for her as they take shelter from the rain together. The girl gives him a feather, saying they will meet again for sure if he takes the feather with him. No matter how much he searches, he can't locate the girl. He even searches in his dreams. Returning to his hometown 50 years later, he embarks on a strange journey in which "reality is a dream, and the dream is reality" with the young girl from his past. Tori no Uta is an abstract romance that somehow seems very much like the colors of love itself.
---
9. World's Greatest First Love Episode 0 (Sekaiichi Hatsukoi Episode 0)

Episodes: 1
Aired: Mar. 2011
Episode 0 of World's Greatest First Love tells us the background story we've been dying for to the popular BL anime, World's Greatest First Love. In the original series, we quickly learn that Onodera Ritsu and Takano Masamune had dated in high school, but what exactly happened back then? With endearing, heartfelt confessions, we get to see how Ritsu's love for Takano blossomed and Takano's response to him. Perhaps not as much romance is involved as we had expected, but it's a slightly different side to the pair that we don't get to see in the original series.
---
8. Blue Spring Ride: Unwritten (Ao Haru Ride: Unwritten)

Episodes: 1
Aired: Aug. 2014
This OVA is an addition to the anime series Blue Spring Ride. "Unwritten" is a prologue episode, also known commonly as Episode 0, and tells the story of Kou and Futaba's relationship in middle school, when the pair first developed feelings for each other. This background story is often seen in flashbacks in the anime, but in the OVA, it is a pure and simple story of a puppy love that could have been. The story is both sweet and measured in its telling and doesn't stray from what we already know as canon. Of course, we know how this OVA ends, but the beautiful development in its unfolding is certainly worth the watch.
---
7. Snow White with the Red Hair OVA (Akagami no Shirayuki-hime: Nandemonai Takaramono, Kono Page)

Episodes: 1
Aired: Jan. 2016
It's not often you come across an OVA of a TV anime that seems like it should have belonged in the original series, so that's what makes Snow White with the Red Hair's OVA that much more interesting. The OVA outlines a date between Zen and Shirayuki. The story contains background for Zen's lifelong preparation for the date along with fun and beautiful character interactions between Zen and his faithful companions, Mitsuhide and Obi. Then, the date happens. Shirayuki, who is a little nervous before the date, enjoys her alone time with Zen, while we learn more about the relationship between Kiki and Mitsuhide.
The quality and the storytelling are both worthy of being included in the TV series. There is enough character development to make one question why it wasn't. As Zen and Shirayuki have an actual date out in the town, they act like their usually selves, but much more couple-like than what we're used to seeing. As a holding-hands-though-town couple, Zen expresses his feelings for Shirayuki in very romantic fashion. Fans of the anime will be more than satisfied by the couple-ness in this OVA.
---
6. She and Her Cat: Their Standing Points (Kanojo to Kanojo no Neko)

Episodes: 1
Aired: Apr. 2002
There is something beautiful and pure in the love of cat, and She and Her Cat is one of the most intriguing portrayals of this love. Short and sweet, clocking in just four minutes of your time, She and Her Cat is a heartwarming but strangely thought-provoking OVA from Makoto Shinkai, creator of the critically acclaimed Kimi no Na wa (Your Name). She and Her Cat is told from the point of view of Chobi, a stray cat who has fallen for the woman who saved him from the streets. Is the love of a cat, however, enough to save his owner?
This is just a short and relatively older OVA, but it became the inspiration of a 2016 manga series and a 2016 TV series She and Her Cat: Everything Flows, which depicts a fuller relationship of a young woman and her cat. The OVA She and Her Cat: Their Standing Points, on the other hand, is a much more poignant story. It's not a love story between humans, but the encompassing and unconditional love of this beautiful purring soul is nothing short of romantic perfection.
---
5. Hori-san to Miyamura-kun

Episodes: 3
Aired: Sept. 2012 – Mar. 2015
Hori-san to Miyamura-kun is a school, slice-of-life OVA series, based on a web comic manga of the same name. Hori is an outgoing high school girl with an equally outgoing appearance. Miyamura quiet and introverted high school boy, but outside of school, he has a different image: He has multiple ear piercings and a large tattoo. Hori discovers Miyamura's secret life outside of school and becomes more interested in the quiet boy. They grow closer while keeping Miyamura's secret together.
As a slice-of-life, this OVA series is a relaxing watch with cute and sweet moments between our protagonists and their other classmates. These characters are also unbelievably cute in their interactions. Hori is popular at school, but Miyamura tends to stick to himself. Through Hori, Miyamura also starts to get along with other classmates, as well. Soon, what seems to be an odd couple will have everyone rooting for them.
---
4. Winter Cicada (Fuyu no Semi)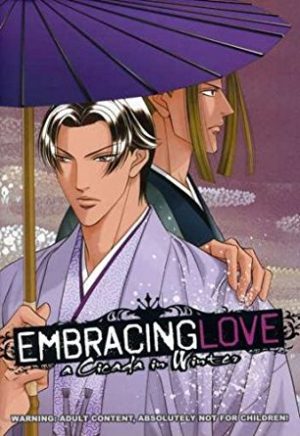 Episodes: 3
Aired: Feb. 2007 – Apr. 2007
Fuyu no Semi is a historical fiction, yaoi anime, comprising of three 30-minute episodes, set in a war-torn era of Japan during the Bakumatsu in the early Meiji Period. Although from different social standings, the Akizuki Keiichirou and Kusaka Touma meet by coincidence during an attempted arson at the British Embassy. They meet again years later, and Akizuki begins to teach Kusaka English, though the two must meet in secret because of their conflicting clans. Their love for each other grows and continues to hold strong even after years of battles has left the two men totally different people than when they first met.
Fuyu no Semi's historically-inspired, star-crossed lovers tale adds layers of depression fuel by delving into the effects of a war's aftermath. Much of the dialog holds onto its historic roots, while we are presented with a complex story of honor, friendship, and love. We learn, however, that the love that Akizuki and Kusaka share, much like their ideals, is far too pure for the broken world they must live in.
---
3. Mobile Suit Gundam: The 08th MS Team (Kidou Senshi Gundam: Dai 08 MS Shotai)

Episodes: 12
Aired: Jan. 1996 – Jul. 1999
At the heart of this mecha battle anime is a love story of two star-crossed lovers, again. This Gundam side story was presented as a 12-episode OVA that was later aired as a series in the USA. Ensign Shiro Amada is the leader of the 08th MS Team of the Earth Federation. They fight off Zeon in the lush green forests of Earth, but before going to Earth, he has a run-in with a Zeon pilot, Aina Sahalin, during a rescue mission. Will their love for each other be able to survive as fight for their respective sides?
While Gundam titles often have at least one romance somewhere, The 08th MS Team takes a strong step in establishing the relationship as a major conflict in the series. This OVA series is, in fact, a series, telling a simple but deep story in the throws of war. The love between the two opposing pilots is filled with curiosity and respect for their respective strength. Even people who wouldn't necessarily call themselves mecha fans will find themselves being drawn into this intricate love story.
---
2. Voices of a Distant Star (Hoshi no Koe)

Episodes: 1
Aired: Feb. 2002
Voices of a Distant Star is a 25-minute OVA from Makoto Shinkai. The animation itself may appear unsophisticated, but most viewers are entirely way too distracted by the intoxicating story to even notice. In search for aliens, Nagamine Mikako is selected to join a space expedition, leaving behind her classmate Terao Noboru. Truly, distance makes the heart grow fonder, leaving both Mikako and Noboru wondering what could have been. The two communicate through email messages, but as Mikako travels farther and farther into space her messages take longer and longer to reach Noboru. Love, however, truly knows no limits.
Much like many of the 1-episode OVAs on this list, Voices of a Distant Star manages to tell a deep and fulfilling story in a miniature amount of time. The space travel spin on this long-distance love tale adds heft to an otherwise simple story, leaving behind only a flood of emotions and feels. Your everyday love story, that's actually not so everyday, has enchanted viewers for over a decade and can easily be seen as a stepping stone to Shinkai's newest blockbuster hit, Kimi no Na wa (Your Name).
---
1. Samurai X: Trust and Betrayal (Rurouni Kenshin: Tsuiokuhen)

Episodes: 4
Aired: Feb. 1999 – Sept. 1999
Rurouni Kenshin: Tsuiokuhen tells the story of Kenshin before he became a rurouni, starting from when he was a young boy and saved by a passing swordsman, who would become his master. Compared to the TV series, this OVA is intensely dark and intensely heartbreaking. As Hitokiri Battosai, Kenshin slays many, including a man named Kiyosato Akira, who desperately does not want to die, giving Kenshin the first half of his iconic cross-shaped scar. As we know, Kenshin will eventually receive the finishing half of the scar from the dead man's fiancé, Yukishiro Tomoe.
What Tsuiokuhen reveals, in beautiful realism, is the said fiancé crosses paths with Kenshin, and the two grow feelings for each other. Even after Tomoe realizes the man she has grown to love is the man who had caused her so much pain in the past, she still stays true to her heart. It's a heartbreaking story that does well for such a popular character, adding much more depth to Kenshin through a young and tragic love story.
---
Some romances are short-lived.
While OVAs have often given us many short and sweet love stories, the short OVA format has proven to be a perfect vehicle for bittersweet and tragic love stories. It's just enough time to enter our hearts but not overstay their welcome. Displaying the essence of quality over quantity, these titles were able to add new dimensions to some of our favorite characters or introduce us to a whole new narrative filled with love, feels, and intrigue. Dramatic but not burdensome, we viewers are left free to indulge in the story in front of us until, sadly, they pass as quickly as they appeared.
---