RomCom is the abbreviation for "romantic comedy", so as the words suggest, anime of this kind are those in which the romance is spiced with a lot of comedic parts. If it's true that RomCom anime explore what it means to fall in love with someone, it's also true that the characters of these shows end up bumping into the strangest situations, comical events, and misunderstandings of all kinds. This anime genre is unique, as it mixes drama with comedy, and balances them perfectly. The purpose of this ranking, though, is to mention 10 RomCom anime oriented toward a female audience; of course, we are sure boys could find something to enjoy here too. Stick with us until the end to discover 10 of the best RomCom shows out there!
10. Tada-kun wa Koi wo Shinai (Tada Never Falls in Love)

Episodes: 13
Aired: April 2018 – June 2018
Mitsuyoshi Tada is a young boy who has never known love. He attends Koinohoshi High School, and his dream is to become a professional photographer, just like his father. One day, while trying to take a photo of cherry blossoms, Tada has a fated meeting with Teresa Wagner, a transfer student who got separated from her travel companion. Tada decides to help Teresa, so he brings her to the Tada Coffee Shop, run by Tada's grandfather. The quiet boy who has never known love begins to understand what it is about, thanks to Teresa's bubbly personality!
Our ranking begins with Tada-kun wa Koi wo Shinai, a RomCom show featuring two personalities on the opposite sides: Tada, gentle, quiet, and kind, versus Teresa, honest, smiling, and lively. While Tada thought he only loved photography, Teresa will teach him what love is. The plot focuses a lot on the romantic side of their relationship, but on the other side, a lighthearted atmosphere full of gags and funny characters make Tada-kun wa Koi wo Shinai a good example of RomCom show for girls!
---
9. Kishuku Gakkou no Juliet (Boarding School Juliet)

Episodes: 12
Aired: October 2018 – December 2018
Kishuku Gakkou no Juliet takes place at Dahlia Academy Boarding School. The students attending the academy come from two rivaling countries: "Black Dogs", and "White Cats". Juliet Persia is the dorm leader of the House White Cat; Romio Inuzuka, on the other hand, is the dorm leader of the House Black Doggy. While these two were supposed to be archenemies, they actually fall in love with each other. In order to avoid trouble, so their relationship must remain secret.
As you can imagine by the premises, the situation promises a lot of comedy. Romio and Juliet have always fought each other since elementary school, so they need to maintain that facade, even though they actually fall in love with each other. In their attempt to keep their relationship a secret, there will be numerous troubles triggering funny situations. This RomCom anime is a nod to the original story of Romeo and Juliet, but with the addition of comedy: every girl will find it amusing!
---
8. Nijiiro Days (Rainbow Days)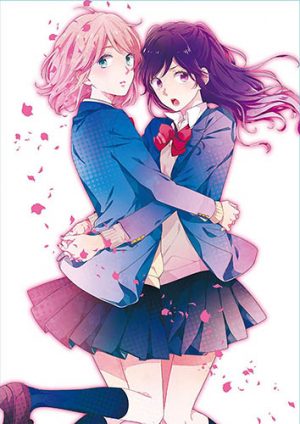 Episodes: 24
Aired: January 2016 – June 2016
Nijiiro Days features the love delusions of four high school boys: Nacchan, Mattsun, Tsuyo-pon, and Kei-chan. Each of them with a singular personality, and very different from one another, these four friends are besties, and their bond is so deep that they can overcome every hardship together. Well, unless it is about love troubles, delusions, and misunderstandings!
Nijiiro Days is a lighthearted, funny RomCom shoujo anime, and the four protagonists are hotties. When Nacchan falls in love with Anna Kobayakawa, the other three boys begin teasing them, meddling in their relationship. But then love troubles strike them, too, and so the four best friends begin to taste what it means to fall in love! Nijiiro Days is full of gags, love triangles, and absurd situations... give it a try, it won't fail you!
---
7. Yamada-kun to 7-nin no Majo (Yamada-kun and the Seven Witches)

Episodes: 12
Aired: April 2015 – June 2015
Ryuu Yamada enters the Suzaku High determined to begin a brand-new life, in a place where no one knows about his bad reputation. The life as a good boy, though, doesn't suit Yamada; in fact, after one year, he reverts to his old ways. Urara Shirahishi is the polar opposite of Yamada: she is beautiful, and an honor student. One day, the two of them meet, and because of a misstep, they fall down the stairs, accidentally kissing on the lips. That's when the magic happens: that kiss made them switch bodies!
Yamada switching bodies with Urara is alone a reason making Yamada-kun to 7-nin no Majo one of the best RomCom anime. Upon meeting Urara, and realizing that she's a witch, Yamada's life turns from boring to lively, literally in just one kiss. Things get even funnier when he and Urara begin to develop feelings for each other, and other witches start meddling. Take a look, and see for yourself how Yamada gets by surrounded by witches!
---
6. Ore Monogatari!! (My Love Story!!)

Episodes: 24
Aired: April 2015 – September 2015
Takeo Gouda is a high school freshman, but his build betrays him: he is tall, muscular, and with a face that scares those around him. Yet, behind that appearance, Takeo has a big heart, and is very kind. However, with his looks, and a best friend like Makoto Sunakawa – handsome and cool – Takeo's love life doesn't take off. One day, after saving the cute Rinko Yamato, Takeo immediately falls in love with her. Suspecting that she has a crush on Sunakawa, though, he decides to become her cupid, and help her to win Sunakawa's heart...
Do we really need to point out why Ore Monogatari!! needed to be mentioned? Takeo, tall and muscular, saves a girl – Rinko Yamato. He falls in love with her, but his low self-esteem completely blinds him; in fact, he fails to realize that Rinko reciprocates his feelings. On the contrary, he decides to help her with Sunakawa. This is only the beginning of a unique, comical relationship, in which "misunderstanding" will be the key word.
---
5. Gekkan Shoujo Nozaki-kun (Monthly Girls' Nozaki-kun)

Episodes: 12
Aired: July 2014 – September 2014
Umetarou Nozaki is a young shoujo manga artist. He is incredibly blunt when it's about pointing out embarrassing things, and yet he can be very oblivious when the girls show an interest toward him. Working with shoujo tropes on daily basis should help him, but it actually doesn't. In fact, when Chiyo Sakura musters all her courage, and decides to confess to Nozaki, he mistakes her for a fan, and gives her an autograph instead!
Gekkan Shoujo Nozaki-kun pokes at shoujo genre, almost making a parody of it, with all its clichés. Nozaki, our protagonist, is very dense: his personality is very exaggerated, and so are the personalities of other characters. But this is exactly what makes Gekkan Shoujo Nozaki-kun very humorous and enjoyable. Join Chiyo in her romantic quest: to make Nozaki look at her not as a fan, but as a girl interested in him!
---
4. Kamisama Hajimemashita (Kamisama Kiss)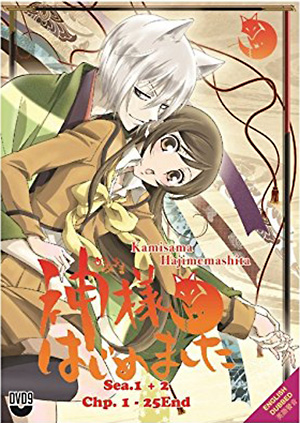 Episodes: 13
Aired: October 2012 – December 2012
Nanami Momozono is a high school girl who, due to her father's mistakes, finds herself homeless, and broke. Lonely and desperate, though, while wandering around at night, she doesn't hesitate to save a man harassed by a dog. The mysterious man is Mikage, the Land God; seeing Nanami's situation, Mikage offers her his own house. But the house is actually a shrine, and Nanami realizes how she became the new Land God, thanks to Mikage. If things could go worse, though, Nanami meets Mikage's former familiar, Tomoe, a rude boy with fox's ears.
Kamisama Hajimemashita is a RomCom anime in which the comedy parts are all up to an amazing, non-conventional heroine. In fact, Nanami is not your classical shoujo heroine: she is strong, determined, and ready to give her best! She has a dazzling personality, and her being clumsy will trigger the funniest gags, what with Tomoe running out of patience, and having to take her out of trouble. Yet, this odd girl will be able to break the walls Tomoe had built during long years of loneliness, and the two of them will gradually fall in love with each other. Kamisama Hajimemashita is a must-see: catch it up!
---
3. Kaichou wa Maid-sama! (Maid Sama!)

Episodes: 26
Aired: April 2010 – September 2010
As the first female student council president, Misaki Ayuzawa has a lot of responsibilities. She is an Aikido master, and won't hesitate to use her skills on misbehaving boys. The so-called "Demon President", though, has a secret: since her family is broke, she works part-time as a maid, at a maid cafe. Sadly, Takumi Usui, the most popular boy of the Seika High, discovers her secret, and begins to threaten Misaki...
Kaichou wa Maid-sama! is very popular as a RomCom show. The comedy is all up to Takumi and Misaki's relationship, which develops only because Misaki is afraid that Takumi will spread her secret. Not only that: Misaki is a tomboy who is not afraid to face the boys head-on. In spite of what Misaki thinks about Takumi, though, he has a crush on her, so he simply uses the situation to get closer to her. With its funny gags, and a wide range of amazing characters, Kaicho wa Maid-sama! more than deserved a mention here.
---
2. Skip Beat!

Episodes: 25
Aired: Oct 2008 – Mar 2009
Skip Beat! features Kyouko Mogami's hardships in the show biz, even though she didn't really want to become a star. In fact, she followed her crush, Sho, all the way to Tokyo, in order to support him in his attempt to become an idol. Sadly, once he became famous enough, Sho cast her aside immediately. Instead of crying her eyes out, Kyoko, with her heart broken to pieces, planned her revenge... her idea is to beat Sho in the entertainment world!
With Skip Beat! we have once again a non-conventional heroine who is determined to punish the man who broke her heart. Instead of whining, Kyouko rolls up her sleeves, and decides to face Sho in show biz. Love triangles, misunderstandings, and a lot of hardships await Kyouko, but this only guarantees to the viewers comedic parts that can make them crack up. Skip Beat! is a lighthearted show that will literally make you skip beats; a rare gem of this genre!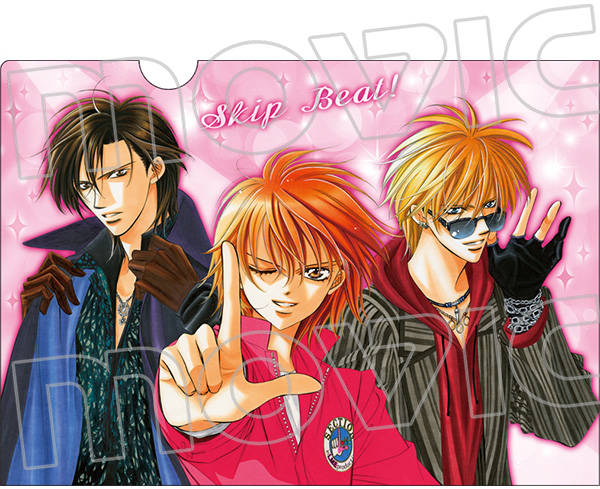 ---
1. Lovely★Complex

Episodes: 24
Aired: Apr 2007 – Sep 2007
Here we are with our first position! Risa Koizumi is 172 cm tall, so she is definitely taller than your average Japanese girl. Atsushi Ootani, with his 156 cm, is way shorter than Risa. Both of them are united by a complex over their height, and their constant bickering with each other makes them look like a comedy duo, always amusing those around them. With time, their relationship deepens, and Risa falls in love with Ootani, who isn't able to see Risa as a potential partner, though...
Lovely Complex is the epitome of the RomCom anime for girls. Risa and Ootani look quite comical when they're next to each other, and their quarrels always turn into jokes, so much so, that they are known as a comedy duo. When they begin to help each other with their crushes, though, Risa falls in love with Ootani instead. And that's when the comedy turns to drama, as Ootani doesn't reciprocate Risa's feelings. Lovely Complex is literally one of a kind; even the saddest situations, turn into funny events thanks to Risa's sparkling personality. It wields all what we expect from a RomCom anime: teenage angst, third wheels, unrequited love, hardships, gags, laughs. That's why we decided to give it our first position.
---
Final Thoughts
Lovely Complex puts an end to our ranking of 10 RomCom anime for girls. We recommend these shows to those girls who enjoy lighthearted romances, which are humorous, and with a bit of drama, as well. We hope you'll find it useful somehow, but of course we expect to know what you think. What other show could have fit this ranking? Let us know in the comments below! See you next time!
---