También puedes leer este artículo en:Español
We've all been through it before, those moments where the world around you just collapses and your entire soul is riddled with torment and sadness. Everything feels heavier around you and at times, it almost feels like the world is against you. Your heartstrings are torn apart by hardships and various episodes of heartbreak or tragedy, and the tears can't stop flowing from out of your eyes. Maybe the love was so captivating that when it all ended, you couldn't help but crawl into a ball of grief. So much happens all at once that it's difficult to cope with. Although these top ten manga may bring a tear to your eye, and at times pierce your soul, we hope that they can cheer you up somehow with their remarkable stories so let's check them out.
10. Dear Friends

Mangaka: Yoshi
Genres: Drama, Psychological, Shoujo, Slice of Life, Tragedy
Volumes: 1
Published: January 2005
Rina's family isn't in the best shape that they could be: her father shows a lack of affection, while her mother on the other hand tries to maintain harmony. All of this mental strain causes a lot of grief on Rina, which then leads her to making some very critical mistakes such as getting caught having sex with one of her friends' boyfriends. This sparked a lot of emotional commotion within her which then inevitably placed her in the hospital, but somehow one friend made sure to be by her side. Maki, one of her close friends, wants to mend that bond they had years ago. Rina asks herself what the true meaning of friendship really is.
This is truly a heart pincher because you have a young girl who grew up in a turbulent environment, which eventually sparked the vicious cycle that she now currently lives in. She thinks she can just selfishly use her friends as pawns, but that all stemmed from these very same friends using her for their own motives. When a sudden illness strikes however, your emotions go from anger and frustration, to deep profound sadness, then happy at times. You can't help but feel for Rina as she's just trying to come to terms with what friendship truly represents, while understanding the lessons life throws at her.
---
9. Bitter Virgin

Mangaka: Kusunoki, Kei
Genres: Drama, Mature, Romance, School, Seinen, Tragedy
Volumes: 4
Published: February 2005 - March 2008
Daisuke notices a young girl named Hinako in class but he doesn't really find her attractive because of her severe shyness and how she distances herself from men. Everyone in the class including Hinako hears what he says, but little does Daisuke know of her deep dark past. When he unintentionally overhears what Hinako had gone through as a child, he immediately swallows his words and now discovers this compassion to be by her side. Hinako however doesn't know that Daisuke heard of her secret, and so when Daisuke approaches her warmly she thinks nothing of it and openly accepts him, not knowing what will happen next.
Hinako's extremely abusive past will engage the waterworks so quickly, it will hard to hold back any emotions. You feel so much for Daisuke because we've all been in his position at one point or another, but then when we hear of the dark reality behind it all, we can't help but feel utter shame and somewhat disgusted. Not only do the two face a lot of jealous backlash from their classmates, but having to cope with Hinako's tragic past is enough to rip out your soul and make you want to curl up into an emotional ball for a little while.
---
8. Zettai Kareshi [Absolute Boyfriend]

Mangaka: Watase, Yuu
Genres: Comedy, Drama, Romance, Shoujo, Tragedy
Volumes: 6
Published: May 2003 - October 2004
Having been rejected countless times in her life, Riiko decides to just give up on trying to approach handsome men and ventures online to try her hand at something new. She comes across a site which offers a free trial of a mysterious nightly lover figure, and so taken aback by it she immediately orders it. The very next morning the package arrives, and the cute guy in the box suddenly confesses how much he likes her. Never having that experience before, she quickly falls head over heels for this robot, but just how long will this all last?
If you haven't watched the live action drama of this series, please do so because you'll truly feel every ounce of the passion that boils between these two. We're not going to spoil the ending at all for those who haven't read or watched, but man this manga really knows how to drain out every tear from your eyes. Riiko is so in love with this guy because he does everything a woman swoons over, cooks, cleans, takes good care of himself, the list goes on. Their relationship is full of sparks and excitement and that's where it hooks you, because you're so absorbed in all of their unabated love and then when the end finally arrives, your soul is torn from your body and left empty.
---
7. Koizora: Setsunai Koimonogatari

Mangaka: Haneda, Ibuki
Genres: Drama, Romance, School Life, Slice of Life, Shoujo, Tragedy
Volumes: 10
Published: June 2007 - February 2009
Mika, like all of us, prays to one day find that one true love who would swoop her up and take her away to paradise. One day she meets a young man named Hiro, who she claims to be the man of her destiny. The two manage to work things through and deal with many issues, including the secrets that constantly reemerge in Mika's innocent mind. This is a story of a young girl who seeks out love, receives it in abundance, but now must face a harsh reality that may take it all away.
Be forewarned that this manga portrays a lot of mature themes such as drug abuse, teen pregnancy, and rape just to name a few. If you're squeamish about these topics then perhaps it's something to avoid because we can assure you it will hit home for a lot of people. The relationship between Mika and Hiro are one of a kind and make you just smile for their commitment to one another. It's when the truth starts to finally sink in that your conscience can no longer endure the struggles Mika goes through, and you start to break down while reading. The harsh realities of life start to manifest and now your entire manga is coated with tears of extreme sadness. Just be careful: this manga is based on a true story.
---
6. LIFE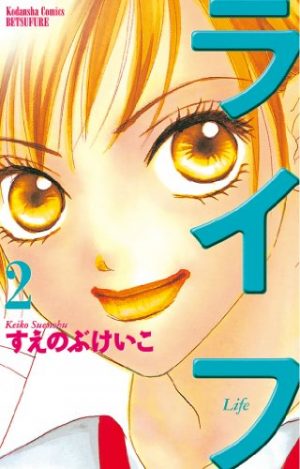 Mangaka: Suenobu, Keiko
Genres: Drama, Mature, Psychological, School Life, Shoujo, Slice of Life
Volumes: 20
Published: April 2002 - February 2009
Ayumu Shiiba is going through stressful times as she must study hard for her entrance exams, and so she calls upon her close friend Shii-Chan for assistance as she's at the top of their class. The results returned with Ayumu passing gloriously but Shii-Chan however fails and can't seem to accept her loss. Totally dumbfounded by everything Ayumu tries to cope with the situation but Shii-Chan slowly distances herself away causing deep guilt in Ayumu's heart. She then resorts to slashing her wrists to relieve the pain of losing such a close friend. Fast forward and now Ayumu has met a new friend named Manami, whom she gets along with very well. Will this new friendship bring about abundant happiness, or will Ayumu relive another dark outcome?
The manga title should speak for itself because this is exactly what the manga details. Life is never truly certain and so many obstacles are thrown our way in order to see how we manage, and sometimes these obstacles are truly hard to bear. Bullying, attempted rape, are just a couple of things you'll encounter throughout the story which is sure to make you think twice about how you treat others. It's also a lesson to the reader to not take things for granted and to truly appreciate what you have before it's all gone.
---
5. Bokura ga Ita

Mangaka: Obata, Yuuki
Genres: Comedy, Drama, Romance, School Life, Shoujo
Volumes: 16
Published: April 2002 - February 2012
For many girls just starting out in high school, this is the perfect time to experiment and perhaps find some love along the way. For Nana, all she wanted was to enjoy her new beginnings and find the right circle of friends to spend time with. One boy in particular in her class named Yano is very well known among all of the girls, with a majority of girls falling for him instantly. Nana is then asked whether she fancies him or not, to which she quickly replies with a no. Unfortunately for Nana, the heart knows what it wants and so now she's about to find herself in a difficult position.
To make the pain less straining we'll just let you know that there's a lot of heartbreak in this manga, so be prepared. Tragic events occur which will surprise you, past trauma that paints an even more somber picture, and a love triangle that will have your head spinning, and much more. The beginning seems like a pretty story but once you find yourself deep within the later chapters of the book, you'll experience the true nature of this dark and mature shoujo series. It's love broken down into various parts, and you'll need to read into it all to put these parts back together.
---
4. Deep love: Ayu no Monogatari

Mangaka: Yoshi
Genres: Mature, Romance, School Life, Shoujo, Tragedy
Volumes: 2
Published: May 2004 - September 2004
Ayu truly attaches weight to her own opinion that nothing could ever fulfill her needs, not even the future. As her way of justifying her beliefs, she sells herself as a means to get by, trying to cover up the void that's manifesting inside of her frail body. One day however this all seems to change when she meets an old lady who then sits down with Ayu to express to her the true values of happiness.
Once again, if you're very fickle with mature themes then we're just giving you a heads up because this one is a heavy hitter. Ayu sells her body because that's all she claims she's good at, and this leads to serious drug use and even HIV infections. It's very moving because all of us know at least one person who has succumbed to this type of lifestyle, and desperately was crying out for help through their body language. Deep Love started off as a cell phone novel which eventually blew up in popularity, and we can definitely see why. Ayu's story is nothing to laugh over, and if you're anything like us emotional creatures with a soul you'll be weeping within minutes.
---
3. Hotarubi no Mori e (popular OVA)

Mangaka: Midorikawa, Yuki
Genres: Drama, Fantasy, Romance, School Life, Shoujo, Slice of Life, Tragedy
Volumes: 1
Published: June 2002 - March 2003
Hotarubi no Mori e is a manga that consists of many one-shots which consist of 4 stories, with the reprint of the manga containing a few extras. All of them come together to paint very emotional pictures of individuals who deal with a lot of setbacks, and must find ways around them in order to live freely. The manga begins with 'Overhearing a Flower Song' and then concludes with the 4th part, 'Deepening the Scar'.
The manga grew in popularity during its release which eventually spawned into an OVA, that also became very popular once it came out. As we mentioned earlier, a lot of the stories deal with a lot of emotional ups and downs such as coping with loneliness, to the more extreme side of things where the action of incest is also portrayed. The manga doesn't fear diving into uncharted territory because it's merely a way for everyone to understand the many issues we face in our current day, and to see its true colors displayed for a deeper understanding.
---
2. Orange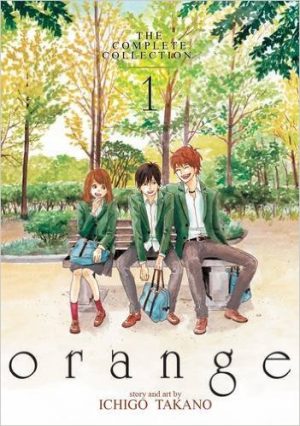 Mangaka: Takano, Ichigo
Genres: Drama, Romance, School Life, Slice of Life, Tragedy
Volumes: 5
Published: March 2012 - August 2015
Maki and her friends befriend a young boy named Kakeru, who unknown to Maki at the time, was suffering from severe depression and heartbreak over the loss of his mother. Kakeru was well admired by these friends but the deep sorrow he felt was just too overbearing for him to hold onto. Fast forward 20 years later after the tragic events and Maki still feels regret for not being able to help Kakeru through his pains, so she writes a letter to her past self to ensure these events don't happen ever again. Just how will the past Maki cope with all of this, and will they be able to save Kakeru?
This manga at times has varying degrees of emotion ranging from total laughter, to absolute pain. You want to hit Maki over the head with a shoe because of her blind emotions, but then shortly after you just want to cover your face under a pillow because you can't stop crying over everything that's happened. It's a train wreck of emotions when you read through this series because you're never too sure what will happen, but you're always praying for the best and hope that Kakeru can maybe, just maybe come to accept his misfortunes.
---
1. Oyasumi Punpun

Mangaka: Asano, Inio
Genres: Drama, Mature, Psychological, Romance, Slice of Life, Tragedy
Volumes: 13
Published: March 2007 - November 2013
Punpun is the gripping tale of Punpun, an 11 year old boy who is portrayed as a bird and living a normal human life, and must come to deal with all of the harsh realities that life throws his way. As more problems continue to show up in this young boy's life, he begins to grow reclusive and these very same emotional strings start to snap apart slowly as he grows older and realizes that not everybody is who they seem to be.
Oyasumi Punpun is widely regarded as a top manga because of how relatable the story is, and that it touches on important issues that we as humanity need to conquer. Punpun goes through depression, severe anxiety, deep remorse, and other varying degrees of dark emotions that lead him down a path of confusion in his road to recovery. We've all been in his shoes before and it's not a pretty experience, because there are times when you need someone to talk to but these very same people have turned a blind eye to you. What are you left to do? This empty void just continues to grow more and more, swallowing you up and leaving you with very little to cling onto. It's this unfortunate scenario that Punpun must deal with, but perhaps, even ourselves at some point in life.
---
Closing Statement
Have your tears stopped flowing yet? We know, it's painful to let go of the things you love sometimes. What's important is that we all take a life lesson from these wonderful manga, because they show us how turbulent life can be and that there's never a moment of certainty, so we need to accept everything for what is. Let us know what other manga brought tears to your eyes or pulled your heartstrings in the comments section below! We'd love to hear about your emotional experiences and how it made an impact on your life as a whole. Also be sure to share, like, and tweet out our articles to ensure that the Honey's community is always buzzing with new faces!
As always, if you want to know about all the latest buzz straight from the bee's nest in Japan, be sure to keep it locked here at Honey's Anime.
---