También puedes leer este artículo en:Español
Grisaia no Rakuen
In the last weeks of this year we want to take the time and highlight some of the best anime of 2015: romance, school, action, fantasy, super heroes - this year had it all and there are more than just a few shows worth remembering.
Today we are bringing all of you back to school, with our top 10 recommendations of school anime. You might think that schools are all the same, especially in anime, but today's list will prove that even one of the most popular genres can be reinvented time after time. No school is quite like the other on this list and they all contribute differently to each storyline.
We have excluded any sequels from our recommendations in order to give new stories a chance to shine. So what are we waiting for? It's time for the top 10 school anime of 2015!
10. Gakusen Toshi Asterisk (Asterisk War)

Episodes: 12
Aired: October 2015 - December 2015
We are starting today's list with one of the most recent anime, Asterisk War from the Fall season 2015.
This show introduces you to the world of Asterisk, consisting of six academies that welcome the children of the Star Pulse Generation. These students all have special powers due to a meteor hitting the earth, carrying a new element with it. Now these students are forced to compete in duels against each other where they combine their skills with futuristic technologies.
Opinions differ when it comes to Asterisk War - some people think it is too unoriginal, others see it as a great addition to other School Battle stories. One thing is sure though, Asterisk War evokes a reaction in many viewers, not only due to its plot. The animation and overall visuals of this show are state of the art and the characters all come together quite nicely. Check this anime out if you are a fan of school stories, but also want enough action in the form of merciless battles.
---
9. Mikagura Gakuen Kumikyoku (Mikagura School Suite)

Episodes: 12
Aired: April 2015 - June 2015
Next up is another show that involves students battling each other, but it adds its own spin to it.
Eruna Ichinomiya is a rather unique high school girl: she is obsessed with everything cute, especially cute girls, and wants real life to be like her fantasies. That is why she enrolls in Mikagura Private School, a boarding school that she hopes will allow her to lead the life she dreams of. But she soon has to find out that all club representatives have to battle each other in order to obtain ultimate school domination. How will her high school story continue?
Mikagura School Suite is your fun and laid-back high school story of the year. It perfectly fit the vibe of the Spring season 2015 and is still a good choice if you just want to relax and laugh with a solid school story. The plot does not get too deep, which might be a good thing for some viewers, and the character design is a true eye candy. Check this show out if you want to enjoy a quick show full of high school craziness.
---
8. Yamada-kun to 7-nin no Majo TV (Yamada-kun and the Seven Witches TV)

Episodes: 12
Aired: April 2015 - June 2015
School life does not always have to be as boring as studying for exams and falling asleep in class - sometimes extraordinary things can happen, just like in Yamada-kun and the Seven Witches.
Hero Ryuu Yamada is your typical school delinquent: he doesn't care about his grades, is not ambitious and basically just wishes he could be somewhere or someone else. This dream becomes at least partly reality when he falls down the stairs with ace student Urara Shiraishi and wakes up trapped inside her body. A new life begins for him that is filled with witches, club activities and lots of kisses.
You might have already guessed it, but Yamada-kun and the Seven Witches combines a school setting with harem elements. However, it is not an extremely Ecchi show and rather relies on jokes revolving around gender bender and body swapping to entertain its viewers. Similar to the previous choice, this recommendation goes out to everyone who prefers relaxed shows with stupidly funny storylines.
---
7. Rakudai Kishi no Cavalry (Chivalry of a Failed Knight)

Episodes: 12
Aired: October 2015 - December 2015
Moving back to Fall 2015 we have another action-filled show that can also entertain all Ecchi fans of you.
The name-giving "Failed Knight" of this anime is Ikki Kurogane, a student who just cannot compete against his classmates. He is one of many Magic Knights that use a new kind of magic which transforms parts of their souls into weapons. However, Ikki seems to lack any magical skills and usually does not perform well in fights against other students. Now he is even challenged by ace student Stella, in a duel that might decide over his future.
Chivalry of a Failed Knight has something for everyone: of course it is a school story, but there is also lots of action, some fantasy elements, romantic encounters and, as already mentioned, Ecchi scenes. Still, the combination of all these different styles and genres into one crazy anime seems to work out. Lots of viewers can enjoy the crazy adventure of Chivalry of a Failed Knight so give it a chance if you haven't already.
---
6. Shokugeki no Souma (Food Wars!)

Episodes: 24
Aired: April 2015 - September 2015
After some fantastic stories let's come back to reality with a show that will make your mouths water.
Souma Yukihira is a student driven by his passion for cooking. He enrolls in the prestigious Tootsuki Culinary Academy in order to become the best chef out there and to inherit his family's restaurant one day. He is known for his creative and sometimes daring culinary creations, but will they help him out in his elite school?
Shokugeki no Souma might seem like a slow Slice of Life show at first, but is actually more of a Shounen show that convinces with its comedy and entertaining cooking scenes. Souma grows with each new challenge he has to face and slowly works towards his ultimate dream. Food Wars! is definitely a motivating anime that will make you cheer on your favorite characters and laugh at all their stupid jokes.
---
5. Prison School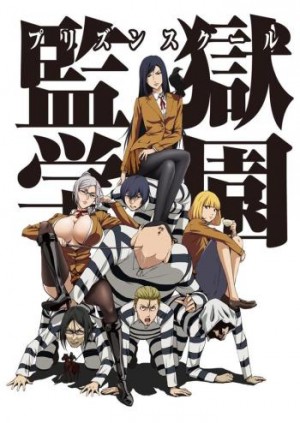 Episodes: 12
Aired: July 2015 - September 2015
You thought that the schools up until now were already pretty unique? Let me add one more school to this list that will make you appreciate your own boring school life much more.
The school of this show is Hachimitsu Private Academy, a prestigious institution that used to be an all-girls boarding school, but now decided to open its doors to the male population. However, only five boys actually make it into the school and are now faced with a scary new reality - after all, what might seem to be every teenage boy's dream at first soon turns out to be their worst nightmare.
Prison School is a show that you will either love or hate, there is almost no in-between. What you can expect from this adventure are lots of fanservice, Ecchi scenes, some violence and mild nudity. Sounds like a crazy ride, doesn't it? That is certainly a way to describe Prison School which was able to surprise a lot of viewers with great jokes and an actual storyline. This show is at least worth a try, but don't say I didn't warn you!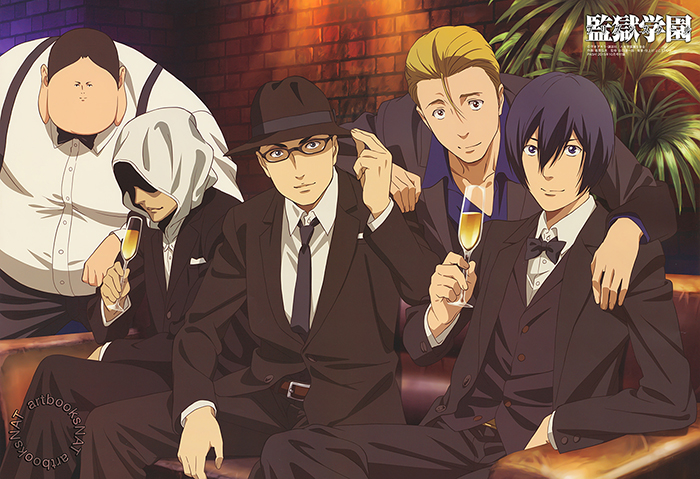 ---
4. Gakkougurashi! (School-Live!)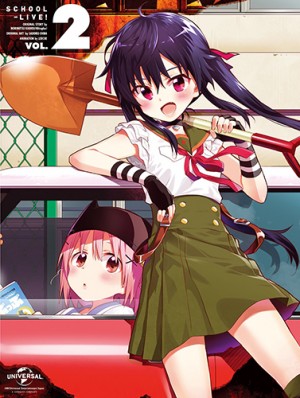 Episodes: 12
Aired: July 2015 -September 2015
All of our recommendations so far have included nice shows with lots of comedy. Now it is time to change that with Gakkougurashi!.
This show tells the story of high school student Yuki Takeya who looks and acts more like an elementary school student than a girl who is about to graduate. She loves nothing more than her school life, including all of her friends, her teachers and most importantly her club, the School Living Club. But one day something terrible happens and turns Yuki's sugar-sweet reality into a living hell.
This show was more than just a positive surprise for many anime lovers out there. What started as a sweet and innocent story soon turned into one of the darkest shows of 2015. Gakkougurashi! contrasts school anime clichés with dark and disturbing images that will get under your skin. One of the main strengths of this show is its attention to detail, so definitely watch this show if you are a fan of horror and mystery elements.
---
3. Ansatsu Kyoushitsu (Assassination Classroom)

Episodes: 22
Aired: January 2015 - June 2015
Enough of dark stories and disturbing images. It is time to introduce one of the most highly anticipated school shows of 2015, Assassination Classroom.
Everything begins with a mysterious alien blowing up part of the moon and threatening to do the same thing to earth if no one is able to stop him. What might be a job for National Security forces falls into the hands of class 3-E of Kunugigaoka Middle School who is now being taught by this alien with tentacles as arms and a sinister grin on his face. Can the students succeed and save planet earth?
Assassination Classroom stands and falls with its extremely weird plot that might turn many possible viewers away. But somehow this crazy story works out and even has some life lessons to teach along the way. After all, as the students are working on their assassination skills they are also tackling the problems of their everyday lives and can actually learn something from their new teacher. If you are a fan of extremely weird yet funny stories, then Assassination Classroom is the show for you!
---
2. Shimoneta to Iu Gainen ga Sonzai Shinai Taikutsu na Sekai (SHIMONETA: A Boring World Where the Concept of Dirty Jokes Doesn't Exist)

Episodes: 12
Aired: July 2015 - September 2015
You want more school stories, more crazy ideas and more Ecchi? We can give you all of that with our next recommendation, Shimoneta.
This anime is set in a different universe where the Japanese government has decided that everything impure, coarse and perverted needs to be banned. After years of strict surveillance and harsh implementations of the law the country has a new generation of students that has no idea of bodily functions whatsoever. One girl decides that it is time to change that and commits acts of terrorism that include lots of naughty pictures, obscene language and panties being worn as masks. What?
It is true that you can only appreciate Shimoneta if you have a pretty dirty and special kind of humor. For those of you that can appreciate an over-the-top kind of storyline that is so exaggerated that it is hilarious again, Shimoneta is the show for you. Especially since the producers did not solely rely on the weird premise of the show: it still has some nice artwork, unique characters and a storyline that moves along at a steady pace. Give Shimoneta a try, I am sure it can surprise many of you.
---
1. Charlotte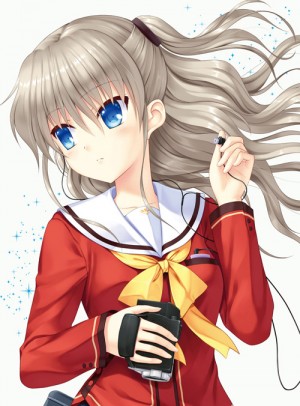 Episodes: 13
Aired: July 2015 - September 2015
Last but not least we have one of the most popular shows of the summer season 2015 that will give you a combination of school and supernatural elements.
Yuu Otosaka has a special ability that makes his life a lot easier: with the power to take over other people's bodies he manages to become the smartest student of his class and enroll in an elite high school. But his selfish days are over when he meets Nao Tomori who recruits him for a unique club that sets out to stop other students with supernatural abilities before they harm themselves or the people around them.
Charlotte is an immensely deep and touching story that actually starts out as a harmless high school show. But it soon moves on to become something much bigger that will keep you at the edge of your seat until the final episode. Charlotte will win your heart with its great main cast, touching visuals and most importantly its storyline that comes from no one less than Jun Maeda, creator of Angel Beats! and Clannad. A definite must-watch of 2015, not only for fans of school stories.
---
Hibike Euphonium
School is one of the most disliked parts of everyone's life, yet one of the most interesting genres in anime. There it can build a great setting for all different kinds of stories and create a connection between any main cast. Similarly, school stories can be combined with almost any other genre and that is what we could see on today's list. Each show took the common school theme and made something unique out of it, so give the ones you didn't know yet at least a try.
We are always ready to hear your opinions, so let us know what you thought of our selection. Which shows can you agree with, which ones did we forget? Leave a comment down below!
---