También puedes leer este artículo en: Español
Gekkan Shoujo Nozaki-kun
When we see the romance tag in anime recommendations, instantly character development comes into your mind. A good romance anime must develop its characters well to firstly, portray the immense feelings between the characters and secondly, to allow the viewers to understand what it's going on and to empathize with the characters. That goes without saying that the selling point for romance animes are it's characters and many of them are still memorable to us.
As you will see from the list below, today we count 10 anime from a subgenre of romance - school romance. In a typical school life, it is not hard to find romance as more often than not, the close proximity of the two characters within the same building allows love to blossom and allows their relationship to develop.
10. School Rumble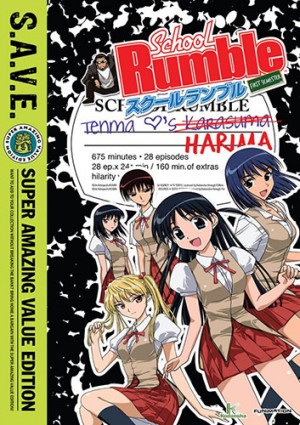 Episodes: 26
Aired: Oct 2004 - Mar 2005
High School delinquent Harima Kenji is in love with fellow classmate Tsukamoto Tenma. There's only one problem... Tenma is in love with fellow classmate Karasuma Ooji. This romance comedy is sure to give you a laugh or two as the different parties try their best (often failing) to win the hearts of their crush.
School rumble emphasizes more on the comic effect that arises due to the frustration of failing to get the crush to notice them. Originally starting of as a comedy show, the story eventually progresses and ends up as a heartwarming tale. Never losing its sights on the romance and comedy tag. School Rumble is a good balance of romance and comedy.
---
9. Kareshi Kanojo no Jijou

Episodes: 26
Aired: Oct 1998 - Mar 1999
Miyazawa Yukino's social standing was threatened by a new-comer. Arima Soichiro seemed to be better in everything - grades, looks, humble and likeable. She is not pleased with her new position as number 2 as she was used to getting all the praises and respect of her fellow classmates. How will jealousy and envy transform into love as the both of them adapt to his and her circumstances.
Besides all of the issues apart, the story is a well-balanced tale of how two seemingly competing individuals eventually get together in a school setting. No doubt old, it can be considered a classic of a romance and slice of life anime.
---
8. Kokoro Connect

Episodes: 13
Aired: Jul 2012 - Sep 2012
Odd things are happening to members of the Cultural Research Club. Without any explanation, a supernatural occurrence caused all 5 members to switch bodies at random times. While it starts off as bewilderment, all 5 members will soon learn the deep dark secrets that each individual hold as they live through the personal lives of the body of the person they switched with. Can they accept the harsh reality and maintain their relationship as friends? Even more so, will some of them accept the feelings of the other party, especially if it was not meant to be known yet.
Kokoro Connect had an interesting premise. No longer will characters observe the world from their standpoint. As different aspects of their lives are modified and changed. They will have to live the lives of others both at school and at home. While many would presume that it is a strong intrusion of privacy, the show did great in portraying romance as different characters come to terms with the dark past and traits of their crush. Who though? We are not here to spoil any plot though!
---
7. Kimi ni Todoke

Episodes: 25
Aired: Oct 2009 - Mar 2010
Poor Kuronuma Sawako is just a misunderstood girl at school. Her niceness and quiet demeanour is often misinterpreted as being awfully similar to the ghost character of hit horror movie, The Ring. Having the same long straight black hair of Sadako, the main antagonist is more than enough to send everyone running away in fear. Luckily for her, she happens to meet the popular Kazehaya Shouta. Will this be a new chapter in her life?
Kimi ni Todoke is actually a very simple but yet beautiful tale of school romance. Even though Sawako is isolated for most of her life, she maintains a sweet and innocent personality. It makes you happy to see her getting along with Kazehaya at school and in the classroom. This is a classic romance anime that is adapted from a hit manga and for good reasons too!
---
6. Tonari no Kaibutsu-kun

Episodes: 13
Aired: Oct 2012 - Dec2012
Shizuku is only interested in scoring the best in any exams. Focused only in her studies at school, how can someone who was nicknamed "Dry Ice" ever find romance? Enter Haru, gentle and caring on one side but an uncontrollable monster at the other. These two social misfits seems like a very bad equation for love but hey, love is blind.
While the romance element takes a while to emerge in the series, it is worth the wait. Both characters are odd in their own way and there may even be times in which you will feel that there is no progress at all. Opposites do attract however, and there will definitely be romance in the classroom!
---
5. Amagami SS

Episodes: 25
Aired: Jul 2010 to Dec 2010
After being stood up at a date during Christmas Eve, our main character Junichi Tachibana's heart was left in pieces. Jaded on the concept of love, he keeps it to himself most of the time and spends most of his time with his close friends. The story will branch out depending on the arc of the heroine and he will find love once again. This time however, it remains true.
Presented in different arcs, each exploring the routes of the different heroines, Amagami SS shows the start and end of every romantic interest of the different girls. All occurring in the school setting, but the anime shows how a different personality can change the view of the main character. What is particular good is the variety of main heroines such that it will be easier for you to pick a new waifu!
---
4. Kaichou-wa Maid-sama

Episodes: 26
Aired: Apr 2010 - Sep 2010
Switching from an all boys school, it can be awkward to be the first few batches of girls to enter. Even more so if you're the first female student president. Misaki Ayuzawa goes beyond that barrier however. She is strict and an adept fighter as well. Her reputation for utilising such methods for discipline earned her the nickname of "Demon President". It should've ended there, however she has a secret, she works at a maid cafe. What happens when the most popular boy in school enters her cafe one day and see her in costume?
Kaichou-wa Maid-sama sees a couple being brought together in school. What is truly remarkable is the fact that this relationship has many ups and downs and it is definitely not easy to maintain. Yet, the characters devotion and dedication to each other proved that nothing could've stood in their way.
---
3. Sakurasou no Pet na Kanojo

Episodes: 24
Aired: Oct 2012 - Mar 2013
Life is not easy in Sakura Hall. All of the residents are quirky and weird. Kanda Sorata is a new resident of this dormitory and he already wants out. His friend, Aoyama Nanami recommends that he get out but joins soon after as well. The final individual to this rom-com is Shiina Mashiro, a gifted artist. She quickly forms a liking to Sorata. Her childlike ways earned her titular nickname - The Pet Girl of Sakurasou.
Sakurasou juggles between friendship and romance. Bordering between the fine lines between these relations can be heart wrenching. Who do you think will end up with Sorata in the end? The school friend, Nanami who received and gave support to Sorata throughout their school life or the new comer, Mashiro, who has innocent qualities and a childlike personality.
---
2. Toradora!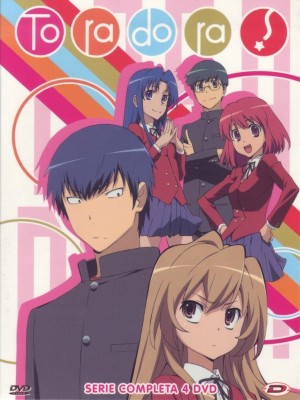 Episodes: 25
Aired: Oct 2008 - Mar 2009
Ryuuji Takasu was unfortunate enough to be born with sanpaku which made him appear fierce and even evil looking. However, he is a gentle soul at heart and even a germophobe. He long had a crush on his classmate Minori Kushieda. Next, is Aisaka Taiga. Miniscule in size, she has a crush on Ryuuji's best friend, Yusaku Kitamura. Due to circumstances, they will find themselves aiding each other to get the romance that they desire. Whatever will transpire next?
Whenever someone thinks of romance in a school setting, most would've heard of ToraDora. From start to beginning, you will always be immersed in the story and there will never be a moment where the story diverges away from its main theme. Truly a stunning masterpiece, it is a must watch for romance lovers.
---
1. Clannad

Episodes: 23
Aired: Oct 2007 - Mar 2008
It was a chance encounter, but one that will change the lives of both Okazaki Tomoya and Furukawa Nagisa. While going up the slope towards his school, Tomoya met the sickly and frail Nagisa. Maybe it was fate, maybe it was purely coincidental or it could even be the inherent goodness in Tomoya. Regardless, he took it upon himself to be Nagisa's friend and helped her adapt into high school life. The events that follow can only be surmised as an exemplary form of love and gives meaning to what it truly means to give your all to that special somebody.
If anything, Clannad is known throughout the industry, is for its emotional conclusion and stunning animations at its time, it can be said to be Key's best work of art. Generally well received, most will say that it is a tearjerker and an anime that even holds the potential to change the world for you. It is subjective, but it is definitely a masterfully crafted story and perhaps even the quintessence of a romance anime. It goes without saying that we rank it at Number 1.
---
And there you have it, 10 school romance anime that is surely to leave you with feels. The beauty of a school romance anime is such that character development is allowed to happen as the characters are in close proximity with each other. We are all familiar with school as well, which adds to the sense of familiarity.
Moving on, have you watched any of them before? Did any of the character leave a lingering feeling of sentiment for them? Do let us know and we will see you next time!
---