2018 was a solid year for anime. Anime shorts had an especially good year, giving us tons of quality shows. Whether you enjoy short anime because they are perfect to binge or you watch them when you don't have a lot of time, there were plenty of amazing shows that came out this year. Today, we are going to be looking at some of the best as we look at the top ten best short anime of 2018. With shorts ranging from stories all about food, to comedy packed series, there was a little bit for everybody to enjoy in 2018.
10. Gift±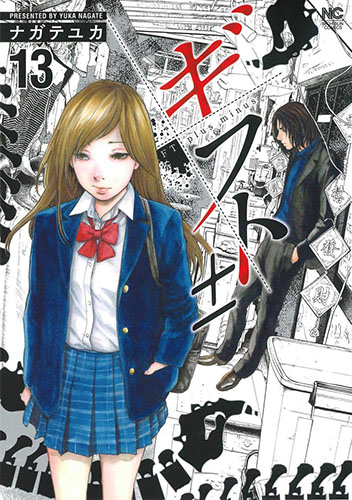 Episodes: 20
Aired: September 2018
Thanks to the high demand for organ transplants in Japan, there has been a rise in black market groups that harvest organs. Tamaki Suzuhara is a high school student who is on a mission to find someone very important to her who went missing many years ago. In order to get more information, Tamaki joined an illegal organ trafficking network that captures the worst members of society in order to sell their organs. Gift± follows Tamaki as she tracks down the answers to her missing companion while trying to stick to her morals in a morally grey world.
Our first entry on the list is a somewhat obscure anime and the shortest anime on the list, having episodes that are just under two minutes in length. Gift± is a dark anime with a very serious plot and some quite a bit of gore. The characters are all pretty good with Tamaki being the best of the bunch. Visually, the anime isn't spectacular, but the unusual aspect ratio of the anime helps create some interesting scenes. While Gift± does struggle with getting too deep into its story, the ideas and themes presented throughout the anime are more than enough to make up for the story's shortcomings.
---
9. Uchuu Senkan Tiramisu (Space Battleship Tiramisu)

Episodes: 13
Aired: April 2018 - June 2018
After many years, humanity has managed to make its way into space, creating colonize all over the galaxy. In Space Era 0156, a massive war begins pitting the various colonies against each other. In order to fight back against the space colonies, Earth has been working on a secret battleship they call the Tiramisu. Subaru Ichinose, is chosen to pilot the Tiramisu, but Subaru has no interest in war or interacting with others, instead, Subaru likes to spend his days hiding out in the Tiramisu's cockpit all alone.
Uchuu Senkan Tiramisu has a lot going for a short. The anime incorporates a lot of comedy, action, long food sequences, and also has a wacky story. Visually the anime looks great with some interesting character designs and it even has some impressive looking action scenes. The main draw for Uchuu Senkan Tiramisu is the massive amount of comedy throughout the series. With two seasons of the anime coming out in 2018 there is twice as much absurd comedy for you to enjoy.
---
8. Devidol!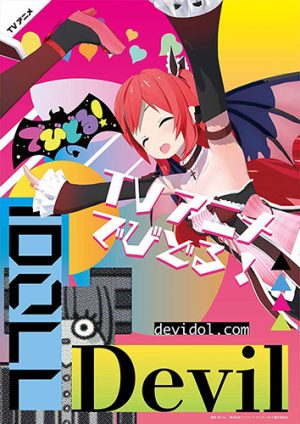 Episodes: 11
Aired: October 2018 - December 2018
Aira, Shima, and Hana are devil girls living in the human world. While the girls are working hard to live their best school lives, they long for something bigger. The girls' dream of one day becoming idols. Unfortunately, none of the girls actually know how to achieve their goal and they often find themselves making the wrong decisions. With the help of the strict Rocket-sensei, the girls continue to work hard in order to become idols.
Devidol is a strange but very enjoyable short. The anime has some interesting visuals with little movement and CG animation that ranges in quality. This adds to the charm of the show giving it a nice unique style. The show is split into two halves with the first half dedicated to the actual story of the series and the other half being an ad lib segment. While it may seem off-putting to have a good portion of each episode set aside for segments unrelated to the actual anime, but these segments are some of the funniest in the entire series and help make Devidol one of the best shorts of the year.
---
7. Takunomi

Episodes: 12
Aired: January 2018 - March 2018
After getting a new job, Michiru Amatsuki moves to Tokyo and starts a new life. Michiru decides to stay at Stella House Haruno a boarding house for women. Michiru's new roommates are the wedding planner Kae Midorikawa and the sisters Nao and Makoto Kiriyama. Together, the girls hang out over delicious food and tons of alcohol.
Takunomi is one of the many food-centered anime to come out in 2018. This short mainly focuses on alcohol and gives some deep dives into the various alcoholic beverages the characters drink. While there is a story here with Michiru and the other girls dealing with the troubles in their lives, it is largely inconsequential. This isn't a bad thing and allows the anime to show get to its best parts faster. The anime also has some nice looking visuals and some great character designs that really bring the whole anime together.
---
6. Fumikiri Jikan (Crossing Time)

Episodes: 12
Aired: April 2018 - June 2018
What do people do at railway crossings? Fumikiri Jikan brings us into the world of railway crossings as we learn exactly what people do at railway crossings. The anime tells the story of the many people who find themselves waiting at railway crossings. Stories of friendship and love are told all mixed in with the sounds of the train passing along the rails.
Fumikiri Jikan is a fun and light hearted that makes the most of its short run time. Each episode tells a different story and with many different characters. Most episodes feature a different group of people hanging out at the railroad crossings. While none of the characters get any development, the short does a great job at showing off their personalities which really helps you get invested into each of their stories.
---
5. Dagashi Kashi 2

Episodes: 12
Aired: January 2018 - March 2018
Kokonotsu Shikada is an aspiring manga artist that lives in the countryside. His family has owned the Shikada Dagashi sweet shop for nine generations. Despite the business' long family history, Kokonotsu has no intention of taking over. One day, a strange girl named Hotaru Shidare shows up at the shop looking to convince Kokonotsu's father, You Shikada, to return to his job at her family's company the Shidare Corporation. You decides that if Hotaru can convince Kokonotsu to take over the family business, he will return to work at the Shidare Corporation. Hotaru's agrees and sets out on a mission to introduce the wonderful world of dagashi.
Dagashi Kashi's second season brings you all of the comedy and dagashi you loved from the first season, but this time it has been trimmed down a little. Thanks to the shorter run time the anime to show off the various snacks while not ever growing stale. There isn't very much going on in the story, but there are still plenty of great comedic moments for you to enjoy. The show's art style is wonderful, with improved character designs and even better looking snacks.
---
4. Akkun to Kanojo (My Sweet Tyrant)

Episodes: 25
Aired: April 2018 - September 2018
Akkun and Nontan love each other dearly, but their relationship is anything but ordinary. Akkun has an extreme tsundere personality and constantly puts Nontan down despite his love for her. Even though she is constantly put down, Nontan loves everything about Akkun and thinks everything he does is cute. Akkun to Kanojo follows the story of this odd couple as they show off their love in the strangest way possible.
Akkun to Kanojo is a solid romantic comedy that provides you with a more than a few laughs. The series has some fantastic characters that help make the anime so good. From the main couple to the side characters, they are all interesting and bring something to the anime's comedy. The series makes fun of various types of dere romances, with tsundere being the main focus of the comedy. With a whole lot of comedy, great characters, and a few really good romantic scene, it is easy to see that Akkun to Kanojo is one of the best short anime of 2018.
---
3. Wei, Kanjian Erduo La! (Hora, Mimi ga Miteru yo)

Episodes: 12
Aired: August 2018 - November 2018
Da Shu is an unpopular mangaka who spent his youth in an orphanage. Now, he lives each day bored and alone, rarely leaving his bedroom. One day Da Shu meets a cat-eared boy named Myou and his life changes forever. Together with Myou gets to experience what it truly means to care for somebody. The story follows Da Shu and Myou as they go about their new life together as they experience friendship for the first time.
Wei, Kanjian Erduo La is a feel-good anime that is perfect to watch when you are trying to relax. Every aspect of the anime is incredibly soothing with the art style and the music being especially soothing. The two major parts of the anime are the comedy and the relationship between Da Shu and Myou. The comedy is great and you are sure to get a few laughs out of each episode. As for the relationship, whether you are a fan of shounen ai or not, the dynamic between Da Shu and Myou is really enjoyable to watch and is incredibly heartwarming.
---
2. BanG Dream! Garupa Pico

Episodes: 26
Aired: July 2018 - December 2018
For years Kasumi Toyama has tried to find something that excites her as much as the first time she looked at the stars. One day, Kasumi sees a star-shaped guitar in a pawnshop and, for the first time since her childhood, Kasumi has found the thrill she's been searching for. Together with her classmates Arisa, Saaya, Tae, and Rimi, they form the band Poppin'Party. BanG Dream! Garupa Pico follows the girls of Poppin'Party along with the bands Roselia, Afterglow, and Pastel Palettes and they get in all sorts of comedic hijinks at the live house named CiRCLE.
BanG Dream! Garupa Pico is an anime everyone should watch even if you have never seen the original anime or played the mobile game. The chibi character designs are cute and the comedy is amazing, with each of the bands getting in on the action. There is a very large cast of characters and some of them don't nearly as much screen time as others do, but there are still a few moments where each character gets to shine. The short excels at making you laugh and is not only one of the best shorts of the year, but one of the best anime of the year as well.
---
1. Gaikotsu Shotenin Honda-san (Skull-face bookseller Honda-san)

Episodes: 12
Aired: October 2018 - December 2018
While working at a bookstore may seem like a boring job, the truth is it is anything but that. Honda the skeleton works at his local bookstore and know better than anyone just how crazy it can get. Every day brings new problems that Honda and his coworkers must solve. Honda is always ready to deal with whatever comes his way, whether it is ravenous fan girls looking for a new series, or making sure the latest titles are stocked for the incoming barrage of dedicated readers.
Gaikotsu Shotenin Honda-san has a lot of great things packed into it's short run time. Each episode is filled to the brim with fantastic comedy and some educational moments on the inner workings of Japanese book stores. Most of what Gaikotsu Shotenin Honda-san gives you is simple, but it really excels at what it is trying to do. The anime's comedy is ridiculous and pushes everything to the extreme. Visually, Gaikotsu Shotenin Honda-san doesn't have much movement from the characters but makes up for it with the colorful art style and creative character designs.
---
Final Thoughts
That is it for our list of the top ten short anime of 2018. There were plenty of fantastic shorts this year with all kinds of interesting and creative stories for us to enjoy. What was your favorite anime short of the year? Are there any anime that you think should be on this list? Let us know in the comments.
---