También puedes leer este artículo en:Español
Now we'll be taking a much more softer approach by talking about shoujo ai manga today. Shoujo ai depicts mainly romantic relationships which don't involve very explicit or over the top behavior, and simply a loving courtship mainly between two females, but that can sometimes include more. We'll be taking a look at some of the best shoujo ai manga to date, so if you're entirely new to the genre or an experienced veteran, this list is sure to enlighten you in more ways than one.
10. Kurogane Pukapuka-tai

Mangaka: Kurihashi, Shinsuke
Genres: Action, Comedy, Ecchi, Historical, Shoujo Ai
Volumes: 4
Published: December 2008 - Present
Kurogane Pukapuka-tai looks at the life of a Japanese battleship which is being controlled by an all female crew. Much of the manga takes place in the 1940's when the Japanese Imperial Navy was at its peak, and the Unebi, the name of the submarine, is run by a very old zen like man who seldom speaks a word.
A lot of what you'll find in this manga is a lot of factual historical insight on the Japanese Navy with the ships themselves being the only fictional side of the entire story. An all-women's ship that has everyone frolicking around trying to conquer the seas, while throwing themselves at one another with breasts flying from one side of the ship to the next. It's simply an all out ecchi fest that takes place within these battleships and you're part of it all as you learn more about Japanese history, laugh a lot at the random personalities, and get to know more about these rambunctious well rounded characters.
---
9. Shitsurakuen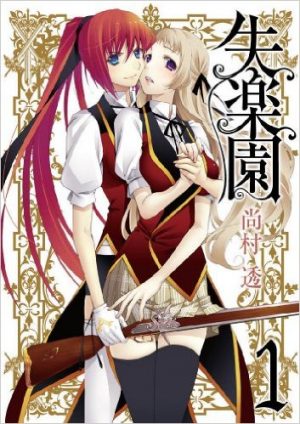 Mangaka: Naomura, Tooru
Genres: Adult, Comedy, Drama, Harem, Romance, School Life, Sci-Fi, Shoujo Ai
Volumes: 6
Published: May 2009 - March 2011
With dreams of becoming a knight and a strong attitude towards serving justice, the young Himoto Sora is striving to ensure it all becomes a reality. She decides to transfer to Utopia Gakuen, a school that's full of the latest technology and she comes to learn of a virtual reality simulation that's played by a majority of male students. With her curiosity peaking, Sora looks into why this game is so popular and finds out that girls are used as weapons in battles for status, and used as mere puppets. Witnessing one of the girls being abused, Sora immediately steps in but then finds herself a part of the game too, as she's actually the first female participant in this virtual experience.
Instead of chasing her dreams and living the life she envisioned, Sora now finds herself in the midst of a virtual reality scenario where she must now work with other females to ensure that tragedy doesn't strike again. This manga really emphasizes empathy quite frequently as you truly grow a strong attachment to these women as they're mistreated in some scenarios. The wonderful thing is that they all band together to defeat this evil organization which has been using women as puppets for their own pleasure, with Sora as Robin Hood, working hard to restoring peace and balance to a corrupt school full of scum.
---
8. Sakura Trick

Mangaka: Tachi
Genres: Comedy, School Life, Seinen, Shoujo Ai, Slice of Life
Volumes: 6
Published: March 2011 - Present
Yuu and Haruka couldn't stand being without each other during junior high school, as they would spend much of their time together doing various activities. However fate was not having any more of that and eventually split the two up, sending them to opposite sides of the classroom once they entered senior high. As they're now forced to spend time with other classmates and build rapport, the two decide to ensure that their relationship doesn't dissipate by doing something unique.
We've all had that one special friend that we just couldn't live without, and wherever they decide to go, we're most surely behind them every step of the way. You'll most likely feel their pain once they unfortunately have to split up and pretty much learn how to associate themselves with other people, which is where the comedy starts to set in. Since the two were so woven together, they found it challenging to open up which created some funny moments of panic, desperation, and bewilderment. These encounters however actually helped to strengthen their relationship over time, because through the process of getting to know others around them, they soon come to discover more about themselves through that experience thus further cementing their bond.
---
7. Maria-sama ga Miteru

Mangaka: Konno, Oyuki
Genres: Comedy, Drama, Romance, School Life, Shoujo, Shoujo Ai
Volumes: 9
Published: October 2003 - December 2007
Lillian Academy is an all girls private catholic school, where the student council is known as the Yamayurikai and the younger students are taught by their superiors through a system called the soeur system. The soeur system refers to the sister system, referring to the French term, and Yumi finds herself suddenly conversing with members of the Yamayurikai, especially the girl whom she has a crush on. Sachiko is very talented and beautiful and Yumi can't seem to take her eyes off of her in this romantic comedy between two young girls learning to embrace one another.
Yumi caught the love bug and now she can't seem to resist Sachiko's innocent nature. It wasn't Sachiko's intention to lure Yumi in, but somehow her aura just illuminated in Yumi's eyes and she quickly found herself trying to control her urges. It's a story about a young girl who falls for her senior sister, as the two explore life together on school grounds and build a romantic loving relationship that will have you fawning over it all. Yumi's shy character paired with Sachiko's sometimes withdrawn moments are really amusing as the two try very hard to form harmony, but from time to time slip up on words and can't express themselves properly. Their budding relationship is surely entertaining so be sure to catch more of it when you pick it up.
---
6. Asagao to Kase-san.

Mangaka: Takashima, Hiromi
Genres: Comedy, Romance, Slice of Life, Shoujo Ai, Sports
Volumes: 1
Published: August 2010 - April 2012
Yamada has been assigned the task of taking care of the plants in the school's garden. She doesn't consider herself to be very nimble, and is known to be a klutz in numerous scenarios. Those setbacks don't stop her from expressing her feelings to Kase, a well known athlete who's in the class next door. Being quite timid Yamada finds it hard at times to show her feelings to the more confident Kase, but over time, the two work on their differences to create a strong bond.
This is such a beautiful story because you have polar opposites, one who's quite introverted in her ways, while the other is more open with her feelings and doesn't shy away from the truth. Their cute bond and determination to oversee their imperfections creates a powerful romance that resonates with you as the story unfolds. When Kase participates in her sport activities, Yamada is there to cheer her on, and Kase is always by Yamada's side to help support her when her clumsiness comes back to haunt her. It's really a wonderful drama of two young girls trying to make their relationship work, setting aside whatever insecurities they have to ensure that their future together will only manifest into something monumental.
---
5. Poor Poor Lips

Mangaka: Goto, Hayako
Genres: Comedy, Seinen, Shoujo Ai, Slice of Life
Volumes: 4
Published: September 2006 - September 2012
Poverty has struck the life of 21 year old Nako, who finds herself in desperate need of a job. She bites the bullet and applies for a position at a jewelry store and is confronted by the store owner Ren, who openly admits to preferring the same sex. Ren then asks her if her sexual orientation would be an issue and Nako lets her know that she's not interested and is totally fine with it all. Over time however Nako starts to notice herself slowly becoming attached to Ren's heartwarming personality, and she soon discovers that perhaps she's a little intrigued after all.
The structure of this manga takes on the yonkoma theme which essentially means a four-cell manga, and consists of mainly comedic strips. Each panel sets the tone for the overall story, with the last panel concluding that scene. So Nako comes out and states that Ren isn't her type, but then over time this small romance turns into happy funny moments as Ren can't seem to resist her feelings towards Nako. It becomes this sort of stalking game as Ren tries so hard to make excuses for everything she does, but can't seem to stop following Nako around. It's a very contrasting story of a poor girl who meets a wealthy woman, and the two must learn to understand their differences to create a positive atmosphere.
---
4. Yagate Kimi ni Naru

Mangaka: Nakatani
Genres: Drama, School Life, Shoujo Ai, Shounen
Volumes: 2
Published: April 2015 - Present
Yuu is a first year high school student who's trying to come to terms with a confession paper that was given to her by her crush in middle school. For some reason the confession didn't speak to her in any way, despite reading countless shoujo manga that demonstrated how to express oneself in those scenarios. Moving forward with her life, she witnesses the president of the student council, Nanami quickly yet respectfully turn down a confession note given to her, and this sparks some attention in Yuu. Curious about how she managed to let go so quickly, Yuu inquires about it with Nanami to which Nanami explains, but is shocked when Nanami confesses her feelings in the spur of the moment.
The entire time you're sifting through each page hoping that one of these poor souls would eventually have their confession notes accepted, but then you're shocked when Nanami spills the beans to Yuu without any hesitation. Their immediate bond turns into this fairy tale of wonders, as the two quickly came to realize just how similar they were and that they could truly sense a warm sensation in their hearts. Yuu initially was quite isolated from the pack and from love especially, but upon meeting Nanami she decides to keep going and her true nature blossomed through it all. Nanami's dorky approach with Yuu's innocence slowly creates this unique chemistry that you can't get anywhere else.
---
3. Sasameki Koto

Mangaka: Ikeda, Takashi
Genres: Comedy, Drama, Romance, School Life, Seinen, Shoujo Ai
Volumes: 9
Published: January 2007 - September 2011
Sumika is intelligent and gifted in the field of athletics, but she is madly in love with her close friend Kazama Ushio. Despite her appearance, Sumika finds confessing her feelings to be very challenging, and can only watch over Kazama. What's worse is that Kazama doesn't see Sumika as her type, so the burden continues to escalate over time. Kazama only seeks out cute girls and Sumika just doesn't match that criteria, which crushes her spirits. Her trials and tribulations have just begun and now Sumika will have to try and convince Kazama that she's worth it.
Sumika's underdog character will have you rooting her on as she tries so hard to grab Kazama's attention, in whatever way she can. She's well aware that her looks aren't at the level that Kazama approves of, but she strives to prove to Kazama that looks aren't everything and that their long lasting relationship is what truly matters. She's not particularly skilled at doing girly things, which perhaps explains Kazama's lack of interest, so eventually it leads Sumika to clamp onto her feelings and not express them. What makes this manga even more fascinating is how you know very little about Kazama's true nature, and so the story becomes more dramatic as you try to get to know about these two women over the course of their high school lives which eventually creates some climactic results.
---
2. Yuru Yuri

Mangaka: Namori
Genres: Comedy, School Life, Shoujo Ai, Slice of Life
Volumes: 14
Published: June 2008 - Present
A room that was once occupied by a tea ceremony club has now been taken over by four young girls who call themselves 'The Amusement Club'. These rebellious girls don't take no for answer, as student council repeatedly tells them to leave the room, but they completely ignore these warnings. Finally realizing that this club wasn't going anywhere for them, they all decide to get up and explore the world around them and discover new things about themselves in this school life comedy.
A lot of the story is very random and scattered which is what makes it so funny, because you're just not sure which direction these girls are headed in. They live fearlessly and don't really care what others think of them, especially the student council, who always nags them to get out and do something better with their lives. These young girls eventually learn the art of maturity and through sharing their experiences together, come to realize that there's so much more to life than they imagined. It's a nice adventure to follow because every chapter is filled with something special, and you're constantly invited to their party as they develop a strong bond which helps them to better grasp what life throws at them.
---
1. Strawberry Panic

Mangaka: Kimino, Sakurako
Genres: Drama, Romance, School Life, Seinen, Shoujo Ai
Volumes: 2
Published: September 2005 - December 2006
Aoi Nagisa just transferred into St. Miator, an all girls academy located on Astraea Hill. Her first day didn't start off so well as she got lost, but luckily she runs into Shizuma, who kindly helps her around the school grounds. Stunned by her immaculate beauty, Nagisa is left in silence as her heart beats a mile a minute by this woman's aura. This enticing romantic story looks at the lives of these two individuals as their random encounter soon manifest into something wonderful.
Strawberry Panic is an all time shoujo ai classic that shouldn't be ignored by anyone who's interested in diving into the genre. It's a story of colorful characters who come together to share their own story, with enough random antics to keep you locked in. Girls constantly fight over each other in competition to see who becomes the best couple, with dramatic endings to keep you guessing what will happen next. Despite having some questionable moments in the story's overall direction, the manga holds true to its name very well, as there's a lot of wild enjoyment consisting of yandere, overly cute personalities, and perverts.
---
Closing Statement
There's much to be said about the shoujo ai genre, as it's filled with an enormous array of wonderful stories that are very moving in their own right. These top ten were just some of the more impactful of the bunch, but we're sure there's so much more out there. Let us know what other shoujo ai manga made an impact on your life down in the comments section down below, and be sure to share our articles to keep everyone buzzing!
As always, if you want to know about all the latest buzz straight from the bee's nest in Japan, be sure to keep it locked here at Honey's Anime.
---