También puedes leer este artículo en:Español
While the term shoujo-ai isn't considered a term for a sub-genre of lesbian manga and anime in Japan, as it's been adopted in the West, it's pretty commonly recognized amongst Western anime fans. It usually denotes anime and manga with lesbian romance or at least the insinuation of lesbian desires without a fulfillment of serious physicality. The lack of graphic physical relationships is what separates it from yuri in our minds.
Of course, shoujo-ai anime isn't always just a lukewarm relationship between girls. Themes range from hilarious comedies with girls perving after other girls like in "Teekyuu" or as more dramatic, action-based anime with throbbing hearts like in Kannazuki no Miko. Whether love is realized or not, these 10 shoujo-ai anime will fill your need for lovely girls loving girls.
10. Maria†Holic

Episodes: 12
Aired: January 9 – March 9
Kanako is anxious to attend the high school where her parents fell in love. Though, while they had a teacher-student relationship, Kanako is looking for a same-sex relationship! Despite Ame no Kisaki being a Catholic School, Kanako thinks the all-girls academy will be the place she'll find her true love. She's learned that boys make her break out in hives so she's confused when a beautiful student touches her and Kanako suffers the same reaction. All becomes clear, however, when the student in question -Mariya- turns out to be a crossdressing guy who is a total sadist under his sweet, girlish exterior. Threatening to make Kanako's life hell and moving into her room, Kanako will have to try to find love while fending off Mariya's malice.
Maria†Holic is hilarious and plays up the opposite natures of the main characters. Outwardly, Kanako hides her intentions of trying to see her friends naked and scoring herself a girlfriend, while Mariya cares more about proving herself to be a responsible person and often thwarts Kanako's thirsty attempts. There are a number of cute girls in the cast and they often end up having moments where you wonder if Kanako's wish will finally come true, but something funny always interrupts. If you want a main girl who is unashamedly after every cutie she sees, this is a fun show.
---
9. Sasameki Koto (Whispered Words)

Episodes: 13
Aired: October 2009 – November 2009
Sumika and Ushio have been friends for a long time and Sumika has often been the shoulder for Ushio to cry on when her crushes on girls end up bringing her sadness. She doesn't know, however, that Sumika harbors feelings for her best friend. Ushio only likes cute and girly girls, so the tall karate prodigy sees no point in confessing her feelings. While the two have always stuck together, new trials and new relationships will test the strength of their friendship.
This show is as much about friendship as it is about love, and it's nice that a shoujo-ai focuses on a potential couple that has already come to terms with their attraction to girls as opposed to wondering what their increased heart rate means every single time they become flustered. Ushio and Sumika develop meaningful friendships with characters who serve as more than romantic rivals and learn a lot about themselves and what is important to them. It's more introspective than a lot of shoujo ai even though it's from 2009.
---
8. Yuru Yuri (Yuru Yuri: Happy Go Lily)

Episodes: 12
Aired: July 2011 – September 2011
Yuru Yuri follows the antics of 3 best friends who want nothing more than to spend their middle school years doing only what they like. The good-natured but forgettable Akari, the lazy but talented Kyouko, and the level-headed and dependable Yui form the 'Amusement Club' so they can slack off together after school, but various circumstances cause their circle to grow. With all of the girls having crushes on each other but having such drastically different personalities, emotions are always high!
This anime has a number of cute, excitable girls going about their rather normal middle school lives. Everyone seems to be the constant victim of unrequited love and unwanted affection except for supposed main character Akari who lacks presence even in her own show! If you want something with lots of characters to love and laugh at, Yuru Yuri fits the bill.
---
7. Sakura Trick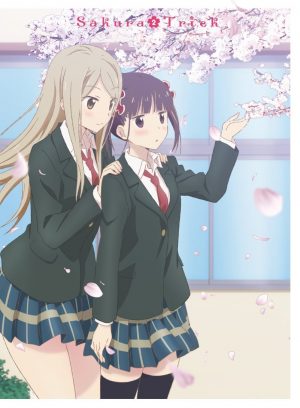 Episodes: 12
Aired: January 2014 – March 2014
Haruka and Yuu are best friends that are excited to start their highschool lives together in the same class, but Haruka starts to feel their relationship is threatened when Yuu makes a number of friends easily on the first day. The two decide to do something only the two of them will share so as to solidify their unique bond and settle on kissing. The two find themselves wanting to kiss more and more often, but with a suspicious student council president and nosy older sister, they're only moments away from getting caught!
This is another anime where a childhood friend turns lover, but there's a WHOLE lot of kissing before the two really understand what they're feeling is romantic love. They can admit to liking to kiss each other but find their growing feelings embarrassing. There are other lesbian couples in the show and those who would stand in Haruka and Yuu's way, but theirs is a relationship that can't be stopped! This is a feel-good anime with lots of kissing and doting on each other which makes it both sweet and exciting!
---
6. Inugami-san to Nekoyama-san

Episodes: 12
Aired: April 2014 – June 2014
Yachiyo Inugami is loyal, excitable, friendly, and loves cats. Suzu Nekoyama is shy, sleepy, occasionally-affectionate, and loves dogs. While being so different, these two are immediately drawn to each other by having the traits the other admires. Inugami immediately makes her affection known while Nekoyama slowly warms up to the dog-like girl. Along with their other animal-like schoolmates, the two spend their days getting to know each other better.
Each episode is only about 4 minutes long but they sure manage to pack a lot of cuteness into each episode. While Nekoyama and Inugami are the obvious main pair of the show; sometimes, their attention shifts to other cute girls causing irritation to the other. All of the girls have a resemblance to some animal and are all quite adorable. If you're not looking for a lot of story but just wanting some funny, cute, girl-love, you'll enjoy Inugami-san to Nekoyama-san.
---
5. Hidan no Aria AA (Aria the Scarlett Ammo)

Episodes: 12
Aired: October 2015 – December 2015
Schoolgirls that are skilled fighters known as butei are ranked by their abilities and are authorized to carry weapons and take on anything from minor public disturbances to terrorist attacks. Akari is the lowest ranked, yet yearns to become the partner of S-ranked Aria, a legend among butei. Despite a severe gap in their abilities, Aria grants Akari the chance to prove herself. Along with their friends, they'll work to keep Japan safe and protect the ones they love.
This is a spin-off series of Hidan no Aria, but with a predominantly female cast and yuri undertones. While most of the shoujo-ai is implied or unrealized, there's enough to keep fans' interest while also weaving a violent tale of intrigue. It's hard to tell if Akari's love for Aria is idol-worship, friendship, or something more, but it's clear they mean the world to each other. Other characters have a more obvious infatuation with each other, such as Kirin's obsession with Raika or a number of the girls towards Akari, so there's plenty of fuel for the imagination.
---
4. Yuri Kuma Arashi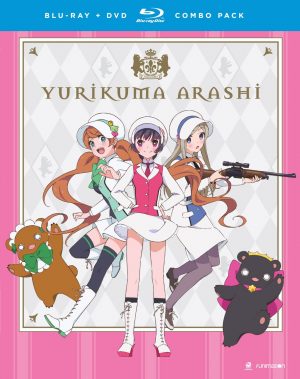 Episodes: 12
Aired: January 2015 – March 2015
Bears and humans once existed in harmony until a strange meteor shower caused the bears to become violent and hungry for human flesh. Fast forward to the future where humans and bears are prepared to kill each other on sight. When bears infiltrate Kureha's human school with human disguises, she vows to protect her girlfriend Sumika and kill any bears she comes across. Kureha and bears Lulu and Ginko end up closer than they could have anticipated and must face the trials of love and unforgiving enemies.
If you've seen Mawaru Penguindrum, you'll know what to expect from Kunihiko Ikuhara. This is a strange world with different dimensions and crazy characters. Most everyone is assumedly gay which makes sense when almost everyone is a girl. Humans are all excellent marksmen and the bears have an advanced society. The plot is both mythical and confusing and also really violent. Characters are eaten and shot all while trying to fall in love.
---
3. Citrus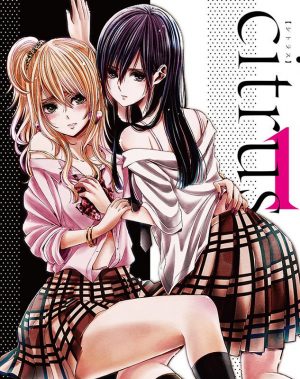 Episodes: 12
Aired: January 2018 – March 2018
Yuzu is a stylish girl who likes to stand out and have a good time. When she's forced into a strict all-girl high school and forced to tone down her looks, she's not happy. It only gets worse when she finds out her mother married the father of the student council president who got Yuzu in trouble on her first day! Forced to cohabitate with the meanest person Yuzu has ever come across, she tries to figure out what her new step-sister Mei is really like. Despite a rocky start, the two find themselves growing closer and closer.
Yuzu and Mei are totally different; Yuzu being all about fashion and fun and Mei caring about almost nothing and just trying to get through life without upsetting her family (aside from Yuzu). It's pretty much a typical 'two people meet and don't get along, it must be love!' scenario but it's absolutely beautiful. Especially with Harumin and Yuzu's sense of fashion and glam that helps them stand out. If you're just looking for a full-length series that has drama and girls being physical while figuring out their feelings, you'll enjoy Citrus.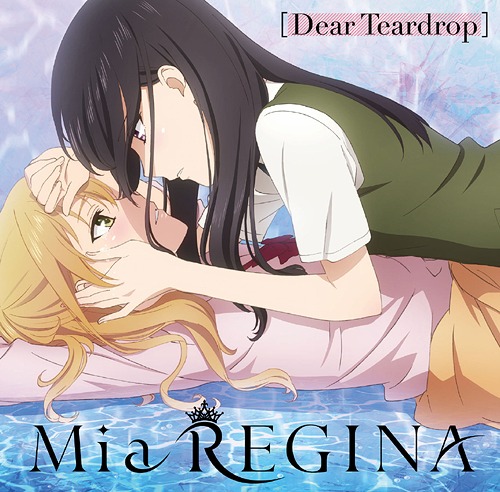 ---
2. Tachibanakan Triangle (Love to Lie Angle)

Episodes: 12
Aired: April 2018 – June 2018
Natsuno Hanabi is excited to return to her hometown after so many years, hoping for the familiarity of happy days. Unfortunately for her, the old days are gone and her new home, Tachibanakan, is full of odd characters. She can't even recognize her former best friend! Overwhelmed at how lewd most of the other residents are, it'll be hard for Hanabi to live out her high school days in peace.
Tachibanakan is like Inugami-san to Nekoyama-san in that all the girls are gay and the episodes are really short. It does feature some older women with some more mature themes so it stands out in its own way. It's very funny and chock-full of innuendos and romantic notions between ladies.
---
1. Asagao to Kase-san

Episodes: 1
Aired: June 2018
Kase and Yamada are just starting their relationship together and the two couldn't be happier. They seem completely different, with Kase being a track star and incredibly popular and Yamada spending her time tending to the school's plants and keeping mostly to herself, but they admire each other greatly. As they go about their lives, they'll have to try to overcome their differences and misconceptions and see where their love will take them.
At only an hour long, this OVA manages to weave a beautiful story where you get to see Kase and Yamada's relationship change over the course of a year. There is some drama but it's not like the usual entirely avoidable scenarios in romance anime and instead feels natural. It's incredibly cute and the animation is beautiful while the embarrassed faces of our heroines will have you busting out laughing.
---
Final Thoughts
While we don't want to pigeonhole anything, there are certain aspects of what we know as shoujo-ai we don't get as much in other anime. Seeing love through the eyes of girls with other girls who share the same experiences, yet live different lives, is special. With anime girls being so aesthetically pleasing as well, it sure doesn't hurt to have a beautiful couple or multiple cuties vying for each other's attention!
---
---
Now, now, a lot of you silly know-it-alls just raised your eyebrows after reading the title of this article, but bear with us with for a moment here. The term "Shoujo-Ai" is never used in Japan as a type of category of anime. "Yuri" is the only category. But in the West, it categorizes anime that tells non-sexual relationships between girls, or simply used to categorize anime with girls love, be it subtext or not. Overall, the definition of "Shoujo-Ai" is pretty vague and it's sometimes hard to differentiate itself to "Yuri."
But we're not here to debate over the word! And since we're Western fans, we should at least recognize that Shoujo-Ai is a category that is used throughout everywhere.
To make this list differentiate itself from our Top 10 Yuri anime, we're going to list anime that has some lezzy vibes that never develop into full-blown romantic relationships, or at least the girls have yet to confess and get accepted by their partner. So here we go!
10. Morita-san wa Mukuchi. (Miss Morita is Taciturn)

Episodes: 13
Aired: July 2011-December 2011
High school girl, Morita Mayu, is a bit more reserved than the others. Her classmates see her as a silent girl who doesn't like to talk and is someone who stares them in the eyes, but in reality, Mayu thinks too much before she speaks, often ending up losing the opportunity to speak up. Regardless, though, Mayu is a happy girl with lots of friends in school, and surprisingly enough, her friends understand Mayu just by body language alone.
Nothing much going on in this anime other than Mayu interacting with her friends without saying a word. While it's typical slice of life, most of the jokes revolve around them getting way too close with some blushing on the side. With Morita being awkwardly silent to everything, like not reacting to something that's intimate, the boys can only wonder if there's something behind all that body contact. You can't blame them, though.
"Girls are nice… aren't they?"
---
9. Kiniro Mosaic

Episodes: 12
Aired: July 2013-September 2013
Shinobu did a homestay in Great Britain when she was younger and developed a fetish for blondes, and an obsession on anything Western culture, despite her difficulty learning English. One day, Shinobu received a letter from Alice Cartelet, a very close friend who she was staying with overseas. The letter says: "Shinobu! I'm coming to Japan!" With Shinobu's friend coming, things will start get interesting as she learns English… and ends up failing because she's too distracted by those golden locks.
You'll start to notice a pattern here: If you make an anime with an all-girl cast, and it's funny, there's a 99.99% chance that you'll see lots of subtext. Kiniro Mosaic is a prime example of this with the girls give off this lezzy vibe. Yeah, Shinobu's attraction to anyone blonde way look borderline obsessive, but some of the character have genuine attraction to one another, especially the resident tsundere and love-stricken girl Komichi Aya and her fondness of her childhood tomboy-friend Inokuma Youko. Now come to think of it, Youko is the girl version of a clueless love interest.
---
8. Gochuumon wa Usagi Desu ka? (Is the Order a Rabbit?)

Episodes: 12
Aired: April 2014-June 2014
Hoto Cocoa arrives at the cafe Rabbit House in a small Europe-esque town, expecting rabbits. Cocoa actually lives and works in that cafe, and along the way she meets new friends, new challenges and a brand new life.
When it comes to the shoujo ai or girls love aspect, there are tons of it here like Cocoa who always dotes on Chino by being her big sister, and Chino, a silent-type girl who finds Cocoa's incessant dotting someone troublesome or cute. Or Kirima Sharo, who has a huge crush on gun-otaku, Tedeza Rize. Though nothing romantic ever happens, it's cute to see these girls interact with each other.
---
7. Inugami-san to Nekoyama-san

Episodes: 12
Aired: April 2014-June 2014
The story revolves around a timid girl, Nekoyama Suzu, who loves dogs and is overly friendly, and an air-headed girl, and Inugami Yachiyo, who loves cats. Upon their first meeting at school, they find themselves strangely attracted to each other, and with their everyday antics, Yachiyo's friend, Hiiragi Aki, has to sometimes fix the chaos they've caused.
It's cute to see two girls attracted to each other mainly because they feel like the animals they love. The anime is more or less a rom-com type when Suzu is attracted to Yachiyo by sometimes going full tsundere, and Yachiyo hatching up plans to sedu—pet Suzu, only to be yanked by the collar by her friend, Aki. It's too bad each episode is very short.
---
6. Strike Witches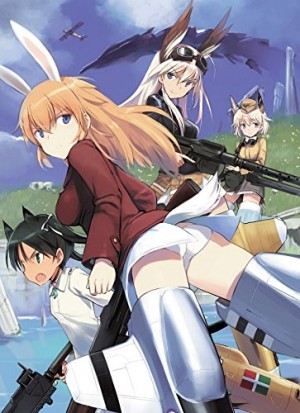 Episodes: 12
Aired: July 2008-September 2008
Strike Witches is set in an alternate 1944, where the world found alien invaders instead of the Axis. These invaders are called the Neuroi, and mysteriously appeared before humanity in the year 1939. It is unknown where the Neuroi came from and why they are here, but it is a fact their relentless attacks drove people from their homes and countries.
To combat the Neuroi threat, Humanity has devised a new type of weapon that harnesses magical energy, and in order for these weapons to work, they gathered every magic-using witches from around the world. These elite group of young witches are called the Strike Witches, and they are the first and last line of defense against the Neuroi threat.
This may sound too serious and you'd be right, but Strike Witches is mainly a fanservice anime with lots of panty shots, butt shots, even nudity, and a good amount of yuri fanservice. There are lots of obvious couples in the anime too choose from. There are girls that are vaguely gay, but there's no denying our lovable tsundere Frenchie Perrine H. Clostermann is the gayest girl in the cast. She'd practically give herself to her beloved, Major Sakamoto Mio.
---
5. K-ON!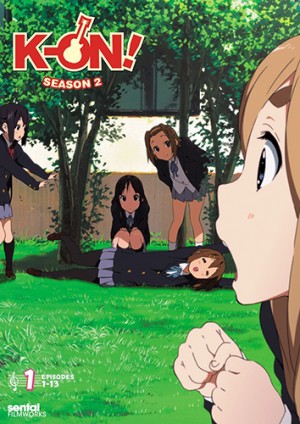 Episodes: 13
Aired: April 2009-June 2009
Hirasawa Yui is a rather, uh, eccentric young girl who entered high school as a freshman and stumbled upon a poster for the school's Light Music Club, and it sparked her imagination to sign up. Being such a carefree girl, she joined the club without any experience in playing an instrument and went to the club to explain.
Disheartened, the current band members Ritsu, Mio and Tsumugi still wanted her to stay as member to prevent the club from disbanding. Yui's imagination re-ignited once she tried out the guitar for the first time. This is the life of the Light Music Club.
At first glance, Yui has taken a liking for Asuza, to the point of obsessive adoration, but over time the two became close that they're more like sisters than anything. However, the biggest surprise in K-ON! is the interaction between drummer Ritsu and guitarist Mio. They didn't know it, but the two get along very well, so well in fact that Ritsu found out in the most unexpected way. We won't spoil it to you, but music can excite the emotions with just the right lyrics.
---
4. Anne Happy♪

Episodes: 12
Aired: April 2016-Ongoing
Tennomifune Academy is not your typical high school, for they have a special class for helping fix the students with misfortune or overall bad karma. Hibarigaoka Ruri is one of these unfortunate girls, and with her friends Hanakoizumi An and Kumegawa Botan, they must work together and bring happiness to their unfortunate lives.
Don't be fooled at the rather gloomy story because Anne Happy is one of the cutest and incredibly funny anime that came out in 2016. What's interesting about this anime (well, aside from the cute girls, and interesting story), is it quickly changed from a typical comedy slice of life into something yuri-centric. Around the 3rd episode, we are introduced to two supporting characters and the anime wasted no time in showing off that these two are so into each other. And it gets getting more intense in the next few episodes.
Sure the anime is still ongoing, but what we've seen so far, Anne Happy will be something yuri fans will definitely love.
---
3. Candy Boy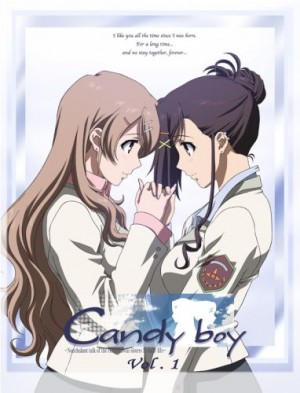 Episodes: 7
Aired: May 2008-May 2009
Candy Boy revolves around the everyday life of very close twin sisters, Sakurai Kanade and Sakurai Yukino, living together in Tokyo to attend high school, and their rather clingy underclassman, Kamiyama Sakuya, who has a crush on one of the sisters.
These sisters are so into each other, it hurts. This is one of the few anime that naturally convinces you to yell "KISS ALREADY!" because of the way they interact with each other, holding hands every single moment. And with the series ending without anything happening between the two is sometimes infuriating… in a good way. Eventually, things ended the way fans sorta wanted, but not enough for that "it's finally official!" conclusion. Regardless if they're a couple or not, Candy Boy is a sweet series about sisterly love.
---
2. Sakura Trick

Episodes: 12
Aired: January 2014-March 2014
Sakura Trick tells the love story of Takayama Haruka and Sonoda Yuu, and how they slowly build their newfound love for each other. Their love life isn't really easy as they battle against a jealous big sister and hide their relationship from everyone… and Haruka is always finding ways to get a few smooches from Yuu.
The anime has two established couples, but there is another couple that could potentially reach the official yuri couple status once one of them stops being clueless and realizes her best friend has a crush of her. We're talking about Yuzu and Kaede, arguably the most popular couple in Sakura Trick. Why is that? Well, it's simple because Haruka and Yuu, and Kotone and Shizuku are already couples, so there's nothing much to expect. On the other hand, Yuzu and Kaede have lots of room to develop. Currently their relationship is rather unrequited, but who knows, things will development!
---
1. Mahou Shoujo Lyrical Nanoha (Magical Girl Lyrical Nanoha)

Episodes: 13
Aired: October 2004-December 2004
Takamachi Nanoha is your typical third grader who happened to stumble upon a talking ferret who communicated with her telepathically. The ferret is actually a mage from another world named Yuuno, who accidentally scattered the mysterious Jewel Seeds around the city. Good job, Yuuno. Severely weakened, Yuuno convinced Nanoha to search for the Jewel Seeds in his stead by granting her magical powers to not only help him in the search, but also a way to stop monsters that are attracted by the Jewel Seeds. The monsters are the least of their worries because they're not the only ones who are also looking for these seeds.
The Nanoha series has been known to be filled with yuri undertones that any anime fan will immediately notice. If you could check a list of the most popular yuri pairings, Nanoha and Fate are one of the most recognizable couples in anime.
Throughout the series, Nanoha has befriended another magical girl named Fate Testarossa, and ever since their fateful meeting, the two developed a bond that's more than friendship. As these two grow, they end up living together sharing one bed and eventually adopted a child as their daughter.
---
Final Thoughts
The anime in this list represents Shoujo Ai, but also shows the vagueness of it. In the real world, Shoujo Ai and Yuri are just interchangeable, despite Yuri being categorized as pornographic in the West. If you ask someone what category Sakura Trick is at, chances are they'll say Shoujo Ai. But if you ask someone else what category Sakura Trick is at, chances are they'll say Yuri.
You can use either term, but we just want you to know that one category was made in the West, while the other one is the true category Japan uses.
So what do you think about the list and our rather brief lesson about Yuri? Please let us know by leaving a comment below!
---