It's not too often that we get to spend some time with yuri manga, so why not start now as fall is upon us and it's time to start fresh. For those who aren't familiar with yuri manga, or the term yuri in general, it's a genre that focuses on the relationships between women who develop a strong love for each other over time, while dealing with everyday conflicts. Think of it like Yaoi but this time around it's streamlined towards attractive women doing whatever they please with one another. Yuri manga direct their attention towards more explicit sex, and are generally catered more to an adult audience when compared to that of the more softer Shoujo Ai. Whatever your taste is, Honey's Anime has it covered in our first ever top ten yuri manga list for you to enjoy!
10. After Hours

Mangaka: Nishio, Yuuta
Genres: Mature, Romance, Seinen, Slice of Life, Yuri
Volumes: 1
Published: March 2015 - Present
Emi is just your ordinary girl who really isn't into the whole night club scene, but finds herself being dragged along by her friend anyway. She eventually encounters a very fashionable, vinyl-collecting female named Kei, who's also a lesbian, and from this very moment onward the two start to grow fond feelings for eachother. What was supposed to be a regular night out turns into a tale of two hearts coming together to form a new relationship.
Emi struggles to come to terms with her own feelings towards Kei, while coping with her inner curiosity. The story allows the reader to realize how important love really is, and it shouldn't be labeled as a courtship between just a man and woman, but that anyone can find love in one another. Emi never asked for her life to be the way it turned out to be, but due to fate and her friend convincing her to tag along, her life changes forever in many ways. It's a love story about two young females who dive deep beyond the surface, to discover all of the romantic treasures that lie deep within the core of their hearts.
---
9. Hanjuku Joshi

Mangaka: Morishima, Akiko
Genres: Adult, Drama, Romance, School Life, Yuri
Volumes: 2
Published: October 2008 - August 2009
Yae has grown up with this complex about how she feels too feminine, and isn't too proud of it. She decides to transfer into an all girls school, which ends up changing her life forever when she encounters the very young, boyish, and cheerful Chitose. Chitose's carefree and astonishing personality sweeps Yae off of her feet, and she just can't seem to stop thinking about her. This bittersweet love story is about a woman's world and how she learns to overcome the obstacles that are laid out in front of her, while expressing her true feelings to the one she loves.
Yae has been concerned about her body image for a long time, and this continues to haunt her for quite some time over the course of her school life. Chitose soon changes that as the two begin to grow a closer relationship, and then gender roles start to become an influence. One isn't sure whether to lead or pull back, while the other is emotionally confused as to what the next step is. It's all about young love, self awareness, and empowerment in this very detailed and heartwarming tale between two passionate souls striving to make it all work.
---
8. Pieta

Mangaka: Haruno, Nanae
Genres: Drama, Josei, Psychological, Romance, School Life, Yuri
Volumes: 2
Published: April 1998 - October 1999
Rio has a lot on her plate as she's dealing with depression, and her self abusive ways cause her to breakdown severely. All of this is due to a lack of reciprocal love from her family, which is in total disarray as her father is neglectful, while her stepmother and stepbrother are incredibly selfish and self absorbed. Sahoko is the only one she can turn too in dark times, but Sahoko herself must deal with her own dark state in life as she must cope with overprotective parents, and must now reside with her aunt as a consequence.
This very powerful manga places its attention on two women who are on the verge of insanity, as their own personal lives are coming crashing down before them. Their only sanctuary is in the company of each other, as they share their pains of their personal lives, and try to come up with solutions to happily stay together. This manga looks at the gripping reality that many young women deal with at home, and how they manage to break free from the prison shackles their parents have placed upon them. The story not only plays with your mind but especially your heart because, this is an issue that can happen to just about anyone, and for both girls, their incredible devotion towards each other becomes a bandaid to a wound inflicted by those around them.
---
7. Murcielago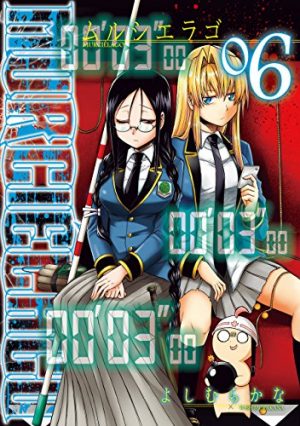 Mangaka: Yoshimura, Kana
Genres: Action, Adult, Comedy, Drama, Mature, Seinen, Yuri
Volumes: 7
Published: April 2013 - Present
Koumori Kuroko, an Ex-mass murderer turned deadly hitwoman, pairs up with the young and reckless Tozakura Hinako, as these two girls with a strong intent to kill make it their purpose to kill criminals who cannot be apprehended by the police. These two girls have nothing to lose and see their new job as nothing more than mere amusement, and flirt with just about any woman that they can get their dirty hands on.
They'll take out just about anybody, so long as it involves a large lump sum and some ladies to hold onto. Kuroko is cold hearted and ruthless and could really care less for the money, since she's killed a large number of people already so it's just a walk in the park for her. Hinako looks up to Kuroko as her mentor and tries to pull off wild stunts, and sometimes pays for it in hilarious ways like running over the wrong people, or just being silly. There's ecchi, big oppai, wild chases, in this action packed yuri manga that's sure to grab your attention in various ways.
---
6. Sweet Blue Flowers [Aoi Hana]

Mangaka: Shimura, Takako
Genres: Drama, School Life, Slice of Life, Yuri
Volumes: 8
Published: November 2004 - July 2013
Fumi and Akira have had a close relationship with each other since childhood, with Akira being the babysitter to the always whiny Fumi. However Fumi moved away with her family and left Akira all to herself. Several years later however, Fumi returns with her family and by fate she bumps into Akira on their way to school. Reunited, the two continue from where they left off and fall back into their old childhood patterns. Fumi eventually falls for an attractive upperclassman who somehow has a connection with the school Akira goes to, and so now more questions must be answered.
Aoi Hana as it's also dubbed, is a classic story created by Shimura that portrays the lives of two young girls who deal with high school life, love, heartbreak, and self awareness. Throughout the story you begin to feel a sense of nostalgia as you come to understand Fumi's feelings, and just what she goes through on a daily basis. It's fully enriched with various forms of poetic dialogue, and very graceful flowing chapters that keep you coming back. As Fumi's story progresses, you begin to realize just what Shimura was trying to evoke in the reader, and it's to create a concrete understanding of human relationships starting from childhood, up into our adulthood. It's an educational yet charming piece of work that will captivate anyone who reads it.
---
5. Octave

Mangaka: Akiyama, Haru
Genres: Adult, Romance, Seinen, Slice of Life, Yuri
Volumes: 6
Published: January 2008 - December 2010
From a young age all Yukino desired in heart was to become an idol. Once her dream had been fulfilled however, the idol group she was with had disbanded due to poor sales, and so she decided to return to school which ended up causing more grief in the end. Fast forward several years later and now Yukino, who's now 18, lives her life as a talent manager but just can't seem to let go of her past as an idol. One day she meets with Setsuko, a songwriter who once belonged to an idol group that proved unsuccessful, and from that very moment their romance sparked which causes Yukino to reevaluate her current life situation.
All Yukino wanted in her life was a drastic change, and that came in the form of Setsuko who brought more than just closure into her life, but a sense of belonging to the world around her. Yukino had felt like she could've done more with her life, and could never seem to give up thinking about the what if's on her past. Setsuko helped put that at ease because she too had similar troubles, and with a shoulder to lean on Yukino's heart fell right into her lap. Octave emphasizes that sometimes our dreams may not always go as planned, but the love we encounter in our lives only help to guide us closer towards the truth that end up generating more happiness, both in our present and future.
---
4. Gunjou

Mangaka: Nakamura, Ching
Genres: Drama, Mature, Psychological, Seinen, Yuri
Volumes: 3
Published: June 2007 - January 2012
This dark, twisted yet realistic tale looks at a young woman who asks the woman in her life to kill her husband, as retribution for his abusive ways. After she is to dispose of the body the two can then move on with their lives together, and never look back. This psychological series brings up a lot of very gripping topics such as sexual abuse, torment, childhood trauma and it all draws you in as you get to know more about the woman who went through it all.
Megane is the woman's name in the manga, although it isn't her real name as stated by Nakamura herself. Her name is given to her due to the glasses she frequently wears throughout the story. If you didn't already notice how dark and emotional the cover looks, it's enough to tell you what direction things are heading into. One other notable thing to point out is just how realistic the art style is, and how a lot of what Megane deals with in her life are very real and vivid. This is to show the reader just these types of circumstances occur in everyday life, and when your life is being seriously threatened by someone who claims to love you, there's no other option but to find a way out even if it means risking your own life. The in depth characterization of Megane and her accomplice are immaculately written and portrayed in such a way that demands your attention at every moment, with everything being revealed to you very vividly.
---
3. Prism

Mangaka: Higashiyama, Show
Genres: Comedy, Romance, School Life, Yuri
Volumes: 1
Published: December 2010 - June 2012
Megumi's life continues to suffer as she deals with an emotional romantic past, and hopes to put it all behind her. While still trying to cope with her past romance, she comes face to face with a stunning young woman on the way to the entrance ceremony. Out of nowhere the very same girl screams out to Megumi and wraps her arms around her, in a warm embrace. This very same girl however turns out to be Hikaru, the very same romantic partner who she just couldn't stop dreaming about. This shocking experience changes her high school life forever.
Prism lies comfortably in the middle between slightly erotic and the more down to earth yuri that many love to dive into. It's an inspirational piece of work that places attention on how one young girl must now deal with this shocking revelation that the one who she once loved, was actually a woman all along. The two of them must deal with their own personal setbacks however, as Megu (as she's nicknamed in the series) must cope with having a female lover, and Hikaru having to deal with other boys screaming for her, while other girls envy her with rage. It's this character relationship that truly evokes attention in the reader, because it metaphorically expresses to the reader that we must open our eyes if we desire to see the truth that stands in front of us.
---
2. Citrus

Mangaka: Saburouta
Genres:
Volumes: 5
Published: November 2012 - Present
Yuzu's imagination of her new school was nothing like the reality she was about to experience, as she enrolls into a super strict and conservative girls' school. Instead of receiving that high school sweetheart romance she once dreamed of, she's confronted by Mei, the very stern and direct student council who she simply can't stand. Another shocking discovery is that Mei is actually her step sister, and the two must now come to terms with each other to learn the values of a love hate relationship.
Yuzu and Mei have this really strange relationship because, on the one hand, Yuzu strangely enough, starts to grow feelings for her, while Mei seems to flirt around with other males which confuses the heck out of Yuzu. Due to her experience with love and relationships Yuzu finds herself in this labyrinth of unanswered questions that plague her mind, and simply doesn't know how to overcome it. We see as the two try to discover what it means to really love someone, and fill the gaps of their innocent yet curious minds.
---
1. Girl Friends

Mangaka: Morinaga, Milk
Genres: Drama, Mature, Romance, School Life, Seinen, Yuri
Volumes: 5
Published: October 2006 - August 2010
Mari is quite reserved in her ways, and has never experienced being in a relationship before nor having friends. That all changes when Akiko confronts her in class and strikes up a conversation with her. The two become inseparable shortly after, as Akiko warmly tells Mari of just how quickly they became so close. Mari and Akiko begin to have a ton of fun together, despite Mari still learning to cope with her awkward and timid character. Despite what Akiko tells her, Mari knows that deep down inside she's madly in love with her.
Girlfriends and Citrus share somewhat of a similar backdrop, where two young high school girls come together with one being the more extroverted, and the other having to cope with inexperience. Mari finds it extremely hard to express herself because she's never had that opportunity, while Akiko is quick to express herself without much commotion. New and interesting things happen around both characters, and they get involved in it all as it helps to build their overall character as you dive deeper. What truly sells this beautiful girl romance is waiting to see whether their relationship will blossom or not, as there's constant tension all throughout every chapter. It's this fluctuating experience that keeps your heart racing, to see if Mari will ever be able to let herself go, and if Akiko will accept.
---
Closing Statement
If you're new to the yuri universe, then we welcome you with open arms. If you've already explored this unique realm, then we hope you've enjoyed our top ten manga picks! We'd love to know what other yuri manga you enjoyed, so be sure to leave your comments down below and share with the Honey's family. With a long library to choose from, we're sure your recommendations will be a splendid addition. Be sure to share the article to ensure that the audience is always buzzing, and show support for what you love!
As always, if you want to know about all the latest buzz straight from the bee's nest in Japan, be sure to keep it locked here at Honey's Anime.
---