We all love a good vampire story, it doesn't matter if they are the good ones or the bad ones, or if they kill each other while we humans suffer the consequences. Sometimes they're killing machines with an incredible lust for blood, while we also have those who are seductive, respectful or even protective of mankind. Vampires are just so fascinating!
In video games, we have a lot of classic vampire stories, sometimes set in Victorian London but also happening in an alternate present time or a futuristic one. And what are some of the very best games involving vampires or similar creatures of the night? Let's find out!
10. Dracula: Resurrection

System: Microsoft Windows, OS X, iOS, PlayStation, and Android
Publisher: Index+, Canal+ Multimedia, France Telecom Multimedia, Microids
Developer: 4X Technologies, Index+, Visual Impact
Release Dates: Jun. 7, 2000
We wouldn't be talking about vampires if it weren't for Dracula! Although the first game in the series, subtitled Resurrection, emerged as a self-contained adventure, we might as well include Dracula: The Last Sanctuary as the obligatory sequel that completes the story. This is a classic point-and-click title, where we must find objects to solve puzzles; likewise, the possibility of moving around the environment and "confronting" some enemies is an interesting variant, especially when we find ourselves in Dracula's domains.
This game takes up the famous story written by Bram Stoker and proposes a hypothetical continuation, where we play as Jonathan Harker in another attempt to save his beloved Mina. The sad part of the game is that we never come across the count since he's in London, leaving his girlfriends as the main antagonists of the game. As we said, we strongly recommend playing Dracula: The Last Sanctuary too, where we can finally meet the Count.
---
9. A Vampyre Story

System: Microsoft Windows and OS X
Publisher: Crimson Cow, The Adventure Company
Developer: Autumn Moon Entertainment
Release Dates: Dec. 2, 2008
A Vampyre Story is notable for having a female vampire as the protagonist, but also because this character is far from being the stereotype that uses his sensuality to feed on his victims. This woman is Mona De Lafitte, a singer who devotes herself to opera but ends up captured by Baron Shrowdy von Kiefer, a not-so-fearsome but ill-intentioned vampire. Our task here is to help Mona escape alive from the castle, fleeing from her kidnapper and the Baron's mother.
This is a classic graphic adventure, with point-and-click mechanics, a good amount of dialogue, and lots of humor. Certainly, we don't have any action in A Vampyre Story being a title that caters to a very specific audience, be they lovers of an almost forgotten genre or people who simply look for a casual entertainment. All in all, Mona's story is definitely worth telling!
---
8. Vampire Hunter D

System: PlayStation
Publisher: Jaleco
Developer: Victor Interactive Software
Release Dates: Sep. 25, 2000
If Vampire Hunter D is on this list, it's absolutely not for it being a great game, but because D is one of the big names when talking vampires and the most famous one in the manga world. As in the OVA Vampire Hunter D: Bloodlust, here we must infiltrate The Castle of Chaythe in search of Meier Link, who apparently kidnapped Charlotte, the daughter of our client. Upon arrival, we discover that things may not be as they seem and the girl is far from being abducted by force; even worse, both Meier Link and Charlotte were deceived by the powerful vampire Carmilla in an attempt to revive.
The story is great and worthwhile, but you may feel like playing an unpolished clone of Resident Evil. Here we play as D, a mercenary dhampir (half human, half vampire) who must solve the mystery involving Charlotte while dealing with powerful vampires and their plans. Truth be told, Vampire Hunter D is far from being a remarkable game, but if you find yourself wanting more after experiencing Bloodlust, Vampire Hunter D may be what you're looking for.
---
7. BloodRayne 2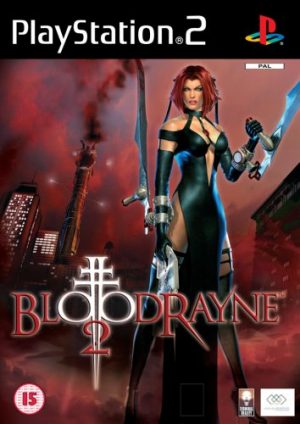 System: Microsoft Windows, PlayStation 2 and Xbox
Publisher: Majesco Entertainment
Developer: Terminal Reality
Release Dates: Oct. 12, 2004
We could see Rayne as the female version of Blade, starring not only a video games series but a whole franchise, with movies and comic books. BloodRayne is another story told from a dhampir's perspective, with Rayne rebelling against vampire oppression and joining the obscure Brimstone Society.
BloodRayne 2 takes us through unsuspected places, especially since we abandon the Nazi massacre of the first game to come closer in time. With a lot of action sequences and typical hack and slash mechanics, this sequel is directly based on Rayne's search for revenge, killing his "siblings" and, finally, his father, the evil vampire Kagan. In this second installment, the graphical aspect improved a lot in comparison, and the contemporary setting makes it all more appealing.
---
6. Darkwatch: Curse of the West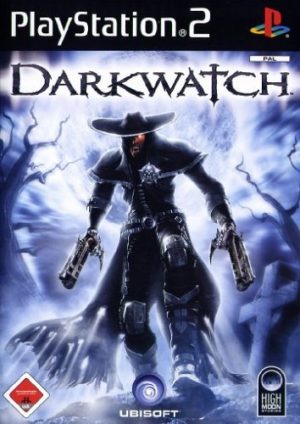 System: Xbox and PlayStation 2
Publisher: Capcom
Developer: High Moon Studios
Release Dates: Aug. 16, 2005
Transylvania, London, Paris... vampire stories usually take us to Europe. Darkwatch, on the other hand, gives us a Mexican bandit just like those you've seen in old Western movies, but now with vampire traits. The story of Jericho Cross is the same as that of many other renegades, only that he ended up assaulting a train where the vampire Lazarus was traveling, which not only transforms him but involuntarily introduces him to the Darkwatch legion.
For a game starring a vampire, the "strange" thing about Darkwatch is it being a first-person shooter, using that of crossbows and shotguns to kill as many monsters as we come across. Did you really think all vampire games are the same? Forget stakes and holy water... Now we can finally treat ourselves shooting the hell out of vampires and other monsters!
---
5. BloodLust Shadowhunter

System: Microsoft Windows
Publisher: WRF Studios
Developer: WRF Studios
Release Dates: Sep. 25, 2015
There aren't that many dungeon crawler games compared to 20 years ago, but vampire lovers can devote themselves to BloodLust Shadowhunter, a game with an easily recognizable environment in terms of vampire mythology and good action RPG mechanics. As we face other vampires, this game makes us raise an important question: will our humanity win, or will we let ourselves be carried away by the thirst for blood?
The roleplaying aspects are very well taken care of, giving us more than interesting options to create our character at ease. Being able to transform humans into vampires in our service is something that not many other vampire games allow, so when you get bored of playing a classic badass hero, you can always try something different. Maybe this indie game is not the most popular of the list, but you definitely need to try it.
---
4. inFAMOUS 2: Festival of Blood

System: PlayStation 3
Publisher: Sony Computer Entertainment
Developer: Sucker Punch Productions
Release Dates: Oct. 25, 2011
The original protagonist of the inFAMOUS saga is often associated with electrokinesis, but those who had a chance to play Festival of Blood know that Cole MacGrath was also a vampire. What began as an expansion ended up being a standalone game, this time populating the streets of New Marais with a group of blood-loving creatures, led by Bloody Mary. Thanks to it, the city has several changes that give depth and accentuate the passage of time.
Cole is an integral part of the rite that these vampires carry out to revive their former leader, so he ends up becoming one of them. From that moment, we entered a race against time to try to assassinate Bloody Mary and recover our humanity. The sandbox aspect of its predecessors is maintained and Festival of Blood is literally the same game but with another story, so we can thank both the addition of the vampires and the maintenance of the inFAMOUS essence.
---
3. Legacy of Kain: Soul Reaver

System: PlayStation, Microsoft Windows and Dreamcast
Publisher: Eidos Interactive
Developer: Crystal Dynamics, Nixxes Software BV
Release Dates: Aug. 16, 1999
Maybe you haven't paid enough attention, but most video games with vampires have been published between 1999 and 2009, a fad that began in the late 90s. One of the reasons this fad flourished is a game called Legacy of Kain: Soul Reaver. In Blood Omen: Legacy of Kain, the protagonist was Kain himself, but with Soul Reaver we met an even better antihero: Raziel.
You can confidently say Raziel is a vampire, but he's more of a soul-devouring specter, capable of traveling between the physical plane and the spectral one. This translates into striking mechanics for solving puzzles, on our way to collect revenge from Kain. Although the game is quite short and simple, the best thing here is the well-crafted plot and mythology, so we truly encourage you to play the full saga.
---
2. Vampire the Masquerade: Bloodlines

System: Microsoft Windows
Publisher: Activision
Developer: Troika Games
Release Dates: Nov. 16, 2004
By far, Vampire The Masquerade: Bloodlines is the best game on this list, only relegated to the second place for being kind of a niche game. Here we play the role of a newly converted vampire learning all the necessary about the vampiric clans and hierarchy. Of course, we can also let ourselves be carried away by our bloodsucking instincts and forget about our humanity... as long as we don't break the rules and keep the existence of vampires a secret.
Based on paper and dice roleplaying mechanics, Vampire The Masquerade let you improve your skills and define your character, according to the characteristics of your affiliated vampiric clan. The story is compelling but more so when we master our powers, both in combat and in the art of seduction and persuasion. Secret dialogues and different ways of achieving the same results are always a detail to be grateful for, but this game is also the perfect gateway to the fabulous World of Darkness and all its mythology. Mods not only solve bugs but also add a lot of content!
---
1. Castlevania: Symphony of the Night

System: Sega Saturn, PlayStation, PSP and PlayStation 4
Publisher: Konami
Developer: KCE Tokyo
Release Dates: Mar. 20, 1997
The best video game with vampires had to be Castlevania! Since 1986, the Castlevania franchise made it clear that Dracula still had a lot to offer, and it's been 3 decades since we've been surprised by the quality of these games. For those of us who have enjoyed each one of them, Symphony of the Night keeps a very special place in our hearts, being not only the most representative but also one of the best, famous for its non-linear gameplay.
Here we play as Alucard (Adrian Fahrenheit Tepes), the dhampir son of Dracula who's been sleeping for years in order to avoid attacking humans. Feeling an evil presence, and with Dracula's castle materializing again, Alucard awakens determined to visit Castlevania and find out what's happening. If you're new to the series, and if you're looking for one of the best games about vampires, then you should consider playing Symphony of the Night as soon as possible. Classic games FTW!
---
Final Thoughts
Vampires tend to hate and discriminate humans, but we also have characters who use their powers to fight on our side and keep a certain balance. In terms of games, we have plenty of stories about vampires, ranging from revenge to redemption, but also allowing us to discover the most ruthless bloodsuckers.
Do you have any other games worth mentioning? Whenever you feel the need for a good story of vampires, try with one of our recommendations! For now, Honey's Anime says goodbye, wishing never to cross paths with Dracula or his descendants.
---