También puedes leer este artículo en:Español
We are already two weeks into the new year, but some anime from 2015 still deserve a little bit more recognition. Ecchi is the genre we want to highlight today so get ready for big busts and dirty jokes!
We must say that there have been some great Ecchi shows in the last few seasons that were able to gain a huge fanbase in a short amount of time. Can Fall 2015 keep up to those high standards? Let's find out in our list of Top 5 Ecchi Anime in Fall 2015. Enjoy!
5. Taimadou Gakuen 35 Shiken Shoutai (AntiMagic Academy: The 35th Test Platoon)

Episodes: 12
Aired: October 2015 - December 2015
Let's start this list with a hidden gem that combines action, Ecchi, magic and a solid main cast.
The story is centered on the Anti-Magic Academy which trains future witch hunters in a world where witches terrorize earth with their vicious magic. In this school, there is a group of failure students who cannot live up to the expectations of their teachers. They decide to cooperate and tackle their personal problems as a team in order to fight the monsters surrounding them.
This show is something for everyone who enjoys Ecchi, but doesn't want it to be the main focus of a show. Taimadou convinces with its storyline and a main cast that will draw you into the story starting from the very first episode. As long as you don't expect a reinvention of the wheel you will get a solid fantasy adventure that will keep you entertained for a few evenings.
---
4. Valkyrie Drive: Mermaid

Episodes: 12
Aired: October 2015 - December 2015
Valkyrie Drive: Mermaid is your Ecchi show for fans of Shoujo Ai.
On five artificial islands women come together to compete in ruthless battles against their enemies. Innocent and polite Mamori gets thrown into this new environment and meets fierce Mirei. When the beautiful blond woman with big breasts kisses Mamori, the girl transforms into a sword. Together they fight as a team and defeat anyone standing in their path.
Valkyrie Drive: Mermaid certainly isn't a show that everyone will enjoy. The storyline is more than just a little bit unique and there are lots of Ecchi scenes - so many that some people go as far as saying that this show is pornographic. Make of this what you want, but Valkyrie Drive: Mermaid also has sword fights, action scenes and fantasy elements to offer. Check this show out and see for yourself what the hype is all about!
---
3. Ore ga Ojousama Gakkou ni "Shomin Sample" Toshite Gets♥Sareta Ken (Shomin Sample)

Episodes: 12
Aired: October 2015 - December 2015
Next up is a show with a storyline that is as unique as its original name is long: Shomin Sample.
This anime revolves around the daughters of high class families who are being educated in an elite academy, far away from the day to day lives of common people. As a result, these girls grow up without a clue how the real world works. To help them overcome this problem the school board has decided to kidnap average high school boy Kimito Kagurazaka and enroll him in the all-girls academy. Can he survive in this high class society?
Shomin Sample relies on its comedy to keep the viewers interested. Of course, most jokes revolve around sexual tensions, awkward moments and clueless high school girls. It might sound like a common Ecchi show, but Shomin Sample actually manages to bring some fresh wind into the genre. Definitely give it a try when you have the time!
---
2. Gakusen Toshi Asterisk (The Asterisk War: The Academy City on the Water)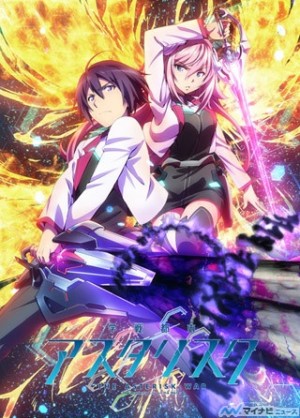 Episodes: 12
Aired: October 2015 - December 2015
We are staying in the school genre and continuing this list with a show that most of you must already have heard of: Asterisk War.
Once again a special academy stands in the center of the show. In this case it is Seidokan Academy on the floating city of Asterisk, a huge stage for school battle entertainment. All students are part of the so-called "Starpulse Generation" that has earned special abilities after a meteor hit planet earth. Now they have to compete against each other in fierce battles where only a combination of magic with high-tech weapons can lead to victory. Welcome to the Asterisk War!
This anime does a great job at creating a unique and visually pleasing universe. It is set in the near future so you will see Sci-Fi outfits and technologies. At the same time you have the basic elements of any popular show, such as a main cast with strong personalities, lots of action scenes and a little bit of humor here and there. It is true that you will find a lot of clichés, but Asterisk War uses them to create a well-rounded final product. Check it out!
---
1. Rakudai Kishi no Cavalry (Chivalry of a Failed Knight)

Episodes: 12
Aired: October 2015 - December 2015
Last but not least we have - you might have already expected it - a final high school story with lots of battles and lots of big breasts.
Ikki Kurogane is the Failed Knight or the Worst One, the only student who is not able to use his magical skills to compete against his classmates. These students are known as Magic Knights and use modern magic to form weapons out of their souls. Ikki is ready to give up when one day he is challenged by ace student Stella. Can he win this final battle?
Chivalry of a Failed Knight uses a commonplace storyline, but somehow manages to make a successful and interesting show out of it. There is something for everyone to enjoy whether it's a high school setting, great action scenes, silly jokes, fantasy elements or - of course - Ecchi girls. It is a simple feel good show that will entertain you with every episode, so give it a try if you haven't already.
---
Conclusion
There are definitely a lot of similarities between the shows we picked for this list. Fall 2015 in general brought you a lot of school and battle stories, so it is no wonder that some of them also throw Ecchi into the mix. Personally, I am glad that many of these shows have more to offer than just big-busted girls and still focus on the storyline and the development of the main cast.
What do you think of our recommendations and how do you judge the state of Ecchi in Fall 2015 in general? Leave your comments down below.
---